Ed Harcourt on Romeo Beckham and life as a court composer at Burberry
Paloma Faith, Lana del Rey, Romeo Beckham. Ed Harcourt can write for them all. But, as he tells Nick Duerden, it took a personal crisis to turn him from indie star to writer-for-hire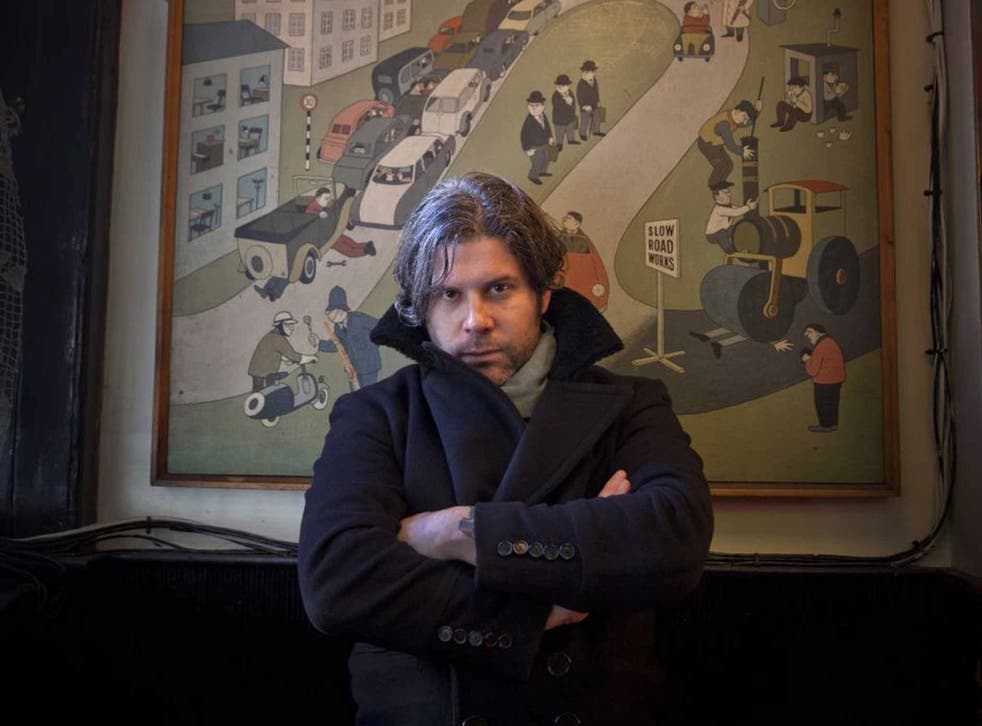 Seven years ago, Ed Harcourt had a bit of a wobble. He had just turned 30, and so the drama became a crisis. "I'd had enough; enough!" he says, fists clenched. "I was feeling feverish about it." About what? "Oh, you know, about it all: the record industry in general, the fact I hadn't had any hits..."
This latter realisation was exacerbated by the 2007 release of Until Tomorrow Then, a collection of career highlights that had to be a "Best Of" rather than a "Greatest Hits", for the simple reason that none of the tracks had been.
"And so I stopped. I stopped, retired, said never again." Now he laughs. If he were the more bashful type, Harcourt would at this point blush. But he isn't, so he doesn't. "After two months, I kind of missed it, so I returned. Ha."
While he resumed performing intermittently, he mostly rebranded himself as a songwriter-for-hire. In this he excelled, writing for the likes of Paloma Faith, Lana del Rey and Ren Harvieu. Sometimes, he says, the collaboration process was wonderful, "but sometimes it was a complete nightmare".
And now, perhaps unexpectedly for a man whose music is the sonic equivalent of a crepuscular Tim Burton film, the fashion giant Burberry has asked him to write and perform a song to accompany its Christmas TV ad, which stars David and Victoria Beckham's 12-year-old son Romeo. "He's nice, Romeo," says Harcourt (the pair met during the video shoot). "Very nice, very shy."
He had already played live at a Burberry fashion show earlier in the year, his performance accompanying models on the catwalk. The invitation to appear in such grandiose company had taken him by surprise. "I was like: Me? With my reputation? So when they asked me to do their Christmas song, I was completely stunned."
Burberry Christmas campaign 2014

Show all 14
This was no easy commission, though. Harcourt ended up writing three songs for their appraisal, before they finally approved one.
"It felt like being a court composer, like Mozart," he says, quickly adding: "Not that I'm comparing myself to Mozart. But, you know, writing things for the court, like… like Michelangelo having to do something for the Vatican." He nods, as if to say: this makes sense, this is a comparison that works. "Yeah, a little bit like that, but a capitalist version."
The track, "The Way That I Live", is a lavish and lustrous piano ballad, and despite accompanying something undeniably festive – Romeo Beckham is seen cavorting in fake snow, and everyone is giving everyone else presents – sleigh bells are entirely absent. The 37-year-old says he was thrilled at the chance to do something aimed so squarely at a mainstream audience: "Opportunities like this don't come along often, not for people like me. I'm just happy for the exposure."
Enjoy unlimited access to 70 million ad-free songs and podcasts with Amazon Music Sign up now for a 30-day free trial
Sign up
Until the Band Aid project was announced, and the X Factor winner's single began to gain momentum, William Hill had given it decent odds to become the Christmas No 1. "And that hasn't happened to me before," he deadpans.
It is midday in an empty London bar that will remain empty for another hour, until Jeremy Clarkson arrives to prop up one end of it. Harcourt nestles in a far corner, wrapped in a thick coat and woollen scarf that he refuses to take off. He has just been to the dentist, which accounts for the fact that half his face looks like a melted candle. "I can't feel anything on this side," he says, pointing to his lower left lip. "I'm not dribbling, am I?"
The man is voluble company, and rarely stops talking, recounting stories, mostly funny ones, often losing his thread along the way and requiring his manager, who sits alongside him, to find it again for him. His copper-wire hair is these days liberally streaked with grey ("fatherhood", he explains; he has a girl of six and a boy of three with his songwriter wife Gita), and the chunky Gothic rings on his fingers might just have been liberated from Dracula's corpse.
He tells me he has just come back from touring with Marianne Faithfull, "a once-in-a-lifetime experience. It was intense, and physically and mentally draining." Faithfull, he explains, recently broke her hip. "So she was not in the best physical health, but she is so warm and lovely. She really cared about all of us in her band. At the end of every show, we'd help her out of her chair, give her a kiss and we'd bow to the audience. It was lovely."
The tour has left him a bit bronchial and he orders a hot toddy, convinced of its medicinal properties. He explains that he had written a song for Faithfull's most recent album, Give My Love to London, but was then cajoled by her manager to join them on tour. "He said they needed my character to keep everyone afloat, with all my 'carrying on'. I think they thought I was entertaining, funny. Me! I had to explain to them about tears of a clown, and all that."
The son of a diplomat, Harcourt spent his childhood studying classical piano, cello and saxophone. At 23, he self-released a mini album, Maplewood, that landed him a recording contract, and a year later, in 2001, his debut album proper, Here Be Monsters, was nominated for the Mercury Prize. "That whole period was very strange for me," he says. "I was naive, I knew nothing. I was used to making music in my room, so it felt very odd being on stage, being looked at by all these people. And then the Mercury thing happened. Don't get me wrong, I had a good time, but I still think I went a bit mental…"
More studio albums followed, at a rate of almost one a year, each painting him as a garrulously theatrical performer in the Tom Waits mould, but a commercial breakthrough continued to elude him. At the time of his 2007 "Best Of", he clearly felt put out by this.
"It vexes me, it really does," he said at the time. "I can't help wondering why a whole bunch of my songs weren't Top 20 hits, Top 10 even. Why didn't they make it on to the radio? What went wrong? I could get bitter and jaded about it, but what's the point in that? That's why I'm moving on."
He decided that his talents would perhaps better serve other people. His first attempt at collaboration, with Jamie Cullum, was a success; his second, with Robbie Williams' one-time foil Guy Chambers, wasn't. "I wasn't interested in writing with him, and it didn't work out. I found the whole experience pretty horrible," he grimaces.
He chooses to avoid working with production-line popstars, incapable, he insists, of writing, and instead focuses on acts that already have a strong identity. His early work with Paloma Faith helped make her a popstar, and after writing for Lisa Marie Presley the pair became firm friends. She invited him to spend one New Year's Eve at her house somewhere in the British countryside. "We went to the local pub, Priscilla joining us after midnight, and she and me ended up slow dancing. That was fun. The morning after, hungover, I was sat in their front room playing Elvis's piano."
Harcourt almost hit paydirt last year when he wrote for a new artist called Sam Smith. "We did this brilliant R&B number," he recalls. But Smith's label didn't include it on an album that went on to sell millions on both sides of the Atlantic. Harcourt's winning impression of blithe unconcern is convincing. After Smith, he worked with Sophie Ellis-Bextor, whose career he not only revived but completely overhauled with her hit 2013 album, Wanderlust. More recently, he has written songs for new artist James Bay, a 24-year-old with enviable cheekbones who sounds, perhaps entirely predictably for singer-songwriters in a post-Ed Sheeran world, like Ed Sheeran.
But Harcourt plans to spend the next few months focusing entirely on himself, in the hope that Burberry's exposure affords his forthcoming album (due early next year) a following wind. Produced by Flood (U2, PJ Harvey), it is something that clearly excites him. He calls it a record of "evil songs, about the duality of man, the responsibility of being a man in this age, while accepting what we have done to the world, which is to fuck it up. It's got elements of religion, feminism; the working title is 'Now I Have Become Death!'" He laughs raucously. "Sorry, I'm getting all Radiohead and post-apocalyptic, aren't I?"
Romeo Beckham, I say, will probably never again appear in an Ed Harcourt video. "Well, it's good to be diverse, isn't it? To be multi-faceted? There is a side to me that is heartfelt and melodic, but another that is anarchic, and weird, and idiosyncratic, and surreal. And there's nothing wrong with that, is there?" He frowns, as if seeking confirmation, assurance even. "Is there?"
'From London with Love' is released on 15 December
Join our new commenting forum
Join thought-provoking conversations, follow other Independent readers and see their replies