The constant evolution of Editors
Exclusive interview: The Birmingham rock band on sixth album 'Violence', dodgy PA systems, and why they refuse to look back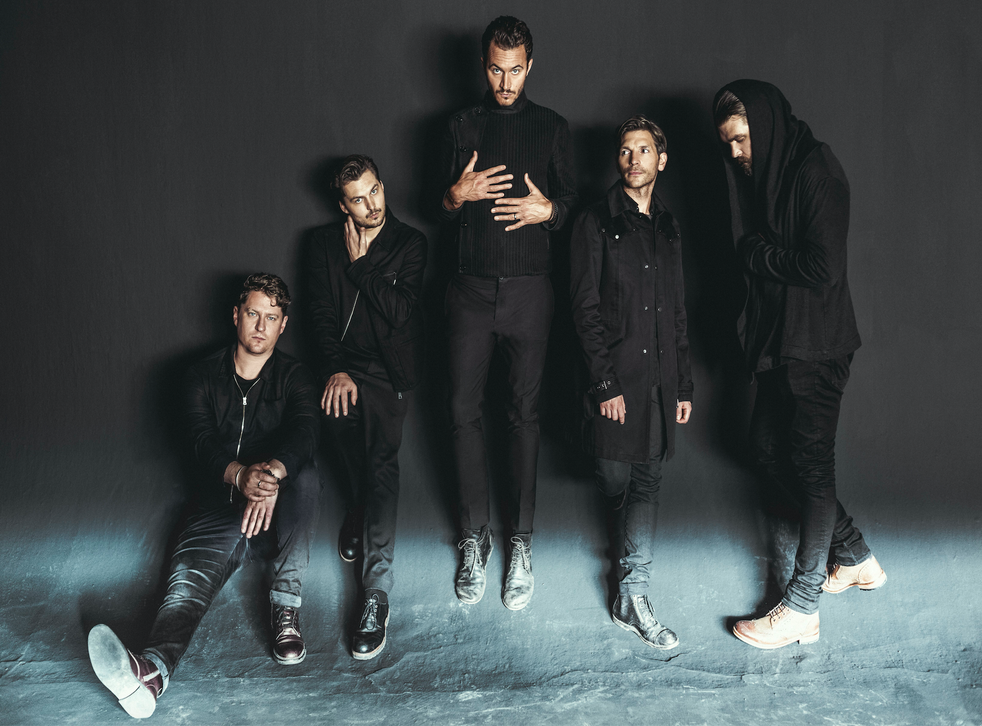 As snow (and mass panic) settles in London and other parts of the UK, Editors are a wonderfully calm presence to be around at their rehearsal studio in Birmingham, where they're practising the set list for a cluster of intimate shows to precede the release of their sixth album Violence, and a bigger tour of the UK later this year.
Once they've played a few tracks, frontman Tom Smith and guitarist Justin Lockey wander down the road to one of those pubs that are hard to come by in most cities: patterned carpet, carved wooden beams, china milk jugs hanging from the ceiling, and a landlady who looks as though she could tell you a thing or two about the good old days. A black and white cat is perched on one of the tables and watches as we come in and settle down with a pint.
It's common knowledge that, since their emergence in 2003, Editors have been ignored or derided by much of the London-centric music press; struggling to make an impact among the hordes of mouthy, swaggering indie bands that broke through at the same time. Staying in the shadows ("best place for us," Lockey jokes), Editors have gone onto release five (not including Violence) top 10 albums, out-living virtually all of those other groups and establishing themselves as one of the most consistently evolving bands in the UK.
This remains the case with Violence, which incorporates some of the best elements of their previous albums – In Dreams, The Weight of Your Love, and In This Light and On This Evening in particular, but also brings in new faces on production to contribute fresh ideas, along with superb artwork and video direction by regular collaborator Rahi Rezvani.
Opener "Cold", a steady, U2-esque anthem that leads you in gently with Smith's coaxing vocals, asks the listener to "be a ghost tonight". Then you've got "Hallelujah", a monster rock track that wrong-foots you with glimmering synths and a saintly chorus before that beast of a riff kicks in.
On lead single "Magazine", producer Blanck Mass (Benjamin John Power) steers the band to a fresher take on synth pop that nods more to the future than the more-often cited references to Depeche Mode or Joy Division. There's also a gorgeous reworking of "No Sound But The Wind", first used in the Twilight film series.
"It definitely is a blend of what we've done but it feels fresh at the same time," Smith says. We're always searching for balance, personality, sound … the last one we did on our own, this one we welcomed some people to help us make it. Blanck Mass, Leo Abrahams, they've both brought different things.
"The result, colliding with this set of songs which are all quite immediate and concise and poppy, certainly in comparison with In Dream. And the timing of this record feels quite fresh, urgent. When there are times for it to be brutal and in an angry place, it is."
In Dream was launched with the singles "No Harm" and "Marching Orders" – not radio songs, Smith notes, but "a different side of what we do, and a really important one". But now they've changed their focus, and both singles from Violence have received airplay on Radio 1 and 2; an experience Editors had been rather unaccustomed to.
"I think it's down to the sonic element, the Blanck Mass thing, he's helped with a fresher electronic sound, where if we tried to do it on our own-"
"- We sound like Genesis," Lockey quips.
"I was going to say 'early Depeche Mode'," Smith chides him, laughing. "It does collide with a certain evolution of sounds. It feels quite relevant for once. For us it's weird because those last two records have been more of a struggle to get on the radio here."
"There's comfort in knowing that your audience are excited about a sound from a particular record, but now six albums in I think we do what we're excited by. I think those big shifts we've navigated make sense now, where at the time, that third record – I think we lost a lot of fans, and then the fourth… it can be confusing for people when you switch up your sound so often.
"I think there are signposts as well," he continues. "If you listen to The Back Room there are things on there like "Camera" which point to us doing things like "Hallelujah", on "Sugar", or maybe something like "Salvation". They have a type of weight which we haven't had on other things – it comes from a lower place. The guitar sound we were famous back in the day for was high and screechy, in the 'good old days'... when we could play fast," he jokes. "Things have evolved and changed."
Since the last time we spoke and Smith wondered about the apparent lack of bands breaking through, it feels as though the music industry is desperate for new faces, and guitar music seems to be making a gradual, hopeful comeback, with new bands like Shame, Goat Girl, The Amazons, Stereo Honey, INHEAVEN, Yonaka and Anteros breaking through in 2018. Smith and Lockey still don't sound convinced.
"There's a lack of 'band bands' because it's almost impossible to afford to be in one," Lockey says. "I always thought bands like Arctic Monkeys and that lot came from a working class background, proper 'heart on the sleeve' stuff. But find me a kid from the North now who can afford to be in a band without funding from somewhere. Labels aren't funding them. So even if I'm not so into the music they're making, I like the fact that bands like Shame are 'there' because there's been a lack of them for quite a while."
"These days bands need to come out fully formed, like 'this is my look, this is our sound'," Smith adds. "For us, all that shit evolved over time. That route in self-discovery as you play gigs… it's harder to do that now. There has been a shift in public taste, and that's cool, that's what happens. But it's a shame that bands can't bubble away for three years, touring. If you don't strike gold straight away, people pass on you."
"The margin of getting stuff right is so narrow now. You drop something and if no one bites, that's it. And that's really grim," Lockey nods. "Biffy Clyro are a massive band now, especially here. But you watch them on their first two records playing to 30 people in the arse end of Newcastle. But that's what you need, as a band, time to find yourself."
"There was so much shit when we were around as well, though" Smith adds as an afterthought. "I'm glad we came through in that time – but I don't miss it."
"You weren't really attached to that scene though," Lockey says to him.
"We wanted to be," Smith replies. "Everyone was getting written about more or getting bigger festival bills."
"Guitar music got replaced by hip hop because those artists had more interesting things to say," Lockey adds. "They also worked out the internet before guitar bands, and got a quicker way to get their message out without having the bullshit of a label.
"I'd take longevity over any scene. There's a general case nowadays anyway where everything's on tap, people want everything now. Real bands take years to work, not just musically, but the chemistry between band members, and the chemistry between the audience and the band. Now you can start a Twitter account and it's like, 'I've got a business'."
Last time we met with Editors was in Amsterdam, where the band played three sold-out nights to a rapturous crowd at the Heineken Arena, following a not-so-great gig at the Eventim Apollo in London, where they were plagued by a broken PA system and eventually forced to finish early.
"That was a shitshow," Smith says, while Lockey notes it was the most "technically difficult" gig he'd played.
"I have nightmares about that, to be honest," Smith admits. "Not knowing what's causing the problem. All it does is frustrate you and make you angry. We went on and off three times – that's when it got really bleak. Hopefully the one in Clapham will be a nice, stress-free gig," he adds.
A few days after our interview – at that show at the Clapham Grand – it felt like we may have jinxed it, as Smith's vocals are cut off and, for a moment, it looks as though he's shouting into a storm, while the groans of fans who were there for that disastrous Eventim Apollo gig – clearly feeling for the band – are more than audible. After a few attempts the re-start on the mic, the band file off stage while the crew fixes the issue, as the audience crane their necks and the tension builds.
Within five minutes they return, and Smith makes a disbelieving comment to the audience about how this is exactly 200 shows since the Hammersmith one. It's testament to their relationships between band members, to their fans' loyalty, and to the band's live prowess, that they recover from the moment and then some: from that point it feels as though both band and audience are urging one another on, and by the end, as they play out their encore, it feels downright euphoric.
Like always, there was no plan, no concept, for Violence, but Smith says there is a point where he begins to work out what connects each song.
"There is a violent world that the characters are escaping in this album," he says. "The focus point for me is still human connection, but it is as a means of escape. Turning off your phone, shutting the front door and focusing on something different for a while.
"'Violence' is obviously a very striking word. On the record it could be the violence of emotions, as well as the big bad world that we see. The way we're exposed to what goes on in the world is violent in itself. The way we consume or are bombarded with images and messages of hate, whichever side of the fence it is, is non-stop, and terrifying."
In the era of Trump and Brexit, many artists haven taken it upon themselves to use their art to speak out against hate and injustice, with varying degrees of effect (think Kendrick Lamar's DAMN. vs Eminem's Revival).
"The thing with Kendrick is he's shifting culture along with him," Lockey says. "Behind him, you've got other things like the Black Panther film, the aftermath of what went went on in Ferguson. It's bizarre seeing someone who used to be someone so massive as Eminem essentially going direct to source, to bait them on Twitter, to be relevant, versus someone like Kendrick Lamar who's got this swell of art and culture behind him now. I don't think you shift the points on the compass by trying to bring down the leader of the free world through Twitter."
That relevance is something Smith and the rest of the band seem determined to hold onto; to continue to try new things rather than cling onto the past by celebrating anniversaries of old albums. Last time we spoke, he said he wasn't in the mood for being nostalgic, and that hasn't changed in the two years that have passed.
"Are you just saying we're old?" Smith asks with a grin. "We're always making new records; we're busy looking forward. Obviously discussion was had, doing an anniversary tour because we know there'd be an audience for that, but it's never got that far.
"We still haven't had our defining record, I don't think. So many of the bands we emerged with definitely arrived fully formed, and often their first record was their best – like that first Strokes record. When something comes together that perfectly, it's timeless, it lasts forever. But it's not happened for us, yet, so we still like doing things that surprise us."
Violence, the new album from Editors, is out now. They play BST Festival in Hyde Park on 7 July and tour the UK from 7 October
Join our new commenting forum
Join thought-provoking conversations, follow other Independent readers and see their replies