Eighties chart-toppers blazing a trail across care homes, oatcake festivals and gurning contests
Acts which rubbed padded shoulders on TOTP operate the nostalgia circuit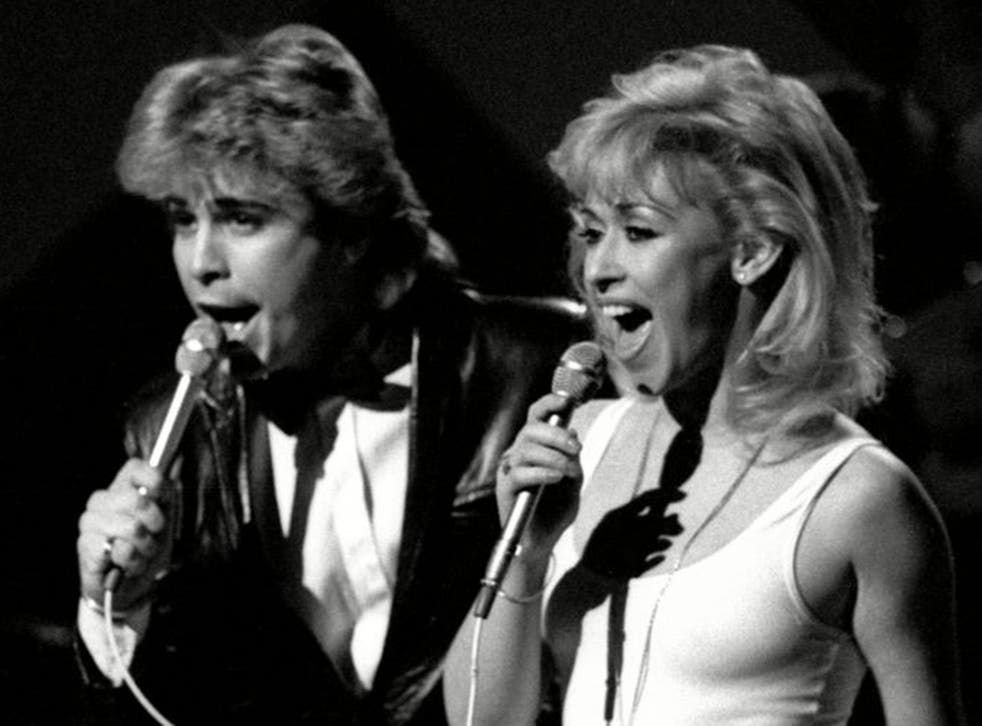 To the casual observer, the revelation that David Van Day, the one-time Eighties pop idol, was performing at the Lucas Court Care Home in Northamptonshire might suggest a career low.
Yet for the former singer with duo Dollar, the opportunity to perform his "pop cabaret" show to an audience he says was entirely appreciative – and not "dozing" according to some reports – was not one to be dismissed lightly. "I didn't know care homes actually had booking agents. But if you play enough of them it all begins to add up," said the singer, 58.
Dismissed as pop's "vainest has-been" by his critics, Van Day is actually blazing a trail for Eighties stars and one-hit wonders whose determination to remain in the public eye means accepting bookings a long way from the conventional concert circuit.
Visitors to the World Gurning Championships next month, a festival of contorted facial expressions staged as part of the Egremont Crab Fair in Cumbria, will also be entertained by Nathan Moore, the singer with Brother Beyond, the boy band which induced mass hysteria among female fans back in 1988.
It's nearly 30 years since Glasgow singer Owen Paul hit No 3 with the catchy "My Favourite Waste of Time". Yet he was delighted to dust down his hit at Oatcake Day in Stoke-on-Trent, an event celebrating "our love of oatcakes" in the Potteries. Paul shared co-headliner billing with Mark Morris, singer with Nineties Britpop chart-toppers The Bluetones.
Acts which once rubbed padded shoulders on Top of the Pops now operate within a strict hierarchy on the Eighties nostalgia circuit. At the top are Duran Duran and Spandau Ballet who still sell out arenas. The Human League, OMD and others fill civic halls with capacities of a thousand-plus.
Van Day, Moore and Paul are regular attractions on the Eighties package tour circuit, which brings large crowds to stately homes as well as Pontins and Butlins holiday camps during the summer. Jason Donovan, Bananarama and Rick Astley get their names in biggest type on the bills.
Beyond the package tours is a world of function rooms, pub gigs, 40th birthday parties and now care homes, where singers are happy to play whatever songs are required for a few hundred quid and the opportunity to entertain fans, some of whom once had their posters on their wall.
"I'm pretty realistic about where we are in the marketplace, unlike some Eighties acts who still record new material, bless 'em," said Van Day. "It's not what it might have been in the Eighties but we work most weekends," added the singer who is the star attraction at Rich and Famous night at the Orange Tree pub in Braintree, Essex, this evening.
Enjoy unlimited access to 70 million ad-free songs and podcasts with Amazon Music Sign up now for a 30-day free trial
Sign up
"I'd expect £500 for an hour's performance," said Van Day. "The care home was £150 expenses but some of these care homes are like five-star hotels and they will pay more. I'd do an Eighties festival for £300. I recently played inside a barn at a private party for a merchant banker in Essex for people sitting on haystacks."
The care home performances began after Van Day, who performs with his wife Sue Moxley, an online beauty business entrepreneur, was asked to sing at a party for a woman's 100th birthday. A receptionist at the Northamptonshire care home was a Dollar fan and contacted Van Day.
"My mother had Alzheimer's so I was very happy to entertain people in a care home for expenses," said the singer, who has complained to the press regulator Ipso over the mocking reports of the care homes show . "The £150 covers the travel. But now I also phone round other care homes in the area so I can do a show at 11am, then 2pm, then 4pm. I do Sinatra and swing, then Sixties and Seventies hits. I don't do Dollar songs most of the time. If you do that a couple of times a week then it can add up."
For Nathan Moore, who like Van Day has battled bankruptcy, his role as a side attraction at the Gurning Championships is one to be accepted with good grace. "There's gurning festival but also caber tossing and climbing up the slippery pole. It's kind of wacky," he said.
"It's a daytime performance. I've no idea who else will be playing. There'll probably be Buster Bloodvessel from Bad Manners and Chesney Hawkes. I see gigging as a bit of a challenge. If there's a crowd who don't know who you are, can you win them over?"
Moore, 50, auditioned for BBC1's The Voice last year but failed to get the coach's chairs to spin. "I don't say no to many gigs but they've got to pay me right," he said. "The norm for me is the big Eighties package shows. But I did a Polish wedding three months ago. The bride was a fan of my other band, Worlds Apart. It was bizarre, in the middle of nowhere, a small village 100 miles from Poznan. But they paid me a lot. I've learned to sing my hits in Polish, German and Spanish."
Van Day will not be deterred. "I haven't had a hit since 1988. I ran a burger van after that. I still get calls for reality TV shows. But we're building a reputation as a pretty good pop cabaret act. The holiday camp business is good but every year you get 10 new X Factor contestants on the market, then they disappear.
His contemporaries are missing out. "I say to Kevin Rowland [Dexys Midnight Runners founder], get the dungarees on and do 'Come On Eileen', but he'd rather stick needles in his eyeballs."
Join our new commenting forum
Join thought-provoking conversations, follow other Independent readers and see their replies