Why it's impossible to imagine Elton John throwing in the towel
The star will reportedly retire from touring after nearly 50 years – but it's not the first time Elton's quit the stage. In 1977, he announced he was retiring from performance. Back then, he was in a bad place generally: bulimic and addicted to cocaine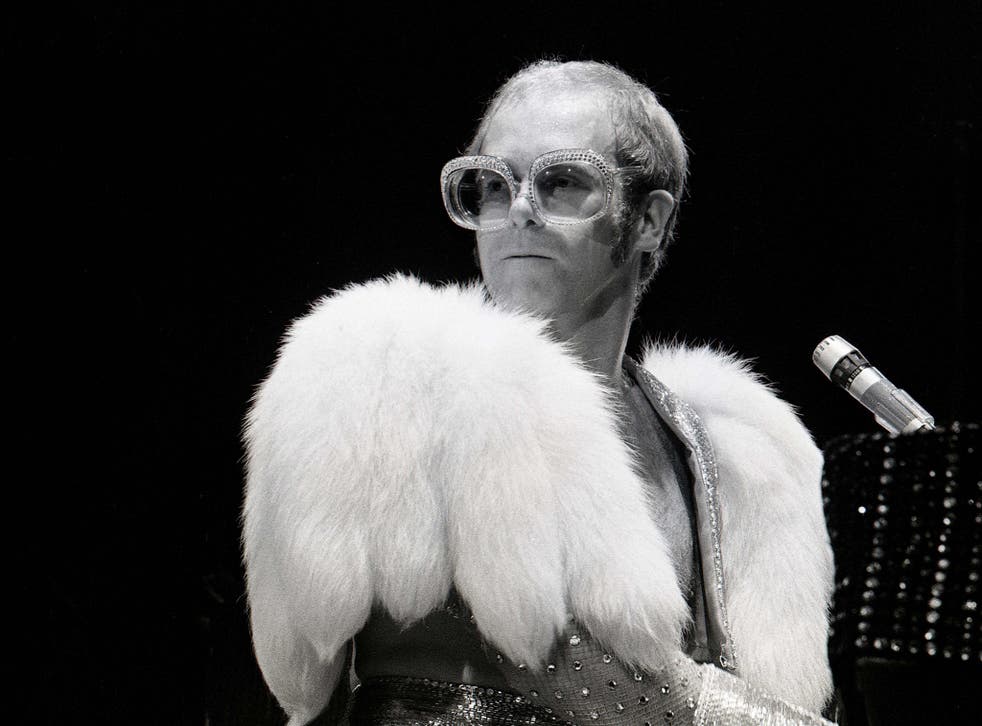 The announcement today that Elton John, the Grande Dame of British pop, is to quit performing live is both shocking, yet unsurprising.
On the one hand, it's something of a miracle that he's remained such a doughty trouper for so many years: where long-serving peers such as Dylan and the Stones are blessed with an enduringly thin white mercurial grace, and muscle-bound tour champ Bruce Springsteen prepares with a punishing gym regimen, Elton has for some time seemed overstretched by the exertions of modern long-haul performance. Hence his decision, in 2003, to follow fellow podgy superstars Elvis and Liberace to Las Vegas for lengthy static residencies, rather than suffer the humdrum round of hotels and airports that is the touring act's lot.
On the other hand, it's almost impossible to imagine Elton outside the context of the live show. Encouraged by the gaudy excesses of glam rock, the once shy and introverted young singer-songwriter suddenly transformed into the most flamboyant of Seventies performers, indulging a series of ridiculous costumed personae which jeopardised not just his image – most notably with the unflattering Donald Duck outfit – but in some cases his actual physical wellbeing. One recalls, for instance, the birthday party for which he donned a vast wig and millinery monstrosity in the shape of a Spanish galleon, the sheer weight of which, he later revealed, tested his neck muscles almost to breaking point.
There was surely, however, a psychological compensation in the outrageousness of Elton's costumery, which enabled a fundamentally shy man to express his sexuality without shame or repression – hiding in plain sight, as it were. As with Liberace, he was able to attract a broad, mainstream audience while slipping a nod and a wink to the metrosexually aware; your granny, meanwhile, just viewed him as a camp showman with a nice sparkly outfit, a cheeky sense of humour and a fund of lovely tunes. And by the time he came out completely, no one really cared anyway. The progress from National Treasure to Knighthood, if not entirely seamless, was assured.
It's not the first time Elton's quit the stage. In 1977, perhaps disconcerted by the punk revolution, he announced he was retiring from performance. Back then, he was in a bad place generally: bulimic and addicted to cocaine, he also stopped writing songs with Bernie Taupin, and it was not until the pair reunited, and Elton built bridges with his abandoned band, that his fortunes began to get back on track.
It's important not to underestimate the part played by his long-serving band in Elton's success. Flexible enough to accommodate the wide range of moods and styles involved in his vast back-catalogue, they provided the secure foundation, the unassuming plinth upon which his energies could be most effectively displayed. And during his peak Seventies heyday, he delivered hugely energetic performances. Like fellow piano rockers Little Richard and Jerry Lee Lewis, Elton bristled at the physical constraints of his chosen instrument, compared to more mobile guitars and saxophones, and adopted extreme antics to compensate. Rare was the show at which he didn't clamber atop the piano, or prance about the stage, gurning for the cameras from behind truly spectacular spectacles.
Not that any eyes had for a moment focused on anything other than Elton, from the moment he set foot on the stage. Before he appeared, there would be feverish anticipation about what outrageous costume gambit he would try; and few knew how to ride that initial revelation like Elton, sweeping the audience into the euphoric surge of a "Crocodile Rock", "Saturday Night's Alright (For Fighting)" or "The Bitch Is Back", and never dropping them.
But his ferocious workload, and equally ferocious lust for life, eventually took its toll on Elton's body. In 1986, he had an operation to remove non-cancerous nodes from his vocal cords, which altered his singing voice. In 1999, an irregular heartbeat necessitated his being fitted with a pacemaker. And on several subsequent occasions his constitution has proven less than reliable, requiring the cancellation of planned shows – most recently last year, when he was hospitalised after contracting a dangerous bacterial infection on a flight. By then, he had long since scaled back his musical demands, shrewdly capitalising on the gift-that-keeps-on-giving popularity of musicals like The Lion King and Billy Elliott, and indulging his abiding love of music through collaborations with old friends like Kate Bush and Leon Russell, and new friends like Ed Sheeran and Eminem.
The Las Vegas productions The Red Piano (248 shows) and The Million Dollar Piano (207 shows) offered fittingly lavish retrospectives of Elton's career. The former, presented at London's O2 Dome following its run at Caesar's Palace, featured the singer's eponymous piano perched atop a star-shaped pedestal, in front of director Dave LaChappelle's elaborate filmed backdrops to each song. Appropriately, many referenced his Seventies heyday, most notably "Rocket Man", in which a young Elton – played by Justin Timberlake – made his way from dressing-room to stage, through crowds of period-costumed well-wishers and autograph hunters. Others offered bracingly gallows-humoured glimpses at his struggles with coke addiction and suicidal despair, while a selection of giant phallic inflatables – a lipstick, a hot-dog, and an ooer-missus cherries-and-banana salad – reaffirmed the cheeky music-hall Britishness that always separated Elton from more pretentious or sanctimonious performers.
Ultimately, though, it's his sheer love of music which sustained Elton's stage career as long it did, a true fan's obsession with the authentic craft and magic of pop that bridled at the infection of reality-show artificiality. Thanking the O2 crowd for coming out to see him on such a rainy night, he noted the tempting televisual alternatives they'd passed up. "Tonight's the final of The X Factor, and there's Strictly Come Dancing too," he observed. "And you know what? I'd rather have my cock bitten off by an Alsatian than watch either." Spoken like the consummate showman.
Register for free to continue reading
Registration is a free and easy way to support our truly independent journalism
By registering, you will also enjoy limited access to Premium articles, exclusive newsletters, commenting, and virtual events with our leading journalists
Already have an account? sign in
Register for free to continue reading
Registration is a free and easy way to support our truly independent journalism
By registering, you will also enjoy limited access to Premium articles, exclusive newsletters, commenting, and virtual events with our leading journalists
Already have an account? sign in
Join our new commenting forum
Join thought-provoking conversations, follow other Independent readers and see their replies