Interview
Elvis Costello: 'I didn't expect to be discussing a televised lynching with my 12-year-old boys over dinner in 2020'
The beloved British raconteur is back with a new album exploring the current era of selfishness, self-righteousness and xenophobia. But where we are is nothing new, he tells Mark Beaumont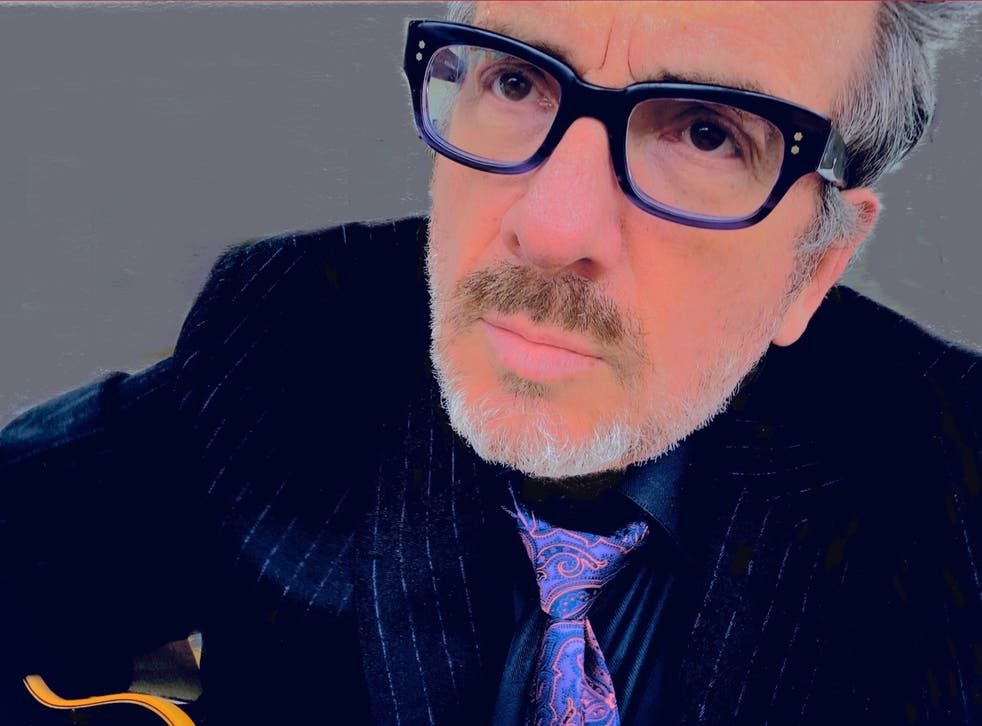 With an almost wistful lilt, the bon vivant of British post-punk reminisces fondly about the riots. "The one in Belgium," Elvis Costello recalls of one night at the Ancienne Belgique in Brussels in 1978, when the crowd turned against New York support act Suicide, and he and his band The Attractions took the stage with an unholy vengeance, "we came on with the attitude of 'f*** you for treating them like that', played a furious, incoherent 20 minutes and that just tipped everybody right over the edge, then it was a full-on riot. I give Alan [Vega, Suicide's provocative singer] the credit. He lit the Molotov cocktail, I hurled it over the wall. One night we walked off and turned the whole PA into white noise to drive people out of the gig, no encore. We were just being young idiots." He ponders this for a moment. "The Young Idiot – that's gonna be the name of my next book."
As new wave's angriest young man, Costello rampaged through the late Seventies with a besuited bravado and sardonic sneer, lobbing arch lyrical bombs at Chelsea punk fashionistas, fascists and despotic, imperialist power figures. Four decades later, at 66, this Zelig-like elder statesman of literate, cultured rock, revered man of letters and dabbler in the higher arts – on the phone from his Canadian lockdown to discuss his 31st album Hey Clockface – no longer exudes the biting antagonism of his early days
His live shows, though still often ferocious, barbed and untamed, can take on a more inclusive and intimate tone. Take his carnival-style Spectacular Spinning Songbook tours, at which audience members were invited onstage to spin a wheel marked with 40 Costello songs and timeless classics to decide the setlist. Or his nostalgic Evening With… style residency at the London Palladium in 2016, for which he played inside a giant 1950s TV and regaled audiences with tales of his roots in the plush northern dancehalls.
Today he cuts the figure of debonair raconteur, and his increasingly regular diversions into country, jazz, gallic folk, classical music, opera, easy listening, bluegrass and electronica – alongside such renowned collaborators as Burt Bacharach and New Orleans legend Allen Toussaint – have long since granted him a more open-minded audience. No longer does he need to label his records "WARNING: this album contains country and western music & may cause offence to narrow minded listeners", as he did with 1981's album of country covers Almost Blue; Costello fans have come to expect unexpected sonic swerves. Ever since he released the Nashville-toned King of America and the savagely art-punk Blood & Chocolate within months of each other in 1986, he has forged ahead as an un-pigeonholable stylistic polymath.
That mischievous imp of old still has the occasional gambol, though. When Margaret Thatcher died in 2013, Costello resurrected his 1989 musing on the eventuality, "Tramp the Dirt Down" ("and when they finally put you in the ground /I'll stand on your grave and tramp the dirt down"), for his subsequent tour. And as Covid tore through the country in March, he took to the Hammersmith Apollo stage in the shadow of encroaching lockdown, told the crowd "we'll keep playing as long as they let us" and tore into a visceral "Hurry Down Doomsday (The Bugs Are Taking Over)".
"I woke up the next morning and thought, 'the game's up'," he says. "I saw the holes in the crowd in an apparently sold-out house in Manchester, and even at Hammersmith at the interval there was about half a house. We thought 'wow, people have really taken this seriously'… Two weeks later I'm reunited with my family after two weeks of quarantine when I get home, I'm in a little cabin on Vancouver Island going, 'where did the world go?'"
What did he make of Ian Brown's song claiming the virus is a plot to get us all implanted with chips? "Mancunians," Costello chuckles, "you can't help 'em, can you really? That's a joke – my family's from Liverpool, I'm contractually obliged to say that, whatever they say."
The first mid-pandemic volleys from Hey Clockface also threw back to his adventurous and insurrectionary past. Fully submerged in the electronic manipulations he'd explored on 2002's When I Was Cruel and 2013's Roots collaboration Wise Up Ghost, and reviving the abrasive rock attack last unleashed on 2008's Momofuku, "No Flag", "Hetty O'Hara Confidential" and "We Are All Cowards Now" were the result of a pre-tour diversion to Helsinki. There, Costello had worked alone, without a drummer or bassist, singing beats into his phone or constructing them from other instruments. "I was trying to make a rock'n'roll sound that wasn't like anything I'd done before – there's no bass for half the song, or all those instruments are playing different roles in what is just a rhythmic flow".
They seemed to speak to the times, too. "I sense no future," goes "No Flag", painting a portrait of a godless era of selfishness and xenophobia, "no flag waving high above, /No sign for the dark place that I live". The fractured soul "We Are All Cowards Now" references "rivers rising" and "the pornography of bullets", seeming to want to hide away from the horrors outside its boudoir curtains. Costello shrugs off accusations of prescience, though.
Enjoy unlimited access to 70 million ad-free songs and podcasts with Amazon Music Sign up now for a 30-day free trial
Sign up
"People tell me 'No Flag' is really about now. Well, I must be clairvoyant then, because I wrote it in January," he insists. "There's some days when there is no hope, no philosophy, no theology, no deity gives me solace from the feeling of hopelessness that I have, but you don't stay there very long. It's been a summer of turmoil, for a number of reasons, between the pressures of the pandemic and brutal events that then trigger protest and reaction and violence, all of that stuff you can take sides on, things you can't avoid seeing, [but] I'd already written all of that. All of those things were already happening, they're just in focus now because of all the conditions."
During the pandemic, he posted 50 of his – equally pertinent – old songs on his website, a day at a time, to reiterate the point that the tribulations of 2020 are nothing new. "All of these things have been happening all along," he argues. "I personally didn't expect to be discussing a televised lynching with my 12-year-old boys over dinner in 2020, but we are. So there's something wrong, clearly. It's the sort of stuff that was reported when I was their age on the evening news, a very sombre, not very partial, purely deadpan reporting of some outrage in the civil rights movement in the Sixties, and you'd think, 'for heaven's sake, how long does it have to go on before these things stop happening?'"
When talk turns to Donald Trump, he dovetails into a description of his long-in-the-works musical A Face in the Crowd, based on Budd Schulberg's 1957 screenplay about an ex-con drifter who, thanks to his provocative attitude, rises through the entertainment world to become an egotistical, megalomaniacal power figure. Sounds familiar. "It's very easy to draw a parallel," Costello says, "but really what the story is about is what it summons out of the crowd. He's a creation, he's a monster created from the dark impulses of the crowd, so who's really responsible? People go, 'that terrible moment when Hitler seized power'. No he didn't. He was voted in… However vulgar Donald Trump is, he's nowhere near that kind of monster, thank goodness. He's just a vulgar guy, we knew what he was before. It's not a big mystery. People go 'why would you vote for Silvio Berlusconi, a guy with plastic hair and terrible taste?' Because some people want to be like that…You get what you wish for."
"Hetty O'Hara Confidential", meanwhile, takes a sardonic look at social media storms. Here, a merciless Golden Age gossip columnist with "the irresistible urge to assassinate", sings Costello, finds herself rendered "powerless" in the Twitter age when "everyone has a megaphone" and "they've got witch trials now with witches to spare, /And a jukebox jury full of judgement and fury". A wry comment on cancel culture? "There's nothing more pathetic than a punctured monster, as maybe we'll soon find out in a number of places," he neither confirms nor denies, wary of reducing his songs to one specific reading. "Obviously [Hetty's] kind of power is not held by any one person, every little spiteful person can think that they can do that now [cancel someone], whether or not they are righteous or merely self-righteous – and let's make a distinction between those two things by the way." He's on a roll now. "The speed of life and the ease and the facile nature of even you saying a phrase, the impulse to dismiss somebody and gang up and all get together, you know how you deal with that? You simply switch the device off and it stops existing. It only exists if you're looking at it."
After his Helsinki sessions, Costello continued the album alongside long-term sidekick Steve Nieve and Le Quintette Saint Germain in Paris, "something I'd dreamed of doing", he says. "You can't help but have the outsider's romance of wandering through the streets of Paris on the Left Bank to go to the Studio Saint Germain. It sounds like somewhere where something great happens before you've played a note." These sessions gave the album a more emotive counterpoint to his noisier, politically charged Finnish experiments, with elegant moments like "They're Not Laughing at Me Now", "I Do (Zula's Song)" and "Byline" emulating Costello's more sophisticated output such as King of America, 1991's Mighty Like a Rose or 2018's Look Now. Hey Clockface's title track, for instance, is a lover's rag borrowing a Fats Waller riff. Combined with mournful paeans "What Is It That I Need That I Don't Already Have?" and "The Last Confession of Vivian Whip", the album begins to read like a battle against time.
"Yeah, but in a lighthearted way," Costello insists. "I wanted ["Hey Clockface"] to be like when you're waiting for your sweetheart, time moves too slowly. When it's time to leave, time moves fast. That's all the song's about, it's not about mortality. I don't feel that time is my enemy, I embrace time in the sense that I can say, as in 'Newspaper Pane', 'I don't spend my time reflecting on the past, I live for the future because I know it can't last'. I do really feel that way."
In 2018, Costello cancelled a handful of European shows while he recovered from surgery for a minor cancer scare. Was that a wake-up call? "No, because it was turned into a melodrama by The Sun and other people who couldn't care less whether you live or die and have no empathy for anybody. It was not an insignificant problem but it was fortunately one that could be dealt with one-time-only. I won't subscribe to the description of myself as a survivor of anything, that sounds melodramatic and self-pitying and I never would've told anybody had I not had to give a credible reason for why I wasn't going to be in Manchester on a given night playing with the Buzzcocks. Pardon me if I don't have a lot of time for discussing my brush with mortality, but I didn't have one."
There's certainly life in the old riot-starter yet. If Hey Clockface is Costello's sharpest sociopolitical overview since his Thatcher-baiting Eighties, it's just the latest instalment in a lifetime of documenting the machinations of the heart as much as the head of state.
"One of the reasons we sing in the first place is to get the emotions going," he says. "At the root of it is something very fundamental. It's just a life and death thing, happiness, sadness, justice, injustice. Those tussles are within many, many songs."
He pauses. "Not every song on the radio, obviously. Some of them are just about 'call me on the cellphone, how d'you like my bum?'"
Hey Clockface is out now
Join our new commenting forum
Join thought-provoking conversations, follow other Independent readers and see their replies