Enter Shikari: 'Hypercapitalism has sunk its claws into rock music but that's something we're just not interested in'
It's been 10 years since Enter Shikari's debut album Take to the Skies opened the floodgates for DIY bands to thrive. We look at how the album inadvertently re-defined the musical landscape, exclusively premier a Shikari Sound System TTTS2017 remix and discover what lies ahead for one of the UK's most innovative, idiosyncratic bands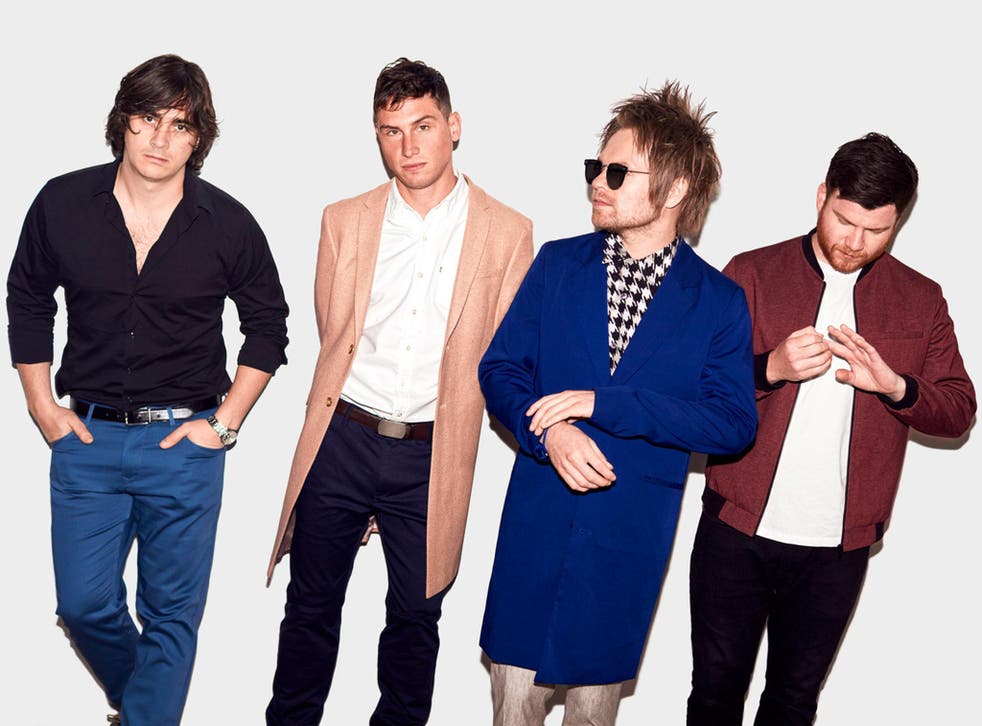 In 2007, the debut album from a young St-Albans-based post-electronic-hardcore quartet caused a seismic shift within the modern music industry. For years, the majority of commercially successful albums were released under the backing and guidance of one of the big six major record labels; Warners, Sony, Universal, EMI, BMG and Polydor. By 2007, the year Enter Shikari released Take to the Skies, the latter two labels had ceased to exist and it only took an additional five years for EMI to be subsumed by the remaining big three. No-one really knew exactly how the music industry would evolve (those that ever claim to know are either lying or fool-hardy) but one thing was abundantly clear; the way people discovered, bought and consumed music, for better or worse, was changing rapidly.
Like so many albums that become historic milestones, part of the success of Take to the Skies was down to timing. Access to music in 2007 was becoming more widespread than ever; thanks to the ever-increasing speed of internet connections, it was now possible to listen to a far wider variety of genres and artists than ever before (whether legally or illegally). This meant music fans weren't swearing allegiance to scenes like they once were; the internet made the world shrink, exposing the feuds between the punks and metal kids in the 80s and the East Coast / West Coast hip-hop rivalry of the 90s to be the trivial squabbles that they were.
Whilst broadly mocked today, MySpace was the dominant social network and provided a far friendlier platform for musicians than Facebook turned out to be. The shift in the way that (particularly young) people listened to and discovered new music created a perfect situation for a band like Enter Shikari to emerge with a record that brought together a variety of disparate genres; punk, trance, metal, hi-NRG and hardcore (both punk and happy).
The genesis of Enter Shikari begins at school, where Rou Reynolds, Chris Batten and Rob Rolfe tentatively started playing music together. As the millennium was dawning, the three-piece were covering fairly standard formative numbers by the likes of Oasis, Stereophonics and The Beatles (Batten admits to having 'some embarrassing tapes hidden away somewhere'). After a couple of years, the appeal of simply regurgitating pre-existing music waned and the trio decided to focus on writing original material under the name Hybryd.
Despite the on-trend misspelt moniker and nu-metal's assimilation of chunky heavy riffs and second-rate-raps providing the soundtrack to a generation pouring countless hours into Tony Hawk's Pro Skater, Hybryd were in fact a fairly straight-ahead rock band, albeit one that showed promise considering its members had yet to sit their GCSEs. 'It started off very much guitar-based' says Rolfe looking back on that period now, 'and as we were getting older, we would start to hear new music. In the late 90's, the dance world was exploding, it was massive and we started listening to a lot more of that. At school, I remember feeling very much more in tune with rock than I was with dance but as we developed, we got influenced by much more music outside of that sphere.'
At this point, the band followed a traditional rock three-piece format, with Reynolds pulling double duty on vocals and guitar, Batten on bass and Rolfe on drums. But Reynolds soon felt restricted with a guitar strapped round his neck so the band sought new blood to strum six strings. The addition of guitarist Rory Clewlow in 2003 not only prompted the band to change their name but also freed up the young Reynolds to experiment with electronics, a happy accident that led the now-quartet to write early iterations of amalg-anthems such as Sorry You're Not a Winner and Anything Can Happen in the Next Half Hour. 'The technology definitely wasn't the main inspiration,' says Reynolds 'but it pushed us down a certain path; I think that's always happened throughout the history of music. When the synthesizer was invented, people started writing music that incorporated it and I think when we discovered things like the Kaoss Pad, that created a world of opportunity for us.'
'Once we'd opened our ears to different genres it became a case of wanting to take the best of each and bring them together to create the 'ultimate' sound' Rolfe adds. 'We used to rehearse at my parent's house and I remember quite early on Rou asking in band practise 'What's the most euphoric music you can think of?' For us, that was 90's trance, so that became a big part of our early sound. It soon became an exercise in picking and choosing the best bits from each genre. I think at the time perhaps we cobbled those bits together a bit crudely but it was different to anything else that you heard at the time.'
Crude it may have been but people undoubtedly began to notice the band. Their dalliance with electronics made them stand out amongst a British rock scene enjoying a renaissance due to a slew of excellent releases from the likes of Hundred Reasons, Muse, Reuben, Oceansize, Hell is for Heroes, Funeral for a Friend, The Darkness, Idlewild and Biffy Clyro. All of these bands were distinct from one another and in that respect, Enter Shikari were no different but few were sitting on the fence (and many were quite vocal) when it came to their feelings on the St. Albans lads. 'The electronics became a very big talking point all of a sudden' recalls Batten today. 'I remember people were either excited about them or they absolutely hated it. Either way, it made us feel like we were on to something. We'd been striving to get noticed and stand out amongst a thriving rock scene, especially in and around St. Albans and that's what people seemed to latch on to, for better or worse.'
'I think the attitude from those who hated it might be a hang-up from school days' says Clewlow. 'School is a very segregated environment where those who're seen as 'alternative' were often bullied and I think introducing that electronic element could have negative connotations for those kids; it might remind them of the people that were bullying them. But our friendship group was the social equivalent of Enter Shikari; there were people who listened to Slipknot, people that listened to hip-hop, even some friends who were completely ambivalent to music of any kind. But we were all really tight and that seeped in to what we were writing.'
Enjoy unlimited access to 70 million ad-free songs and podcasts with Amazon Music Sign up now for a 30-day free trial
Sign up
Take to the Skies was a record that pushed the cross pollination of genres even further than the likes of Rage Against the Machine, The Fat of the Land or Mr. Bungle had before them. As each year passes, even the term 'genre' becomes less relevant; how do you succinctly describe the sound of Die Antwoord, Awolnation or Oathbreaker? It may be simple coincidence that all three of these groups formed within a couple of years of Shikari's debut album (alongside a whole swathe of bands that journalists scratch their heads attempting to describe pithily) but Take to the Skies undeniably helped pave the way for a landscape that enabled more bands to experiment and blur the lines of genre, to the point where categorisation becomes almost irrelevant. Naturally, the majority of record labels at the time had no idea what to do with a band that wouldn't fit into a neat categorical box.
'In the very beginning, no-one wanted to touch us' says Rolfe. 'I don't think anyone knew what to do with us because our sound was so different; there wasn't any pre-determined formula that they could use that would work with us. It was only after we'd played 500 or so shows and built up a fairly decent underground fan base that they began to realise that there might be something they could sell here.'
A huge contributing factor that made labels sit up and pay attention to the band was their performance at Download 2006. Appearing as the second band on the bill squirrelled away on the third stage, it was the first time Enter Shikari had been offered an opportunity outside the DIY scene that had nurtured them. Despite nerves (Clewlow threw up just as the band were about to walk onstage) it was an opportunity that put them in front of thousands of faces simultaneously. 'There were a lot of industry people there who were shocked because no-one had heard of us, yet we were capable of filling a 2,500 capacity tent at lunchtime' says Batten. 'It wasn't as much of a shock to us because we'd been touring relentlessly and we could see the fan base increase every time we returned to venues around the country; Download was just the first time that we saw all those people together in one place.'
Enter Shikari's hard work was further vindicated later that year when they became the second unsigned band ever to sell-out London's 2,000 capacity Astoria (the first had been Lowestoft's The Darkness three years earlier) a feat never to be repeated now that Crossrail have knocked down the legendary venue in order to make way for a hyperspace bypass swish central London train station. In the period between Download in June and the Astoria in November, label interest had developed from practically zero to a feeding frenzy. The band happily took the free meals and booze that are generally associated with such negotiations, but in grand traditional rock n' roll fashion, neglected to tell the labels that they'd already planned on doing everything themselves.
Shikari had such courage in their DIY convictions that they reportedly turned down several six-figure advances from majors in favour of remaining independent; it's difficult to think of many bands in their early 20s who would've been head-strong enough to turn down that kind of money. 'We'd already written and recorded the album by the time the Astoria show came around' says Batten. 'We had a solid foundation and we'd come so far down the line by ourselves that it seemed silly to hand it over to someone else. It seemed like the sensible option to release it through our own label ... well, not sensible but the right option!'
That label, Ambush Reality, was founded in July 2006, just one month after their triumphant show at Download. Whilst self-releasing albums has become fairly standard practise for bands in 2017, it was still considered a pretty bold move in 2007, especially if you had a veritable gaggle of labels champing at the bit to release your debut record and extend its reach to a mostly unsuspecting public. But the band (and particularly those who worked alongside them) recognised that the music industry was in a serious state of flux; bands just a couple of years their senior had been swept up in the British rock music boom of the early 2000s and then dropped just as quickly, often with quite considerable debts to pay off. Suddenly, the idea to self-release was beginning to make sense.
'It wasn't really a difficult decision to make' says Rou, 'there were lots of scare stories flying around at the time. Hell is for Heroes and Hundred Reasons had both been dropped by majors just a couple of years previously and we'd seen the same thing happen to our friends in Violent Delight; they were St. Albans lads who got pushed in a certain direction, did a couple of singles and one album before being dropped. They were taken in, eaten up, chewed and spat out, the whole process just looked so ugly. So things like that were making us wary of pursuing those routes. I remember giving the rights away to our songs was a big issue for us as well; we were terrified about doing that. We figured if we could release our music and manage to retain control of the rights, that would be a great situation but our ambitions didn't really extend much beyond that.'
Take to the Skies was released in the UK on 19th March 2007. 6 days later, the album reached #4 in the Official UK Album Chart, selling 28,000 copies in its first week. In an article published 3rd April 2007, Billboard reported it as a 'victory over the label system' and further cemented the band's achievement by saying it marked 'the first significant chart success for a new act operating outside the traditional label system.' Whilst Enter Shikari might be too modest to say so themselves, the success of Take to the Skies was a galvanising turning point that proved it was possible for underground bands to achieve great commercial success with a DIY approach. What with the independent-focused online music platform Bandcamp being founded the same year Take to the Skies was released and the ability to reach fans directly through social media platforms making self-promotion a viable prospect, Enter Shikari, whether by accident or by design, became inspiring figure-heads of the DIY movement.
Commemorating the 10th anniversary of an album that helped put control back in the hands of artists is a worthy endeavour indeed but it did come as a surprise when the TTTS10 shows were announced. After all, Shikari have always seemed more interested in looking forwards at what is to come rather than focusing on achievements of the past. 'It's an unprecedented position for us to be,' admits Reynolds 'but I think it's worth celebrating the fact that an independent band that plays our style of music, which is very far from the middle of the road, is still here and still growing; it feels good to take some time looking back at the foundations of all that.'
The accumulation of TTTS10 will be three shows headlining Slam Dunk Festival, before the band concentrate on what the future holds; a new one-off single, Supercharge is the latest in a long line of one-off singles (others include Redshift, Slipshod and Hoodwinker). The single features grime MC Big Narstie and shows Shikari to be just as idiosyncratic as they've always been. Alongside Supercharge, the band announced an 8-date UK arena tour for November and Reynolds recently added 'published author' to his enviable list of achievements after Dear Future Historians was published in March, a book that collates the band's lyrics and features essays penned by Reynolds chronicling each song's creation.
But the most appetite-whetting release for Shikari fans is a new record; the band's fifth is in the works and it's already emerged that they'll be a fairly dramatic change in musical direction, as Reynolds cryptically explains. 'I think, perhaps in a slightly naïve and immature way, we've always wanted to be the antithesis of pop music, or certainly what we perceived pop music to be. A lot of the time when we're writing, we want to be the heaviest, or the loudest, or the most diverse; we want to take things to the extreme, put it all in a blender and by doing that, we end up creating a monster. So I always put a lot of pressure, particularly on myself, to go to those extremes, but I don't think we feel that anymore; these days we just want to write the best music we can and I think the songs have benefited from that a great deal.'
As has been their wont in the past, album no.5 will reflect the world around us and with political tensions being at an all-time high, certainly since the band's inception, it will be of no surprise that political themes will feature on the new record. 'People start rock bands for different reasons' says Reynolds, 'and there are still many that do so to get girls or do drugs without anything else on the horizon. A lot of those bands get big but I don't think it would ever even occur to them to make a creative political statement. They may rattle off a surface sound bite like 'Trump's an asshole' or something like that, but there's nothing willing them to write music that challenges the status quo. Hypercapitalism has sunk its claws into rock music and now people have ambitions to be in a big rock band just to be a big rock band. Is there anything inherently wrong with that? I don't know, it's probably not for me to say, but it's something that we're simply not interested in.
Personally, I wouldn't be in this band if we weren't given a voice and a pedestal to provide social commentary and help support causes that are dear to us. I love playing music but I can play music at home. I've lost too many friends, I've lost too many relationships and I've been on tour for too long to do this if I didn't feel like we're doing something proactive. Whether it be helping someone through a difficult time or helping to embolden someone's political views when they're surrounded by horrible people in the arse-end of Arizona. As long as we're doing those little things, that will remain one of the main propelling forces behind us being in Enter Shikari.'
The Take to the Skies anniversary tour culminates this weekend with three performances headlining Slam Dunk Festival. Enter Shikari's November UK Arena Tour is on sale now. Dear Future Historians: Lyrics and Exegesis of Rou Reynolds for the Music of Enter Shikari is out now and published through Faber
Join our new commenting forum
Join thought-provoking conversations, follow other Independent readers and see their replies