Eurovision 2018: Exploring the LGBTQ+ community's love of the song contest with Saara Aalto, Conchita Wurst and super fans
Ahead of the semi-finals, The Independent caught up with Finnish entry Saara Aalto, 2014 champion Conchita Wurst, and a few Eurovision superfans, to explore the LGBTQ+ community's love of the annual song competition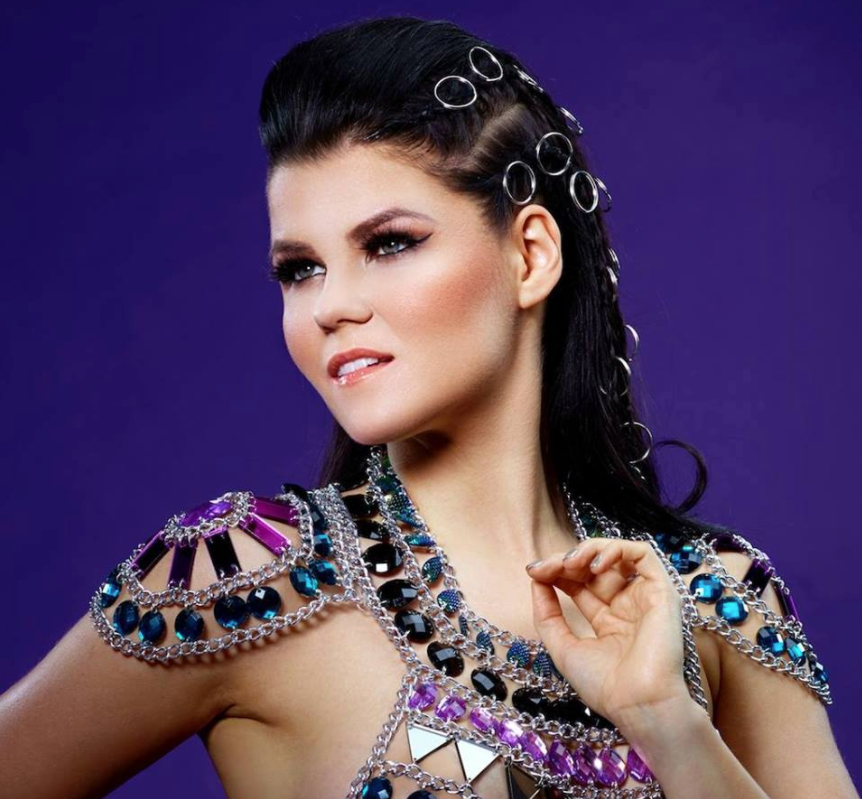 It launched the careers of ABBA, Brotherhood of Man, Celine Dion and almost 17 per cent of the total number of Sugababes in current circulation (hi, Jade!), and remains a hotbed of over-the-top pyrotechnics, projection mapping, sweeping ballads and balls-out bangers. The Eurovision Song Contest is an international spectacle firmly at the heart of the LGBTQ+ calendar.
I've followed the contest since 1995 when pop group Deuce lost the chance of representing the United Kingdom to the BRIT school rap outfit Love City Groove (it still burns). Also I've been lucky enough to report on the contest for half a decade, chasing it around Sweden, Ukraine, Denmark, Austria and now Portugal. For me, a queer man in his thirties, the cocktail of music, creativity, competition and fandom is still utterly irresistible.
The vast majority of casual fans across Europe treat the contest like Christmas – a crate of tinsel and tradition that gets unpacked once a year, before being shunted back into the box once the Prosecco-buzz wears off and you've work in the morning. Some people aren't even aware that there are semi finals.
For the more involved fans, Eurovision is a six-month indulgence with winter trips to watch the Estonian finals, round-the-clock blogging, party after party, and listening to the approximately 3,000 international entries that didn't make the cut. The majority of these hardcore fans come from the LGBTQ+ community.
From 1961 when Jean-Claude Pascal won for Luxembourg with "Nous Les Amoureux" – a touching ballad about lovers tormented by the world's prejudices (cough, cough, knowing-wink) – to Ireland's 2018 hopeful, which brings a same-sex love story to the stage through dance, queer culture is as stitched into the fabric of Eurovision's history as the sequins are on one of Agnetha Fältskog's many, many jumpsuits.
And whilst Eurovision can't solve all of the world's LGBTQ+ problems – it can bring them into sharp international focus. When Conchita Wurst, a bearded drag queen from Gmundem, Austria, began her path to victory, she met fierce resistance from outside the competition, particularly in Russia where oppression of LGBTQ+ people had increased exponentially over the previous 12 months. One Russian politician even described her win as "the end of Europe".
I asked Conchita what she makes of the contest's Queer appeal?
"There are certain rules on the stage, like there's no more than six people allowed, but beyond that you can be whoever you want to be," she says. "You will be celebrated for who you are. I think that is something that people feel, the respect that everybody has for each other and even though there may have been situations where contestants wouldn't get along or the audience would boo, like when they boo'd the Russians, of course, things like that happen.
"But there's always opportunity within this contest to say to people "listen, that's not how it should be, let's celebrate each other instead" and I think that's always such a great message that goes out."
She's right.
In 2014, the year Conchita won, Russian runner-up Polina Gagarina found herself in hot water with the Motherland after posting a photo on Instagram where she can be seen giving Conchita a friendly kiss. Vitaly Milonov, author of the Russian legislation banning "propaganda of non-traditional sexual relations" barked to his national media: "Don't you dare soil Russia by hugging Euro-perverts!"

Enjoy unlimited access to 70 million ad-free songs and podcasts with Amazon Music
Sign up now for a 30-day free trial
Sign up

Enjoy unlimited access to 70 million ad-free songs and podcasts with Amazon Music
Sign up now for a 30-day free trial
Sign up
Gagarina's response? "Conchita is a great performer and is very intelligent. I call on everyone to watch what they say!".
Polina stood with Conchita. The LGBTQ+ community watched on.
"Eurovision is this bubble of inclusivity and respect" says Conchita, "and it's so beautiful, if only the whole world would be in this bubble. It is a family that will never forget about you."
And it does feel like a family. Albeit an unconventional one with six Buranovskiye grannies baking bread in a revolving pizza oven.
In pictures: Eurovision song contest 2017
Show all 55
Hoping to emulate Conchita's success in Lisbon next week is the openly gay Finnish runner-up of X Factor 2016, Saara Aalto.
I caught up with Saara at the launch party for her new album Wild Wild Wonderland (totally one of the most enjoyable pop albums of the year, FYI), and asked why she thought that Eurovision was such an important occasion for the LGBTQ+ community.
"It's all about the community and that's what makes the fans so passionate about the contest – because I think for the community in some cases maybe it's the first place where they've found people who are similar to them. They live Eurovision, they breathe Eurovision and I think it's very beautiful. I've been watching the show for years and remember seeing it on TV and thinking, 'that's my place, that's where I belong' and I sensed a community spirit even though I wasn't physically there".
That's a feeling that resonates with a lot of fans – seeing people who are like themselves having their moment in the spotlight. It feels as though that stage belongs to everyone, and LGBTQ+ people are at the front of it, competing hard, being celebrated and sometimes even winning this international tournament.
Saara goes on to pinpoint her fondest memory of the contest: "My first memory of Eurovision, aged 10, was Dana International [the first openly transperson to enter Eurovision] winning and I was like "Oh, she's the most beautiful woman I've ever seen", and though all the performances that year were different, everyone supported all of them. There's a big element of "oh, you don't have to be like everybody else, if you want to be different". Every county and performer is different but together it makes for a good show, and that's kind of like life. That's the appeal."
Saara travels out to Lisbon with her fiancé Meri to compete in Semi Final 1 on Tuesday evening – but what's the draw for those fans who follow the contest around Europe year after year?
With five trips to the finals under her belt, super fan Elainovision (not her real name obvs, though with a Eurovision tattoo in the pipeline perhaps the deed poll is next?) gained notoriety for successfully spearheading a Twitter campaign to have San Marino change their official 2016 entry to the slightly more danceable disco mix they'd initially released as a bonus track. And it's that link between the competitors and the fans that has earned the contest a special place in Elain's affections.
"When Dana International won in the Nineties transpeople barely existed in the mainstream media. Her win is how I learned what trans was for the first time by talking with my parents about this beautiful Israeli singer – it made me realise that being trans was an actual thing and not something that was just inside my head. In that regard I deeply owe Eurovision."
"But I became a 'super fan' in 2003 as teenager. Back then the fandom was a little more limited – it was led by groups who were, almost without exception, middle-aged CIS gay men, which meant that as a teenage girl I had my opinions mocked and derided quite a bit. This only really changed when Twitter came about, and the fandom was no longer quite so policed by one sort of fan and it opened up to a much younger, more diverse audience."
It's fair to say that there are guys who have been following Eurovision since the Seventies when the competition took place in theatres and you'd have to wear a tux to get in. As with other areas of LGBTQ+ culture, there's a portion of the audience who've found a safe environment and, for varying reasons, in turn find it difficult to open up their space to other people. But that space is opening up.
Elain continues: "the hope of an even more inclusive fandom comes in the younger crowd and the changing demographic that we're beginning to see. Amongst the younger fans there are a lot of young cis gay men and also a lot more women, and there's less of a restrictive prevalent attitude from any one set of fans. And these young people now have more control over their communities – that's a hugely positive change for Eurovision."
"Eurovision can be a lovely community, particularly in an international regard. Last year when I was on the train from Poland to Kyiv and on the train there was a small group of Polish lads who started singing Flashlight [Kasia Moś, Poland 2017] and I just happened the be wearing my top with Salvador Sobral [Portugal's winner in 2017] on it and so I shouted across the train "Hey! Good luck to Poland from Portugal" and they shouted back. Later on in the week, after the semi final, I was chatting with friends outside the arena when the same group of Poles came up and started congratulating me on Portugal getting through – I did the same. It was a really special moment."
"It's the complete opposite of the political "stick on your side, behind the borders" attitude that so many countries have politically at the moment. That's the appeal of Eurovision."
Elain's spot on.
For me, growing up as a queer kid in suburban Oxfordshire, pop music is where I found my heroes, and Eurovision presented a lot of them. But still to this day we've no comparable LGBTQ+ role models at the FIFA World Cup or even in the Premier League, and only recently so in the Olympics. The Eurovision platform has been vital (and often alone) in providing positive role models for young queer people at home and abroad. This goes an extraordinarily long way to explain why we love and cherish this ridiculous competition so much.
The 63rd Eurovision Song Contest will take place in Lisbon, Portugal. The Semi Finals will be broadcast on 8 and 10 May on BBC4 and the Grand Final will be broadcast on 12 May on BBC1
Join our commenting forum
Join thought-provoking conversations, follow other Independent readers and see their replies