Everything Everything interview: On their new album A Fever Dream, personal lyrics, and Radiohead comparisons
'You can't always be talking about the bigger things, you sometimes need to talk about what's close to you'
Jack Shepherd
Friday 18 August 2017 10:44 Comments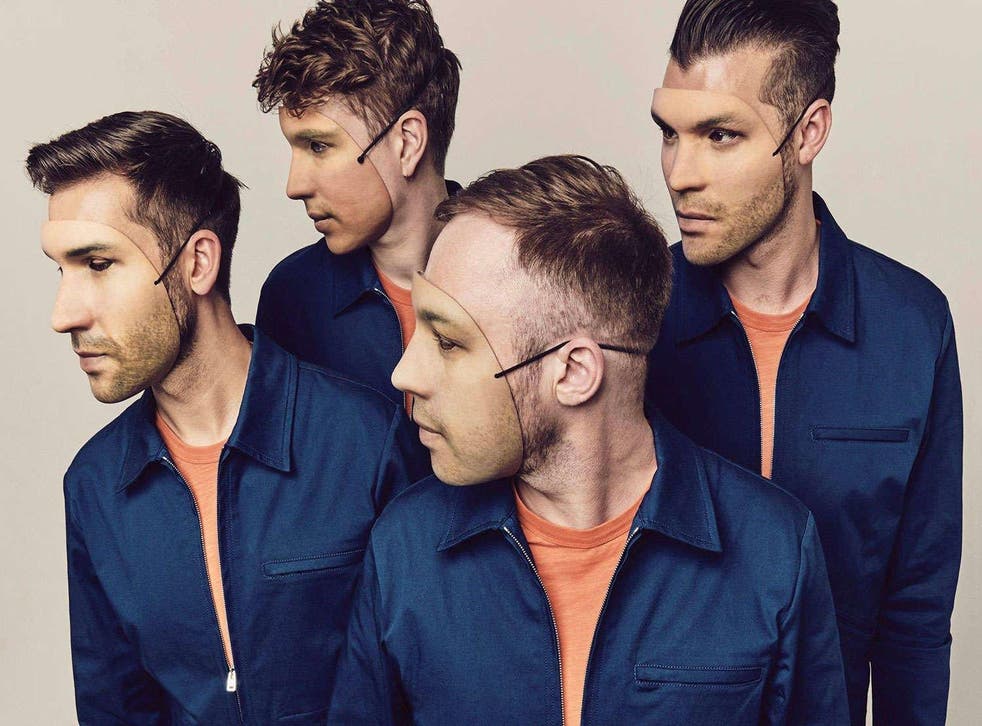 When released in 1997, Radiohead's OK Computer set the world alight, numerous bands – such as Bloc Party, Animal Collective, TV on the Radio – being heavily influenced by the record. However, for a very long time, no band went quite as experimental as Thom Yorke's gang with the same success, the most prominent early noughties sound being Strokes-esque guitar rock, which itself ended when labels became oversaturated by landfill indie.
From the ashes of The Good Shoes and Pigeon Detectives, though, came the beginnings of a new wave of bands, most of whom were able to harness easily accessible music making equipment to create new sounds. When 2010 rolled around, The xx – at the time Britain's quirky new favourite – won the Mercury Prize, the group scoring a huge debut hit. Radiohead's experimental style had become mainstream.
One year later, Everything Everything was nominated for the same award, a band who had sourced their name from the first two words said by Yorke on Kid A. Ever since, band members have been questioned countless times about Radiohead's influence on their sound.
Meeting the group's singer, Jonathan Higgs, and bassist, Jeremy Pritchard, at Sony's offices in London, I want to avoid talking about Radiohead. Yet, almost immediately, we're discussing how they were both playing on the same stage, on the same day, earlier this year at TRNSMT Festival in Glasgow.
"To think, we were warming up for Radiohead, this band we admire and have been so influenced by," says Pritchard, the more talkative of the pair. "I was talking with Jonny Greenwood about the festival. That would have blown me away years ago."
I'm guessing Pritchard doesn't mind being compared to Radiohead, then?
"I'm surprised we don't get the comparison more, especially because our name is from their song," he says. "Our music doesn't get compared nearly as much as it did. We're forging our own path."
Unlike Radiohead, Everything Everything have a larger pop sensibility. Their first record, Man Alive, had the hugely impressive singles "MY KZ, UR BF", "Schoolin'" and "Photoshop Handsome", all of which received radio play despite their peculiar lyrics, the former nominated for an Ivor Novello award.
"If we wanted to do an entire record of pop songs because it took our fancy, we would," says Higgs. Arguably, their third record – Get to Heaven – is, The Observer calling the record "a Radiohead you can dance to".
Again, though, the lyrics were completely bizarre, commenting on current affairs through strange metaphors. The most famous example comes in the astounding "No Reptiles", the chorus going: "Oh baby, it's alright / It's alright to feel like a fat child in a pushchair / Old enough to run / Old enough to fire a gun".
Enjoy unlimited access to 70 million ad-free songs and podcasts with Amazon Music Sign up now for a 30-day free trial
Sign up
For A Fever Dream, their fourth, and latest record, Higgs has continued to comment on what's happening in the world, the most prominent example being "Ivory Tower" which discusses Waitrose shoppers looking down from their ivory towers. Yet, other tracks, such as "White Whale" (which sounds very Kid A), seem much more personal.
"The lyrics are definitely more personal here," he says. "You can't always be talking about the bigger things, you sometimes need to talk about what's close to you. We've slagged off other bands who sing about relationships all the time, but we can't not talk about our experiences."
Perhaps Higgs has learned to switch off from the news? "How can you switch off from the news?" he asks. "Everyone's tuned in all the time, with news feeds updating all the time."
Despite the news cycle always ticking on, faster than ever thanks to Twitter, Higgs admits to feeling more disconnected from the world than ever before: "I don't feel any more comfortable walking onto a housing estate, or walking into this place," he says. "We're not majorly wealthy, but we're not poor and we're constantly on the move, and on tour. I feel disconnected from it all."
The touring life has been known to drive many artists crazy. The Beatles, of course, stopped touring altogether, something the two members of Everything Everything point out, saying they can understand why. Surely, though, they have a connection to each other that makes touring easier?
"Yeah, you're right," Higgs continues. "We're connected as a group, to each other. We share so much of our lives on tour, sleeping in such a small space. We share all that together."
From the sounds of A Fever Dream, Everything Everything sound more connected and assured than ever. Where Get to Heaven was a whirlwind record, there are slower moments on the new record – particularly during the second half – where the group are less out to prove themselves and more comfortable in their own skin.
"Assured is a good word because that's how it feels," Pritchard says. "We felt we could experiment more, knowing that people would listen to this record before even seeing these tracks live. Having been in the studio, we're still working out how to play some songs live. Everyone says their latest record is their best, but this is ours."
Their most recent sets have opened with A Fever Dream's first song (and highlight) "Night of the Long Knives", the singles "Can't Do" and "Desire" also making appearances. Notably, though, tracks from Man Alive have been all but eradicated. "We're not ashamed of those past tracks," explains Pritchard, "but they don't fit into our set anymore, their sound is very different. Who's to say whether they'll crop up in our setlists again or not. But, right now, with these shows, they haven't."
Discussing live acts, Pritchard is – to my surprise – in support of certain, non-band acts coming out and singing to a backing track rather than forcing themselves to use a full band. "Just because you're playing live, doesn't mean you need a whole group," says the Bassist.
"These artists that have gotten big on the Internet have suddenly thrown into these huge gigs, and feel they need to fill it out. Sometimes it works, but sometimes it doesn't. We did the circuit, played the venues, and worked our way up. Things have changed so much, and they're changing all the time in the industry."
With growing live shows and bigger venues (one particularly huge one in London coming up), what's next for the band? "We're already looking forward to the next album," they say. "That's how you have to be, looking onto the next thing." I joke that, if they continue moving up, their own Kid A could be coming. Jeremy laughs: "I really hope so."
A Fever Dream, the new album by Everything Everything, will be available in record stores and streaming services from 18 August
Register for free to continue reading
Registration is a free and easy way to support our truly independent journalism
By registering, you will also enjoy limited access to Premium articles, exclusive newsletters, commenting, and virtual events with our leading journalists
Already have an account? sign in
Join our new commenting forum
Join thought-provoking conversations, follow other Independent readers and see their replies