Interview
Everything Everything's Jonathan Higgs: 'I think this lockdown period has been incredible'
As the art-rock band release a new single ahead of their fifth album, 'Re-Animator', frontman Jonathan Higgs speaks to Roisin O'Connor about the benefits of lockdown, his explorations of human consciousness, and why he's done with politics
Wednesday 17 June 2020 22:16 Comments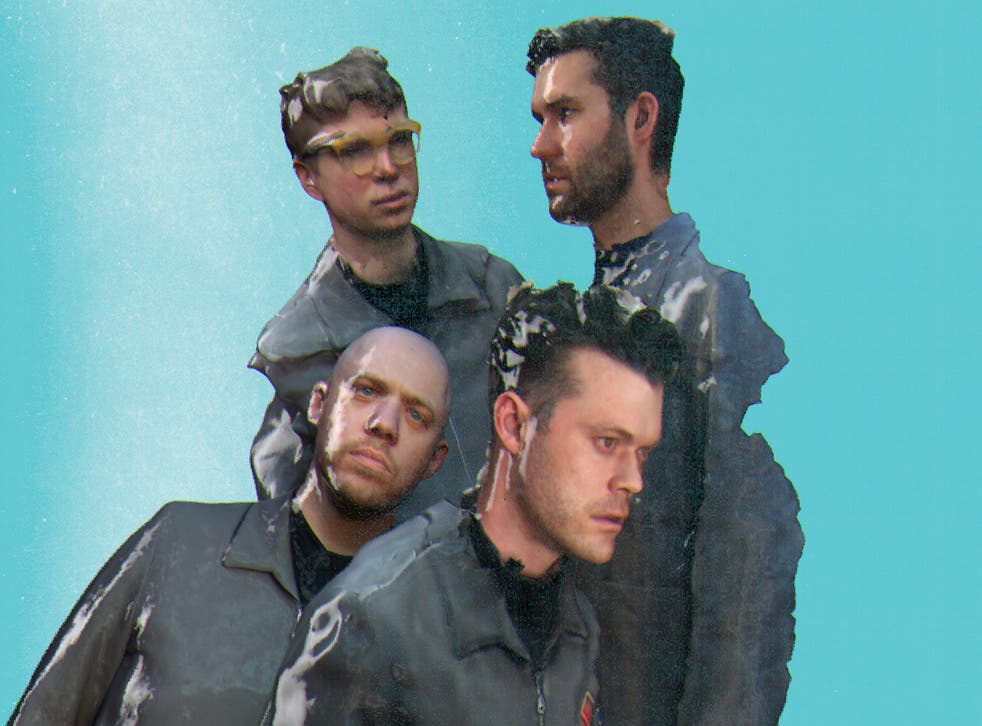 For a band known for their sly political commentary, Everything Everything are strangely apathetic right now. Over the past decade, the art-rock quartet have tackled everything from white privilege and the Iraq War to the rise of Donald Trump. "Someone's going to burst your blood blubber head/ Even little children see through you," frontman Jonathan Higgs sang of the US president on 2017's Mercury Prize-nominated A Fever Dream. But all that seems to have changed. The 2020 US election? Brexit? Coronavirus? Higgs just doesn't want to know.
"I talked about politics so much on the last two albums, and to watch that all [Brexit, Trump] play out over the last few years was depressing," the 36-year-old says. He's talking over Zoom from his home in Manchester, which he shares with his partner and their seven cats. In previous interviews, he's been depicted as serious or sullen. Today, though, he's fun and lively, impish even. Speaking in rapid-fire staccato sentences, he sounds not dissimilar to how he half-raps on record. "[Current political discourse] feels like the same old stuff warmed up and rehashed," he continues. "I've commented on it, I've satirised it, I've told you I'm bored with it, and now I'm done with it all. It's a nice feeling."
Re-Animator, released later this summer, is the fifth album for Everything Everything, who formed while studying at Manchester University in 2007. While its themes – which include a sentient fatberg plotting world domination – might seem unusual, they're par for the course for a band who so successfully navigate the line between commercial and avant-garde. Their music – kaleidoscopic arrangements of bloopy synths, rock guitar solos, dazzling keys and Higgs's pained falsetto – lurches drunkenly towards the pop end of the spectrum like an uncle aiming for the bar at a wedding. It's seen them nominated for two Mercury Prizes and five Ivor Novellos – and frequently likened to Radiohead.
Re-Animator is more refined than Everything Everything's previous records, though – it's teeming with characters who are alternatively lonely, scared, confused, paranoid and malevolent. "I didn't want to make another 'warning' album, not because it's not true, but because I just don't like trying to think how much worse things can get," says Higgs. Upon releasing the band's third record, Get to Heaven, he told the BBC that he realised he'd written a "horror bible". "I don't like how much of my life I've given to people like Trump."
Even as Higgs says this, I get the impression that, for him, it's less about ignoring certain issues than trying to approach them in more interesting ways. Since the 2016 US election, hordes of artists, from Depeche Mode to Katy Perry, have scrambled to summarise the global mood in a single song, with wildly varying degrees of success. According to Higgs, this will all end up in a "landfill" with the end result unchanged. "I put money on Trump winning last time and I'm going to do it again," he says, firm in his belief that neither side has changed their opinion of the US president. "[Those songs are] such a waste of life, really. Who cares if another lefty white guy with a guitar tells you that racism is wrong for the 90th time?"
Re-Animator, then, is more about "being alive" and everything that Higgs finds fascinating about it, good and bad. While it was written pre-lockdown, "In Birdsong", a fizzy, slow-building synth-pop track, manages to feel remarkably relevant: it's a hymn, or perhaps a lament, for a brief time where nature was allowed to breathe. Higgs sings: "A song/ That I cannot begin to understand/ The slaughter in sky/ Pulling on the magnet in my mind/ The stench of it, the rendering/ The energy, the energy of us." In a statement for its release, he explained: "Birdsong has accompanied human life since before we were even human, but in the recent century it has been obscured or pushed out of our lives."
"I think this period has been incredible," Higgs says of the ongoing coronavirus pandemic. "Obviously people have died, and [some deaths] could have been prevented. But other things have been music to my ears." He expresses disdain for our reliance on technology and monoliths such as Amazon – "I'd remove that part, but keep the rest of it, [this time] where we're not completely disgusting like we were before."
"It's already over, though, isn't it?" he adds, and now he is glum, thinking of the shops and pubs currently opening around the UK. "The dream is over. We can't go to a funeral but we can go to the pub. It's crazy."
Most of the songs on Re-Animator were heavily influenced by Higgs's reading of The Origin of Consciousness in the Breakdown of the Bicameral Mind. In it, psychologist Julian Jaynes hypothesises that the brain of ancient man was once divided into two sides. Higgs applies this to modern life and the mundane things that distract us from it. "It's the idea of being the walking dead, then you're re-animated by something," he says. "And then you slowly fold back into lattes and Netflix and all the other crap."
Enjoy unlimited access to 70 million ad-free songs and podcasts with Amazon Music Sign up now for a 30-day free trial
Sign up
"If you live like that for 20 years, what are you at the end of it? Just a mass of unfulfilled potential," he continues. "You don't have to be a genius, but I don't think people are very happy living the lives we live."
Higgs is on Twitter, but you'd be hard pushed to find him commenting on anything in any clear terms. "I tend to take a sarcastic view without pinning my colours to the mast," he says. "It's not the most mature approach, but it allows me to avoid controversy and still amuse myself." Reddit is more his thing, though – he says he's constantly trawling through posts by conspiracy theorists, who provide the inspiration for Re-Animator track "Lord of the Trapdoor".
This exploration of the more paranoid side of our psyche is just one of the myriad reasons why Everything Everything are so often compared to their idols, Radiohead. Higgs used to wince at the mere mention of them in interviews – now he and the rest of the band accept it. There's a dark glamour on certain Re-Animator songs – "Black Hyena" and "It Was a Monstering", particularly – that nods to the rock and electronic flourishes applied to Radiohead's Hail to the Thief. "We can tart songs up better than anyone, I guarantee you," Higgs says, as he explains how the band wanted the tracks to work acoustically, as well. "The song has to be good at the core of it."
During lockdown he's been focusing on small things at home – DIY and "trying not to be a dick". Most of all, he says, he's "trying not to go insane" at the thought of an entire year with no live shows. "The idea that no one's going to notice the record is the scary part," he says. "That people will look back and be like, 'Oh yeah, Re-Animator was one of those Covid-19 records.'" He needs something else to do, he agrees. "Which is why we might just make another album."
New single 'Planets' is out now. Re-Animator is out 21 August
Register for free to continue reading
Registration is a free and easy way to support our truly independent journalism
By registering, you will also enjoy limited access to Premium articles, exclusive newsletters, commenting, and virtual events with our leading journalists
Already have an account? sign in
Join our new commenting forum
Join thought-provoking conversations, follow other Independent readers and see their replies