interview
First Aid Kit: 'We're not these innocent sisters holding hands – we're angry feminist bitches'
The Swedish duo speak to Alexandra Pollard about their new Leonard Cohen covers album, being young and terrified of making mistakes, and why it's hard to be angry all the time
Wednesday 24 March 2021 07:42 Comments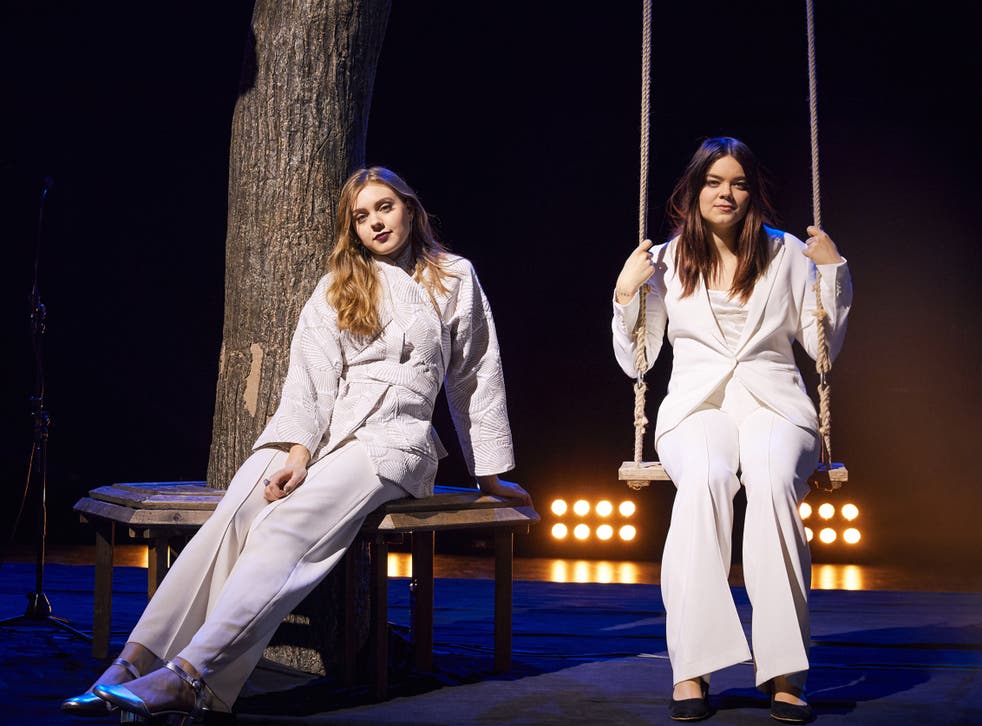 Leer en Español
On International Women's Day 2017, First Aid Kit released a three-and-a-half minute cry of pure rage. "How did you ever think you had the right to put your entitled hands up her thighs?" sang the Swedish sisters on "You Are the Problem Here", their voices cracking over vociferous electric guitars. "I hope you f***ing suffer." Written after the pair read about yet another rape case that came to nothing, it was a culmination of years of female fury. "I think that song really shattered our image of being these two innocent sisters in a forest holding hands," says Klara Söderberg with a laugh. "That wasn't a conscious thing, but that's just who we are. We're two angry feminist bitches."
Such fire and brimstone is certainly at odds with how the media painted First Aid Kit when they emerged on the music scene in 2008. Armed with acoustic guitars and mellifluous harmonies, they were described in newspapers as "Nordic princesses" and "plaid-clad angels" who made "pine-scented folk" and whose lifestyle seemed "a little Brady Bunch". Critics treated them with scepticism and condescension, either unable to see beyond the flowing dresses and foliage – they did hang out in forests an awful lot – or irritated by their precociousness. One critic, deeply offended by the fact two teenage girls had cited Conor Oberst, Karen Dalton and Johnny Cash as influences, described them as "creepy". "A lot of women get talked about like… fairies," says Johanna. "It's frustrating because that first impression, that's the one that sticks."
In reality, there was always a darkness to First Aid Kit's music. Take their breakthrough single "Emmylou". A crisp, sophisticated folk song about the relationship between Emmylou Harris and the ill-fated Gram Parsons, it may have been a starry-eyed love-in, but it also referenced ghosts, deception, and bitter winds that had to be endured. "I'm a goddamn coward, but then again so are you," the duo sang on the title track of their 2012 album The Lion's Roar. On its shimmering Americana follow-up Stay Gold two years later, the grand arrangements and bright melodies veiled a lingering pessimism. "I always thought that you'd be here" went "Master Pretender", "But s*** gets f***ed up and people just disappear." Pretty bold for Nordic princesses.
In those early years, First Aid Kit struggled to reconcile their music, their image and who they wanted to be as people. They would go to parties "and there would always be someone who's like, 'Oh you're in that band!'" says Johanna, who's 30 now and gave birth to a baby girl over lockdown. "So you're just like, 'Alright, well I don't want to get drunk and say something stupid.' You're already self-aware as a teenager, then there's this extra layer of feeling responsibility for the music and the band. Thinking about it now, it's a bit of a burden."
In interviews, they spoke of preferring board games to partying. "We didn't drink or do drugs – I think we were afraid to f*** up," says Klara. "We had a lot of values: the music had to be a certain way, we had to dress a certain way, we had to act a certain way… The older I get, the more broad my view is, the less we judge other people, the less we judge ourselves." "We didn't really have time to be young and f*** up," adds Johanna. "We wanted to focus on our music, but it's something I kind of regret now. I've had to do that later in life. We definitely missed out on something."
The duo are speaking to me over Zoom. Johanna deadpans that they're in her living room, proudly pointing out the huge poster of Justin Timberlake behind her, but they are in fact in their label's Stockholm offices. Klara's dog Pablo, a tiny rescue with an underbite who was found roaming the Spanish streets, sits quietly on her lap. They're wry and forthcoming, occasionally bickering – "Oh don't say that!" – but more often egging each other on.
They're here to promote their new(ish) record Who by Fire. A Leonard Cohen covers album recorded live in 2017, it comprises brooding, beautiful reimaginings of songs such as "Suzanne" and "Famous Blue Raincoat", complete with a 20-person choir, a conveyor belt of guest artists, voice actors, a string section and an eight-person band. They recorded it the year after Cohen died, over two nights at Stockholm's Royal Dramatic Theatre. "It was so intense," recalls Johanna. "We used actors, we had a music director, there was no s***-chatting between songs." "This was our ceremony for him, our funeral, our farewell," says Klara. "We tried to imagine that he was in the room when we performed."
They have always adored Cohen. "He has the melodies, the lyrics... the face!" says Johanna, laughing so hard, I wonder if I'm missing a private joke. "There's political commentary," she continues, "there's songs about love, about sex, about religion. There's humour. It's all in there."
They know he isn't perfect, though. After recording Who by Fire, they watched Marianne and Leonard: Words of Love, a documentary about Cohen's relationship with his "muse" Marianne Ilhen. "I think that's when we realised how problematic the whole 'muse' concept is," says Johanna. "I love Cohen but… that made me actually like him less. He talks a lot about being a ladies' man. I think a lot of people have romanticised Marianne as a muse and she was basically his housekeeper. Her life was so based on his. It's kind of sad, that whole story." Then again, she adds, "I think you should be able to separate work from the person behind it."
Enjoy unlimited access to 70 million ad-free songs and podcasts with Amazon Music Sign up now for a 30-day free trial
Sign up
That is more easily done of men. Women are generally expected to be role models – "princesses" and "angels", whose jagged edges have been sanded smooth. For Klara and Johanna, their desire to always be "nice" has often come at the expense of their own comfort. "You don't want to be a rude bitch – you want to be accommodating," says Klara. "We've been in situations with male journalists where they've said some really f***ed-up stuff, and you just sit there and you go, 'OK, I don't want to make this into a thing.'"
They've struggled, too, with how to tackle the dreaded "women in music" questions. "I think men should be talking about it too," says Johanna. "As a woman, you're supposed to be the one in charge of the change and that's not how it should be. It's hard to be angry all the time. You can't really walk around with that because you don't really have anywhere to put it. You also just have to live your life. I think we do our part just by being… 'females in music!'" She laughs. "It took a long time for us to get that kind of respect that most male bands would have had automatically. We've had to fight for it in a different way. By writing our songs, playing our instruments, and being there…" She shrugs. "I think it makes a difference."
It does when the music is as good as theirs. First Aid Kit's most recent original album, 2018's Ruins, was an expansive collection of torch songs written in the wake of a break-up. On it, Klara turned on herself. "I give in so easy/ And I give up instantly," she sang on "Nothing Has to Be True". "Why do I do this to myself?" she asked bitterly on "Fireworks".
"It's a sad record," says Klara. "Looking back, I'm pretty harsh on myself. I'm blaming myself for a lot of stuff, which is what I do." "It's funny you being so hard on yourself," says Johanna, "because you're the most considerate person I know. You care so much about what other people think. Almost too much." Klara nods. "I actually wrote a song called 'Be Kind', because I just needed to tell myself that after berating myself." She never released it.
The week Ruins came out, Johanna also broke up with her boyfriend. "I was really depressed that whole year," she recalls. "Having to sing about it every day was awful. I don't want to sing about that any more. I want the next thing to be happy." There's a pause. "It won't be." She laughs. "We don't know how to write happy songs."
Who by Fire is out on Friday 26 March
Register for free to continue reading
Registration is a free and easy way to support our truly independent journalism
By registering, you will also enjoy limited access to Premium articles, exclusive newsletters, commenting, and virtual events with our leading journalists
Already have an account? sign in
Register for free to continue reading
Registration is a free and easy way to support our truly independent journalism
By registering, you will also enjoy limited access to Premium articles, exclusive newsletters, commenting, and virtual events with our leading journalists
Already have an account? sign in
Join our new commenting forum
Join thought-provoking conversations, follow other Independent readers and see their replies