Fontaines DC interview: 'Our album is one of the best that's been written this century'
Guitarist Carlos O'Connell talks to Roisin O'Connor about the band's place on the Mercury Prize shortlist, Ireland and identity
Thursday 19 September 2019 07:18
Comments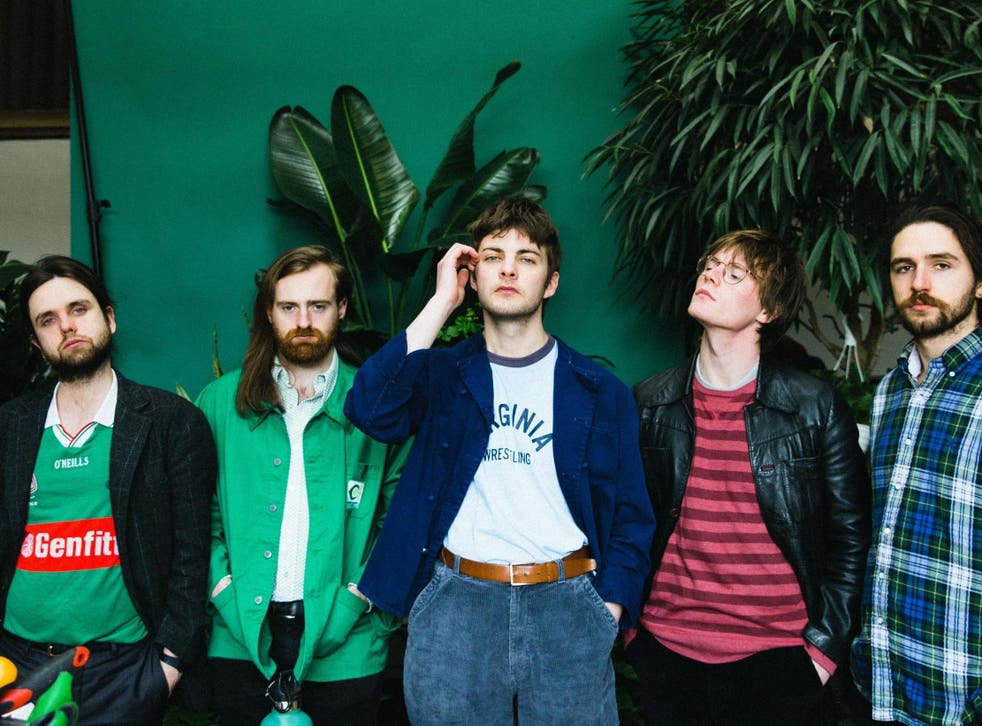 Fontaines DC's debut album Dogrel is punctuated by superb guitar licks and singer Grian Chatten's droll but keenly observational lyrics, which sound as though they're delivered by a man standing on the corner of a rain-flecked street in Dublin. The city is where the band – Chatten, Conor Deegan III, Conor Curley, Carlos O'Connell and Tom Coll – formed while studying at music college together.
Their music has literary sensibilities: it is packed with characters, from a taxi driver from a multicultural background who asserts his own sense of Irishness on "Boys in the Better Land", to the city itself. The record closes on "Dublin City Sky", which laments the dying culture of a place known for its bohemian, poetic character, and how it is being slowly suffocated by gentrification.
We caught up with guitarist Carlos O'Connell to talk about their Mercury nomination, Ireland and identity.
When we did the album, [our producer] Dan Carey told us it was going to get nominated for the Mercury Prize. His conviction persuaded us, so we got excited about it almost a year ago. When it did actually happen we were like... well there it is. It does feel quite special, still. An Irish act has never won the Mercury Prize before – there have been plenty of shortlisted acts – but in a self-deprecating way I wonder if there has to be a token Irish band each year. I genuinely think the album we wrote is one of the best albums that's been written this century. It's no Is This It or anything, but I feel like it could define a certain time.
Grian's got this special way with words. He reads and writes and thinks a lot, he's got a way of seeing things that most people miss. I was thinking the other day about Slowthai's album title – Nothing Great About Britain. You read it and think... how did I miss that? It's so true. And I think Grian has a similar kind of genius in the way he uses words.
We've never tried to make big sweeping statements about the state of the world. I feel like The Strokes was the same – that is a picture of New York City. We've seen a lot of comparisons of our work to Dubliners by James Joyce – we didn't write the album from that point of view but I guess it's the characters and the way we capture the sense of the place.
The 35 best debut albums of all time

Show all 35
I was born in Madrid. My dad is Spanish and my mother moved to Spain in the Eighties because she couldn't find work in Ireland. Then I moved back to Dublin six years ago. It's weird. I could easily say I'm Spanish or I could say I'm Irish, but culturally I don't feel in any way Spanish. I don't relate to it.
Something happens when you spend a lot of place somewhere as an outsider. Most of us didn't grow up in Dublin, and the result of that is you observe a lot more. I feel as though that has a lot to do with why we became fascinated by the city and wanted to write about it, although we've been criticised for singing about it because we didn't grow up there. But I feel like, by having an outsider's view but also being part of it, you can see it different, and that makes it interesting.
We're asked about Brexit a lot in Europe. There's all this talk about hard borders in Ireland, the prospect of no deal, but it's not part of where we live so it's not something I pay too much attention to. But I don't think anyone's stupid enough to put up a hard border in Ireland. That history is too recent, people remember what it was like.
Enjoy unlimited access to 70 million ad-free songs and podcasts with Amazon Music Sign up now for a 30-day free trial
Sign up
Breaking through as an Irish band was a big deal for us. From the start of any release, for any gig we played in Dublin, we'd come over to London. We started out playing to five people, then 20, then 100. Bands in Ireland have been ignored for a long time, but I feel like there was a moment where, when we were making a name for ourselves, people were starting to look to see if there were any more bands coming out of there.
I haven't listened to much else on the Mercury Prize shortlist yet. Slowthai is the only one I've properly listened to, and I really like it a lot. I'm not big into hip hop at all, but there's something about his album. I feel like Spiritualized should have been on the shortlist. Jason Pierce took everything that he is and put it into that record [And Nothing Hurt], and also they did something different to their last record, which I admire a lot.
We've felt this really incredible urge to write another album. Nothing that's happened so far seems to have affected our creativity, which is kind of a relief.
The Mercury Prize takes place tonight and will air live on BBC Four from 9pm, on BBC Radio 6 Music from 7pm. Dogrel is out now
Register for free to continue reading
Registration is a free and easy way to support our truly independent journalism
By registering, you will also enjoy limited access to Premium articles, exclusive newsletters, commenting, and virtual events with our leading journalists
Already have an account? sign in
Register for free to continue reading
Registration is a free and easy way to support our truly independent journalism
By registering, you will also enjoy limited access to Premium articles, exclusive newsletters, commenting, and virtual events with our leading journalists
Already have an account? sign in
Join our new commenting forum
Join thought-provoking conversations, follow other Independent readers and see their replies