Foster the People interview: 'This record had its own pressure'
Foster the People frontman Mark Foster and keyboardist Isom Innis on dance beats, LA vs New York, and why they ended up mastering their new record Sacred Hearts Club three times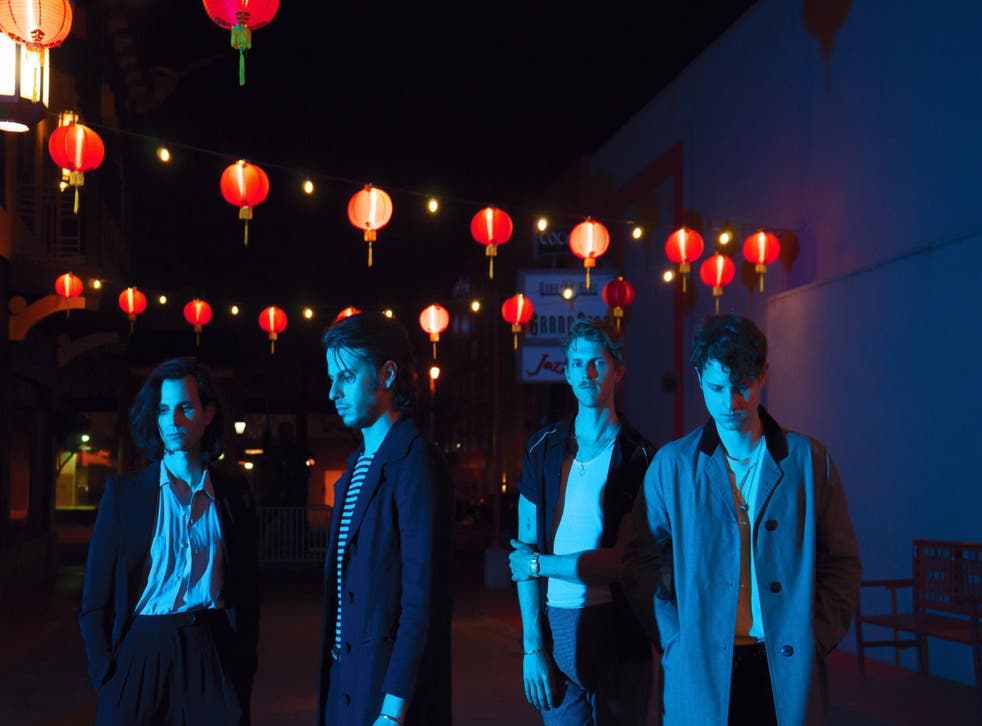 About halfway through "Loyal Like Sid & Nancy", singer Mark Foster segues into a spoken-word piece that recalls Gene Wilder's memorable lines in Willy Wonka and the Chocolate Factory, complete with that ominous bassline running beneath it.
It's one of many moments that should surprise fans who listened to Foster the People's first two records. Sacred Hearts Club is an album by a band who seem to have finally broken away from the trappings of what people think they are.
They're in London for the Somerset House series, and Foster – who has a fresh tattoo on his arm – and keyboardist Isom Innis, who joined the band as an official member this year after touring with them since 2010 ("it feels exactly the same") are detailing how the album came together.
"We were totally referencing that [moment in the film]," Foster nods. "Actually there was a different variation of the lyrics... so the beat dropped and we actually did this..."
He starts to sing: "A world of pure imagination, take a look, and you'll see/into your imagination…" And then the beat came back in, "duh duh dom", and there was this instrumental string thing. We played with it for a few days then ended up scrapping it.
"It's been interesting, making this record," he continues. "We started working on it at the end of the Supermodel tour. When we'd catch a few weeks off me and Isom [Innis] would go into a studio in LA or wherever we were and just start writing. And when we finally ended the tour for that, for the first year we just wrote as much as possible. Verse chorus vibe was kind of our rule."
By the end of that year the band had about 100 ideas to choose from, and the record had begun to take shape – with plenty of twists and turns along the way. What began with a 60s psychedelic influence transitioned to something altogether more "weird", which Foster credits to Innis' skills as a beatmaker.
"On 'Sid & Nancy' it was originally this atonal kind of beat that you hear in the verses, like an atonal dance track," Innis exlains. "Mark took it in the studio, added a chord progression, arranged a song that was really meant to be in the dance world. And that's when it started to transform."
Members of the band are split between LA and Nashville, which seem to have overtaken New York as the creative hubs of America, where artists from the US, the UK and everywhere in-between are forming their own communities.
Enjoy unlimited access to 70 million ad-free songs and podcasts with Amazon Music Sign up now for a 30-day free trial
Sign up
"I think you can have a more comfortable life as a musician there, in terms of having your gear and moving around," Innis suggests. "I lived in Boston for four or five years and would commute to New York to play gigs. New York City became so expensive, all the recording studios started shutting down because they couldn't afford rent anymore…"
"I moved to LA when I was 18 and it was a piece of s*** city," Foster says. "It was terrible. You had the weather and the ocean which were great, but it's really developed in the last six or seven years."
For Foster the People, LA has been "a very generous muse, for a long time". You can hear it on Supermodel, this sort of wry, suspicious look at artificial beauty. But the band have widened their gaze, and Sacred Hearts Club is a more critical look at global issues that Foster would see every morning when he turned on the news.
"For the past two years I felt like I've woken up and something has happened that is tragic," he says. "A bombing, a terrorist thing, refugee crisis, the political situation with Trump, with the DNC leaks, watching what happened with Brexit and seeing nationalism rise around the world, racism, homophobia... All these things I thought we were evolving past as humans seem to have come back in full force.
"It was an interesting narrative, walking into the studio with that being on my shoulders from that morning. And for us it was really important, it became clear that as artists we wanted to make something that was joyful and unifying, and remind people that life is still beautiful. Supermodel is very pointed, politically, because I feel like we were pretty apathetic and living in a bubble.
"The world seemed in some way pretty comfortable, it didn't really care what was going on in other places, and that record was very much like… I wanted to slap people a little bit, throw some cold water on them. This record, it would have felt wrong to do that. I felt like people needed a hug."
After Trump won the election, explicit statements from artists were released in full force; artists who were angry at the world they lived in, at the people making the decisions, and perhaps also at themselves for not speaking out sooner.
"Look, I was fighting like hell before the election, to try and get people to vote against him," Foster says. "But after he got elected, I started to realise that I really wanted to unite people. That political race was so polarising, these two extreme factions seemed more divided and more volatile against each other than ever. The last thing I wanted to do was add gasoline to that fire."
While there was plenty to say on the record, the band maintained a strong level of self-discipline. Some of the songs started out at seven-10 minutes; the outro on the closing track used to be much longer.
"I'm really glad we cut it down because we ended up sequencing it all for vinyl, to flow in one continuous listen," Innis says. "That outro on the final track is one of my personal, favourite moments on the record."
"We had that saying which was 'no stone left unturned'," Foster adds "So we took the ideas in many different ways and there was this process of construction and deconstruction."
Sacred Hearts Club brings in plenty more of the catchy-as-hell pop hooks that Foster is such a master of, but there are also plenty of nods to DIY punk and post-punk, dance, and hip hop.
"We've always loved to play in the grey areas between genres," Innis says. "All of our favourite records do that. 2000's Donuts, J Dilla - that's like the manual of hip hop production. When you start making beats and writing, it comes out of your subconscious. You're not sitting down necessarily to emulate a certain record, but you play this pattern and realise there are 10 different influences that caused it."
"We wondered whether we wanted these different sounds we were creating to interact with one another... or to separate it," Foster says. "And as we continued to write, the sounds started to come closer again, intersect in a way that felt like we wanted to put it on one record. The records that excite me the most are the ones that take me on a ride."
"Growing up playing the drums I idolised Questlove from an early age," Innis says. "Phrenology was the first Roots record that I ever heard, and that was like my introduction to hip hop. The first song on there is in the hip hop vein, and then track three is a blast beat, hardcore punk track, like an exclamation mark. If you look at that record, they're all over the place, and it fits together so well. I'm about to be 30, and people around my age and younger were just used to playlists, putting Johnny Cash on the same mixtape as Jay Z - that's where that comes from, I think."
It's an interesting point that few other artists have pointed out in interviews - that as much as we like to thank streaming for a younger generation's adaptability at genre crossovers, it's been going on for a little longer than that. There's still that problem with attention spans, though, and how a band can keep fans interested when they're constantly demanding something new. To sate their appetite, at least for a short while, Foster the People released an EP before Sacred Hearts Club as an aperitif, giving them a hint of what was to come.
"Even with Kendrick's record Damn., when it dropped it was this incredible deep record," Innis says. "And To Pimp A Butterfly, as well. A week later people were sniffing around like 'what's next?'. So with people's attitudes to music today, it's hard to sustain their attention."
Perhaps this is partly why the end process for Sacred Hearts Club saw the band re-mastering the album another two times, after thinking that they were done.
"I don't even know how it happened, but I'm so thankful that it did, because it doesn't normally happen this way," Foster says. "We have this ritual of getting together, pouring a drink and then sequencing each record. Then we'll listen to it top to bottom, change a few things until it feels right. So we sequenced Sacred Hearts Club, and then halfway through I just had this sinking feeling come over me.
"I paused it and said 'guys it's not done. It's too long, it's bloated'. And luckily, our label and management talked separately about it afterwards and they agreed. We'd been working so hard to finish it… but to open that back up again, it was so painful."
"More power to Mark, because I was ready. I was almost ready to say 'we're done, it's mastered, it's great'," Innis says. "But he really pushed for us to go back. I think it took me a night to really think about it."
"We added stuff like 'Orange Dream', 'Time To Get Closer', to tie things together," Foster explains. "We ended up cutting about five minutes. 'Pay the Man' has a whole other verse that no one's ever heard."
On Supermodel he experimented with the way he wrote songs, making lyrics the priority. Before then, he would listen to the music, flip the mic on and then channel "whatever energy there was that day".
"And after the initial response to a song, that was where a lot of the most pure ideas would come from," he says. "It was like spiritual improvisation.
"Supermodel was way more methodical, and in some ways I think it has some of the best lyrics I ever wrote, but it doesn't have the same life, or the cadence. So I kind of went back to how I was doing it before... or a mix of the two."
"Those were some of my favourite moments in the recording process," Innis says smiling, "when Mark would go in the booth and open up and just channel these vowels and certain words until all of a sudden something would come into the room. Like on the bridge for 'Doing It For The Money', he was vamping and it was 'silicon rush'. I don't know where that came from."
"This record, it had its own pressure on it," Foster nods. "It was me and a creative kindred spirit locking ourselves in our own studio, with nobody in the room who could 'contaminate the water'. No one who could put their hands on it and change it. We had absolute freedom and time to explore things and get weird and not judge it.
"It was a very non-judgemental process until the very end, and I think the last six months, at that point we put on a different hat that was more methodical. And I think learning from this process, it's something that I would repeat again."
Sacred Hearts Club, the new album from Foster the People, is out now via Columbia Records
Register for free to continue reading
Registration is a free and easy way to support our truly independent journalism
By registering, you will also enjoy limited access to Premium articles, exclusive newsletters, commenting, and virtual events with our leading journalists
Already have an account? sign in
Register for free to continue reading
Registration is a free and easy way to support our truly independent journalism
By registering, you will also enjoy limited access to Premium articles, exclusive newsletters, commenting, and virtual events with our leading journalists
Already have an account? sign in
Join our new commenting forum
Join thought-provoking conversations, follow other Independent readers and see their replies