Foxes interview: A pop star for our times, who prefers to film her music videos on London council estates than in LA
She is just about to release her second album, All I Need, which is all about a break -up and it will be followed by a UK tour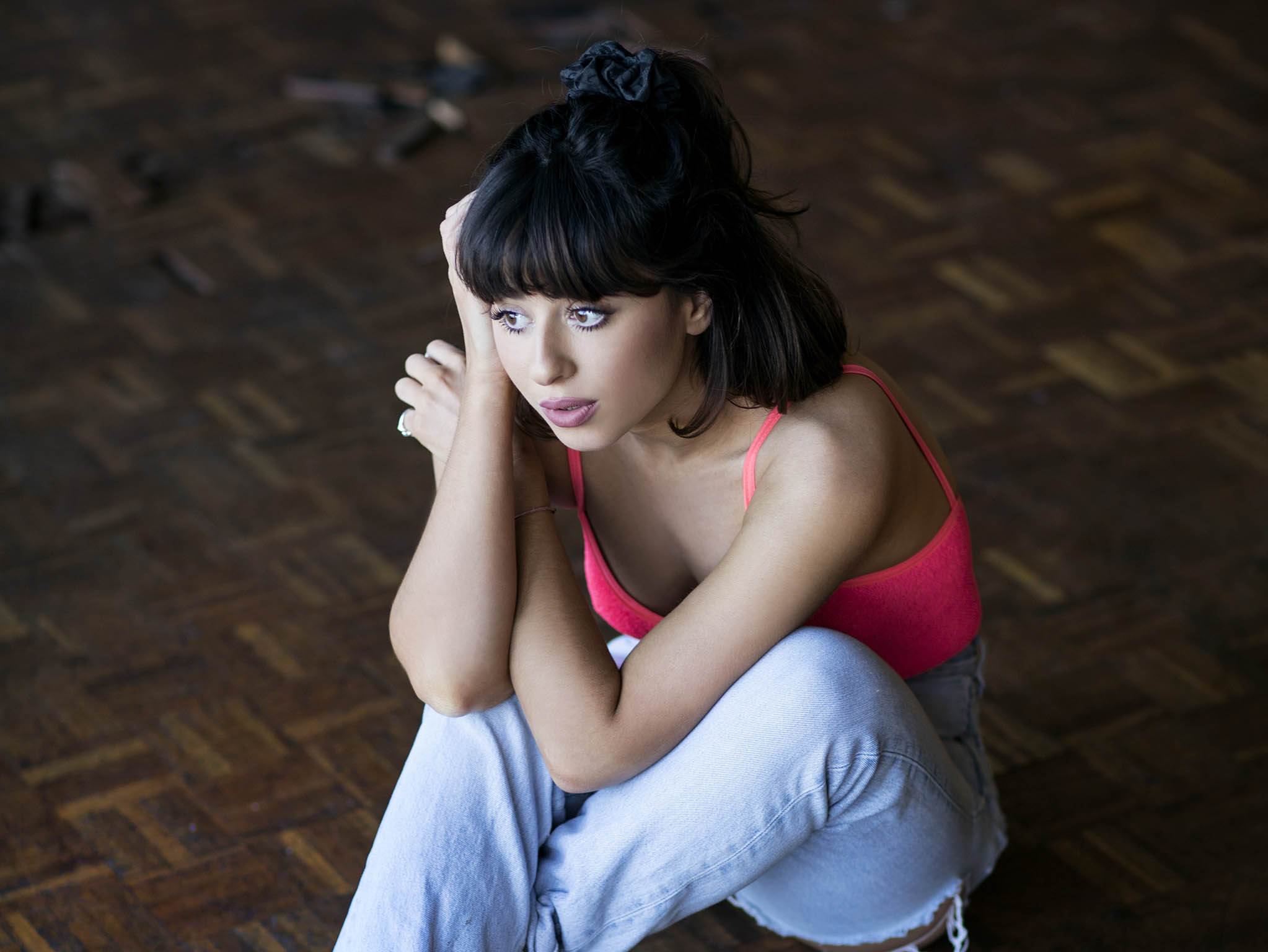 Born Louisa Rose Allen in Southampton, 26-year-old Foxes now lives in Dalston, east London, near to where we meet. She is having a post-gym Bloody Mary, soon to be followed by a burger.
It's the second week of January, but she hasn't made any new year's resolutions other than a vague idea that she'd like to cook more often.
She clambers daintily by the side of the table to sit next to me, explaining, "I've got too much about everything else going on in my mind to think about resolutions. I feel like next year I might have time to think about resolutions."
Foxes, as you would expect from the name, is both cute-looking and shrewd. Comparisons have been made with Katy Perry both because of her looks and her happy-go-lucky pop music, but where Perry often collaborates with other writers and producers, Foxes is very much in control of her own operation, right down to the music videos and the live shows. "It's scary to be standing on top of everything and knowing that all of that is your decision," she says. "Sometimes you think, gosh, to be a manufactured pop star that doesn't ever have to make any decisions – I would never want to be that – but I guess sometimes that sounds like an easier option."
She is just about to release her second album, All I Need, soon to be followed by a UK tour The album is about a break-up. "This album feels so far up to where I am, so much of it is about coming out of heartbreak and starting again and I am ready to stand behind my work," she says.
Her first album, Glorious, was written between the ages of 16 and 18 but it wasn't released until 2014, when she was 24, because other things, good things, got in the way. In 2013 she won a Grammy for "Clarity" with Zedd, which went to No 1 on the US Billboard Dance chart and then was sampled on Fall Out Boy's "Just One Yesterday".
"I felt like I wanted to do a bit of an internship so I did the single with Zedd and took a year going on the road with him." Then she began writing for other people, including Rudimental, so when the album was finally released, "It felt like me talking when I was 18. The first album was about being afraid of being young and having an identity crisis – but with a positive message." Many of Foxes' listeners are in their teens, and she clearly feels a duty to offer them a positive role model.
"I think hang-ups stem from when you're little and that's why I think it is important what young people are listening to. I remember growing up and being so attached to the Spice Girls and Cyndi Lauper and there was something about their message that felt really empowering."
"Body Talk" was the first track she wrote for the new album. "I was a wreck and I wanted to cry and drink alcohol. I was really distraught and some friends put me on a train to Wales to do this writing session with the songwriter and producer Jim Eliot and Jim could see I was a bit of a mess. I said to him I can't even speak I feel like if I do I might start to cry, so I just need to let my body talk and so for the next 10 minutes I sat writing this song that made light of the situation because that was the song I needed at the time." That was very much the beginning. I didn't want to make an album about crying and eating Ben & Jerry's."

Enjoy unlimited access to 70 million ad-free songs and podcasts with Amazon Music
Sign up now for a 30-day free trial
Sign up

Enjoy unlimited access to 70 million ad-free songs and podcasts with Amazon Music
Sign up now for a 30-day free trial
Sign up
Before she could finish writing the next album, though, Pharrell Williams invited her to support him on tour.
"I've always been inspired by him. He really is a very hard worker, he didn't stop. I remember him being called on stage when minutes before he was making beats in the other room. It really inspired me at the time to get writing.
"Beyoncé and Jay Z were at one of the concerts and my mum came to see that show and I just went to say hello to Pharrell in his dressing room and Jay Z was there too and Pharrell was like 'go get your mum!' and it was the oddest moment, my little mum! It was so nice because she has always supported me and pushed me to do what it is that I want to do."
Foxes' mum works just down the road, selling vintage clothes on Brick Lane and her sister used to live round the corner, where Foxes stayed on her sofa while she put herself through music college, working four evenings a week. Foxes chose to live in Dalston because it's a "creative place" that's close to them both, even though it's "less real than it used to be".
American Music Awards 2015: Red carpet
Show all 31
Her dad is a musician but he's not in the picture, he walked out on them when Foxes was three. She stops speaking in the first person when she talks about difficult subjects. It's something you notice in the lyrics on her first album, when she wasn't entirely comfortable with seeing herself as a pop star and it's a verbal distancing technique that she employs now to talk about her father.
"It's one of those things where people might try to get in contact again but it wasn't... I think family is what you create and if it wasn't there when you are growing up then it's not really there at all."
She puts her musical influences down to her mother and sister's record collection, which included Patti Smith, Bob Dylan, Kate Bush, Björk and Nina Simone. "I have already started writing quite a lot for the third record I see it maybe being even more stripped back.
"I do like those early jazz artists like Nina Simone who really do just use their voice and emotion, it's not always about having all this music packed behind [your voice]. I don't think talent is a trained thing, I think its within you. You can be blown away if someone has feeling and soul – and my voice isn't perfect; it does crack sometimes but they're the bits I love."
Foxes often describes herself as "just a normal girl" and is obviously trying to stay grounded even though "odder things are happening now".
That same desire to, for want of a less Nineties phrase, keep it real, is also reflected in her music videos. The last three of which have been filmed on council estates.
In the video for new single, "Better Love", about escaping from a bad relationship, she is pictured roaming round a council estate and sitting perched on a loo (with the seat down). "I am renowned for picking places that aren't like Jamaica or LA," she laughs, "There's something raw about run-down council estates that I like. It's that normal thing – I remember I would read books sat on a toilet seat. The toilet was down, I wasn't weeing or anything."
'All I Need' is released on 5 February. Foxes' UK tour runs from 29 February to 12 March
Join our commenting forum
Join thought-provoking conversations, follow other Independent readers and see their replies