The Independent's journalism is supported by our readers. When you purchase through links on our site, we may earn commission.
Frank Turner interview: 'The world has changed in a way that I feel demands comment'
The Wessex Boy from Winchester explains why after six albums of heart-on-sleeve campfire punk rock, he's making a radical stylistic musical change 
Remfry Dedman
Tuesday 13 June 2017 16:51 Comments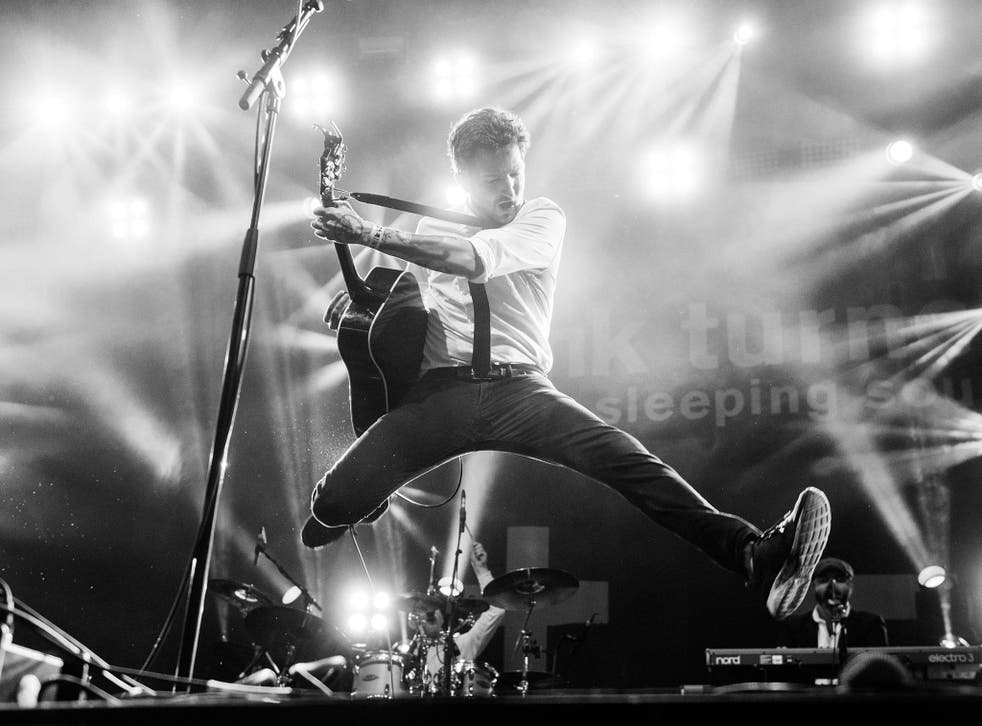 At the time of writing, Frank Turner has played 2,059 solo shows since 2004. For anyone unfamiliar with the touring schedules of modern rock acts, that's a staggering amount, but for those who haven't dropped whatever mobile device you happen to be reading this on in shock, let's put that figure into perspective.
Since 1982, bay area heavy-metal legends Metallica have played 1,914 shows. Perennial poverty-botherers U2 have amassed 1,930 shows since their inauspicious beginnings playing Dublin's dilapidated drinking holes in 1976.
Using a more contemporary example, even The 1975, recipients of the title 'hardest working band' by Songkick in 2014, can't match Turner's hunger for criss-crossing the globe and playing to thousands of people each night. Whilst the stats are fan-generated, concert Wiki Setlist.fm notes just 658 The 1975 shows since November 2011 (compared to Turner's 968 in the same period of time).
Whatever you think of the Wessex boy folk-punk troubadour (and it seems a lot of people have strikingly strong opinions, both good and bad) you can't deny the man's tireless work-ethic, which has seen his star rise steadily and incrementally.
In just over a decade, he's ploughed through the country's toilet-circuit touring stops and advanced all the way up to the nation's vast soulless corporate arenas, which must have been far beyond the aspirations of the teenage Turner as he was screaming about breaking the back and living the dream in Million Dead, the short-lived melodic hardcore band that first brought him a moderate but dedicated following in the early to mid-2000s.
Nobody could have predicted such a transformative metamorphosis, and few will anticipate his next musical shift after six albums of heart-on-sleeve, anthemic campfire punk rock.
"Stylistically, the next thing I do is going to be radically different," he say, speaking backstage on the second day of his inaugural Lost Evenings Festival.
"Actually, I'm going into the studio next week for a month and I don't really know how to make the kind of music I'm about to try and make. It might be an unmitigated disaster!
"But I've been listening to a lot of Soulwax, The Prodigy – that kind of territory. That's probably the extreme end of the direction I'm considering, but I've been looking into loops and beats and a lot of analogue synth work certainly. I want to make a record that can get played in a f**king dirty club."
Enjoy unlimited access to 70 million ad-free songs and podcasts with Amazon Music Sign up now for a 30-day free trial
Sign up
If you've been following Turner's career up until this point, this revelation may come as a surprise; whilst he maintains he's always had a taste for electronic music, no hints of this love for EDM have ever emerged over the course of his artistic career.
"I've done six records in a certain vein, and even as we were making Positive Songs for Negative People (his latest, released in 2015), it felt like it might be the final trip down that road, at least for the time being.
"I don't feel like I have all that much to add in terms of the country-punk-rock thing that I've been doing up to this point, and one has to change in life, you've got to evolve and move on."
"The thing is," he adds, "it might be a crushingly embarrassing disaster, but I think a comfort zone is the last place any artist should be."
He describes reading a "fantastic" book a few years ago, which acts as a career comparison between Bob Dylan, Bruce Springsteen and Neil Young.
"It concluded that Neil Young wins – and the reason he wins is because, unlike the other two, he's not afraid to fail in public. He has this wonderfully unfiltered creativity that I really admire.
"I probably prefer Springsteen's songwriting overall, but his music is very influenced by time and place, whereas Neil Young just goes, 'F**k it, I'm going to make an album with a vocoder!' And you know what, Trans is a pile of s**t but he did it and he didn't give a f**k and he never apologised to anyone for it. I'm not saying that I'm like Neil Young, but I think that there's a good impulse in there."
However, Turner is not merely taking a musical risk. NME reported at the end of 2016 that album No 7 is likely to feature material inspired by the state of the world after Donald Trump's presidential election win. This approach is risky, not least because Turner came under vociferous flak in 2012 after expressing political views that don't traditionally sit within the predominantly left-leaning singer-songwriter sphere.
He stops short of describing the new album as political, astutely observing that he's 'hardly making a Rage Against the Machine record'. But undoubtedly, the environment music is written in affects the output; given the amount of political upheaval in recent times, it's unlikely someone as verbose as Turner would turn down the chance to commentate.
In terms of direction, he says: "The word political seems a little strong to me. I've been really interested in a lot of the early Eighties post-punk stuff, where people were writing about the effects of Thatcher's Britain as opposed to addressing it directly.
"A song like 'Ghost Town' by The Specials takes an angle on that situation; it's about dread, it's about fear, it's about how people interact with each other and that's the approach I'm interested in taking. There's a new song on the album which is a fictional story about a city-wide blackout.
"I see that as an allegory for what I feel is happening to the centre ground of politics right now, but it's not a song that says: 'It's important to have a centre ground in politics, because politics is about compromise!' I'm trying to come at it from a slightly more poetic angle."
Speaking to Turner today about the death threats and abuse he received for what amounts to little more than expressing an opinion in 2012, it's obvious he was wounded by some of the comments made in the press and over social media.
"I definitely have been shying away from politics quite deliberately, for a long time after that incident," he says. "I got ripped to s**t in the press and on the one hand, some of it was bulls**t or idiots on Twitter willfully misinterpreting what I had to say, but some of it had to do with me being inexperienced and naïve.
"At that point in time, I was in a transitional point in my politics and a lot of the anger directed at me had to do with people being outraged that I didn't have the identikit views that singer-songwriters are supposed to have. To be honest, I still don't!"
So why open himself up to a potential torrent of abuse once again?
"There are two reasons why I'm re-entering this territory now – the main one is that the world has changed in a way that I feel demands comment.
"For the first time in my adult life, I feel like I'm subject to historical forces over which I have no control; that's a new feeling for me and it's not a particularly pleasant one. But the other thing is, besides feeling a bit more sorted out in terms of my personal politics, I just care less about what people think.
"That whole experience in 2012 was truly traumatic for me, but I am passingly proud of the fact that I didn't retract those statements or beg forgiveness from the mandarins of political correctness. I think what I think and I think it for good and intelligent reasons."
If you do care about Turner's political leanings (and really, there's little reason why you should), he describes himself these days as a 'militant centrist', which, one would think would by definition provoke little ire. But comment is free and a man in Turner's position is unlikely to ever be far from it.
"I've had some people on the left have a go at me recently for making statements about how I think dialogue is important, to which the obvious riposte is 'what's your alternative to dialogue?' You have to persuade people; a lot of people voted for Donald Trump – he's an obvious sack of s**t but if you want to change that, you have to change those people's minds which will involve talking to them at some point.
"I got absolutely f**king monstered by the militant left of social media in 2012 and then earlier this year, we put out a song called 'The Sand In the Gears' after which I got monstered by the political right. But that kind of makes me feel good actually. It means that I've ended up somewhere in the centre ground which is exactly where I want to be."
What Turner's new direction, not just lyrically but musically, will mean for the future of the live show is currently anyone's guess.
However, he does reveal that the new material may demand the hiring of an additional 'Sleeping Soul', the backing band of faithful musicians who've accompanied him for the majority of his 'solo' career. It is undoubtedly the live show where he thrives, hence Turner being shackled to the road with such alarming regularity.
In theory, a festival under the 'Frank Turner' banner is a natural extension of his live show and in the inaugural Lost Evenings, the theory proves sound. An indoor extravaganza that took place at London's prestigious Roundhouse and surrounding venues in Camden, it proved an opportunity for Turner to curate four evenings of music, screenings and talks centring around the music industry.
"I'm something of a festival warrior," he says. "I think I played 27 festivals in the summer of 2010 alone and I've wanted to put on my own festival for a long time. We spent a couple of years vaguely talking about doing one outside in a field, but we decided against it for two reasons: the risk in the overhead of putting on an outdoor festival is f**king unbelievable; also 2000Trees and Beautiful Days already exist and there's nothing that I was going to be able to bring to the table that would best either of them."
My conversation with Turner took place backstage at Lost Evenings, just a few hours prior to a 10th anniversary celebration of his debut album Sleep is for the Week, which kick-started his unlikely ascent from post-hardcore screamer to folk-punk balladeer.
Returning to old material can be a painful process for some musicians, but the material he re-visits for this set from that first album, and 2006 debut EP Campfire Punkrock, stands up a strongly as anything he's written since.
"I don't tend to listen to my own records once they're done," he says, "but going back to these songs has been an opportunity for me to really consider my body of work in a way that's been really interesting to me. For the most part, I've been really pleasantly surprised by the material; there are one or two songs which I think are a bit shonk, but I'm not going to name names!"
Lost Evenings - 4 evenings of music and distraction with Frank Turner

Show all 14
So how does he feel his song-writing has changed and developed over the past 10 years? "The song structures are more complex on that first album than what I would tend to write now. I have simplified and streamlined in my old age, I feel like simplicity is one of the things that I've become obsessed by as I've grown older. A contender for best song ever written in my opinion is 'Lean On Me' by Bill Withers. That song has two sections; it goes A B A B A B and that's it. It's such a simple song but it's f**king timeless!"
As you'd expect from someone who's written 150-odd songs in a decade, song writing is Turner's business – and business is good.
"Song writing as an activity divorced from genre considerations is definitely the business of my adult-life," he says. "I've spent more time and energy thinking about it than anything else by many orders of magnitude. Being a professional songwriter is interesting; when you're starting out, you're brimming with ideas because everything's new.
"As I've gotten older, the bit that's getting harder is finding inspiration, but the bit that's getting easier is translating inspiration into a finished song because I'm much more practised in the craft now. If I get a really good idea, it doesn't take me that long to turn that into a song that I'm happy with.
"I don't want to re-write old songs if I can avoid it, so finding new angles to write about gets harder and I think that's true of everybody." He pauses for a moment before re-considering: "With the possible exception of Dylan because, I mean... he's Bob f**king Dylan!"
Frank Turner and the Sleeping Souls support Blink-182 across their UK arena tour which begins in Cardiff on 3rd July. Positive Songs for Negative People is out now through Polydor / Xtra Mile. With thanks to Ben Morse for his photos from Lost Evenings, whose film about Turner, Get Better, is now available for pre-order
Frank Turner and the Sleeping Souls play Kendal Calling Festival which takes place 27 - 30 July
Register for free to continue reading
Registration is a free and easy way to support our truly independent journalism
By registering, you will also enjoy limited access to Premium articles, exclusive newsletters, commenting, and virtual events with our leading journalists
Already have an account? sign in
Join our new commenting forum
Join thought-provoking conversations, follow other Independent readers and see their replies