Frank Turner interviews John K Samson on punk, Bob Dylan, and his career so far
Exclusive: Turner speaks to his musical hero ahead of Samson's UK tour dates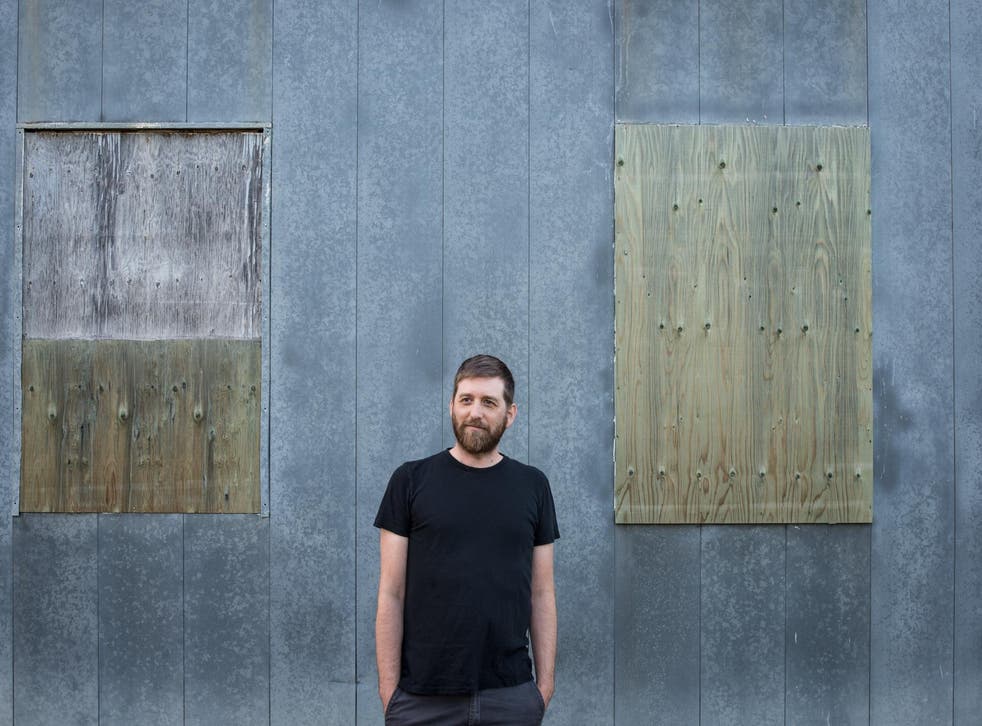 Winnipeg's John K Samson is arguably best known as the frontman of Canadian act The Weakerthans.
His influence can be heard on current records from the likes of Pinegrove, Modern Baseball, The Hotelier and Frank Turner.
Frank Turner – who has called The Weakerthans his favourite band - took the time, exclusively for The Independent, to ask John some questions about his career up to now.
Check out their conversation below:
Frank: There must be something in the water in Canada. Many, if not most, of my favourite music comes from there. There's a strong connection with Neil Young on this album. I must confess to not having made the connection between the two of you before, but it seems plain now, especially on "Vampire Alberta Blues". National identity is a topic I've been interested in for a while. How important is Canada, or indeed Winnipeg, to your artistic vision, and indeed your musical influences?
John: Definitely, Neil Young has been a big influence on me, though maybe not as overtly as, say, Billy Bragg and John Prine and so on. Young and I went to the same high school, 20 some years apart. He has this really distinct, original voice, which Winnipeg hears something of itself in.
I actually bought my first electric guitar the day after I saw Dead Man, the 1995 Jim Jarmusch movie, because I was so moved by Neil Young's score. It is beautiful and simple and mostly improvised on electric guitar. It made me feel like I could play electric guitar, too. I feel like Young's work has that empowering effect on people.
I'm fascinated by that question of identity. The political punk scene I come from encouraged a healthy distrust of national identity, and that was one of the things that led me to writing about Winnipeg. There was something radical about focusing on the local which appealed to me. I've recently started expanding the borders a bit to include the treaty territory Winnipeg is part of, Treaty 1. It helps keep me conscious of the history of this place, and gives me more locations to think about. But I don't know if I'll ever make it to thinking nationally. Canada is just too big and weird.
Frank: I've always thought that, for the most part, poetry and lyrics are two separate literary disciplines. Sometimes I feel like you're the exception to that rule, in that your words stand up just fine on the page rather than through the microphone. Bob Dylan's Nobel Prize crystallised the issue for me, in a way: I feel like him receiving that confirms lyricism as a thing unto itself. How do you feel about that divide?
John: That's very kind of you, Frank. I try to write lyrics that will be able to function on their own if they get separated from the music. But I totally agree, I wouldn't want to take anything away from poets, who work without the frames songwriters get from melody, and I think lyrics should be considered as their own thing.
I was a bit surprised by the Nobel. I love Dylan, but I would have given it to Stephen Sondheim if I were in charge. But I agree it is pretty sweet.
Enjoy unlimited access to 70 million ad-free songs and podcasts with Amazon Music Sign up now for a 30-day free trial
Sign up
Frank: Speaking of Dylan, I was recently re-reading a commentary of his work by my favourite critic, Clive James. He noted that Dylan's career stalled in the late Seventies when he reached the end of the traditional source of inspiration for rock music, namely unadorned, even anti-intellectual, free contemplation.
James commented that if rock music, or indeed Dylan, was to survive and thrive it had to find a more systematic source of inspiration.
I've heard you make comment in the past that would seem to agree with that idea; your early work, with the Weakerthans, used up the more obvious and personal subjects for songs, and these days your work is more literary or character based. Would you agree? Where do you find yourself looking for inspiration these days?
John: That's wise. I totally agree, I think we all have a certain number of "coming of age" songs, and then a writer has to expand and grow into more varied and specific themes. And the music industry is, like Jawbreaker says, "selling kids to other kids," so it makes sense that those early songs in a writer's life are often the ones that catch people's ears, and later work is more difficult and less immediate. Interesting that the period James is talking about is when Dylan turned to religion. Those three explicitly Christian records were disliked by a lot of fans and critics, but seen in the context of his whole body of work they seem like an inevitable and important development.
Frank: In your CBC track-by-track rundown of the record, the subject of characters came up. I was interested to hear you describe the human protagonist of your Virtute songs as a character; I suppose I'd always assumed it was directly personal, non-fiction, in a way. How much of you is there in your characters? My favourite song (today) on the new record is "Quiz Night At Looky-Lou's"; again, how much of that is you?
John: Yeah, I feel a bit bad when I tell people that Virtute doesn't exist. She's a composite of several cats I knew and loved. Though I confess I'm more of a dog person. There are definitely parts of me in most of the protagonists I write, but I find a bit of distance can be useful, so I often find myself better able to write from a point of view that isn't exactly my own.
"Quiz Night" is an example of that. I went through a period of pretty vivid delusional thinking. Never to the point where I convinced myself that I was one of a select number of people visited by space aliens, but certainly to the extent I could see how someone would think that way.
Frank: On the subject of Virtute (who I have tattooed on my arm, incidentally), there are two songs on this record in that story – "17th Street Treatment Centre" and "Virtute At Rest". The first song in that cycle, "A Plea From A Cat Named Virtute", is arguably your most well-known song.
I got a sense, on this record, of you putting that whole story to rest. I've certainly had moments of feeling slightly hamstrung by unusually popular songs; were you deliberately closing that story here? Are you and Virtute now at rest?
John: That is sweet about the tattoo. Yeah, I always felt a little bad about where I left Virtute on the last Weakerthans record, feral and alone. I didn't expect to be able to find a happy ending for that story, and I do think of it as a happy ending, so I was grateful those songs arrived like strange gifts when I needed them.
I feel like "Virtute at Rest" is open-ended enough that the cat and her human companion don't need me to impose a narrative on them anymore. I'm glad to leave them there.
Scenes from the first Afropunk London festival

Show all 22
Frank: There's a lot of talk of modern technology on this record. Traditionally, songwriters in our corner of the world tend to use more antique, down-home imagery.
Personally, I'm also afraid of what I think of as the Phil Ochs trap – his songs were so contemporarily rooted that they became steadily less relatable with the passage of time. I'm impressed with the way there are songs about Skype ("Carrie Ends The Call") and other modern forms of technology on here. Did you ever worry about that dating the songs?
John: That's a good point. I do get a little shy about contemporary language and events, but I also enjoy the idea of dating myself, somehow, anchoring a song in a specific time and place. Sometimes the new words and objects are too enjoyable and descriptive to ignore. And maybe making work that acknowledges that it won't last forever is important, too. In this frightening, anxious time to be alive it can be liberating to remember that nothing lasts forever. That can focus and invigorate our hopes.
Frank: We are both people who have graduated from the academy of punk rock. I've arguably stayed closer to that world, and have certainly talked about it more. I was pleased and intrigued to hear your mention of the "punk rock days" in "VPW 13 Blues". How do you feel about punk, both musically and conceptually, now?
John: I still think of myself as punk, because the way I became empowered to play music is entirely due to punk bands. I listened to lots of other kinds of music, but punk is what allowed me to actually play music. Mostly early Nineties pop punk. Like, I can appreciate Nirvana, but I understand Green Day. I feel like I could play in a Green Day covers band, but I simply wouldn't know what to do in a Nirvana one, you know? So in my mind I still qualify as punk, though I know four out of five punks would disagree.
Frank: You've said that nostalgia lies at the heart of this record; personally I felt a strong sense of acceptance, and indeed forgiveness, in the songs. Is that a function of growing older? I feel like the subject of ageing is under-addressed, if not slightly taboo, in the world of popular song. Do you find writing easier or harder as time passes?
John: It definitely isn't getting any easier! But maybe my doubts about whether I'll ever write a song again are less intense than they used to be. So it isn't getting harder, either. I'm grateful for that.
Frank: Finally, a question on your career. I've always been a very driven person, chasing success, both in terms of my artistry but also in terms of material achievement. You, I think, are more content to focus solely on the art.
And yet here you are releasing a record, doing press, and indeed playing some shows with me in the US next year (thanks for that, I'm very excited!). How do you view your career? How much do you want to push what you do in the public arena?
John: It has taken me so long to respond to these questions that those shows you mentioned were last month! That probably says something about my organisational skills and business acumen. It was great to play with you guys, thanks again for making that happen, and for making us feel so welcome.
I've always viewed my career with some suspicion, like I don't want to count on it to be the only thing I do. Partly that has to do with feeling like an imposter, like we all do sometimes, and partly I like doing other things, and being a full-time artist takes a focus I recognise I don't have. I totally admire writers like you who make it work artistically and keep growing in such a strange and difficult industry.
I've found the point where my fuses blow and it all goes dark, so I'm happy with the way things are – being able to tour when I'm up for it, playing small rooms, occasionally opening for an artist like you in a bigger venue, putting a record out every three or four years, all with my wife Christine and my friends and comrades. If I could copy and paste that for the rest of my life I'd be pretty happy.
Frank: Thanks, John, for answering these, and I hope you're well.
John: Thanks, Frank. Hope our paths cross again soon.
John K Samson's album Winter Wheat is out now on ANTI-. Catch him live in the UK on the following dates:
18 May - O2 Academy Islington, London
19 May - Soup Kitchen, Manchester
Frank Turner's Postive Songs For Negative People is out now on Xtra Mile Recordings.
Join our new commenting forum
Join thought-provoking conversations, follow other Independent readers and see their replies