Frank Zappa: How photographer Robert Davidson recovered the negatives of his famous pictures after 50 years
The most famous of the images propelled Zappa to icon status, leading him to say: 'I'm probably more famous for sitting on the toilet than for anything else'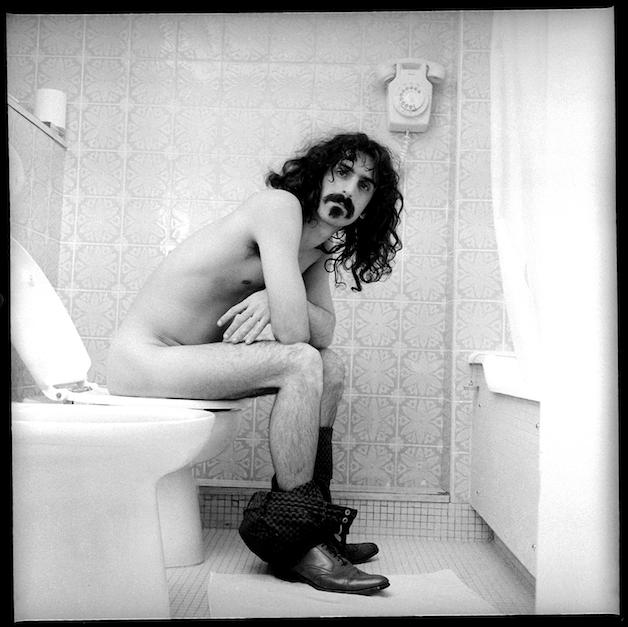 50 years ago today, 19-year-old Robert Davidson was at the Royal Garden Hotel with band manager Tony Secunda, where he was doing a press call for Frank Zappa's upcoming show at the Royal Albert Hall.
Scouting around for a suitable location, he heard the American artist speaking on the phone in the bathrooom, and asked through the ajar door if he could take his picture.
"Some limey wants to take my picture on the John," Zappa told his wife, who was on the other end of the line. "Sure, whatever turns him on.
The main image and the negatives, featured on The Independent with kind permission from the photographer, were commonly known as the 'Zappa Krappa' pictures.
They almost immediately gained cult status, a sentiment echoed by Zappa himself in 1983, when stating, "I'm probably more famous for sitting on the toilet than for anything else."
But three months after the shoot, Zappa's management, incorrectly thinking Davidson was benefiting exclusively from the increasingly popular images, sent representatives to his studio where he was forced to part with his original negatives.
Zappa himself was led to believe the same, that Davidson was profiting from a poster version known as the "Toilet Poster", or "Phi Zappa Krappa".
"The photographer who took it made a poster and sold it for his own profit and then that poster was bootlegged all over Europe and eventually went into the United States and millions of 'em were sold," he said in an interview. "But I couldn't stop them from doing that."
The measures by his management proved futile due to the vast amount of pirate reproductions that had already taken place. Ultimately neither Davidson nor Zappa received any royalties from the image. Davidson would go onto spend the better part of half a century searching for the lost negatives.

Enjoy unlimited access to 70 million ad-free songs and podcasts with Amazon Music
Sign up now for a 30-day free trial
Sign up

Enjoy unlimited access to 70 million ad-free songs and podcasts with Amazon Music
Sign up now for a 30-day free trial
Sign up
​Finally his luck changed. In 2010, Davidson learnt that his negatives were about to be sold online by a Los Angeles memorabilia company, Rockaway Records, who had purchased them from the estate of Herb Cohen, Zappa's manager.
Davidson contacted Rockaway Records to relate his story, and they agreed to give him the 10 surviving negatives for a token sum.
Rockaway's Mark Steckler stated: "We are just glad that Robert Davidson could get them back."
Earlier this year, the lead image appeared in the V&A's definitive exhibition on the 1960's 'You Say You Want a Revolution', while Whitebank Fine Art exhibited the photos in July. They are set to be featured on the National Portrait Gallery's official website.​
Join our commenting forum
Join thought-provoking conversations, follow other Independent readers and see their replies