Friendly Fires - Burning eyes on the prize
Friendly Fires' album of retro dance-pop is the sleeper on the Mercury judges' shortlist. Fiona Sturges explains why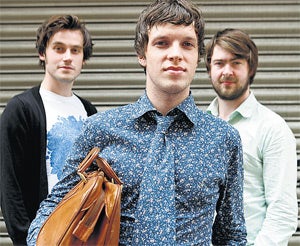 This year Kasabian, Florence and the Machine and Bat For Lashes are the favourites to walk away with the prize, though of course that is no insurance that any of them will win. More often than not, it's worth looking to the outsiders on the list, those who have been nominated neither through hype nor tokenism but by the sheer uniqueness of their sound.
On this basis, then, let's not overlook the Hertfordshire trio Friendly Fires - who were hugely acclaimed at Glastonbury, T in the Park and others this year - and their self-titled debut, which at the time of writing was way down the bookies' lists at 8-1 but is by some stretch the most interesting prospect on the shortlist. According to their press blurb Friendly Fires are the most critically acclaimed band to have emerged from St Albans – which, let's face it, is no great achievement from a town that has yielded no pop stars of note. Their appearance doesn't promise that much either.
With their shirtsleeves, slacks and sensible shoes, their look is more Reggie Perrin than Razorlight. But anyone who maintains that smarty-pants synth-pop is strictly a female domain clearly is yet to acquaint themselves with this extraordinary threesome whose indie-electro-funk stylings reveal a band expertly riding the zeitgeist while creating their own signature sound.
Friendly Fires are a band born not of industry propaganda but of a burgeoning fan-base gathered through that old- fashioned route to success: touring. Since the beginning of the year, when they appeared alongside Little Boots and fellow Mercury nominees Glasvegas on the NME's annual tour of new artists, Friendly Fires have played sold-out shows as far afield as Mexico, Japan and Germany. They have filled London's Roundhouse, and could have done several times over – 40,000 or so people reportedly tried to buy tickets. And let's not forget their star turn at Glastonbury, a triumphant performance which, through its sheer energy and passion, turned out to be one of their festival's talking points.
Their gigs are typically flamboyant affairs, often accompanied by Brazilian dancers in feathered headdresses, brass and percussion sections and, in Ed Macfarlane, Friendly Fires have a curiously charismatic frontman, a singer whose camp, body-popping stage antics make David Byrne seem graceful.
Friendly Fires' name refers not to war's most notorious oxymoron but to a song by the Factory Records band Section 25, notable for their eclectic and generally uncategorisable sound. Macfarlane and co say that their primary influences are dance-oriented, from the German techno label Kompakt to Chris Clark, the electronic maestro signed to Warp records. But for those old enough to recall early-Eighties pop, one listen to their debut album will leave your head spinning as bands from the era flip through your mind. ABC, XTC, Heaven 17, Thompson Twins, Spandau Ballet and Prince are all there. It's like listening to the Here and Now tour alternately remixed by Aphex Twin and My Bloody Valentine.
Lyrically, Friendly Fires are sparing but effective. Their debut single "Paris" ("One day we're gonna live in Paris, I promise"), recorded on a laptop in Macfarlane's parents' garage, wittily articulates the aspirational pledges made during a drunken night out and then abandoned in the cold light of day, while "Hospital" explores the concept of a love so intense it lands you in casualty. "Jump in the Pool" is an upbeat tale about acting on impulse, augmented by calypso drums, shrouded in shoegazey atmospherics.
But it's "Photobooth" that truly nails their sound. A touching tale of love captured in a passport picture, it's the sound of punk rock, synth-pop and Ibiza-era house locked in a battle for supremacy, and from which all emerge battered but triumphant. It's also the song that cemented Friendly Fires' belief in themselves. They said that after recording it they realised that making music was no longer just a passion, it was a career.
Singer Ed Mcfarlane, drummer Jack Savidge and guitarist Edd Gibson met at the age of 14 at an all-boys public school in St Albans. Before Friendly Fires was born, the trio went by the name of First Day Back, a vocal-less hardcore outfit inspired by Fugazi and whose early gigs extended to friends' birthday parties. A cover of "Born To Be Wild" at a school concert was roundly slated, and prompted the band to rethink their sound.

Enjoy unlimited access to 70 million ad-free songs and podcasts with Amazon Music
Sign up now for a 30-day free trial
Sign up

Enjoy unlimited access to 70 million ad-free songs and podcasts with Amazon Music
Sign up now for a 30-day free trial
Sign up
In late 2007 they were the first unsigned band to appear on the Channel 4 programme Transmission. Early in 2008 the Radio 1 DJ Zane Lowe played their single "Paris", and declared them his new favourite band. Their first proper show took place at the Old Queen's Head in north London, and was attended by a gaggle of A&Rs alerted by the growing radio interest. As it turned out, the gig was a catastrophe. The PA broke, punters left in disgust and the talent scouts wrote the band off. This, Macfarlane has said, was their saving grace, allowing them to hone their craft at their own pace, and without the hindrance of hype.
Released last September, Friendly Fires' debut has proved to be what the record industry calls a slow-burner; despite having only grazed the Top 30 it has now been certified silver. TV and advertising types have leapt on the trio's capacity for a pop hook, their songs having appeared on the US series Gossip Girl and on an advert for Nintendo's Wii Fit.
You won't find another band like them. If they win the prize in September, it will be a deserved triumph for the outsider and the innovator. If they don't, well, it will still provide a valuable boost to their career. Either way, they really can't lose.
'Friendly Fires' is on XL Recordings
Join our commenting forum
Join thought-provoking conversations, follow other Independent readers and see their replies