Frightened Rabbit: Caught in the festival headlights
Since Frightened Rabbit's angst-ridden latest album made the Top 10, they've become a much bigger live draw. They talk to Emily Mackay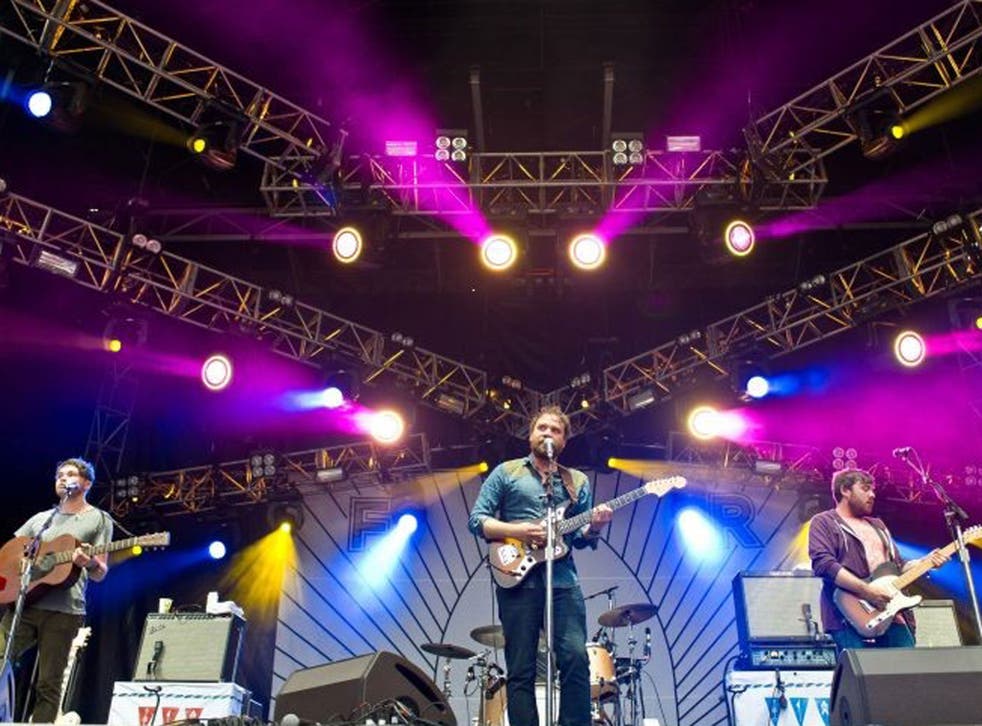 As Scotland's hardiest champions of doing things the old-fashioned, road-hardened touring way, it seems surprising that there's a corner of UK festival fields Frightened Rabbit haven't trodden. "No, we've never played Reading and Leeds before, confesses singer and main songwriter Scott Hutchison. "This is our debut, if you like."
No trembling festival virgins these, though – with fine fourth album Pedestrian Verse (which broke into the Top Ten in February) added to their anthem-heavy live arsenal and a summer of global touring behind them, Frightened Rabbit are more than ready for the big-hitting rock weekenders. Long-time followers predicted, of course, that with the band having moved from Brighton indie FatCat to Atlantic Records, that this would be the year Frightened Rabbit broke into the big time.
"People have sort of been saying something along those lines for a wee while," laughs Hutchison. "Yeah, this'll be your year, yeah, this'll be your record... I always hoped this album would alert more people to Frightened Rabbit's existence but certainly not to the extent that it did. The last one got to No 61 or something, so for this one to do this was just ridiculous."
The recent success of Pedestrian Verse is the reward, as Hutchison notes, for eight years of hard work; the band played their biggest-ever UK headline show at London's 2,100-capacity Kentish Town Forum in February, sold out pre-Christmas before their new singles even started getting radio play, and in November they'll top that with Brixton Academy. March saw them heading out on their 12th tour of the US, where having slogged it out live long before the Mumford/Adele/One Direction invasion they can play bigger venues even than that. Scott describes their T in the Park and Glastonbury sets this year as "nice wee moments for us. We don't get the chance to play in Scotland that often any more, and the last time we played, the record hadn't been out that long. It's nice to see that people are attaching themselves to those new songs."
And wow, do they attach themselves; Frightened Rabbit live shows, particularly north of the border, are a fiercely cathartic experience where their intensely personal songs are at their most powerful. "That's one of the things about our band: that there's often quite downtrodden subject matter that when it's put in a live setting, becomes a joyful, universal, victorious experience which is really lovely," agrees Hutchison. "A lot of the darker songs about the times when I was not particularly on fantastic form have become these nice little anthems."
This album, written for the first time with the rest of the band's input, was also initially supposed to step away from autobiographical agonies, but life, as it will, got in the way. On "Pedestrian Verse", there's darkness aplenty, but "Acts of Man", next single "Backyard Skulls" and "State Hospital" also move into a newly socially observant vantage point somewhere between the small-hours horror of Aidan Moffat and the small-town storytelling of The Hold Steady, both previous collaborators.
"Those songs lyrically are where the album started," explains Hutchison, "I was trying to maintain those themes and taking those stories and focusing on the elements and people within them. Then my personal life took over."
Hutchison had felt over-exposed by the roiling romantic fall-out of …Organ Fight, written after a break-up at a time when he was less acutely aware of the band's audience. As a result, 2010's The Winter of Mixed Drinks, he feels, over-compensated and lacked an authentic emotional ring. He tried to broaden out for Pedestrian Verse. And then he broke up with his girlfriend.
"I was really desperately trying not to offend her by writing a song and then going, 'this is how it is, sorry!' It's a really twisted way of doing it, and it has upset her in the past. I tried not to on the last record, and I tried not to at the start on this one. And then it just became a total necessity..."
Enjoy unlimited access to 70 million ad-free songs and podcasts with Amazon Music Sign up now for a 30-day free trial
Sign up
The pressure and guilt of the situation forged songs like the bereft, blackest-humoured "Nitrous Gas", which hides knife-twist lines like "If happiness won't live with me, I think I can live with that" alongside bitter zingers like "Suck in the bright red major key/ Spit out the blue minor misery" in a very Frightened Rabbit way. The closing song, "Oil Slick", frames a half-serious, half-ironic apology for the rush of dark words, Hutchison wondering "How can I talk in light and warm/ I've got a voice like a gutter in a toxic storm," before finding resolution of sorts in a glimmer of light.
"The way I try and write is to have something that can be as overbearingly dark as it likes as long as it comes to a slight upward trajectory at the end and so that was the final song on the album," says Hutchison; "That message [is] quite prevalent in a lot of stuff that I do, that it's totally fucked... but it's not that bad!"
A fine motto to live by, and one that's responded to fervently by more and more people. Hutchison still finds it difficult baring his failings and feelings so totally, but playing live is a different matter. "Some of these songs are quite new, and it didn't happen so long ago, so there's still a rawness," he says. "But it helps with the process of it, when you can see people truly losing their shit to something that was a wee bit awful..."
If you're at Reading and Leeds, become part of that process. Otherwise, you can be sure Frightened Rabbit will be bringing their stoical message round your way sometime soon.
'Pedestrian Verse' is out now. The EP 'The Woodpile' is released on 2 September. Frightened Rabbit play Reading and Leeds festivals 23-25 August and Brixton Academy on 8 November
Register for free to continue reading
Registration is a free and easy way to support our truly independent journalism
By registering, you will also enjoy limited access to Premium articles, exclusive newsletters, commenting, and virtual events with our leading journalists
Already have an account? sign in
Register for free to continue reading
Registration is a free and easy way to support our truly independent journalism
By registering, you will also enjoy limited access to Premium articles, exclusive newsletters, commenting, and virtual events with our leading journalists
Already have an account? sign in
Join our new commenting forum
Join thought-provoking conversations, follow other Independent readers and see their replies