Sir George Martin: What the music producer brought to The Beatles
A tribute to one of the world's greatest music producers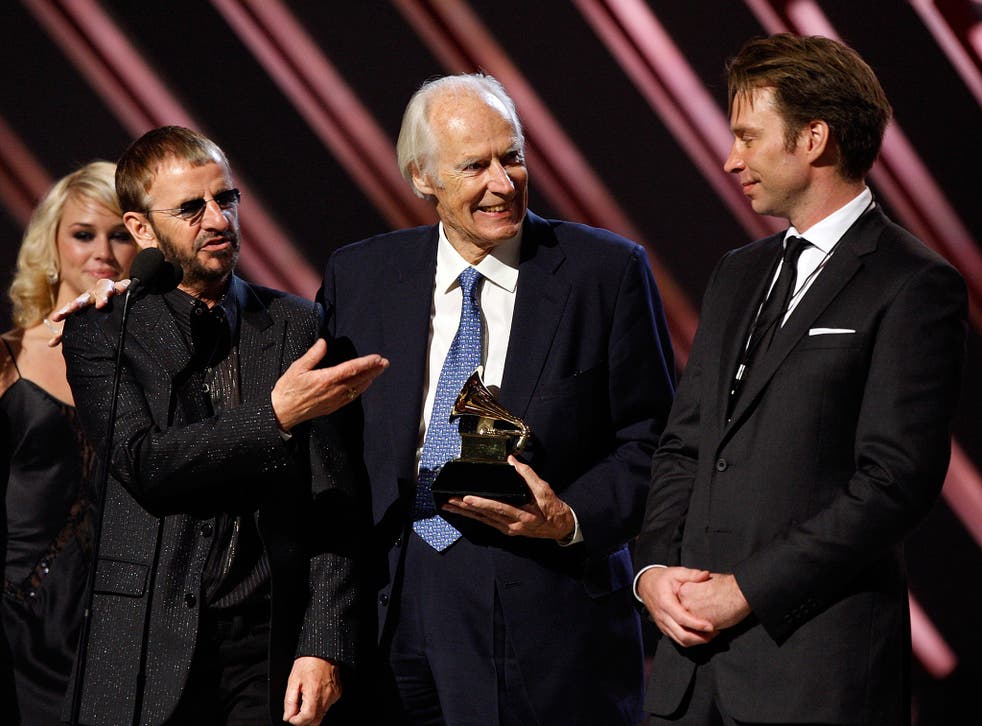 "Gentlemen, you have just made your first number one record."
These words were spoken by music producer George Martin after he'd forced The Beatles to record a sped up version of a slow ballad they'd written called "Please Please Me." They were hesitant but did as they were instructed. The song reached number one in several charts four months later.
Last year, George Martin passed away at the age of 90 and with his death came an extremely bittersweet notion: while seasoned Beatles fans will no doubt mourn the music producer's loss through the celebration of his illustrious six-decade spanning career, there will be many who remain oblivious to what an essential component he was in introducing the world to these four music icons.

It was the year 1962 that marked the beginning of a prolific working relationship which would see them work together on all albums bar one (Let It Be, 1970) and a multitude of world renowned tracks. While many assume John, Paul, George and Ringo's personable traits - their cheek, charm and wryness - to be tantamount to the deluge of musical masterpieces that secured their legendary status, if you were to erase Martin from their history, The Beatles quite simply wouldn't stand so tall today.
George Martin: Life in pictures

Show all 15
The four may have written the songs, and what lyrics they contain, but when it comes to their aurally-pleasing sound - the inimitable flourishes that initially pull you in - the lion's share of the responsibility fell to Martin: the piccolo trumpet in "Penny Lane"; the ethereality of "Strawberry Fields Forever"; "Yesterday"s string quartet (the one that's moving you just thinking about it).
The list continues...

"In My Life"s sped-up baroque piano solo; the circus atmosphere of "Being for the Benefit of Mr Kite!"; the orchestral climax to "A Day in the Life" for which he shared conducting duties alongside an enthusiastic McCartney - the chances are your favourite attributes of many Beatles songs were Martin's doing.

He could also claim responsibility for the things he didn't write, his genius ear for structure composition looming large: the 'ooh la la's of "Nowhere Man"; the Indian instrumentation overdubbing in "Within You Without You"; that blistering "Taxman" guitar solo.

It's Martin's experimental streak that rings loudest. All it takes is one listen to a Beatles album of your choosing to solidify the conviction that Martin needed these lads as much as they needed him; the amalgam of musical minds was every bit as integral as Lennon and McCartney's first encounter. It was Martin taking a gamble on The Beatles that led to them becoming, not only the biggest band of all time but the greatest too.

Forever ahead of his time, Martin - representing EMI - had met with their manager Brian Epstein to draw up a contract to sign The Beatles despite the knowledge that they'd already been turned down by several labels (upon listening to a demo, he himself had described them as "unpromising"). It was the aforementioned personalities that convinced Martin to sign on the dotted line - specifically Harrison's wit.
Of course, at that time, the fresh-faced upstarts from Liverpool had no score arrangement experience, and were thus reduced to simply dictating what they wanted added to their recordings; Martin guided them, suggesting additional flourishes and brought their songs alive in the process.

It's hard to decide what Martin's Beatles-era apotheosis is: could it be "In My Life"? Or perhaps the sorely underrated "Yellow Submarine" score? Maybe it's the frantic - but no less iconic - strings that feature on "Eleanor Rigby"?
At the risk of continuing for several more paragraphs, I'll leave you with this: just ten years ago, Martin produced an album, together with his son Giles, comprised of extracts from over 130 Beatles songs which they remixed together for an album simply titled Love. The record's highlight was an unearthed 1968 demo of George Harrison's "While My Guitar Gently Weeps" for which Martin composed an orchestral score, breathing new life into Harrison's 40-year-old masterpiece.
It's always difficult to know exactly how one should mourn the death of an icon, but in George Martin's case, this recording could be the perfect start. One year ago today, another piece of music history may have vacated this land but, fortunately for us all, his influence is scattered everywhere.
Register for free to continue reading
Registration is a free and easy way to support our truly independent journalism
By registering, you will also enjoy limited access to Premium articles, exclusive newsletters, commenting, and virtual events with our leading journalists
Already have an account? sign in
Register for free to continue reading
Registration is a free and easy way to support our truly independent journalism
By registering, you will also enjoy limited access to Premium articles, exclusive newsletters, commenting, and virtual events with our leading journalists
Already have an account? sign in
Join our new commenting forum
Join thought-provoking conversations, follow other Independent readers and see their replies