Georgina Campbell interview: Bafta winner on the lack of diversity in period dramas
The Best Actress winner talks about her shock victory, new comedy turns, and TV's lack of diversity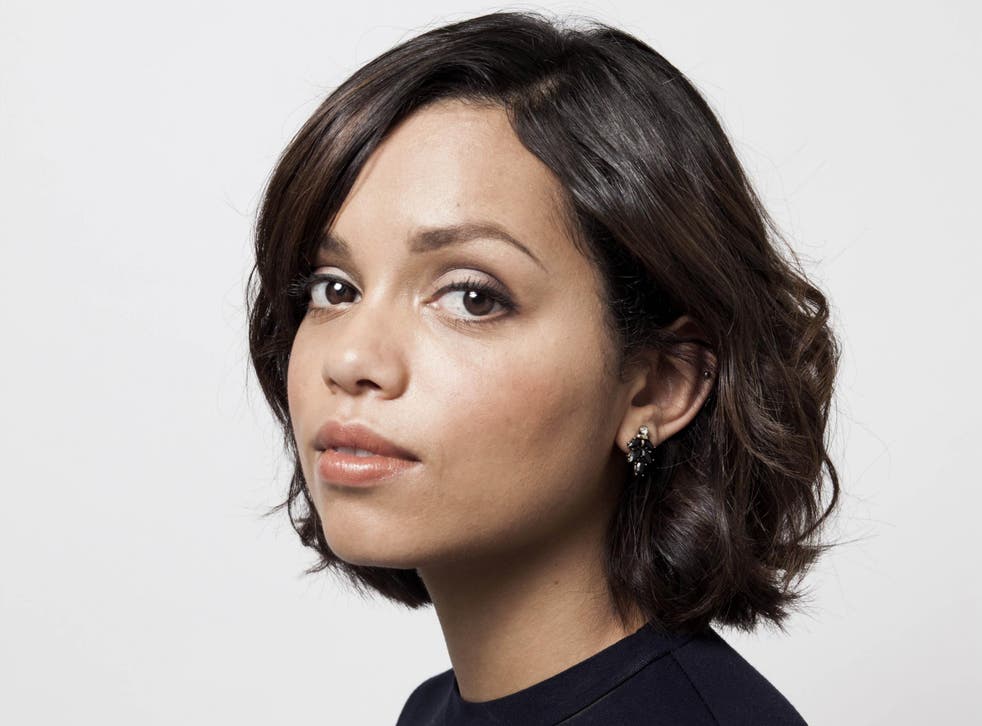 In the build-up to this year's TV Baftas, a lot of talk centred on the Best Actress category. In an outstanding year, which of the big gun nominees would take the prize? Would it be Sarah Lancashire for her hard-as-nails performance in Happy Valley? Or Keeley Hawes for her brilliantly shifty turn in Line of Duty? Or Sheridan Smith for her emotional tour-de-force in Cilla?
In the end, it was none of them. Rather, all three were outdone by a barely known 22-year-old: Georgina Campbell, who won for her devastating performance in the BBC3 drama Murdered By My Boyfriend. Not only did she create the night's biggest surprise, in a historic moment she also became the first black actress to win a Bafta. When the result was announced she looked as shocked as every one else inside The Theatre Royal, Drury Lane.
The bleak but brilliant Murdered By My Boyfriend, which told the true story of a 21-year-old woman beaten to death by her partner after years of abuse, was an intense experience for Campbell who says she found it hard to talk to anyone during filming. "I kind of kept everything to myself because it was quite difficult to get into that kind of mindset," she says. Now however, Campbell, 23, is swapping tragedy for lighter terrain with roles in two of the most anticipated new comedies of the year.
From Monday, she can be seen as part of a starry ensemble in Sky One's hugely entertaining After Hours, centring on an internet radio station. Then next week comes E4's time-travel comedy drama Tripped, a surreal stoner sitcom set in various parallel universes from the unlikely source of writers Jack and Harry Williams, best known for abduction drama The Missing, in which she plays the fiancée of The Inbetweeners Blake Harrison.
Does she feel that the Bafta changed everything? She laughs. "Definitely it's led to more opportunities but I do also think that things are sometimes told as a fairytale narrative … there was a brilliant article with Olivia Colman where she said when she won her first Bafta everyone was like 'oh my god you're going to be huge' and then she didn't work for a year.
"I think that's interesting isn't it? The narrative of you won an award so you're going to skyrocket. It's very emotive language but not necessarily true. I've definitely got auditions I wouldn't have got before but it's not like jobs get rained down on you."
It's a typically level-headed answer from Campbell, who proves laid-back, down-to-earth company over our hour's chat in a West London café. She's also endearingly open about what leads her to fall for roles. She took the part of Jasmine in After Hours, who kicks off the action by breaking protagonist Willow's (James Tarpey) heart, not because of cast or script but because "I really, really loved all the music" [The show is filled with musical references and songs].
She laughs again. "Actually my music taste is probably a little bit suspect, but the one thing I did have was that in the script Jasmine and Willow love The Pixies and so do I. I actually went to the audition in a Pixies t-shirt." She pauses. "Yeah, that was probably a little bit OTT now I think about it."
The daughter of a teacher and a police officer, Campbell grew up with her mother, older sister Sarah and her stepfather, a bookbinder, in Dartford, Kent. As a child she enjoyed acting but "was always the one line wonder," she says. Yet she has also been a professional actor since the age of 16 when a chance meeting with a director led to the leading role in online teen drama Freak. "I think she basically liked me because I couldn't act. She wanted someone who was very uncomfortable round a camera – and I was."
Enjoy unlimited access to 70 million ad-free songs and podcasts with Amazon Music Sign up now for a 30-day free trial
Sign up
Unsure about pursuing acting full time, Campbell headed to Royal Holloway to read film – she graduated last year – but continued to audition. "It was just a slow realisation when I was at university that I really enjoyed it," she says. "I think it's nice that it took me a while because sometimes if you're so hell-bent on something you can't think of anything else and that can be limiting."
She is glad that After Hours and Tripped have allowed her to expand her range into work "that was a bit more light-hearted and softer," she says, but I wonder how she feels about their supporting nature. Did she worry that after being centre-stage for Murdered By My Boyfriend she was now being offered "girlfriend" roles, cast as the arm candy while the men have all the fun? "Ooooh …" she says, laughing once more before adding seriously. "It's hard, it's something that's unavoidable and sometimes you get sent things which are like the character's name and the description is just is 'blah blah's boyfriend' and it's kind of upsetting because you're like, well there's more to me than that. But I think you have to work with it and make it three-dimensional.
"In After Hours, Jasmine does have her own storyline in which she's going off to find herself. The same goes with Tripped – Kate might be the girlfriend but she has her own thing going on in every universe, her own wants and wishes and needs."
Campbell has been outspoken about the lack of diversity in television, and says it is a continuing frustration. "I think theatre is better – especially with new playwrights, which is one reason I'd like to work there …" She leans into my recording device and whispers: "I'd like to work at the Royal Court Theatre please."
She continues: "But I do hope things are going to change on television. One of my main concerns is I would love to do a period drama but those sort of roles never come up. You just never see people of different ethnicities in period dramas. But we're here; we've always been here. That's one thing I do find really frustrating." She stops and laughs again. "I'm like, write me a role in Downton Abbey…" She will, however, appear in Guy Ritchie's upcoming take on King Arthur, the scale of which she describes as "quite terrifying".
She's similarly forthright about BBC3's on-going travails. "The response we got for Murdered by My Boyfriend was so strong and I spoke to so many young people who watched it and loved it and felt they were being represented in it. I think it's a real shame BBC3's probably going to close, because it's a very important channel."
Does she think there's a tendency then to ignore what young people are interested in? She nods. "I think it happens in politics as well – we just get kind of left out. We don't get spoken to in a way that we can understand or relate to. That's why Russell Brand did so well when he was doing [his Youtube show] The Trews – I mean I used to watch it and so many people I knew watched it because he recognised that we would be interested in politics if we were brought into it."
Up next is BBC drama, One of Us, again written by the Williams brothers and co-starring Juliet Stevenson. "It's basically about a family who get involved in a murder …" she begins before adding: "Actually this is kind of hard because I don't know exactly what I'm allowed to say. Um it's very good."
It's an increasingly bright looking future, although she stresses that her nearest and dearest keep her feet firmly on the ground. "My friends take the piss a lot … they're all like we don't give a shit, stop talking about it, stop showing us pictures in magazines." Though, given what she's achieved already, you sense they're going to have their work cut out to avoid them.
'After Hours' starts on Sky One on Monday at 9.30pm; 'Tripped' starts on E4 on 8 November at 9pm
Join our new commenting forum
Join thought-provoking conversations, follow other Independent readers and see their replies