Geri Halliwell is being weird on YouTube – we should be grateful
Spice Girl Geri Halliwell used to be a reliable source of outrageous cringe, before the world went mad. Now she's back with a YouTube show that's as loopy and heartfelt as the woman millions fell in love with in the Nineties, says Adam White
Wednesday 02 December 2020 19:04 Comments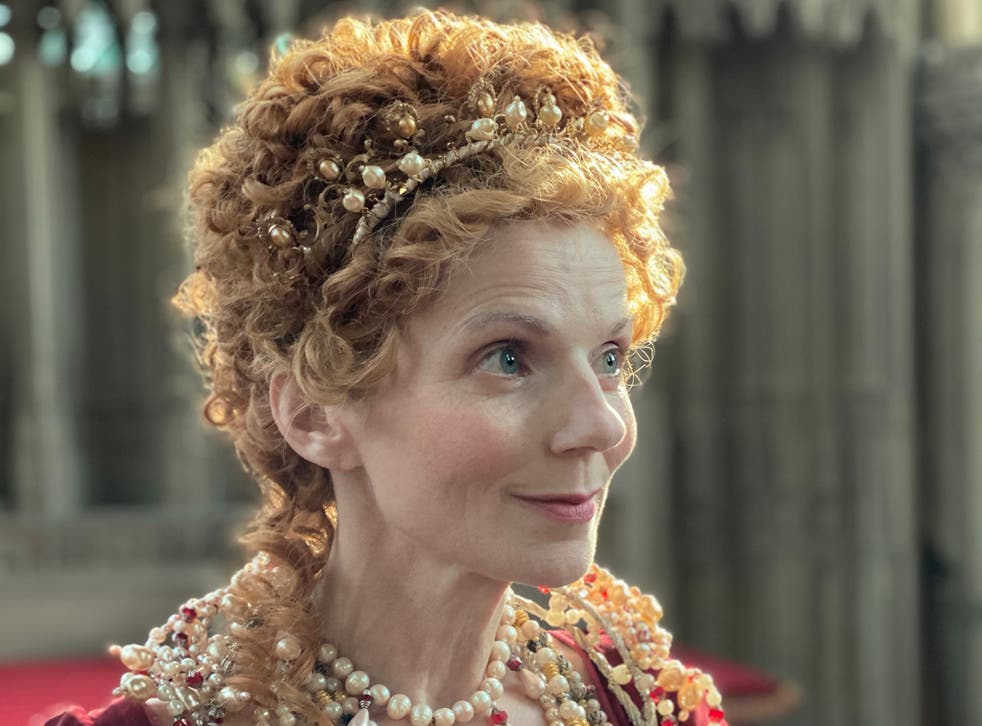 Between a pandemic, a presidential election and the chaotic noise of modern life, it's gone largely unnoticed that Geri Halliwell has been doing something bizarre on her new YouTube channel every week since the start of November. But there she was, hours after most of the world's media called Joe Biden as the projected winner of the US election, acting out a dramatic monologue in full Queen Elizabeth I costume. Our collective attention, rightly or wrongly, was elsewhere.
Halliwell, or Ginger Spice, or Geri Horner as she is known by her married name, is one of British pop culture's last true eccentrics. She was once the Spice Girls' unofficial figurehead, an overly animated, philosophy-spouting camera-magnet who idolised Margaret Thatcher and once emerged on to the Brit Awards stage through a giant pair of inflatable legs. She would throw herself at incredibly cringeworthy acts of public self-sabotage with boundless enthusiasm and sincerity, which always made her oddly endearing. "This is a woman with an almost pathological need to share," wrote journalist Nick Duerden when he interviewed Halliwell for The Independent in 2005.
That Halliwell has now found a home on YouTube, the modern theatre for the absurd and terrifying, feels appropriate. Her 13-part series for the site, called Rainbow Woman, is a moving and confusing melange of acting, self-help and self-exorcism. "It's The One Show on steroids!" she teased (or warned) last month. "It's a love letter to the fans, we go back in time, we go up a mountain, we share something sad … What is a rainbow? It represents hope, and it's also multicoloured, and that's from within. That multicolour of emotions, feelings, big adventures, little adventures. And hopefully we will connect."
Halliwell has spoken in pseudo-New Age argot like that for at least 25 years, but her unhelpful explanation of what Rainbow Woman actually is also reflects its weirdness. The show's first episode, featuring the aforementioned Elizabeth I get-up, takes the form of Halliwell acting out a fiery dramatic monologue about men underestimating women, but also features cutaways to a comedy dog wearing a Shakespearean ruff collar. In episode two, and now out of royal garb, Halliwell climbs Mount Snowdon. Episode four sees her posing triumphantly atop an army tank. Worry not, though – it's not a Thatcher tribute, but rather a short film in which Halliwell embraces "grrrr power" by driving said tank over a tiny car.
Soundtracked by new songs from Halliwell, which resemble the kind of treacly uplift that gets promoted on Saturday Kitchen, Rainbow Woman is oddly hypnotic – like an ASMR video recorded in the office of a professional life coach. It's also, on occasion, somewhat revealing. Episode three is ostensibly about Halliwell's late horse Beauty, but slowly becomes the story of a one-time pop icon piecing her life back together after her career fell out from under her.
"I gave my life one hundred per cent to music, and then when I got to my thirties... the teenage bravado had run out," Halliwell says, while standing wistfully next to a barn. "I wasn't sure where I belonged, and I found it a really difficult time." She recalls her first meeting with Beauty, and how the horse immediately turned its back on her. "Aren't you interested?" Halliwell remembers asking. "Don't you like me? I think that's how I felt towards the fans. I felt a little bit disconnected, and then I realised maybe I'd taken the fans for granted."
In these moments, Rainbow Woman feels like the Halloween H20: 20 Years Later of pop star documentaries, a belated epilogue to the horrifying Ginger Spice docs of yore. In 2005, Halliwell's "difficult time" was documented in There's Something About Geri, a surreal Channel 5 endeavour that followed Halliwell on the promotional trail for her third and, as of 2020, final solo album. It is a ruthlessly candid time capsule of a pop star in freefall. Halliwell is seen dispensing with multiple managers and PR experts, howling with tears after a disastrous appearance on Top Gear, accosting elderly women with questions about sex, and, while taking a friend's dog for a walk, marvelling at the size of its mess – which she promptly leaves in the middle of a street in Chelsea.
Much like 2005's Totally Scott-Lee, an MTV docuseries in which the Steps singer Lisa Scott-Lee promised to abandon her solo career if her latest single didn't make the top 10 (spoiler: it didn't), There's Something About Geri could only have been made in the dying days of CD:UK and pre-Instagram celebrity hubris. Halliwell is face-tearingly unfiltered throughout and swimming in denial about her place in the pop ecosystem. You feel terrible for her. "I know! I know!" she told The Independent shortly after it was broadcast. "I shouldn't have done it! Even thinking about it makes me cringe!"
There's Something About Geri ends ominously, with Halliwell allied with a new management team, refusing to perform at the Soap Awards, and confessing that she feels out of sorts. She'd be dropped by her record label soon after. The succeeding decade saw her flung about the post-popstar merry-go-round: judging reality shows, releasing children's books, becoming a mother. By the time she rejoined the Spice Girls in 2007 for a world tour, and then later for their 2019 dates sans Victoria Beckham, something seemed to have shifted in her – that relentless confidence and stage presence, so overpowering throughout the band's original run and into Halliwell's solo career, had dimmed. Her Instagram feed would become a deluge of beige, baking and kitchen islands.
Coincidence or not, Halliwell's exodus as a reliable source of outrageous cringe coincided with the world around her becoming increasingly deranged – the corrupt and the insane became intermingled, everyday discourse grew so surreal and maddening that we rarely stopped to acknowledge how weird everything had become. Celebrity, which was once home to the theatrical and wild, got boring. Halliwell went dark.
Rainbow Woman fills in the gaps when it comes to what happened to her, with Halliwell confessing to losing her confidence somewhere along the way. That Rainbow Woman exists at all is proof that she's slowly regaining it. The show's inherent insanity is also oddly comforting. This is a project just as loopy, unwieldy and baffling as the Ginger Spice millions fell in love with in the 1990s, Halliwell so heartfelt and sincere in her approach that it's hard not to be won over by her. In a world that is desperately clawing its way out of Trumpism, mid-pandemic no less, it feels calming, soothing and reassuring to know that Geri Halliwell is out there being weird in front of a camera again. Nature is healing.
Register for free to continue reading
Registration is a free and easy way to support our truly independent journalism
By registering, you will also enjoy limited access to Premium articles, exclusive newsletters, commenting, and virtual events with our leading journalists
Already have an account? sign in
Join our new commenting forum
Join thought-provoking conversations, follow other Independent readers and see their replies