Glastonbury 2014: So who's Jolene?
Dolly Parton brought the house down when she told the tale of the woman who inspired her greatest hit. But is it a true story or a bit of country stardust?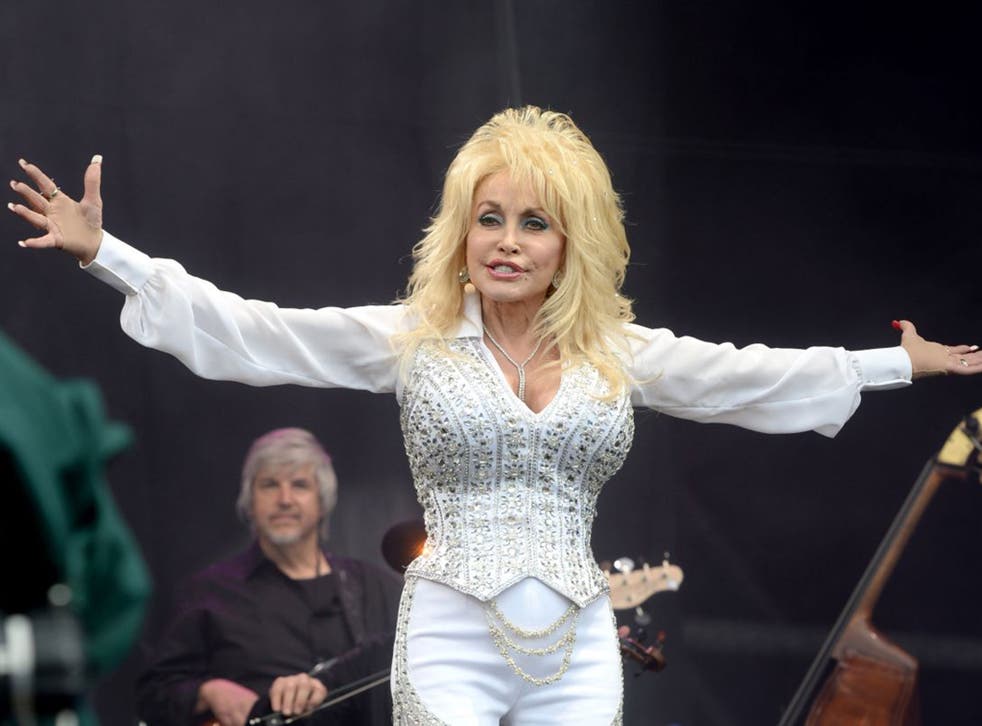 Dolly Parton earned some of the biggest cheers from an increasingly hoarse Glastonbury crowd on Sunday when she paused to explain the origins of her biggest hit. "Now, some of you may or may not know that that song was loosely based on a little bit of truth," she said after belting out "Jolene". "I wrote that years ago when my husband… was spending a little more time with Jolene than I thought he should be."
Glastonbury crowd: "BOOOO."
"I put a stop to that," she went on. "I got rid of that redhead woman in a hurry."
Glastonbury crowd: "YEAAAAH."
"I want you folks to know, though, that something good can come from anything. Had it not been for that woman I would never have written 'Jolene' and I wouldn't have made all that money, so thank you, Jolene." More cheers, more screams, more Dolly mania. As the echoes faded over Somerset, those not intimately acquainted with the Parton story were curious. Who was Jolene, Jolene, Jolene, Jo-leeeene, and how "loosely based" are we talking?
The answer reveals as much about a woman as it does a resurgent genre. Harlan Howard, the late country genius, defined a great country song as "three chords and the truth". For Parton, read three chords and "little bits of truth".
Dolly Parton life in pictures

Show all 23
In the case of "Jolene", which Parton released in 1973 just as she was emerging as a solo country queen in the making, those truths can be traced back to a concert she gave decades ago – and a head-turning bank clerk.
In an old interview with Norwegian television, Parton recalled meeting a little girl who had come up to the stage for an autograph. "I said, 'you're the prettiest thing I've ever seen'. She had red hair, green eyes and fair skin."
Parton asked the girl her name: Jolene. "I said, 'well that's just about the prettiest name I ever heard. I'm gonna write a song about you and if you ever hear it, you'll know it was about you'." The real Jolene has never stepped forward. Nor has the protagonist that Parton created using her name. The singer has separately revealed that the inspiration for "Jolene" was a red-haired teller who flirted with her husband at his local bank branch (Parton has been married to Carl Dean, a Nashville businessman who is rarely photographed or quoted, for 48 years).
"The thing about country songs is that they are based on the experience of daily life," says Bob Harris, the veteran radio broadcaster and country expert at BBC Radio 2. "This is why people connect with it to the extent that they do. It's also about the individual standing on his or her own two feet, and dealing with the problems and pressures we relate to."
Video: Dolly Parton talks Glastonbury
Harris, who is the same age as Parton at 68, is delighted but not surprised that she triumphed on the Pyramid Stage. "I've been doing the country show for 15 years and I've watched it gradually grow and grow," he says. "I compèred the Country 2 Country festival at the O2 last year and what struck me looking out at the rammed audience was how young it's becoming."
Harris credits a younger generation of country stars with pop appeal – Taylor Swift and Kacey Musgraves among them – with replicating Parton's success and knack for connecting with audiences. "My daughter, Flo, is 17 and you analyse these lyrics and Kacey's in particular really strike a chord," he says. "They're not throwaway songs – they have substance that resonates with people who are looking for a bit more depth."
Embellishments to the truth can only enhance this impact. Perhaps buoyed by her rapturous reception on Sunday, Parton used her other great talent – a lightning wit – to add a new chapter to the Jolene/husband mythology. "Every time I look at him sleeping over there in his La-Z-Boy, snoring, that hair turning grey at the temples," she said, "I wonder if Jolene is still around. I'll call her up and say, 'you come and get him now!'"
Register for free to continue reading
Registration is a free and easy way to support our truly independent journalism
By registering, you will also enjoy limited access to Premium articles, exclusive newsletters, commenting, and virtual events with our leading journalists
Already have an account? sign in
Register for free to continue reading
Registration is a free and easy way to support our truly independent journalism
By registering, you will also enjoy limited access to Premium articles, exclusive newsletters, commenting, and virtual events with our leading journalists
Already have an account? sign in
Join our new commenting forum
Join thought-provoking conversations, follow other Independent readers and see their replies