Glastonbury 2016: What bands are saying about Brexit – Adele, Bastille, Damon Albarn and more
James and Foals are also among the acts to address the political elephant in the field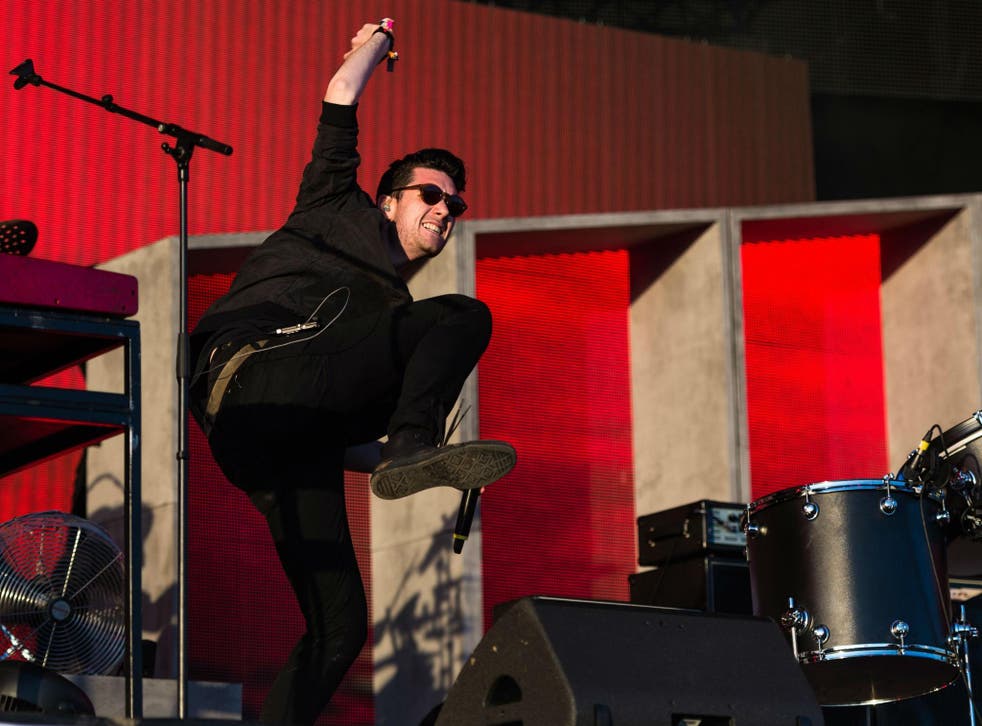 Brexit has sent shockwaves across the United Kingdom, particularly in Scotland and London, where voters overwhelming opting to remain in the European Union. Anger has also been bubbling at Glastonbury, with many bands using the stage as a platform to speak against what they see as a disastrous result.
Festival organisers Michael and Emily Eavis shared a poster saying "In" before Thursday's referendum, with the Glastonbury free press overtly bemoaning the decision the next morning (see below tweet).
Muse chose to ignore the political elephant in the field during their Friday night headline slot, choosing to let dystopian songs such as "Uprising" make their statement for them, but here's what other acts have had to say about Britain bidding adieu to Europe:
The 1975
Frontman Matt Healy spoke out for the 75% of young people who voted to remain when he said on stage: "I feel like I've got a responsiblity to say something. What I feel, what a lot of young people feel, is that there's a sentiment among older people who have voted in a future that we don't f**king want. Glastonbury stands for everything our generation wants - compassion, social responsibility, community, loving each other."
Bastille
Dan Smith's band had been vocal supporters of Remain, playing an EU referendum gig in favour of Stronger In before Thursday's vote. During their Friday set, the frontman changed the lyrics to hit "Pompeii" from "And the walls kept tumbling down/ In the city that we love" to "And the pound kept tumbling down/On the weekend that we love".
Damon Albarn
The Blur frontman was seething when he opened the Other Stage on Friday. "I have a heavy heart today," he said. "Democracy has failed us. Democracy has failed us because it was ill informed and I want you to know that when we all leave here, we can change that decision. It is possible."
Foals
Frontman Yannis Philippakis reacted to news of the Brexit vote by wearing a t-shirt with slogan reading "Abuse of power comes of no surprise" for the duration of Foals' Pyramid Stage set.
Glastonbury 2016 - in pictures

Show all 10
Novelist
One way to voice your rage is to spark a crowd chant of "F**k David Cameron", which is exactly what Grime MC Novelist did.
James
More profanities came from the "Laid" rockers as guitarist Saul Davies dedicated their set to "all the beautiful brilliant people who voted remain" and told fans: "It is with incredible sadness that we stand her today, unified in sadness that our country has turned on people. F**k them!"
Jarvis Cocker
The Pulp frontman held up a sign with the URL of the petition for a second EU referendum during his secret DJ set with bandmate Steve Mackey, before encouraging fans to sign it.
Adele
"It's a bit weird the stuff that's going on at the moment for all of us," the singer commented during her set. "And we need to look after each other. Happy Pride everybody, as well."
When asking fans where they'd come from, several members of the crowd started booing when certain places were mentioned, such as Coventry and Stoke-on-Trent. The singer quickly retorted, "I'll have no f*cking booing at my show. After what went on the other day, are you mad?"
Billy Bragg
Before his performance, the musician issued a call to arms for the younger generation; while admitting he didn't vote when first given the opportunity in 1979, he urged that now was not the time for political apathy.
"My guess is there's a lot of young people who woke up this morning thinking, there's absolutely no way this country would be so stupid to vote us out," he said. "You probably thought there's no point in going to the polling station, I'll let someone else do that. I'm not here to condemn them, after I made the mistake I got stuck into the fight. So now it's your job to get stuck in."
Ellie Goulding
"I know things have been a bit weird the past few days. Actually, that's an understatement," the singer stated during her set on the Pyramid stage. "But it is so nice to be in a place where there is so much unity and where everyone is so happy and friendly and dancing together and laughing together and loving each other."
"I really hope now for this lovely country that I live in and you live in that that sentiment, that spirit of Glastonbury, happens all over the country still, because I know some really terrible things have been happening and I really hope that when you go home that you guys will take that spirit with you."
"And if you see that that spirit is not happening wherever you live, wherever you are, to other people... We are all one person, we are all human beings. I just want to say I really hope that we can all carry the spirit of Glastonbury home with us, because that would make me very happy."
Coldplay close the festival on Sunday. This article will be updated to include any further Brexit comments.
Join our new commenting forum
Join thought-provoking conversations, follow other Independent readers and see their replies