Glastonbury 2016: Reviewing the new organic toilets
The traditional Tardis-like portable potties have been replaced almost entirely with composting toilets
Jack Shepherd
Sunday 26 June 2016 13:39 Comments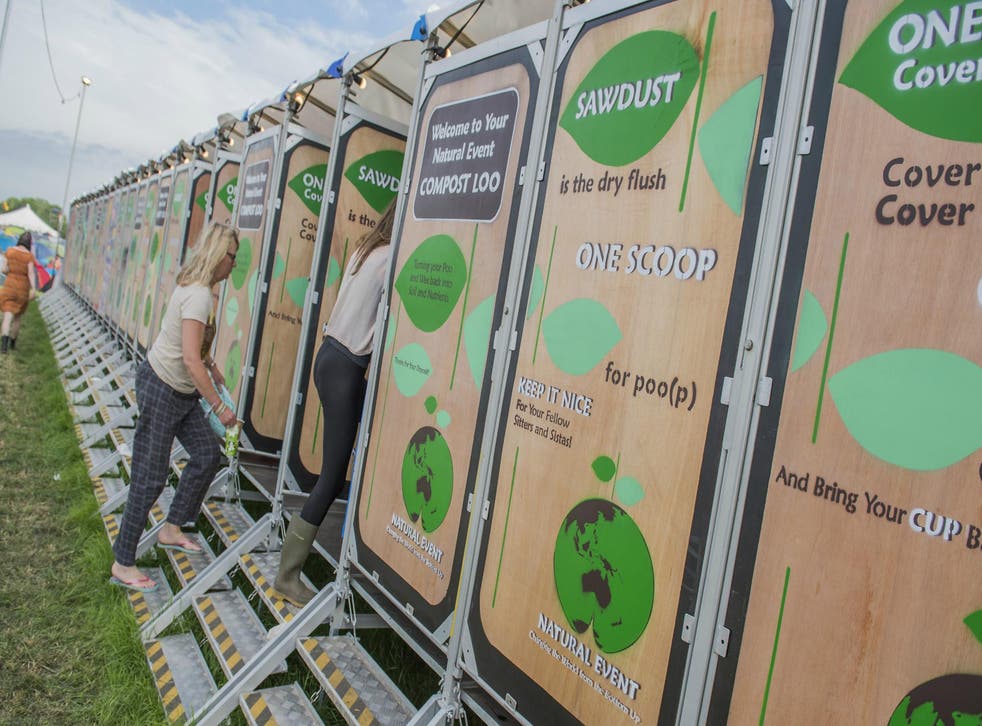 For Glastonbury-goers, often the idea of holding in a bowel movement for days is more appealing than actually using the onsite toilets.
They're the things of nightmares, the majority being metallic green boxes, known as "long-drops" because you excrete into a large underground opening, often already filled to the brim with human excrement.
Upon the news that Worthy Farm was replacing almost all of its Tardis-like portable potties with organic toilets, many revellers were quite ecstatic. Surely, they couldn't be worse than what has come before?
For journalistic purposes, I managed to hold off going to the quite acceptable Hospitality toilets in order to use one of these new behemoths.
Notably, there aren't a huge amount of these toilets around, and when they are there, queues are often long. Unlike the aforementioned green bogs, however, the smell is no way near as bad thanks to each user covering their excrement in tree bark; each person having to take a cup full of the stuff into the unit with them.
When you do finally enter the cabin, it's the same drill as the long drops; you're doing your business into a hole, just this time it's all dry below and you can only only see dark bark and a few squares of toilet roll rather than floating faeces.
Glastonbury Festival kicks off
For a Saturday morning, the seats are also remarkably clean and there's a lot more space than in any of the other toilets. Then, when you do the business, there's a lack of sound as it hits the bark below.

Glastonbury 2016 - in pictures

Show all 10

It's actually quite a comfortable experience, much more so than the majority of other toilets on the site. Should you queue for these? Depends how desperate you are really. It's all the same old sh*t really.
Register for free to continue reading
Registration is a free and easy way to support our truly independent journalism
By registering, you will also enjoy limited access to Premium articles, exclusive newsletters, commenting, and virtual events with our leading journalists
Already have an account? sign in
Join our new commenting forum
Join thought-provoking conversations, follow other Independent readers and see their replies