Glen Hansard interview: The singer-songwriter on finding fame in The Commitments and Once
When he left school to busk at 13, all Glen Hansard wanted was to make a living. By the time he was 30, his musical talent had brought him wealth and fame, depression and tragedy. Here, the Irish musician reveals how a rock'n'roll friendship got him back on an even keel - and what he did when family members came looking for cash...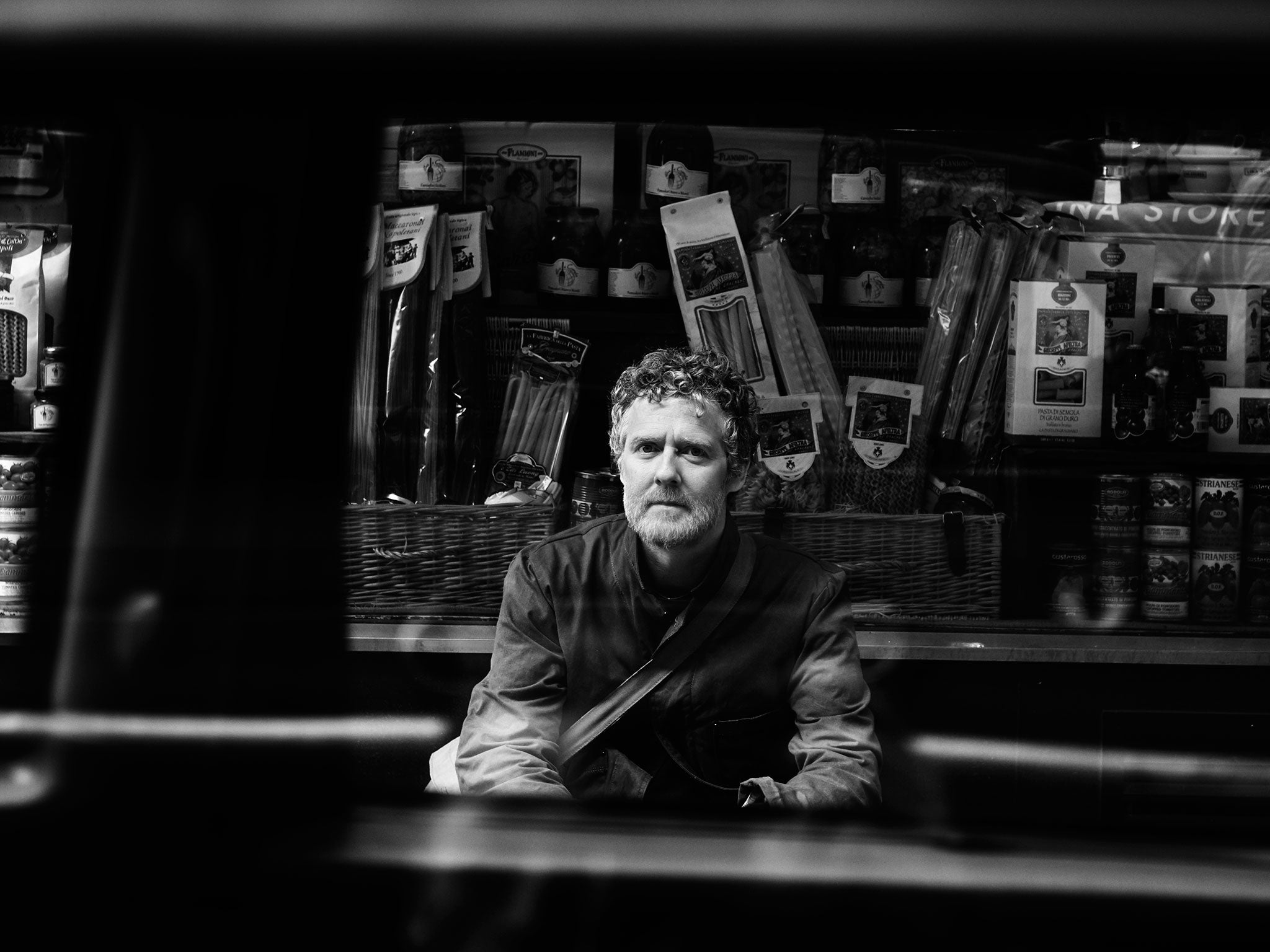 Surveying the oil and grime that sits beneath his fingernails, Glen Hansard beams with an almost paternal pride as he tells me he has spent the past few days at home in Ireland, tinkering with his car.
"It's an old Land Rover Defender, and I'm restoring it," he says, blue eyes blazing. "I've been filthy for days, and I'm happy as a pig in shit. There's a logic and satisfaction to fixing things you could never get from songwriting."
Hardly a sentiment one might anticipate from a singer-songwriter whose new solo album, Didn't He Ramble, might just be his most personal, and loveliest, yet; but Hansard is nothing if not a plain speaker.
"Think about it," he pleads. "Songs are these weird, ethereal things – like birds that land in the garden you try to coax into the room. It's all very abstract compared with nuts and bolts. I've always loved nuts and bolts."
Hansard is one of Ireland's most successful musicians, an Oscar-winning songwriter, and far more the folk troubadour of tradition than he is modern-day celebrity. "Not interested in all that," he scoffs, "and I'm not on the social media." Though he did make the gossip pages recently, photographed mid-singsong in an Irish pub with the American comedian du jour Amy Schumer. "She just sat down at my table," he grumbles. "I didn't even know who she was."
When you listen to the rough-hewn beauty of Didn't He Ramble, it becomes clear why Bob Dylan invited him on tour, and why his band, the Frames (currently on hiatus), have found success the world over since forming in 1990. "Except in England," he points out. "Early on, we worked out it would take us 60 years of touring here before we filled a room, at which point we just thought fuck having to beg this place for acceptance. So we set our sights elsewhere. And you know what? We've done all right."
Raised in the Ballymun area of Dublin as the second of four children, Hansard quit school at 13, intent on becoming a busker. "I'd started getting into trouble – drinking, glue, the usual stuff. Ballymun was a troubled place: 45 children in my class, and none of us getting any particular attention or education."
And at home?
He frowns. "My parents were… Let's just say they were busy being themselves. They were young – they had me when they were 19 – and still figuring things out. Dad was drunk the whole time, hardly a figure of authority. Back then I thought he was being liberal. He wasn't."
Guidance came instead in the form of his headmaster, who took Hansard aside one day, concerned. "He knew I had a brain, just that I wasn't engaging it." Despite the legal requirements concerning children in school, the headmaster encouraged him to leave. "He told me to go and busk; he guaranteed me that, while I might not become a rock star, if I stuck at it, I'd likely make a living from it. That was his job, he said: to help me make a living."

Enjoy unlimited access to 70 million ad-free songs and podcasts with Amazon Music
Sign up now for a 30-day free trial
Sign up

Enjoy unlimited access to 70 million ad-free songs and podcasts with Amazon Music
Sign up now for a 30-day free trial
Sign up
Busking introduced him to a new crowd: artists, singers, "people who read books". One day he went to a Seamus Heaney reading and ended up following new friends back to the poet's house. At 20, he landed his first record deal and, shortly after, was cast in the film adaptation of Roddy Doyle's The Commitments, about a raucous cabaret R&B act. The film was an international sensation, and in its slipstream the fictional act became real, touring the UK and America to packed houses. But Hansard hated it; he felt it was all fake. So he grew a beard, and refocused his sights on the Frames.
"I became a jobbing musician, which was all I ever wanted."
A full 16 years on, he was asked to be in a film again. It was 2007, and Hansard's friend and former Frames bassist John Carney had begun working on Once, a tale of two buskers in Dublin falling in love through music. Cillian Murphy had signed on to appear alongside a 19-year-old newcomer, Czech musician Marketa Irglova; Hansard would write the songs. But then Murphy bailed. "Cillian doesn't like me saying this, but he had reservations about some of my songs. They were quite hard to sing, quite raging. But, then, the character was pretty dark."
With Murphy gone, the funding disappeared, and the project seemed doomed. Until, that is, Carney implored his friend to step in. Hansard had been reluctant to repeat his experience on The Commitments –"Nothing wrong with acting, it's just not for me" – but eventually agreed.
The film was shot in three weeks on a shoestring budget of £100,000 and, if the finished product was rough around the edges, it was also quite lovely, seducing all who saw it. The leads' on-screen love affair followed off-screen, and the following year the doomed sweethearts (they would split up shortly after) won Best Song at the Oscars for the track "Falling Slowly". Hansard's acceptance speech, made immortal on YouTube, is the very definition of incredulous disbelief. "You'd imagine I'd have been full of light after winning," he says, "but in fact I went quite dark, drinking far too much. I didn't know why."
It was Bruce Springsteen, sitting up with him one night drinking whiskey, who explained things to him. "He said that everything I had ever been in my life – that guy struggling against the world – had died the night we won the Oscar. I was in a different part of my life, a different suit. He said I should learn to embrace it, enjoy it."
But he didn't, not quite. Like The Commitments before it, Once went on to have a second life as a wildly successful stage musical, with productions all over the world. In 2012, it won eight Tony awards on Broadway, casting a shadow that fell squarely on his shoulders.
"But I'm not complaining," he insists. "I'm not. True, I didn't like the idea of it becoming a musical – I feared overexposure would kill it – but I suppose it helps me stand up and be in the world. And if I am remembered for that one song, well, there are worse fates…"
Still, he stopped playing "Falling Slowly" altogether at concerts – not entirely sick of it, but in no hurry to revisit it. Let others do that, he decided. But then Pearl Jam's Eddie Vedder invited him on tour, and insisted they sing it together nightly. "Eddie made me feel slightly less self-conscious about it," he says. "I'm grateful for that."
Hansard and Vedder became friends in unlikely, and tragic, circumstances. A while after the Oscars, Hansard was playing an outdoor auditorium near San Francisco. In the crowd was a young man who had been spurned by his girlfriend (also in the crowd, and a huge fan of Once). Gaining access to the roof of a building adjoining the amphitheatre, he took a running leap at the stage. He landed at the singer's feet.
"I just heard the loudest crash, and looked down to see his brains opened up, blood k pouring from his eyes, nose, mouth. People told me later that he might have been aiming for me."
Vedder read about the incident, which reminded him of a similar accident that had affected him. In 2000, during a Pearl Jam performance at the Roskilde music festival near Copenhagen in Denmark, eight fans were crushed to death in the crowd (a ninth died later in hospital). Confident he knew what Hansard was going through, he called him. "He just wanted to know if I was OK, which was incredibly kind of him. We spoke for an hour each night for a week." The two have subsequently recorded music together, and toured. "He's a beautiful soul, Eddie, really deep. He's helped me."
Hansard is 45 years old now. He continues to live the only life he has ever known – the touring life – but increasingly craves the comfort of his home in Kildare, to watch the seasons arrive, and to tinker with his car. There is no wife yet, no children, and sometimes he pines, "But I've essentially a brilliant life; I'm exactly where I want to be." Once, he concedes a little awkwardly, has made him a rich man. "But I'm happy to say that the money that has come in my direction has been a healthy figure; I've not been overwhelmed by it."
He has tried to use it wisely, helping his mother, stricken with emphysema (his father died five years ago), and looking out for various family members. "In a working-class family, everyone is always going to hit you up; there is a constant need," he says. "So I've done a few things I feel confident that serve the whole family, but not enough to allow them to go out on a bender, you know? I've never really cared about money, but it has helped me interact with the world with slightly more creativity. There's comfort in that."
'Didn't He Ramble' is out now. Glen Hansard plays the Shepherd's Bush Empire, London W12 (O2shepherdsbushempire.co.uk), on 21 October
Join our commenting forum
Join thought-provoking conversations, follow other Independent readers and see their replies