Gold Key guitarist Laurent 'Lags' Barnard pontificates on Watford's DIY punk scene and why it was never built to last
With his new project consisting of several key band members that emerged from the DIY Watford scene, Gold Key guitarist Laurent 'Lags' Barnard (Gallows, Krokodil, Moones)  provides us with an exclusive  essay about the history of a subculture on the fringes of London
Remfry Dedman
Monday 30 October 2017 13:48 Comments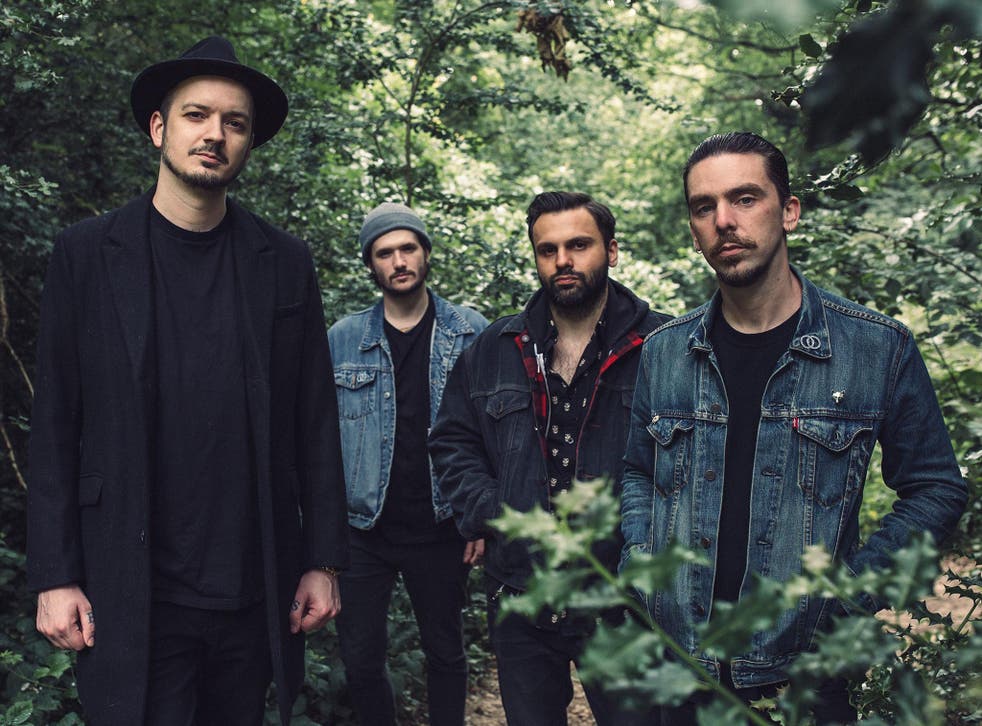 There are a lot of different ideas swimming around Hello Phantom the debut album from Gold Key; awash with spacey, psychedelic guitar lines that interweave themselves around the bump n' grind grooves of Queens of the Stone Age, celestial atmospherics that recall latter day Radiohead and a woozy, ethereal vocals that conjure images of Roger Waters-era Pink Floyd. It's a veritable melting pot of different styles and genres, coincidentally just like the DIY Watford scene that all four members of the band emerged from.
Gold Key however are an entirely different proposition to any of the bands that each member usually inhabits (Gallows, SikTh, Nervus and Spycatcher probably being the four most note-worthy from each individual). In many ways, Gold Key perfectly embody the creative eclecticism that has sprung from this Herfordshire borough, situated just 17 miles north-west of central London.
As a member of Gallows, Krokodil, Moones and Gold Key, as well as founder of Venn Records, Laurent 'Lags' Barnard is uniquely positioned to be able to provide comment on Watford and a DIY scene that grew out of sheer boredom and apathy. London may have just been a short train journey away, but the capital didn't belong to these kids. Watford did however and alternative rock circles across the country have benefited from the creativity that has spewed out from within this Hertfordshire town since the turn of the mid-2000s.
Lags provided us with his own truncated account of the scene and why it meant so much to him and so many other kids that found themselves in the gutter, staring out at the starry lights of London Town.
Watford: A Short History of a Post-Millennial Subculture
An essay by Laurent 'Lags' Barnard
About ten years ago I was on the receiving end of some very unflattering journalism in a local newspaper. An employee at The Watford Observer had read an interview with my band Gallows in a certain rock publication. What had vexed this particular writer was my use of the phrase "dead end town" when discussing my home of twenty years, Watford.
In the original interview I explained that Gallows were desperate for an escape from a sorrowful suburban nightmare, you know, that "living for the weekend" culture that seemed prevalent in Watford at the time. The journalist at the Watford Observer, appalled by my comments, decided to defend the town's honour in writing and in the process portrayed me as some vacuous, wannabe rock star.
I'll be honest with you, rightly or wrongly I've said a lot of things about the area in which I grew up. I used to think Watford was far from perfect. With London only a 15 minute train journey away, the town really had no reason to be perfect. You didn't have to travel far to find every subculture this country had to offer. But when I was sixteen years old, everything felt out of reach. It turns out I wasn't the only teenager feeling disenfranchised by my surroundings.
The millennium was approaching and dial-up internet was still considered a luxury. My circle of friends wore baggy jeans, spiked their hair and carried skateboards at all times. The weekend consisted of drinking cheap cider in a park and getting shouted at by townies. We'd socialise with other bands in the area and exchange demo recordings. Everything revolved around the music we loved and the chance of maybe one day performing our songs live.
At the time, Watford's only dedicated live music venue was the 1500 capacity Colosseum and the chances of any of us landing a slot there was beyond impossible. We knew that if we were ever going to play our music in front of people we'd have to create our own opportunities. It was up to us to find function rooms, church halls, scout huts, any space that didn't carry age restrictions and allowed us to make noise - a lot of noise. My friend called up the Pump House, a community theatre close to the town centre, and that was it.
Enjoy unlimited access to 70 million ad-free songs and podcasts with Amazon Music Sign up now for a 30-day free trial
Sign up
The photocopy machine achieved then what social media does now. Via hand drawn flyers, word of these clandestine events spread through nearby schools and colleges, and soon the Watford DIY scene grew into a flourishing community. In fact the second gig I ever played was at the local Conservative Club of all places. It was heaving with kids and mid set we noticed a plume of grey powder fill the room. People were diving off the stage and pulling down the ceiling panels, disturbing fifty years worth of dust. We carried on playing, ignoring the consequences. It was exciting and out of control. It felt like home.
Gigs soon started happening all over Watford - Rugby clubs, gym halls, even hiring a generator in the woods was enough to put on a show. From these humble beginnings, local bands like Captain Everything! and SikTh began playing out of town and landing bigger tours.
In 2002, punk three piece Captain Everything! signed to London indie Household Name Records, a label known for releasing the cream of the UK underground. That same year math-metallers SikTh signed to Gut Records (once the home of Tom Jones and Right Said Fred). Despite being opposite ends of the rock spectrum there was a strong bond between the bands in the area. We went to school together, we went to parties together, we would help each other out wherever possible.
A second wave of bands rose from the local scene in the shape of Cryforsilence and Incoherence. Two hardcore bands that signed to welsh indie Mighty Atom and London label Blackfish Records respectively. As more and more Watford punk and emo bands began popping up those outside our scene labelled the movement "Hertscore".
As always it was friendship that glued the bands together. I would go on tour with Cryforsilence, assuming the role as merch vendor but really I was just there to cause mischief with my mates. Each venue they'd play, I'd leave a CDR of my new band Gallows with the promoter. I don't think any of them ever reached out to me but that didn't matter; Gallows were getting more than enough attention, good and bad, back in our hometown.
With every rise there comes a fall. As more venues cottoned on to the underage drinking and over selling of tickets, the local promoters began running out of potential locations. It got to the point where gigs were booked as "birthday parties" so as not to arouse suspicion. The vast amounts of young, alternatively dressed fans also began to attract troublemakers who would mug and bully them as they waited outside venues. All this came to a head in 2006 when Gallows played at Watford Railway Club. During our set the fire escape was kicked in by some teenagers intent on ruining the night for the younger crowd. They were swiftly put in their place but the damage was done. The shows no longer felt safe for anyone and it was time to take a step back.
So what do I think of Watford now? Well, the dead end town has clearly proven itself as an unsuspecting musical force over the last fifteen years. Some of the gig attendees during those early years have found success in their own musical endeavours. James Smith often reminds me of some of the very early DIY Watford gigs. His band Hadouken played a huge part in the Nu-Rave movement of the mid-2000s. Bedroom guitarist Mike Duce would be down the front at all of Captain Everything!'s hometown shows and would later form his own punk band with college friends called Lower Than Atlantis. Earlier this year they headlined Brixton Academy.
Even though Watford still lacks a medium sized all ages venue, some of the familiar faces from those early years are still encouraging young musicians to fulfil their dreams. Steve Sears, once guitar player for Cryforsilence and now singer for Gold Key, runs the very successful Titan Studios - a creative hub where bands can record, rehearse and also learn from a selection of handpicked music teachers. Fellow Gallows guitar player Stephen Carter holds a vital role at the local college where he develops young artists and offers his experience where needed. Paul Terris has been singing in bands since school and still tours with The Social Club and Nervus. He now runs the LP Cafe, a record store come coffee shop that regular hosts live music events in and outside the Cafe. Perhaps what is more out of the ordinary is the story of guitarist Alessandro 'Vman' Venturella. We went to school together, he played in Cryforsilence and was my guitar tech for four years. He's now better known as the bass player in metal giants Slipknot. I've finally come to realise what makes the town is the people, and Watford is the best.
Hello Phantom, the debut album from Gold Key is available digitally and on vinyl now through Venn Records. Gold Key have four dates coming up in the UK in November including a rescheduled suppot slot with Arcane Roots at Scala on 2nd November
Register for free to continue reading
Registration is a free and easy way to support our truly independent journalism
By registering, you will also enjoy limited access to Premium articles, exclusive newsletters, commenting, and virtual events with our leading journalists
Already have an account? sign in
Join our new commenting forum
Join thought-provoking conversations, follow other Independent readers and see their replies