The moment for gospel and rap crossovers has arrived
From Kanye West and Chance the Rapper, to Nicki Minaj and Tasha Cobbs, gospel has found its place in the hip-hop world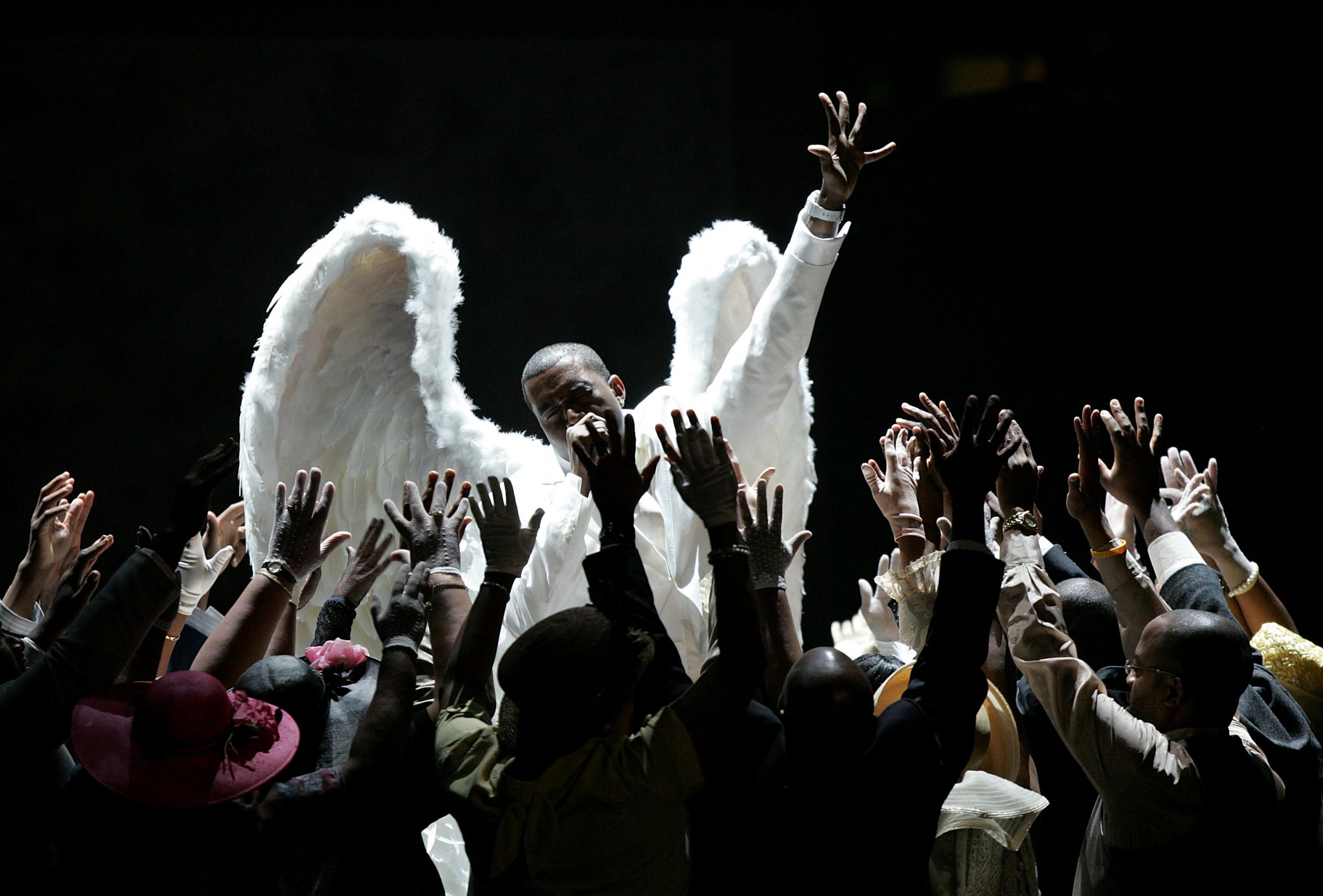 When Kanye West's "Ultralight Beam" floated down from the heavens in February 2016, there was a palpable cultural shift. The song culled the feelgood elements of church – the music, the soul, the encouragement – and isolated them on a hip-hop track to make what was arguably the most culturally consequential gospel song since Kirk Franklin's "Stomp (God's Property)" 20 years earlier.
The release coincided with the rise of Chance the Rapper (himself, along with Franklin, prominently featured on "Ultralight Beam") and his championing of Christianity both in and outside of his music. The two years since "Ultralight Beam" have show the opportunities for genre exchange have never been stronger.
Just look at the charts. Yes, Nicki Minaj finds herself battling for the top of the Billboard Hot 200 with her new album, Queen. But she's also on Billboard's Hot Gospel Songs chart, along with the likes of Charlie Wilson, T.I., Timbaland and Snoop Dogg. Even a few years ago seeing those names on that chart would have seemed unthinkable. But gospel has been undergoing a small and not-insignificant evolution that is playing out as an electrifying and reciprocal stylistic dialogue between different genres of predominantly black music.
The elements once considered emblematic of the sanctuary's uptight conventions – choirs, organs, meditative lyrics – are now powerful instruments of rap and R&B; meanwhile, trap drums and glossy production have infiltrated gospel. After all, there is nothing inherently sanctified about a choral arrangement or inherently profane about an 808. And merging the two genres has proved to be a sound business strategy.
The top spot on the Hot Gospel Songs chart, Koryn Hawthorne's "Won't He Do It", sounds like pristine pop music. The choral "oohs" on the introduction, thudding bass and plodding piano built into the production owe more to the way hip-hop reimagines gospel than to traditional gospel arrangements.
"I think she's just such a breath of fresh air. ("Won't He Do It") is young and vibrant, and people are looking for something new from gospel," says Phil Thornton, the senior vice president and general manager of RCA Inspiration, Hawthorne's record label. "You'll always have your praise and worship and your traditional sounds, but I think just like with any other genre ... it's part of the evolution. If we want to maintain relevance, you have to see different textures and hear different subsets and subgenres of gospel."
Further down the gospel charts, a cut from soul singer Wilson's "In It to Win It" album sits among tracks from gospel mainstays. "I'm Blessed," which features rapper T.I., finds Wilson filtering his gratitude through his buttery vocals. Outside of the testimony of the lyrics, there is not anything that ties it back to the church.
Elsewhere on the chart, Anthony G Brown & group therAPy's "I Got That" opens with chopped-and-screwed style declarations of "everywhere I go, I take my Jesus with me" before a piano-driven, rap-ready beat drops in. Brown recently told Essence that he believes a renaissance is underway.
"The diversity will draw more to God," he said. "Sometimes we feel like if people are artistic there's no room for that, but the church should be just as creative as anywhere else."

Enjoy unlimited access to 70 million ad-free songs and podcasts with Amazon Music
Sign up now for a 30-day free trial
Sign up

Enjoy unlimited access to 70 million ad-free songs and podcasts with Amazon Music
Sign up now for a 30-day free trial
Sign up
Who better to join that mission than one of rap's most animated artists? "I'm Getting Ready," the Nicki Minaj-assisted single on Tasha Cobbs' Heart. Passion. Pursuit. album, remains the most contentious of the recent rap-gospel crossovers. The feature marks the first time in recent memory – since Salt of Salt-N-Pepa hopped on "Stomp" – that a prominent woman in rap has collaborated with an equally prominent gospel artist. The nearly nine-minute track begins as a crescendoing praise and worship song with Cobbs' powerful vocals projecting a sense of higher purpose. Then Minaj's verse cuts in with the rapper running down a list of the things she is grateful for: "From food stamps to more ice than Gretzky/I don't gotta talk, the Lord defends me/I watch them all fall for going against me," she sneers, her signature inflated confidence fully intact.
"Some (of the listeners) have never experienced God ever, and she exposed that audience, in her way, to the God that she loves," Cobbs told Essence in light of the backlash for her decision to collaborate with Minaj. And in a move similar to Franklin's response to the jeers he caught for working with West, Cobbs also took to Instagram to cite a bit of scripture for the naysayers: "Accept the one whose faith is weak, without quarreling over disputable matters," Romans 14:1.
If you go back a few years, you will find the catalyst for this movement and moment. Lecrae made history back in 2014 when his album "Anomaly" – a fairly straightforward rap release – became the first album to debut at the top of the Billboard 200 and the gospel charts.
Last month, the Atlanta-based rapper upped the ante with his ninth album, "Let the Trap Say Amen," a collaboration with Zaytoven, a key trap music architect well known for his work with Gucci Mane. Zaytoven's signature sound is informed largely by organs (he, too, was raised in the church), and Lecrae slots in nicely over the holy keys and thunderous 808s.
Lecrae's lyrics focus on many of the same topics that inform most popular rap: his troubled upbringing, earthly temptations, the struggle to provide and thrive when the deck is stacked against him. There is also plenty of unabashed bravado. "I been rockin' crowds on the big stage/I been made hits with some big names/yada yada yada yada/bought a Mercedes for my baby mama," he brags on the opening track. He also uses terms from the rap vernacular, referring to the Lord as the "real plug" who has never let him down or left him in a drought.
There is not much difference between Lecrae's "No need to make an apology, can't take the credit, that's God in me" on "Preach" and Chance the Rapper's "Don't believe in kings, believe in the Kingdom" attribution on his song "Blessings." The implication is trap music as a sound and energy can be channeled into something positive – for every dealer on the corner, there's a church on the next.
The 20 most ridiculous things superstar musicians have demanded at their concerts
Show all 20
Hip-hop and R&B artists such as Teyana Taylor, Daniel Caesar and Blood Orange have incorporated direct callbacks to gospel songs in their releases to revive tunes from Marvin Sapp, Donnie McClurkin and the Clark Sisters, respectively. Dabbling in gospel is something of a secret weapon, giving their material a feeling of emotional heft. Snoop Dogg, a seasoned rapper with roots in the church, went all out with a 32-track double-disc set of holy music titled "Bible of Love." He debuted on Billboard's gospel charts in the top spot and remained there for seven weeks.
"Snoop Dogg will be able to impact people – all due respect to other artists that are part of our roster – that they may not be privy to," said Thornton, the RCA Inspiration executive who signed Snoop for this album.
"That person who is going through hard times and may never go to church, they know Snoop Dogg. And just out of curiosity, they may just go hear what he has to say," Thornton says of the album's significance.
While gospel's stylistic shifts are unlikely to bring back the millennials who have largely abandoned the church, there is a chance to reconnect with them outside of the walls of the sanctuary.
"This generation, they want something fresh. They don't necessarily want the same gospel their mother or grandmother was listening to. While they respect it and appreciate it, they want something they can listen to beyond Sunday morning," Thornton says. "If we're still talking to the same people every single Sunday, to me, we have a greater responsibility."
© The Washington Post
Join our commenting forum
Join thought-provoking conversations, follow other Independent readers and see their replies