On an evening mired in tragedy, Billie Eilish dominated the Grammys and proved she's the future of pop
Hours after news broke of the death of Kobe Bryant, and days after ousted Academy CEO Deborah Dugan filed an excoriating lawsuit, yesterday evening was somewhat overshadowed, writes Alexandra Pollard. But Billie Eilish emerged as a beacon of hope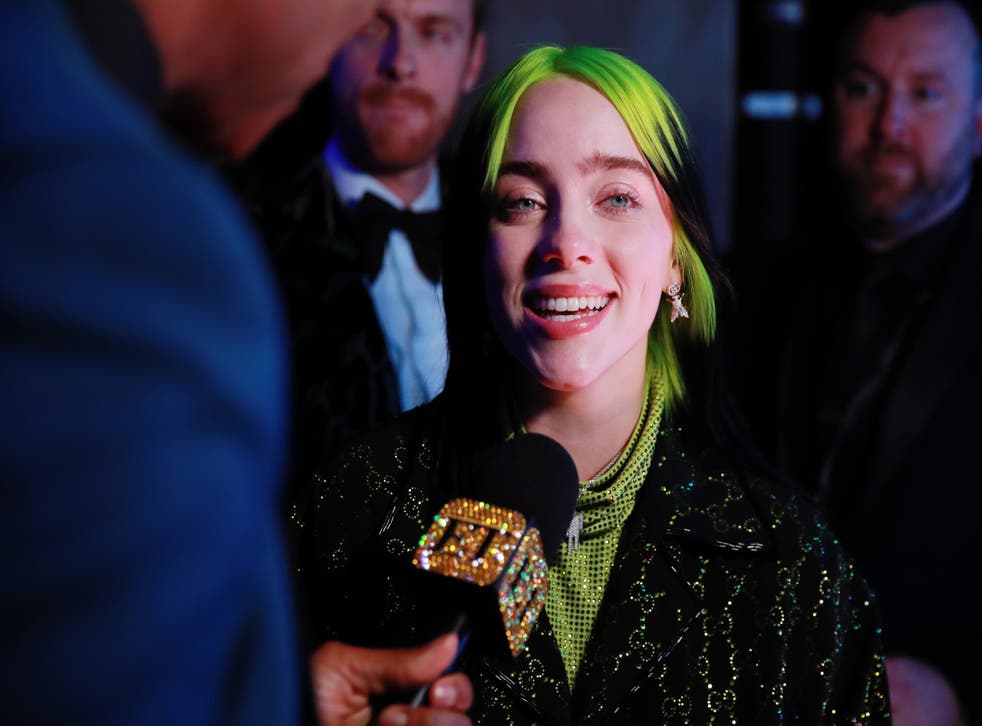 Nobody born in the Nineties has ever won the top prize at the Grammys. Last night, that didn't change. Instead, 18-year-old Billie Eilish leapfrogged past her millennial fellow nominees and took home Album of the Year – triumphing in the three other marquee categories, too.
Imposter syndrome abounded. "So many other artists deserved this, I'm sorry," said Eilish when she rightly won Song of the Year for the dark, dank pop-trap masterpiece "Bad Guy". After clinching three more awards, she was caught on camera pleading not to win the final one. When she did, for her debut album When We All Fall Asleep Where Do We Go?, she even pulled a Kanye West. "Can I just say that I think Ariana [Grande] deserves this?"
But she was wrong. Billie Eilish deserves this. To some the centre of the pop universe, to others a name they can hardly pronounce (that includes one of the presenters last night), the singer represents a new kind of artist, one about as far from carefully curated, designed-by-committee pop as they come. Candid, eccentric and singularly talented, the genre-shy singer embodies online youth culture in a way a thousand boardroom meetings could never have cooked up. Not for nothing did Dave Grohl say, "The same thing is happening with her that happened with Nirvana in 1991."
Take her mesmeric performance last night. Dressed in a white, bejewelled trouser suit several sizes too big (as tends to be her wont), with long green nails and hair that fades from toxic-waste green to jet black, Eilish sung with a vulnerability that belied all that armour. Accompanied by her brother Finneas O'Connell on piano and harmonies, she abstained from picking one of her drop-filled bedroom bops – "Bad Guy", for example, or "Bury a Friend" – in favour of the more reserved "When The Party's Over". Eilish's detractors have sneered at her unshowy vocals, accusing her of whispering more than singing – but this delicate, assured vocal display surely put paid to that criticism.
"When The Party's Over" isn't representative of the album as a whole – but then, no one song is. Innovative and multifarious, it is a record as full of charm, bite and anxious introspection as Eilish herself. She and O'Connell wrote every single track by themselves, in their bedroom, giving it an inherent coherence rather than a strategic one. There are moments of brilliance on Ariana Grande's Thank U Next, but the writing credits, in contrast, look like the list of ingredients on a particularly sugary chocolate bar.
The 50 best albums of 2019

Show all 50
"We didn't make this album to win a Grammy," said O'Connell when his sister proved too full of winner's guilt to make a proper speech. "We wrote an album about depression and suicidal thoughts and climate change and being a bad guy, whatever that means. And we stand up here confused and grateful."
Grammys 2020: Billie Eilish wins best song of the year Grammy with 'Bad guy'
There were other big winners – Lil Nas X won video of the year for "Old Town Road" while Lizzo took three prizes including best pop solo performance for "Truth Hurts" – but elsewhere, it was an evening mired in tragedy and controversy.
Hours earlier, news broke of the death of basketball great Kobe Bryant, who was killed in a helicopter crash along with his 13-year-old daughter Gianna and seven others. The ceremony took place in the Staples Center, where the 41-year-old spent most of his career. "We're all feeling crazy sadness right now," said host Alicia Keys. "We're literally standing here, heartbroken, in the house that Kobe Bryant built." Lizzo, DJ Khaled, Lil Nas X and Run DMC also paid tribute to him as the evening unfolded.
Elsewhere, John Legend sang a poignant tribute to the late rapper Nipsey Hussle, who was shot and killed last April at the age of 33. Hussle won a posthumous Grammy – his first – earlier in the night for Best Rap Performance.
The Grammys were also mired in behind-the-scenes controversy in the weeks running up to the show. Earlier this month, the Recording Academy's CEO Deborah Dugan was placed on leave, having been accused by an assistant of bullying. She had only recently replaced Neil Portnow – who famously claimed, two years ago, that women simply needed to "step up" if they wanted to be better represented at the awards. Dugan arrived armed with a diversity report and a promised fresh outlook – but things quickly unravelled.
After being ousted, Dugan filed a 44-page complaint to the Equal Employment Opportunity Commission, accusing the academy of retaliating against her for "uncovering misconduct including sexual harassment, voting irregularities and rampant conflicts of interest among board members".
Alongside a number of allegations which hugely undermined trust in the integrity of the Grammys, she claimed that Joel Katz, an industry lawyer with ties to the Academy, had taken her to a dinner at which he "plied her with expensive wine, told her how pretty she was and even tried to kiss her despite her protestations".
Last night's Grammys, then, were laced with both grief and bitterness. But still, Billie Eilish emerged victorious, a beacon of hope amid the turmoil and the tragedy.
Register for free to continue reading
Registration is a free and easy way to support our truly independent journalism
By registering, you will also enjoy limited access to Premium articles, exclusive newsletters, commenting, and virtual events with our leading journalists
Already have an account? sign in
Register for free to continue reading
Registration is a free and easy way to support our truly independent journalism
By registering, you will also enjoy limited access to Premium articles, exclusive newsletters, commenting, and virtual events with our leading journalists
Already have an account? sign in
Join our new commenting forum
Join thought-provoking conversations, follow other Independent readers and see their replies