The Countdown
The 15 greatest guitar riffs, from Back in Black to Johnny B Goode
From classic rock to full-on funk, there are few things better than a truly brilliant riff. Roisin O'Connor picks her favourites
Saturday 10 October 2020 08:14 BST
Comments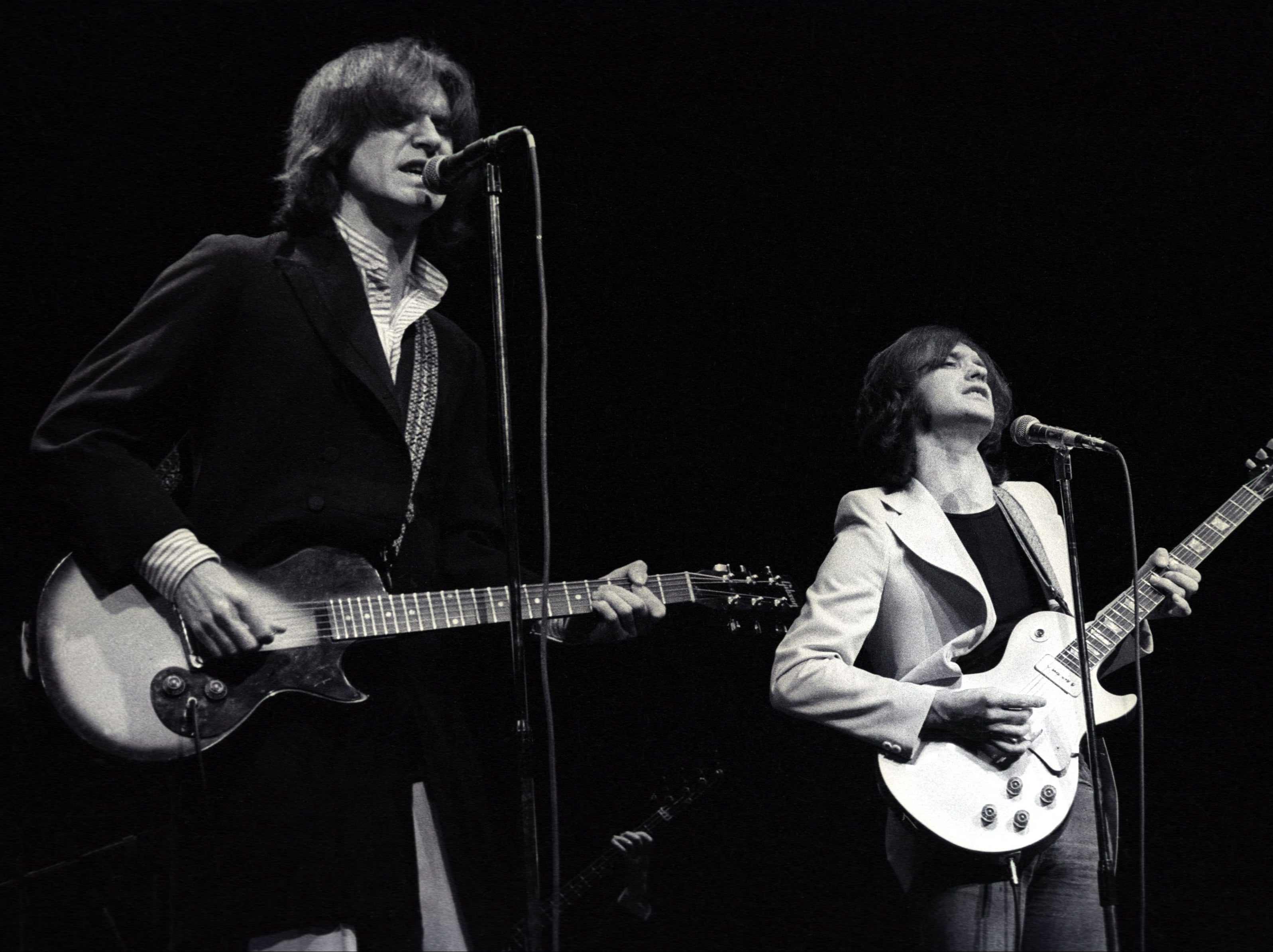 Eddie Van Halen was the guitarist behind some of the biggest riffs in rock music. Revered by his peers as much as by Van Halen's own fans, he was a virtuoso who pioneered a number of wild new techniques. "Eddie put the smile back in rock guitar at a time when it was all getting a bit broody," fellow guitar legend Joe Satriani said in 2015. "He also scared the hell out of a million guitarists because he was so damn good."
To pay tribute to Van Halen's innovation, and to celebrate the guitar gods who came before and after, we've ranked 15 of our favourite ever guitar riffs. 
15) "Life Goes On" – The Damned (1982)
Nirvana caused a stir when they released "Come As You Are" after it was pointed out that the lead guitar riff was similar to Killing Joke's 1984 song "Eighties". It was never clear whether Killing Joke officially pursued legal action against Nirvana, but they definitely weren't happy about it. The problem is that Killing Joke's riff sounds an awful lot like the one used on "Life Goes On", a track from The Damned's album Strawberries (Killing Joke's members denied being aware of the song). The Damned riff is, in my view, actually the best of the three: it's moody yet propulsive, and perfectly complements Dave Vanian's glum vocal delivery.  
14) "Money for Nothing" – Dire Straits (1985)
One of the most instantly recognisable riffs of all time also happens to be one of the best. Mark Knopfler asked ZZ Top guitarist Billy Gibbons for assistance emulating his signature guitar tone – a subtle reference to the opening lyric, given that ZZ Top music videos were already an MTV staple. Knopfler's riff is a masterpiece, transforming what was initially a very different song. Keyboardist Alan Clark told Mojo magazine the song changed because of Knopfler's perfectionist nature. "In the beginning, 'Money For Nothing' sounded more like a Stones track and it didn't have the iconic guitar riff," he said. "Mark developed that messing around to a click track on his own on Montserrat."
13) "This Charming Man" – The Smiths (1983)
Johnny Marr wrote the early incarnation of "This Charming Man" especially for a John Peel session, on the same night he wrote "Still Ill" and "Pretty Girls Make Graves". Even Morrissey sounds as close as he's ever been to cheerful next to Marr and his fluid, jangling pop licks.  
12) "Johnny B Goode" – Chuck Berry (1958)
Chuck Berry took the neat opening riff from Louis Jordan's 1946 song "Ain't That Just Like a Woman" and turned it into a pivotal moment in rock'n'roll history. Written by Berry while on tour in New Orleans in 1958, the song includes a number of autobiographical elements (Johnny is a poor boy from the deep south who masters the guitar and goes on to become the leader of a famous band). In 1977, the track was put on a gold disc and sent into space with the Voyager mission, to let any passing aliens know just what humans were capable of.  
11) "Sweet Child O' Mine" – Guns 'N Roses (1988)
In his autobiography, Slash claims that he was messing around on his guitar when his bandmate Axl Rose suddenly cried out, "Hold the f***king phones! That's amazing!" Within the house, rhythm guitarist Izzy Stradlin had begun writing chords to go beneath it, while Duff McKagan came up with a bassline. What started out as a joke to make Slash's bandmates laugh became one of their biggest and best-loved songs of all time.  
10) "Layla" – Derek & The Dominoes (1970)
Air-guitarists the world over adore this song, which was written by Eric Clapton as a declaration of love to Pattie Boyd (who was married to his friend George Harrison at the time). It's a conversation between Clapton's guitar and the late Duane Allman's of the Allman Brothers, the latter having impressed Clapton with his spitfire of a solo at the end of Wilson Pickett's "Hey Jude" cover. Allman was the one who helped transform the song from a ballad to what it is today, borrowing an Albert King riff from "As The Years Go Passing By", and deploying his signature bottleneck slide style. "It's in the tip of their fingers," engineer Tom Dowd explained. "It's not in a knob, it's not in how loud they play. It's touch."
9) "Good Times" – Chic (1979)
Nile Rodgers is king of the funk riff, which is why Daft Punk brought him on board for their mega hit, "Get Lucky". Years before, though, he was lending his signature grooves to a string of Chic hits. "Good Times" sounds simple but thrives on those neat little stutters, feeding into the track's irrepressible charisma.  

Enjoy unlimited access to 70 million ad-free songs and podcasts with Amazon Music
Sign up now for a 30-day free trial
Sign up

Enjoy unlimited access to 70 million ad-free songs and podcasts with Amazon Music
Sign up now for a 30-day free trial
Sign up
8) "(I Can't Get No) Satisfaction" – Rolling Stones (1965)
"I'm the riff master," Keith Richards wrote in his autobiography, Life. Listening to "Satisfaction", you're inclined to agree with him. Famously written as Richards was nodding off in a hotel room, the riff, as he saw it, was essentially the "Jumpin' Jack Flash" riff in reverse. The "Flash" riff, recorded in 1968, gave the listener a "great feeling of elation, a wicked glee". "Satisfaction", then, is the opposite – you can hear the frustration in it. Its moody sense of cool helped earn the Stones their first US No 1, on 12 June 1965.
7) "Whole Lotta Love" – Led Zeppelin (1969)
This riff was voted the greatest of all time by BBC Radio 2 listeners back in 2014. While I'd politely disagree that it's not quite the best of them all, it's certainly close. Page said of the riff, which he came up with while strumming a guitar on his houseboat on the River Thames in 1968: "I wanted a riff that really moved, that people would really get, and would bring a smile to their faces, but when I played it with the band, it really went into overdrive. There was this intent to have this riff and the movement of it, so it was menacing as well as quite sort of caressing."
6) "Back in Black" – AC/DC (1980)
This one's got some wallop. AC/DC conceived the song as a tribute to their late singer Bon Scott, who was replaced by Brian Johnson. The riff was something Malcolm Young had been messing around with during the Highway to Hell tour, which in itself was a moving hat-tip to the good times they'd had with Scott. It's funky as anything, with a strut that never goes out of style. No wonder Iron Man loves it.  
5) "Beat It" – Michael Jackson (1982)
Eddie Van Halen, who died on Tuesday 6 October aged 65, helped transform what would become one of the signature tracks on Michael Jackson's Thriller, and win two Grammys in 1984 (Record of the Year and Male Rock Vocal Performance). The riff that runs through the song, though, was conceived by Jackson himself and performed by Steve Lukather, of the rock band Toto. Van Halen would later come in and actually change the song structure, improvising two guitar solos.
"You know artists are kind of crazy people. We're all a little bit strange," he told CNN. "So I warned him before he listened. I said, 'Look, I changed the middle section of your song.' Now in my mind, he's either going to have his bodyguards kick me out for butchering his song, or he's going to like it.
"And so he gave it a listen, and he turned to me and went, 'Wow, thank you so much for having the passion to not just come in and blaze a solo, but to actually care about the song, and make it better.'"
 4) "You Really Got Me" – The Kinks (1964)
The arrangement for "You Really Got Me" was conceived by Ray Davies while he was messing around on the piano at home. Dave Davies came up with the riff – a dangerous-sounding chug – by ripping the speaker cone on his amp to create a distorted guitar sound. Some music fans say it marked the beginnings of heavy metal, others think it was punk. Either way, "You Really Got Me" influenced a generation of musicians.  
3) "Smoke on the Water" – Deep Purple (1972)
There's a scene in School of Rock in which actor Jack Black demonstrates the sheer awesomeness that is "Smoke on the Water", and it starts with the riff. If the Tyrannosaurus Rex got to pick its own theme, this would be it. Guitarist Richie Blackmore said it was conceived while the band were jamming in a ballroom in Montreux: "The police arrived to tell us to stop, because we were playing so loud." The band locked the door so they could keep working on a particular take: "Had the Montreux police had their way, we never would have recorded 'Smoke on the Water'."
2) "Mannish Boy" – Muddy Waters (1955)
No riff has as much swagger as this. Recorded on a Telecaster, Muddy Waters' swampy electric blues licks certainly get the blood pumping. Written as a "answer song" to Bo Diddley's "I'm the Man", it's one of the ultimate blues standards, covered by artists from The Rolling Stones (big Muddy Waters fans) to George Thorogood ("Bad to the Bone").
1) "My Girl" – The Temptations (1965)
Proof you don't always need to make a load of noise in order to leave an impression. The signature song by The Temptations stars a strolling riff courtesy of Motown's Robert White. The riff has such a gorgeously rich yet easy-going tone, it'd melt even the flintiest of hearts. Smokey Robinson was inspired to write the song by his wife, Miracles member Claudette Rogers Robinson, but said it was "written with all the women of the world in mind". This is the Ryan Gosling of riffs. This is a riff that says, "Hey girl, let's go for a walk and talk about our feelings."
Join our commenting forum
Join thought-provoking conversations, follow other Independent readers and see their replies