Hamilton Leithauser + Rostam: 'We got to be good friends very fast'
On 'I Had A Dream That You Were Mine', the listener hears the merits each artist brought to their earlier projects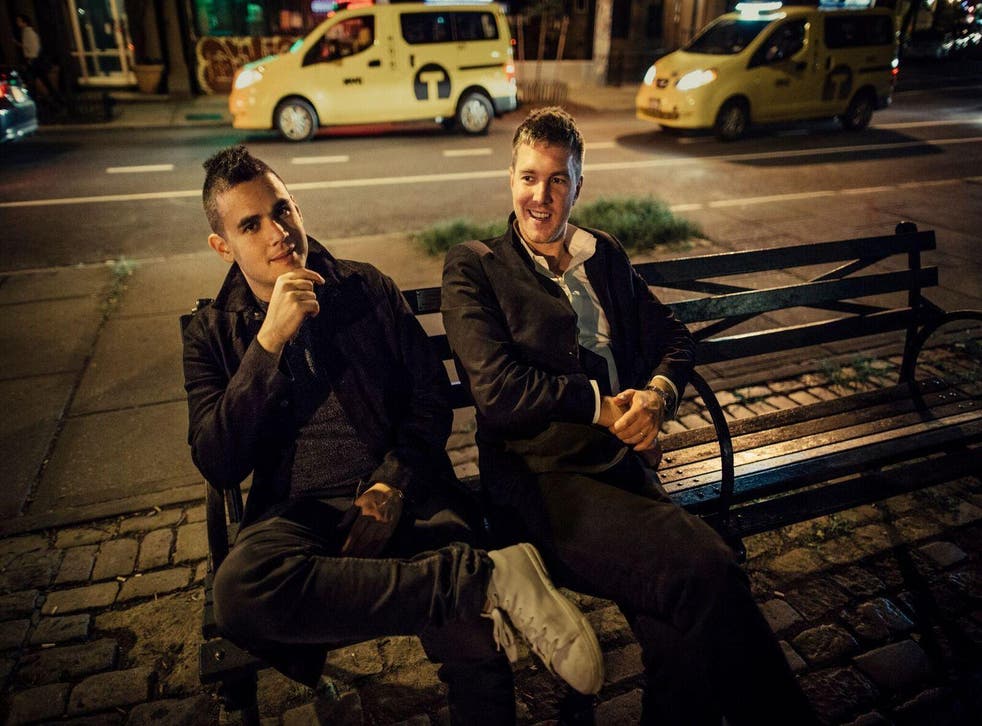 The pairing of Hamilton Leithauser from the Walkmen and Rostam Batmanglij from Vampire Weekend has turned out to be a rather brilliant one.
Speaking to The Independent in London ahead of a show at Bush Hall, Hamilton says that they had "no idea" that working on a couple of his solo tracks together would turn into a full collaboration.
"I feel like people are listening to it, we can't really ask much more," Rostam says, then jokingly: "I guess I just felt like I knocked one more thing off my list."
Their first meeting took place when Vampire Weekend opened for the Walkmen at a gig in 2008, but they only started working together when Hamilton asked Rostam to produce a couple of tracks on his debut solo album Black Hour, released in 2014.
Rostam used various microphones, production techniques, and an upright piano (the long-established German make, Geyer) he's had for years to create a richly textured sound that evokes the nostalgia of a vintage record.
"I'm conscious about what fidelity is – the idea of making something sound as if you were sitting in a room and hearing it as clearly and as honestly as possible," he says. "I'm not interested in that. I'm much more interested in making it sound in such a way that it makes you think about other records that you love."
Which is exactly what the pair have achieved with I Had A Dream That You Were Mine. Hamilton's distinctive voice, from the punk shouts on the chorus for "A Thousand Times" that recall his earlier work with The Walkmen to some beautiful crooning on "In A Black Out", ambles through each track without particular concern for whether everything ties up neatly.
There's a continued sense of storytelling in both the lyrics and the instrumentation; evoking characters who travel through American cities on foot, by bus and in cars. Some albums seem to fit certain seasons, too, and this one definitely has a winter feel – listening to it prompts a sudden craving for whisky and a warm fireplace.
And balance is important on this record: the listener hears the merits each artist brought to their respective earlier projects – the production alone speaks of how valuable Rostam was to Vampire Weekend's ingenuity in bringing disparate genres together.
Enjoy unlimited access to 70 million ad-free songs and podcasts with Amazon Music Sign up now for a 30-day free trial
Sign up
"I'd never worked with anyone who was so specific about the singing, which I really liked," Hamilton says of the recording process. "But Rostam was right there with every approach and every attitude."
"I Had A Dream That You Were Mine is less muscular than some of my early vocal stuff, which I'm really glad for. I did that for so many years. I sing really hard on some of those songs, and it's a workout."
Rostam starts laughing. "That's something he [Rostam] knows I'm very wary of," Hamilton grins. "Of making things too 'manly'."
From a studio space in New York where Hamilton's solo work was recorded, the pair moved to LA, where Angel Deradoorian recorded her part on '1959'. It's one of the most surprising moments on the album – and apparently it was a surprise for Hamilton as well.
"Yeah I think I was trying to surprise or even shock Hamilton," Rostam says, grinning. "So I changed one of the lyrics and one of the notes in the melody, and just played it over when he was singing his part. I just took some liberties, I was curious as to how receptive he'd be."
"I approved," Hamilton says chuckling. "I really liked it."
I Had A Dream That You Were Mine feels very much as though it was made for Hamilton and Rostam themselves – born out of their mutual love for American roots music.
It's probably why the record sounds as though it was fun to produce, albeit with a few hangovers along the way.
"We probably had a hangover when we wrote 'Sick As A Dog'," Hamilton says.
"The sax parts, definitely," Rostam adds.
That's got to be the worst instrument to listen to on a hangover?
"It wasn't though!" Rostam says. "You know it's funny, one of the things that happens to me when I'm hungover is I get impulsive, so that morning I decided that we were gonna record the sax, and I texted a friend who'd mentioned he knew someone good. And I asked if they were available on a Sunday. So this guy showed up with four different saxes."
Later onstage their banter turns into a fantastic live chemistry that ramps up the volume from the studio version of each song.
"We had a familiarity locked in sort of instantly," Hamilton says. "We got to be good friends very fast."
I Had A Dream That You Were Mine by Hamilton Leithauser + Rostam is out now
Join our new commenting forum
Join thought-provoking conversations, follow other Independent readers and see their replies