The Independent's journalism is supported by our readers. When you purchase through links on our site, we may earn commission.
Hark – Machinations: Exclusive Album Stream
The sludge-infused hard rock quartet stream their progressive and meticulously crafted sophomore album Machinations exclusively with The Independent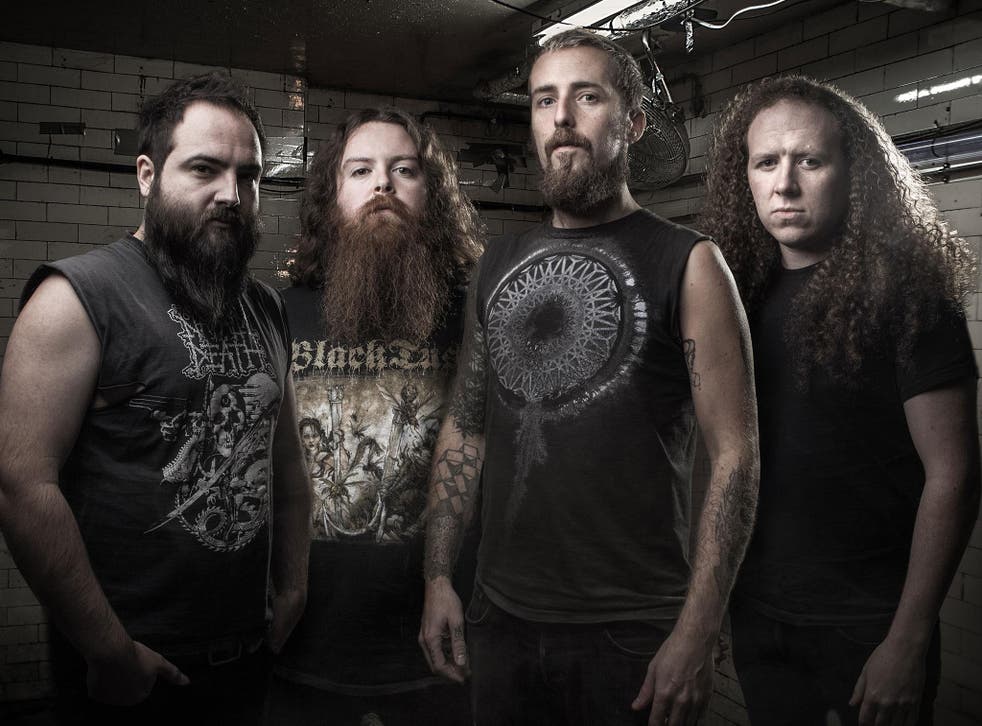 Machinations may only be Hark's second album, but as frontman for stoner, hardcore sludge merchants Taint from the mid-90's right up until the end of the 21st century's inaugural decade, James 'Jimbob' Isaac has put many years of hard work and graft into his craft. He formed Hark as a trio in 2012 but for their second record, the line-up has expanded to a quartet with the addition of guitarist Joe Harvatt, whose virtuoso leads push the band's sound through the thick, lysergic primordial soup and out into stratospheric new highs. Alongside pummelling grooves from drummer Simon Bonwick and punishing low-end from bassist Tom Shortt, Machinations is a dizzying journey that admonishes technology and celebrates the endurance of the human spirit.
Machinations is a refinement of the robust formula captured on debut album Crystalline; it cuts the flab, takes the best elements and crafts them into a warped, spiralling intoxicating 47 minutes. The approach to Hark's songwriting is old school, with Isaac preferring the band to work out the intricacies in the same room, putting together the various twists, turns and changes of pace that make up the record as a unit. 'We always write organically' he says, 'other than a few key riffs or song structures written at home, the rest of it will be worked on as a band in the rehearsal room. We did it that way with Crystalline and I did it in the same way with my old band Taint, which is very much the foundation of Hark, broadly speaking. What really excites me is the unforeseen; working within a group dynamic is where friction occurs and where sparks happen; it's where the stuff that you simply cannot predict comes out and that, to me, is what makes a good band. I'm all about the happy accidents, I can't imagine simply writing everything by myself using some software at home and then just telling a bunch of dudes what to play. Where's the magic in that approach? I may direct things in terms of the overall vision, but I want to be open to the magic that happens in the room when everyone is creating something together.'
Since the record's completion, Isaac himself has been through two significant personal situations in his life; one deeply internal transformative phase set off by an abstinence to a substance that had been clouding his vision for the last ten years and another personal trauma prior to recording, which deeply affected his physical and spiritual well-being. Whilst he's reluctant to go into specifics on the details of this event, it was a shocking attack on his sense of self-worth that completely destroyed his confidence. "The nature of it was designed to physically, mentally and spiritually destroy me" he says. "It was a violent attack, cowardly and opportunistic and something which I've had to re-build myself from ever since. The whole album and the lyrics were coming together in the aftermath while I was cocooning during the initial shock period, before beginning to deal with it directly and beginning to own every aspect of it. Which I now do, totally. The wisdom I've gained since, and the affirmation of strength that I already had but didn't quite realise, has been priceless."
Isaac had to re-build his own sense of self-worth and as the themes began to emerge and the songs took shape, it was clear that Machinations was to be an album centred on repair and re-birth. 'I've always kept lyric diaries; I see it as a way of letting my subconscious come out' says Isaac. 'Looking back on those diaries from the Machinations period, I can see a parallel between the lyrics and the transformations I've been working out within myself. I feel like when you make art or music, you're tapping into something that's already there. Since I've been in therapy, I've realised so much more about who I am, what things fed into the trauma, how that manifested itself through my substance abuse and realising that was something I needed to drop before it killed me. The lyrical content of this record has been quite self-prophetic in a number of ways, I literally feel like the album is full of premonitions, with regards to myself, that came true.'
Jimbob Isaac 'Machinations Artwork Progress'

Show all 9
The vivid apocalyptic artwork that accompanies the album is a stunningly detailed pen and ink illustration by Isaac, who has been producing similarly intricate works for the likes of Clutch, Converge, Kvelertak, The Melvins and Red Fang ever since 2010. He lists a number of influences that impact his work, everything from comic books to Czech art nouveau painter Alphonse Mucha, with the Machinations cover specifically being inspired by a recurring dream that haunted Isaac's childhood. 'It's essentially about detaching from the synthetic, taking yourself away from the illusory or technological world; that was the jumping off point. When I was really young, I would this recurring dream about a relentless ball of impending doom, a plummeting comet if you will. Every time it reached its destination, I would wake up; I guess it was some kind of severe anxiety dream, which is a pretty brutal dream for a young person to have persistently. I wanted to incorporate that into the artwork and combine it with the technological interfacing motif.'
Technology and its effect on us as a species is a key theme that is returned to frequently on Machinations, painting a portrayal of a dark, dystopia that Isaac believes people are living in the present. 'I think that technology has pulled us away from our true nature and our authentic selves and that's really the deep through-line of Machinations for me. I feel like we're becoming cyborg; people can't even form or maintain healthy relationships because of the all-pervasive nature of Facebook or dating apps, it's just so insidious! Friendships can be so disposable now, especially if you view things through the eyes of a young person. I think that's eating into our capability to have a real connection with people. And now we're living in a post-truth climate, and you have to question everything; what really is real anymore? Descartes' theory of simulated reality really seems to be manifesting, as does a lot of science fiction. I think it's affecting alot of people's mental health out there; I don't want to live through my laptop anymore. Everything comes through it, and I've got screen burn!'
Machinations is released through Season of Mist on Friday 24th February. Hark begin a UK and European tour with three album launch shows in March 3rd The Exchange, Bristol, 4th The Scene, Swansea and 5th at The Old Blue Last, London
Join our new commenting forum
Join thought-provoking conversations, follow other Independent readers and see their replies