Harpsichord player Mahan Esfahani: 'Pianists who slam it should be ready to talk'
'If on Twitter someone says they hate the harpsichord, I always offer them a free ticket'
Michael Church
Saturday 31 January 2015 13:00 Comments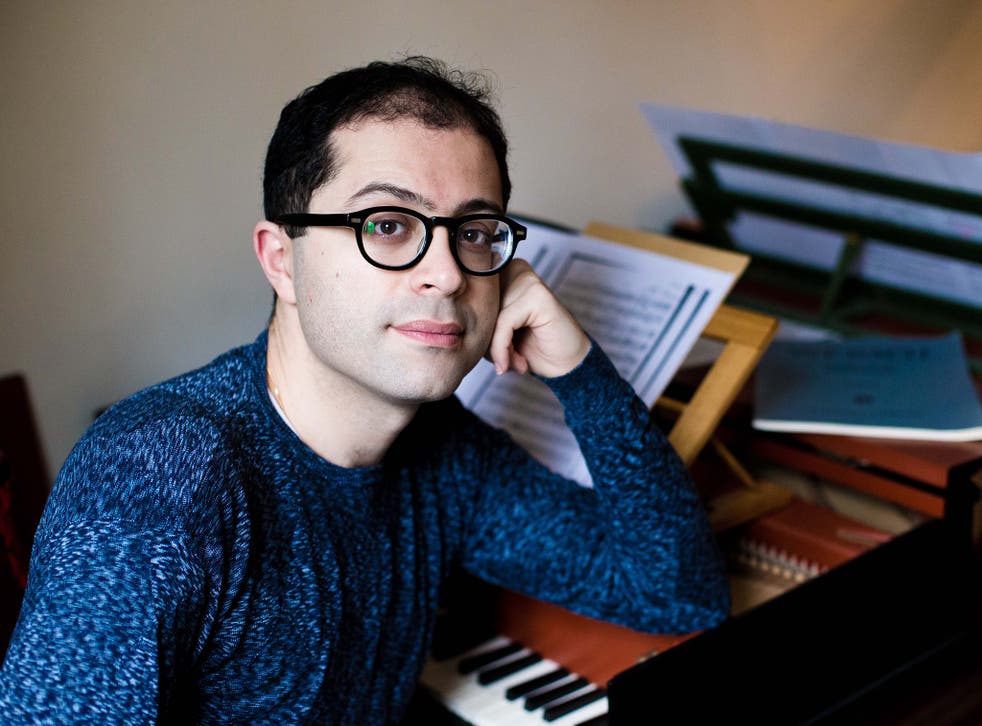 Ten years ago Mahan Esfahani was by his own account a nerdy anorak at Stanford University, obsessively tutoring himself with the aid of old records in the hope of realising what seemed an impossible dream – to make his living on that Cinderella of keyboard instruments, the harpsichord.
A few months ago, now 30, he carried off the award for Gramophone magazine's Baroque instrumental album of the year, and the Guildhall School has appointed him professor of harpsichord. Not bad from a standing start, and for a total outsider. But perhaps – in addition to exceptional talent, and sheer slog – that outsiderness is the key.
When he was four he and his parents left Tehran to join the Iranian expatriate community in America, where making good financially was the imperative. Mahan started playing the piano at six, and developed an obsession with Bach from the moment he was first given the score of a two-part invention. "The counterpoint sounded so exotic as to be almost Chinese, and so logical" – he dashes over to my piano to demonstrate – "that I knew I was going to spend a lot of time with music like that. Something clicked for me."
But his parents wanted him to be a doctor, and at Stanford he started a pre-med course, only to realise after two lectures that it wasn't for him. Law was their next idea – "as I like talking" – but he gravitated instead to the organs and harpischords of the music faculty, and began to immerse himself in scores, contemporary accounts of Baroque music-making, and the recordings of his heroes, with the great harpsichordist Ralph Kirkpatrick, who had been virtually self-taught, prominent among them.
His next eureka moment came when he heard a recording by that sacred monster of harpsichordism, Wanda Landowska: "And I realised why the Bach I had been playing and hearing had never sounded quite right. I now know that she wasn't particularly 'authentic', but to me she got the spirit of Bach, and I think he would have nodded in approval if he'd heard her play. What I like about her is [that she doesn't] let a set of prescribed rules for performance practice dictate what [she'll] do with the music." This is said with a pugilistic fire to which we will return.
Without a harpsichord of his own, and with no agent or sponsor, he knocked about playing to anyone who would listen until 2008, when an invitation came out of the blue to join up as a BBC New Generation Artist. "They'd been quietly watching me. They said it need not entail much, and I wouldn't have to live in London, I'd just do a couple of projects per year. I replied that I didn't actually have a career, I didn't have any concerts planned, and I had no income, so why didn't I just come to Britain? And I presented them with a long list of projects I could do. I came here to live, and one thing led to another." One of the perks of the scheme was a Wigmore recital which got him his first-ever reviews (one of them by me). "That was my first properly paid concert – when I got the cheque from the Wigmore I'd never seen that much money, £1,800! I thought – wow – I could really make this work."
But he's not averse, when necessary, to biting the hand that feeds him, and the BBC's obsession with presenting the musicians of the past as being "just like us" makes him bristle with scorn. "That's really dumb – people in the past were very different. If you ever found your grandmother's habits strange, how could you seriously imagine that you could understand people who lived three centuries ago? We laugh when we hear recordings from 80 years ago, so how can we possibly claim to know how music was played in the much more distant past?"
More ire is directed at the early-music industry. Disdaining the conventional keyboardist's tight-arsed silence – "This isn't a gun club, it's music!" – he talks to his audience, illuminatingly and amusingly, between the pieces he performs: he may be a serious musicologist, but he wears his learning lightly.
Get him on prevailing attitudes to his instrument, and he really takes off, becoming very exercised about critics who, while praising his recordings, add the ritual rider that his playing "transcends the harpsichord's limitations". "If someone comes up to me on Twitter and says they hate the harpsichord, I always offer them a free ticket, saying come and see what you think. And nobody has ever said afterwards that they didn't like it. They say 'I didn't know that it could sing like that'. But of course it can, it's an incredibly vocal instrument. Its sound is clear and precise, and has a great deal of colour." And the spurious contest between harpsichord and Steinway should emphatically not, he argues, be seen in terms of decibels. "That shirt you are wearing is not a 'loud' shirt, but it has a lot of colours in it, it's loud in a different way. The harpsichord enables you to hear much more subtlety, and it has a sensual quality. If any pianist wants to slam it" – and one prominent pianist routinely does – "be ready to have a public discussion with me, and have a piano and a harpsichord ready on stage." Any takers?
Enjoy unlimited access to 70 million ad-free songs and podcasts with Amazon Music Sign up now for a 30-day free trial
Sign up
This engaging contrarian is full of future plans, including a Scarlatti splurge, new commissions for his instrument, and – something really original – commissioning a keyboard that will allow Persian tuning. He leads a dedicated life, practising most of the day, and reading fiction by the great Russian masters plus his favourite American novelist, Philip Roth. '"An American Jew, he speaks to me as an Iranian – the irony, the overbearing mother, the guilt complex." How Iranian does Esfahani feel? The answer comes out like machine-gun fire: "I'm sentimental, quick to judge, and quick to apologise; I'm a loyal friend; I like good food; and I hang on every word from my mother. Yes, I'm very Iranian."
And his ultimate ambition? "To record on the harpsichord every keyboard piece Bach wrote. I reckon it will take me 20 years." That's him sorted, then.
Mahan Esfahani plays with The Hanover Band at the Stationer's Hall, London EC4 tomorrow. For further dates, see www.mahanesfahani.com
Register for free to continue reading
Registration is a free and easy way to support our truly independent journalism
By registering, you will also enjoy limited access to Premium articles, exclusive newsletters, commenting, and virtual events with our leading journalists
Already have an account? sign in
Join our new commenting forum
Join thought-provoking conversations, follow other Independent readers and see their replies