Harry Styles interview: 'I've never felt the need to explain myself'
When boy band members try to make the transition to credible artist, there are plenty of critics willing to knock them down a peg or two. Styles tells Joe Coscarelli how not pandering to what's popular on the radio has helped him to keep things 'honest'
Joe Coscarelli Comments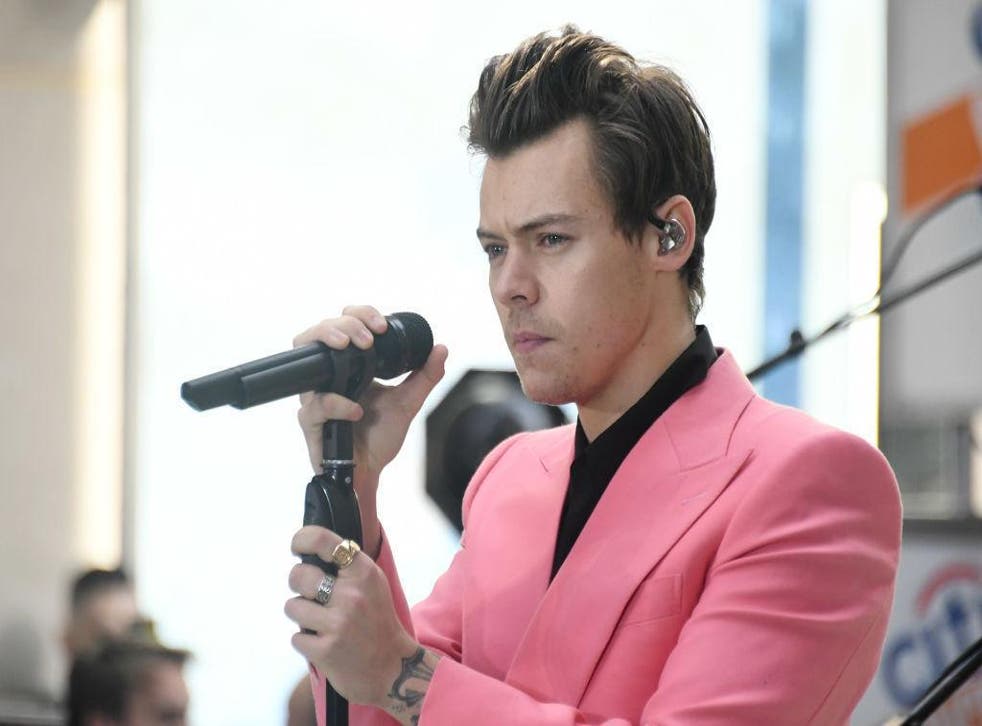 After being in a boy band, Harry Styles was a blank slate.
Speaking about recording his debut solo album – which has, for years, felt like a foregone conclusion, given his status as the most breezily winning member of One Direction – the floppy-haired 23-year-old says: "When we started, I didn't know what it was going to sound like or what I wanted it to sound like."
Where he has landed, while not entirely predictable, considering the beat-driven pop sounds of the day, is close to home. "Pink Floyd, Beatles, Stones, Fleetwood – all the stuff I grew up listening to," Styles says of his new sound. And as unlikely as that may seem, it's true. His self-titled LP is a paean to classic rock and its English progeny (Oasis, Blur), built around fingerpicked acoustic guitars, McCartneyesque jangle and lyrics about one-night stands with devilish women.
"She's all over me, it's like I paid for it/I'm gonna pay for this," Styles, who is not running from his essential Jaggerness, sings on "Kiwi", a sleazy-sounding number with grown-up references to cigarettes and cocaine. Softer and more broadly sensitive are the first single, "Sign of the Times" (a homage to Prince in title, and Bowie in practice), and the more believably adult closing track, "From the Dining Table", which begins, "Woke up alone in this hotel room/Played with myself/Where were you?"
Yet, for all the earthbound introspection and insistent maturity, Styles, who was discovered, along with his former group, by Simon Cowell on The X Factor, remains as slippery in conversation as any mega-famous pop star who's been dodging tabloids since he was 16. On the phone from London, he insulates his vagueness with polite deflection and generalities while declaring that his new album is his most open work to date.
"I just realised that I find writing to be very therapeutic – I think it's when I allow myself to be most vulnerable," says Styles. "It's exciting to kind of share a piece of me that I don't feel like I've really put out there before."
How did writing and recording in Jamaica influence the album?
I went there because I didn't want to be around distractions. The thing with being in London, or LA, or pretty much anywhere that you know people, is it's tough, because you go into the studio for ten hours, and then, at some point, everyone has to eat, and you go home. I just wanted to really dive into it and immerse myself. It became this fluid thing that we were just doing all of the time, rather than going in from nine to five. I also didn't want to be around people who might tell me what (the music) should sound like.
Was there added pressure in being the one who had final say?
The guys that I was working with (the writers and producers Jeff Bhasker, Alex Salibian, Tyler Johnson and Kid Harpoon), we were kind of all working it out together. But in terms of choosing the songs and the track listing, it was probably time for me to have to make some decisions for myself and not be able to hide behind anyone else. As a person, too, probably. Everything, workwise, that I'd done since I was 16 was made in a democracy.
There aren't a lot of mainstream pop stars going the rock route right now. Did that feel like a risk?
That's just what my references are. A lot of people, when they make music, they build a wall between them and fans. They think: "We'll do this because people will get it." I really wanted to make an album that I wanted to listen to. That was the only way I knew I wouldn't look back on it and regret it. It was more, "What do I want to sit and listen to?" rather than, "How do I shake up compared to what's on radio right now?"
Enjoy unlimited access to 70 million ad-free songs and podcasts with Amazon Music Sign up now for a 30-day free trial
Sign up
There's a handful of more 12A subject matter on the album. Was it liberating to be able to act your age?
Starting out with no reference points for the actual sound, the only thing that I knew I wanted to be was honest. I didn't want to sit and edit lyrics. In the times of going, "Oh, can I say that?" I wanted to be like, "Yeah, I can – because that's what I wrote."
On "From the Dining Table", the opening line about masturbation is pretty raw...
Is it?
Well, given how closely fans like to parse your every word, little things can create an uproar.
I've never felt the need to explain myself in terms of my personal life. I very much feel like writing is the way you get to say what you want to say and be like, "That's all I have to say on it." With that one, I think it's up to everyone's interpretation, which is obviously an incredibly diplomatic answer. The line in particular, in context of the verse, paints the picture of the feeling that I was going at. It's much more powerful when not taken simply as what it is. Was that an all right answer for that question? I think it was all right! I think we danced around that OK.
You've spoken with a real respect for the tastes of teenage girls, who have driven a lot of your popularity.
When people have fans that are younger girls, people assume that their opinion on the music is tainted by desires that aren't based around music. When, in fact, I believe that fans that I've had in the past, if anything, expect and demand more. Fans are usually the first people to tell you when stuff's not good enough. And I just think it's a little naive to just write off younger female fans, in particular, in the way people do. Like I've said, young girls were massive fans of the Beatles. It's crazy to think that they're not intelligent.
You were making this album in the time of Brexit, Black Lives Matter and Donald Trump. Did any of that outside chaos make it into the songwriting?
We're in a difficult time, and I think we've been in many difficult times before. But we happen to be in a time where things happening around the world are absolutely impossible to ignore. I think it would've been strange to not acknowledge what was going on at all. For example, "Sign of the Times", for me, it's looking at several different things. That's me commenting on different things.
What kinds of things?
Everything you were talking about – just the state of the world at the moment. It's very much me looking at that. It's a time when it's very easy to feel incredibly sad about a lot of things. It's also nice sometimes to remember that while there's a lot of bad stuff, there's also a lot of amazing people doing amazing things in the world.
Harry Styles' solo album is out now
© The New York Times
Register for free to continue reading
Registration is a free and easy way to support our truly independent journalism
By registering, you will also enjoy limited access to Premium articles, exclusive newsletters, commenting, and virtual events with our leading journalists
Already have an account? sign in
Join our new commenting forum
Join thought-provoking conversations, follow other Independent readers and see their replies