Hazards for old rockers: From Pete Townshend's tinnitus to Dave Grohl's broken leg
AC/DC frontman Brian Johnson has been told to stop touring or face total deafness. Adam Sherwin examines the dangers faced by music's battle-scarred veterans
Adam Sherwin
Tuesday 08 March 2016 20:30 Comments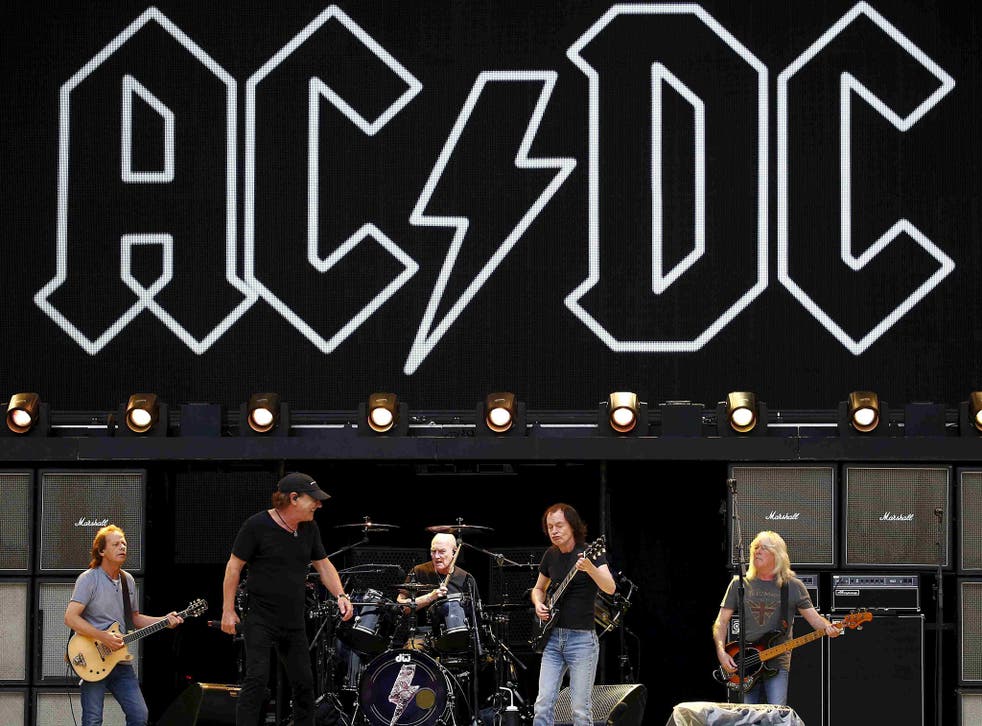 You've survived the drugs, and booze, the stage electrocutions and bizarre gardening accidents that are a rite of passage for every grizzled rocker. But severe hearing loss is now proving the cruellest punishment for pension-age stars who have fallen off stage more times than the wagon.
The indestructible AC/DC are the latest stadium-conquerors to demonstrate that rock is a truly dangerous business. The band has finally been forced off the road by the news that Brian Johnson, their 68 year-old gruff-voiced wailer, has been told to stop touring immediately by doctors, or face "total hearing loss."
Ten dates have been postponed by the Anglo-Aussie riff behemoth, which has already bulldozed its way through hazards which would have finished off lesser bands. Founding member and guitarist Malcolm Young quit the stage in 2014 after disclosing he was suffering from dementia. Former drummer Phil Rudd was convicted last year of drug possession and making threats to kill. Johnson himself was only drafted into the band after the alcohol-induced death of their charismatic frontman Bon Scott.
Indeed Johnson's audition – a stunning, writhing performance – was only diagnosed as appendicitis some hours after leaving the stage. And the flat-capped singer is now destined to a dialogue of the (nearly) deaf with Ozzy Osbourne, Pete Townshend, Neil Young and Phil Collins, who have sacrificed their stereocilia microscopic ear hair cells to the rock gods.
Action on Hearing Loss says anyone regularly exposed to noise levels above 85 decibels risks permanent hearing damage; and with the average gig hitting a pounding 115 decibels, well above the level of a pneumatic drill, musicians who sneer at ear protection are likely to pay the price.
Townshend believes his tinnitus is the bitter fruit of The Who's instrument-smashing displays: during a 1967 television appearance on the Smothers Brothers Comedy Hour television show, wildman drummer Keith Moon filled his kit with explosives but rather overdid the chemical agents; Townshend was caught in the direct firing line of a fearsome bang at the climax of "My Generation".
Collins has truly suffered for his art. The singing sticksman announced his retirement (since tentatively reversed) having lost the hearing in his left ear allied to a dislocated vertebra and nerve damage in his hands.
Yet Collins can count himself fortunate that he avoided the fate suffered by a number of British musicians in the early 1970s, who succumbed to defective electrical wiring. Les Harvey, guitarist with Scottish blues rockers Stone The Crows met an untimely death when he was electrocuted during a sound check in Swansea. (He is believed to have handled a microphone that a roadie had run through an amplifier that wasn't grounded.) John Rostill, bassist with The Shadows, was electrocuted by his guitar due to incorrectly earthed equipment.
But blaming the roadie community for their patrons' misfortune produces an affronted response from rock's removal men, only too happy to share tales of hernias caused by lugging the Hammond B-3, the heavyweight organ demanded by every aspiring 1960s R&B group.And is a roadie really to blame if the Edge tumbles off Bono's ego ramp or Florence Welch leaps off the stage at Coachella in an ecstatic frenzy, only to break her foot? Or when Foo Fighters' Dave Grohl similarly ends up in plaster after plunging from view while throwing guitar-shredding moves in Sweden (only for the recovered Florence to, gingerly, step in to Grohl's mangled, headlining shoes at Glastonbury)? Few have the sang froid of Patti Smith who fell 15ft into a concrete orchestra pit and broke several vertebrae in her neck during a 1977 performance in Florida. Returning to work after physical therapy, she sighed: "I felt like an asshole, but my doctor told me not to worry, it happens to everybody."
Enjoy unlimited access to 70 million ad-free songs and podcasts with Amazon Music Sign up now for a 30-day free trial
Sign up
Indeed, surgeons increasingly keeping our battle-scarred veterans on the road. Wrist and hand pain? That'll be carpal tunnel syndrome, as suffered by prog-rock percussionist Carl Palmer (and often, whisper it, the result of poor musical technique). Adele even gave a Grammy awards shout-out to pioneering vocal surgeon Dr Steven Zeitels, who removed the benign polyp and an unstable blood vessel in her throat which briefly threatened to reduce the most valuable commodity in pop to a rasp.
So, will the threat of profound deafness force AC/DC's Johnson to hang up his denim jacket? Speaking on the eve of the now halted tour, he didn't sound like a quitter: "I don't believe in anything, so therefore I'm not afraid what's gonna happen afterwards." Hear, hear.
Register for free to continue reading
Registration is a free and easy way to support our truly independent journalism
By registering, you will also enjoy limited access to Premium articles, exclusive newsletters, commenting, and virtual events with our leading journalists
Already have an account? sign in
Join our new commenting forum
Join thought-provoking conversations, follow other Independent readers and see their replies