Hell-raising: A how-to guide with Anaïs Mitchell
After the cult success of 'Hadestown', the folk singer heads for even darker shores, says Holly Williams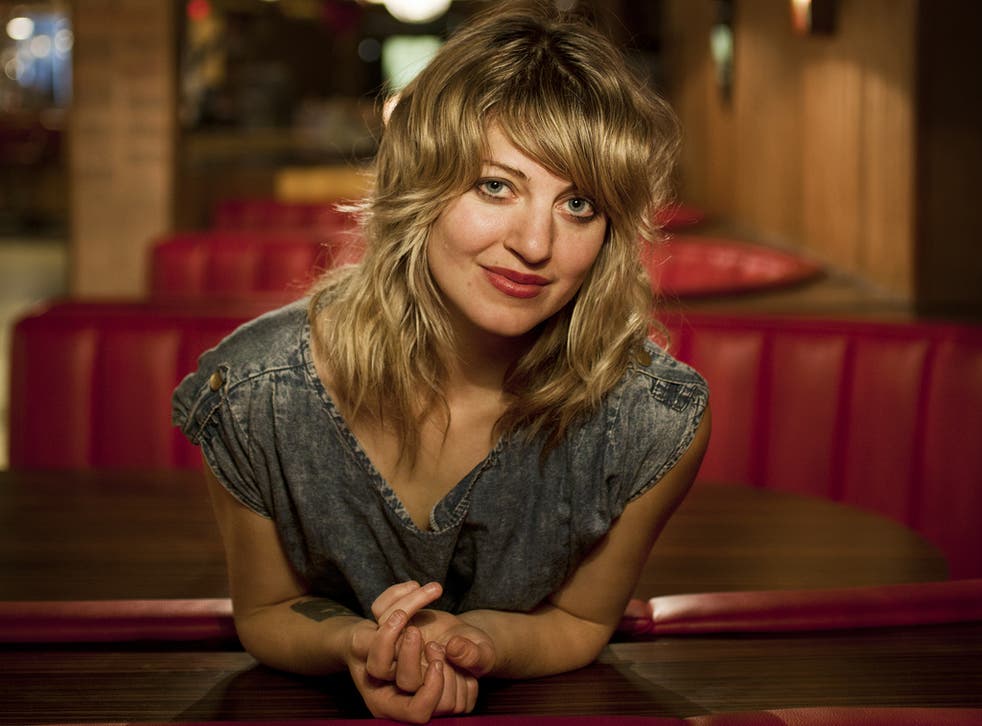 'My mother gave a mighty shout, opened her legs and let me out." So begins the title track of Anaïs Mitchell's latest album, Young Man in America. Her name's pronounced An-AY-is, and, well spotted: she may be American but she's not a young man.
Mitchell made her name with her last album, Hadestown. It's a folk opera resetting the Greek Orpheus myth in the Great Depression – on paper, no easy sell. It began as a live stage show, and went through various casts, one of which – featuring Bon Iver's Justin Vernon and Ani DiFranco – was turned into a record that had critics swooning. Her solo follow-up earlier this year was widely approached with "never-gonna-match-it" wariness, which happily proved unfounded. Young Man features more traditional folk songs, but they have a quality that keeps the listener returning, and, while the live shows coming up this summer will be more girl-and-band straightforward than Hadestown, Mitchell is a compelling performer, even when not channelling Eurydice. Her sweet, squeaky voice may not be to everyone's taste – it both yowls and purrs, as if a cat has taken to the microphone – but it never smacks of affectation.
Neither, thankfully, do the many characters she gives voice to. For while Young Man isn't a concept record, it is full of people who are decidedly not Anaïs. "Oftentimes the story would be someone else's story," she explains, before smilingly acknowledging "and maybe it's an elaborate evasion of telling my own ... [but] it's more interesting in a way to be able to step into someone else's shoes. Hadestown was really a grand experiment in that. I guess what I mean is it's never an academic exercise – they all come from an emotionally true place."
Even so, Mitchell rarely heads into singer-songwriter confessional mode, despite an acknowledged debt to artists such as DiFranco, Dar Williams and Tori Amos. "There were a lot of great female artists when I was coming of musical age, in high school ... I liked the unbridled emotion of those women – I felt like 'How do I do that?'" She did that by picking up an acoustic guitar, playing open-mic nights, taking a long time to get through college (politics at Middlebury, Vermont) because she kept taking time off for her music. On graduating, she pondered "should I get a job, or should I move into my car?"
She moved into her car. "I was inspired by this vast invisible diaspora of songwriters who [just] make enough money to keep playing," Mitchell says, despite the fact that big names are now keen to work with her (Vernon's patronage – he recently covered her song "Coming Down" – still gives her a boost; she toured Hadestown with Martin Carthy and Thea Gilmore in the UK).
In 2004, her professional debut, Hymns for the Exiled, raged against Bush-era America in the way a good politics student with a fondness for Bob Dylan's protest songs was surely required to. The Brightness followed in 2007, and saw her turn from polemic towards storytelling. Both albums exhibit her ear for melody though: she's adept at that Joni Mitchell thing of taking a satisfying melodic line to an unlikely place.
Young Man is also full of stories: alongside yearning love songs, there are goddesses and myths – from personal tales to the grand narratives we tell about our origins. Hence starting with the birth of that young man. "He's almost a Native American character, or half man, half beast, half god," says Mitchell. "He was like the flesh-and-blood avatar of the spirit of some of the other songs. For me, he embodies this feeling of restlessness, and recklessness, and hunger, and loneliness." Partly inspired by men she knows, he's both archetypal "man", and a specimen of modern masculinity.
He is born on track two, his dramatic arrival so vividly described and "hungry as a prairie dog"; track one, "Wilderland", sets the scene – a country that is both wild "frontier land" America, and the America of today, ravaged by recession. "It's the one moment on the record where I can really say, 'Oh yeah, I was watching this footage during the housing crisis of these families getting put out of their homes.' It's like anything goes: if you have the money you can buy medicine and if you don't, you die." Mitchell, a warm, intimate presence often on the verge of infectious laughter, chuckles at her own drama before adding: "It sounds extreme but it's pretty realistic." This may be folk music operating in the realm of myth, but her inner politics student is still angry at the real world.
Dressed in a short denim skirt, with a mop of blond hair, saucer-sized blue eyes and speech peppered with "totally" and "y'know", Mitchell could almost still pass for an undergraduate. But that bush-baby cuteness belongs to a woman who just hit 30. "Turning 30 was a milestone. Not everything is possible any more. You have to choose what's important, and focus. I started calling my parents. I started running too!"
Enjoy unlimited access to 70 million ad-free songs and podcasts with Amazon Music Sign up now for a 30-day free trial
Sign up
There are no songs about gym membership on the album, but mothers and fathers come up repeatedly. On the cover is a photo of her dad. The ballad "Shepherd", about a man who loses his wife and child because he's too busy on the farm, is based on a story Mitchell's father wrote when he was her age. It's no wonder agricultural themes emerge: she grew up on, and her family still live on, a sheep farm in Vermont.
Such traditional songs evoke a rather English style of folk, and she asked her producer, Todd Sickafoose, if the album could have a "British" sound. Mitchell is also recording the Child ballads (English and Scottish ballads collected in the 19th century by another enthusiastic American, Francis J Child). She describes, keenly, the difference between the American ballad tradition – "very stark stuff that's more repetitive, and very moralistic" – and the British – "the supernatural stuff, the magic and fairies and spells – I love all of that!".
Her enthusiasm makes for some archaic lyrics, however – thees and 'tweres that may annoy listeners. "I've no idea what people will make of that," Mitchell confesses. "I was on tour and having breakfast, and that line from 'Tailor' came to me: 'Now that he's gone away/ There isn't anyone to say/If I'm a lady gay or a crazy woman ....'" She giggles: "I was like, 'Can I say "lady gay"? Is that allowed?' But then it just felt like the right thing."
She points to another line, from "Young Man in America" – "Raven in a field of rye/With a black and roving eye" – and says, "I love that. We know what that means, and they knew it too." Actually, traditionally a "dark and roving eye" belongs to a dangerous woman – but we get the picture. And such phrasing does, as Mitchell intends, spring on the listener "a feeling of kinship between what you might experience, and the archetypal experience. I'm not alone in this feeling; someone came up with a metaphor for this hundreds of years ago."
Wherever she gets it from, Mitchell should take full credit, for she has spun her myths into an album of uncommon resonance.
Anaïs Mitchell is on tour in the UK from Tuesday (anaismitchell.com)
Register for free to continue reading
Registration is a free and easy way to support our truly independent journalism
By registering, you will also enjoy limited access to Premium articles, exclusive newsletters, commenting, and virtual events with our leading journalists
Already have an account? sign in
Register for free to continue reading
Registration is a free and easy way to support our truly independent journalism
By registering, you will also enjoy limited access to Premium articles, exclusive newsletters, commenting, and virtual events with our leading journalists
Already have an account? sign in
Join our new commenting forum
Join thought-provoking conversations, follow other Independent readers and see their replies