Herbie Hancock: Too good to be true
One of the nicest men in jazz - that's what everyone says about the legendary pianist Herbie Hancock. So why did Miles Davis sack him on his honeymoon? And why does he so enrage the purists? Sholto Byrnes met him - and learnt a dark secret or two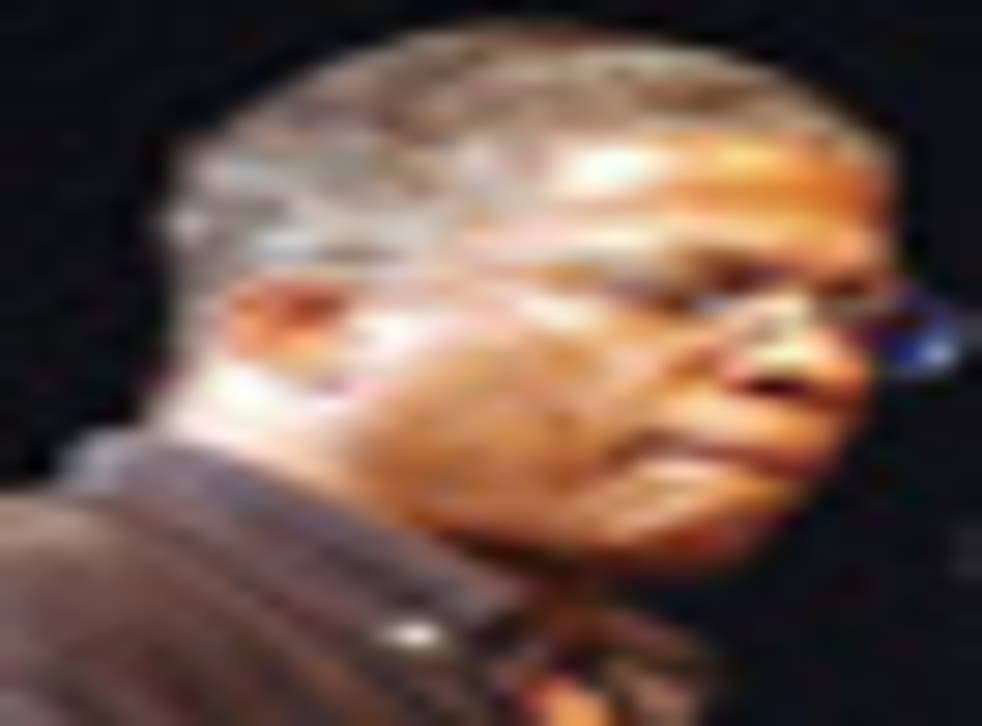 The drawing room of Herbie Hancock's Hollywood hills residence is dotted with trophies from a long and much-garlanded career. Multiple Grammy awards in both jazz and R&B categories rub shoulders with statuettes from Playboy magazine; the Oscar he won for the soundtrack to Bertrand Tavernier's film Round Midnight peeps from the back of a cabinet. Outside, above the decking you must traverse before reaching a shaded swimming pool, hangs a large bell, a gift from the Montreux Jazz Festival. And isn't that Bill Clinton he's with in that photograph?
He's been around, Herbie Hancock, even though physically he looks much the same as he did when his pioneering electro hit "Rockit" swept the boards at the inaugural MTV Video Music Awards in 1983 - and that was two decades after he first made his name, launching his debut album and joining Miles Davis's group in the same year. "You know, I've been in the business longer than synthesisers have," says Hancock, at 66 still bubbling with enthusiasm about the latest electronic keyboard he's got his hands on. "The sound is... the sound is...." Momentarily he's lost for words. "Top notch", he says finally. Or "taap naaatch", as it comes across in his Chicagoan high-vowelled drawl.
Just back from Japan, Hancock has a few days in Los Angeles before he's off to Brazil, and then to Europe for a six week tour which will bring him to the Roundhouse during the London Jazz Festival. Tomorrow he has a recording session; he's also consulting for a documentary about basketball and jazz; and a film about the making of his last album, a series of collaborations with the likes of Sting and Christina Aguilera, was recently shown in cinemas in LA and New York. Herbert Jeffrey Hancock remains as busy, and as current, as ever.
Today he's happy to ruminate about the past, however. His t-shirt, black like the rest of his clothes, is emblazoned with the word "Miles", so I bring up his time with the Davis quintet, a period when Hancock, along with bassist Ron Carter, drummer Tony Williams and saxophonist Wayne Shorter, managed to create an almost mystical chemistry with the great trumpeter-leader.
I tell him that I looked him up in the index of Miles's autobiography. Underneath several lines of page references for "Hancock, Herbie" there's one that reads: "lateness of, page 269". He looks surprised, then chuckles. This made me think, I say, of a story I'd heard: that Miles sacked him from his band for being late back from his honeymoon. "Ohhhhhhhhh!" he exclaims. "What happened with that? Yeah, well I got married in 1968, and my wife and I went to Brazil for our honeymoon. Then I got food poisoning on my wedding night." Hancock had to miss a couple of gigs with the Davis band that were scheduled for his return. "I don't think that Miles believed that I had food poisoning," he continues, "because he knew that all the members of the band were thinking about leaving."
In Hancock's absence, another pianist soon to make a name for himself, Chick Corea, had filled in. Unbeknown to Hancock, however, Davis had offered Corea the job. "When I got back, I didn't know that I was actually being replaced by Chick," says Hancock. "So I was ready for the gig. But when I called Miles, he just said [Hancock imitates Davis's coarse whisper] 'call Jack Whittemore,' who was the agent.Then the reality struck home. "I thought oh shit! Not only do I not have a gig, I'm not playing with Miles any more. Thinking about getting out the door is one thing, you see, but doing it is another. But actually," he says, "it turned out to be a blessing in disguise, because then I put my own band together and for the first time I could play the songs I'd written, night after night."
Many of Hancock's compositions have become well-known standards, from his early "Watermelon Man", which Mongo Santamaria took to the charts in 1963, to "Cantaloupe Island", which as "Cantaloop (Flip Fantasia)" was a worldwide hit for the British group Us3 in 1994. His piano-playing has had tremendous influence in jazz (Davis once said of him: "Herbie was the step after Bud Powell and Thelonious Monk, and I haven't heard anybody yet who has come after him") but also in other fields. When the Rhodes piano made a big comeback during the Acid Jazz wave of the early 1990s, for instance, few keyboardists had not listened closely to Chameleon, Hancock's multi-million-selling jazz funk album from 1973.
Although capable of producing streams of notes (Davis said he used to sign as though he was about to chop Hancock's hands off after particularly long solos), as a pianist he has long been characterised by urbanity and intelligence, often suggesting more by playing less, his perfect voicings and artful riffs supplying the listener with all they need to hear. This skill he can transfer to whichever setting he's working in, for Hancock's interests have always been diverse.
As an 11-year-old prodigy, he performed with the Chicago Symphony Orchestra, before turning to jazz and moving to New York, where he roomed with the trumpeter Donald Byrd with whom he made his Blue Note recording debut in 1961. In the last eight years he has turned from the music of George Gershwin on Gershwin's World in 1998, to the electronica and world music of Future 2 Future in 2001, to the complexity of late 1960s Davis and Coltrane on 2003's Directions In Music.
Enjoy unlimited access to 70 million ad-free songs and podcasts with Amazon Music Sign up now for a 30-day free trial
Sign up
At one time Hancock's range was controversial, especially to jazz purists. "My jazz history was more upfront," he's said. "This means I'm often put in a box. If I step outside the box, I'm still getting evaluated from inside the box." Today, his continuing eclecticism seems more a sign of a wider mastery, and is certainly concordant with the spirit of Miles Davis, whom he describes as being "way beyond just a musical mentor. He was a life mentor".
I wonder what those purists would think if they knew of the true origin of another classic Hancock composition, "Maiden Voyage", from his 1965 album of the same name. I discover that this tune, with its powerful, insistent rhythm and unease-inducing chord changes, started life as the theme to a television advert for aftershave.
"I was asked by an advertising agency to write something that was hip and elite," he tells me. "They said the setting was going to be a kinda posh jazz club where the people would be dressed very elegantly and sit on high-backed chairs. And I'm thinking that I never even saw a jazz club like that." He hoots with laughter. "They were usually dingy little basements." So what was the aftershave like, I ask. Surely he must have been given a free supply? "Well," says Hancock, "the Yardley's men's cologne is not... uh." He pauses. "Let's just say that it was, um... a very affordable cologne." He bursts out laughing again.
Hancock seems blessed with a naturally sunny disposition. Married (despite that ill fated honeymoon in Brazil) since 1968 to Gigi, who pops in and out of the house during our interview, Hancock also has his daughter Jessica on hand, as she helps manage his business; it all seems a very harmonious set-up. The pianist puts a lot of this down to Buddhism, which he began practising in 1972. "It broadens your perspective," he says. "We don't look at situations as a cause for stress but as opportunities for growth. We constantly try to find a way to turn what happens into something positive, like changing poison into medicine. And jazz is sort of like that. It grew up from poison, but now it's a medicine."
He's referring now to jazz's roots. "It was born, basically, as a creative expression from slavery, that's where its beginnings lie. That's why it speaks of the ability of the human spirit to take the worst of circumstances and turn them into something of value." This ties into the documentary he is working on with the former basketball star Kareem Abdul-Jabbar. The connection between the sport and the music is not obvious to me, but Hancock explains. "Back in the Thirties, in what they call the Harlem Renaissance," he says, "sometimes the basketball games would be in ballrooms. People would come, all dressed to the nines, to watch the game. Then afterwards the big band would go on and they'd have a dance."
Abdul-Jabbar and Hancock want to demonstrate a link between that time and culture, and those of today. "Even with hip-hop," he says, "a lot of black kids today don't have any connection with our foreparents, who struggled and died for values other than those kinda 'bling is the thing' values. It was more about education, personal development, social consciousness. At that time there were a lot of thinkers and writers really flourishing. It wasn't just money and power and glitz."
With all these different strands he's working on, I ask, does he think of himself primarily as a jazz artist or a musician? "I think of myself first as a human being," he says. Of course, I say. "No, but it's not 'of course' because most people think of themselves as a musician, or a painter, or dancer, writer, whatever. And they have to be reminded that they're human beings first. Whether I'm composing or playing, I come to it from the standpoint of a human being that functions as a musician. And that encourages a broader viewpoint."
With that he's off to take a call from Russia, managing to sound fresh and lively despite only having had two hours sleep the night before. "Hi, it's Herbie," I hear him say. "Um-hm. Yeah!" How does he stay at the top of his game for over 40 years? Maybe jazz is, as he says, a medicine. It's certainly still doing the trick for him.
* Herbie Hancock will be performing during the London Jazz Festival at the Roundhouse, London NW1, (0870 389 1846), 11 Nov
HERBIE'S GREATEST HITS
Seven Steps to Heaven (1963):
Hancock's first recording with Miles Davis, a gig he only got because the British pianist Victor Feldman turned it down.
Maiden Voyage (1965):
Hancock borrowed the rest of Davis's band, substituting Freddie Hubbard on trumpet, for his finest album of the 1960s. The title track, "Dolphin Dance" and "Eye of the Hurricane" became jazz standards that still sound fresh today.
Headhunters (1973):
The first jazz album to sell over one million copies, it mixed Hancock's explosive electric keyboards with the dirtiest of Sly Stone-type rhythms.
Round Midnight (1987):
A masterly score to Bertrand Tavernier's elegiac film that won Hancock an Oscar - an on-form Hancock returned to the jazz of the Fifties and Sixties.
Gershwin's World (1998):
Lush, eclectic celebration of the composer jazz musicians love more than any other. Joni Mitchell, Stevie Wonder, Kathleen Battle and Chick Corea all lend a hand.
Join our new commenting forum
Join thought-provoking conversations, follow other Independent readers and see their replies