How Adele's heartbreak inspired Rolling in the Deep
The day after she split with her long-term boyfriend, Adele went into the studio to write a ballad. Her biographer Caroline Sanderson explains what happened next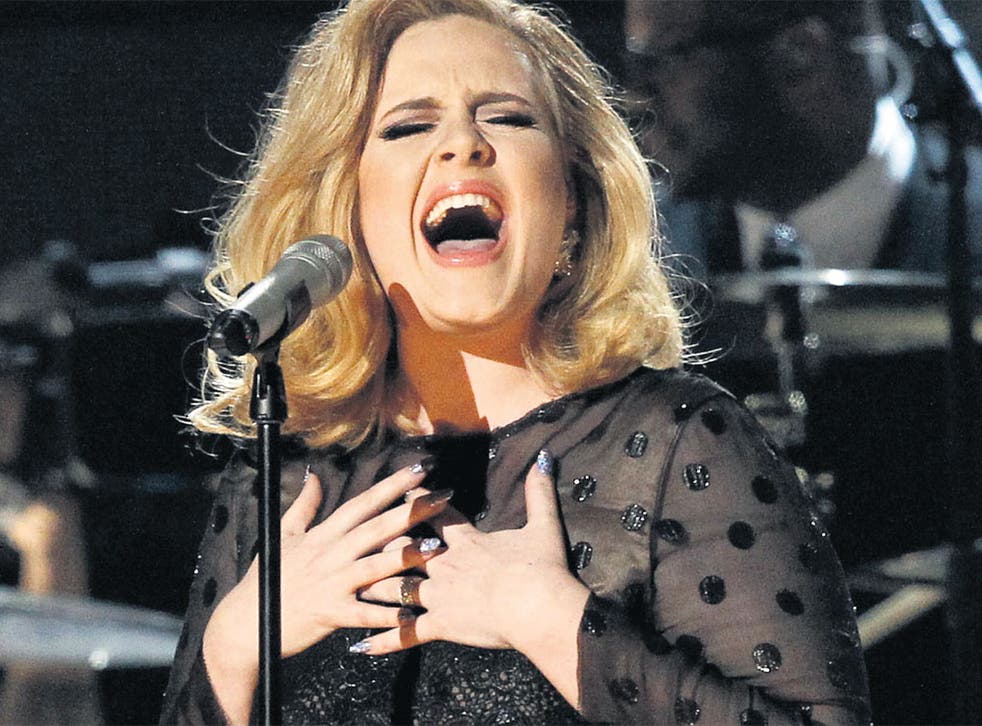 When she had started writing her new album in earnest in early 2009, Adele was still in her "first real relationship", with an older man, her passion for whom had caused her so much emotional turmoil the previous summer, and was at least partly responsible for her cancelled US tour.
"He made me an adult. He put me on the road that I'm travelling on," was how Adele later summarised their relationship. According to what she told Rolling Stone in 2011, they were together for something over a year, sharing Adele's flat in London when she was in town, before it all started to fall apart. "It just stopped being fun..."
***
Studio sessions with various producers over the preceding months had yielded little that Adele was happy with; not surprising given that she was in the throes of relationship problems that were looking terminal. Then, the day after the definitive break-up, she went into the studio with songwriter and producer Paul Epworth, who had worked with the likes of Kate Nash, Primal Scream, Florence and the Machine, and, most recently, Jack Peñate, with whom he had co-written and recorded Peñate's second album, Everything is New.
When Jonathan Dickins [Adele's manager] had first suggested that Adele work with Epworth too, her initial reaction – thinking of his overwhelmingly indie credentials – had been: "Well, this ain't going to work. But I thought I'd go and get a bit drunk with him, and so we went to the pub." Luckily they hit it off, and Adele changed her mind.
Another songwriter might have looked at the state Adele was in, and sent her back under the duvet with her box of Kleenex. But Epworth could see that she was fired up in a way that might produce something rather interesting. [She said:] "I never get angry, but I was ready to murder. I went in crying and stuff, and said: 'Let's write a ballad.'" And he was like: 'Absolutely not! I want to write a fierce tune.'"
Epworth exhorted Adele to, "be a bitch about it". [She continued:] "When I'm about to get angry in my heart, I can really feel my blood flowing around my body... And I kept going: 'Feel my heartbeat Paul!' And the beat of the song was my heartbeat... It just built and built." And so "Rolling In The Deep" was born.
She was obviously quite fragile and very open about what had happened. But she had fire in her belly," was how Epworth later recalled the emotionally charged day-and-a-bit it took to record the track. Adele had intended it to be just a demo, but she quickly came to realise she would struggle to recapture the "heat of the moment" emotion of that first recording. So the demo became the final track; and later one of her biggest hits worldwide; and then her first US No 1.
Reflecting on the song's origins for her own website, Adele summed up "Rolling in the Deep" as her reaction to, "being told that my life was going to be boring and lonely and rubbish, and that I was a weak person if I didn't stay in the relationship. I was very insulted, and wrote that as a sort of 'fuck you'."
With the recording of that "fuck-you" opening track, something of the steelier, more defiant character of the second album started to emerge. On tour in Canada at the beginning of May 2009, Adele told CBC Arts online that her new record wasn't "as pathetic as the first. This one is more like: 'Alright then, it's over, fuck off out my house, pack your bags, get out of my bed.'"
Enjoy unlimited access to 70 million ad-free songs and podcasts with Amazon Music Sign up now for a 30-day free trial
Sign up
With a packed schedule, and an album to write, Adele was having to harden her centre. She couldn't expect much sympathy from those around her in any case, for she was the one and only person who was sad to see the back of Mr Wrong. "All my friends, everyone I worked with, no one liked him, because I acted different when I was around him."
***
In 2012, Adele will be back. Her fans hope, and trust, that her voice will be as wondrous as ever. And if she feels any pressure to deliver in future, so far Adele hasn't shown it.
"I don't really care about expectations... I'm not expecting my next record to be as big as this one," [she has said]. In the light perhaps, of what she has learned from her collaborations on [the album] 21, her own creative input will, she has said, be paramount. "I want it to be quite acoustic and piano-led. I want to write it, record it all, produce it all and master it on my own."
Why [did] she think this [was] her time, Adele was asked during an interview for the landmark 300th issue of Q, for which she also appeared on the cover, photographed by Rankin in a deep purple gown.
"Maybe people know I just like music... I think I remind people of themselves," she said.
This is an extract from Adele's new biography, Someone Like Adele, by Caroline Sanderson, published by Omnibus Press
Join our new commenting forum
Join thought-provoking conversations, follow other Independent readers and see their replies