How international music festivals are battering UK ones and getting better line-ups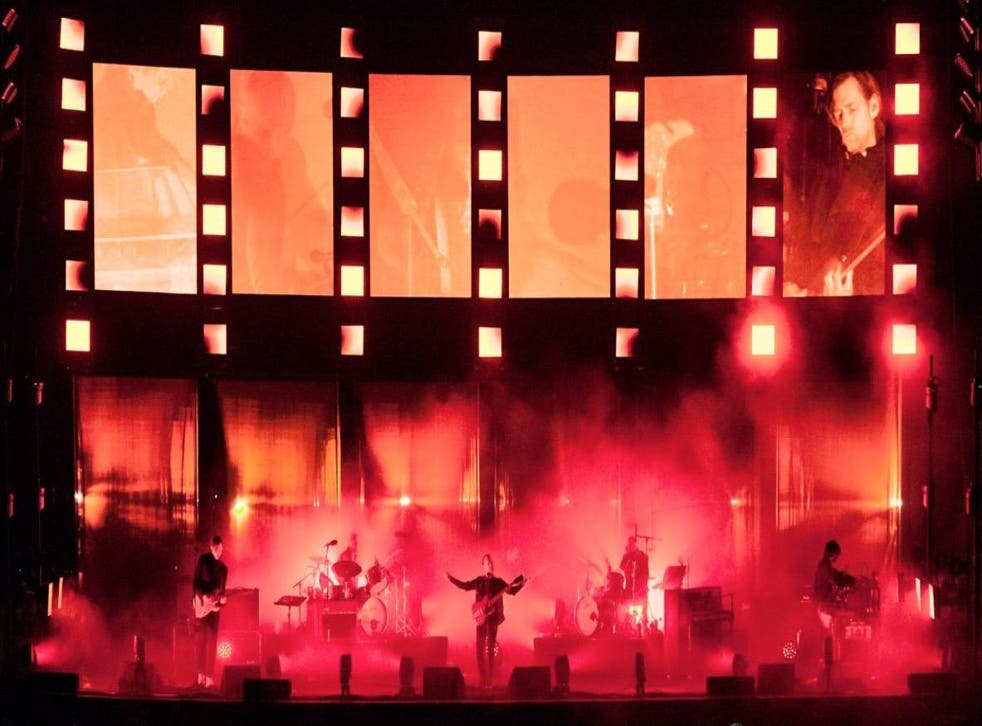 Thom Yorke walks back out on stage to raucous applause from a crowd stretching as far as the eye can see. "Can you turn the fucking monitors back on, please?" he shouts down the mic at Primavera Sounds' over-zealously punctual stage team. For a breathtaking moment it seems as if there will be no encore, but with a few taps from the drums Radiohead launch into 'Creep' for the second time live in 10 years.
LCD Soundsystem released their final album, This Is Happening, five years ago. After a farewell tour they disbanded the group for good. Despite this, they were here too, reunited and performing a string of hits on the beaches of Barcelona. Primavera Sound was the first (bar a small Swiss festival) to name Radiohead's return to the festival circuit, and one of the first European festivals to announce the LCD Soundsystem on their lineup. Primavera was pre-emptive and pre-eminent.
The festival has developed a reputation for its distinctive lineups. With little-to-none of the tangential festivities that embellish UK festivals, the music and artists they host are the main attraction. The lineup announcement caused quite a stir, and attracted visitors from over 140 countries, foreigners making up almost 50% of the audience. It caters for a refined palate with a colourful array of acts from across the global cutting edge. This is something that the UK appears either unable to calculate or to culture.
In 2011 Michael Eavis predicted that Glastonbury "[had] probably got another three or four years" left, referencing sunny foreign festivals such as Spain's Benicassim as cheaper alternatives in a crowded market. "There is a feeling that people have seen it all before," he said. In a climate where many festivals are questioned for aping their competitors, Primavera's success begs the question: what makes a successful lineup? And how do UK festival's compare; more importantly, how and in what ways do they contest?
In the UK we can see a few variants, although in the pool of choices you might well expect a few more. The modern UK festival prospers no longer off of being poster-perfect, but from their placement and partners. London festival Field Day capitalises on exposure from its partner stages, which represent a large part of the music media, from Resident Advisor to Crack and DIY. American based music blog Pitchfork has its own festivals in Chicago and Paris, which never fail to get word out to thousands. The UK has several competing festival staples in it's busy if not sun-blessed summer, and without the appeal of being somewhere actually sun-kissed, the media do matter. British Summer Time is often overcast, so much so it may well have thrown away tickets for Arcade Fire even in 2014.
In the UK the choice is between miniature events in the niche and massive enterprises. Primavera and the continental class have music and the Mediterranean to swim; music and mountains to ski; music and new maps to explore. Speaking of Dimensions and Outlook Festivals in Croatia, head of marketing Damo Jones, currently of Love International Festival, dwelled on their success: "For us, Croatia offers more than Ibiza ever could. Croatia has one thousand islands, Ibiza is one small island." Britain is one bigger, bleaker island; similarly, it's coming of age may also spell the passing of one. Foremost in their field, this bumper electronic fest duo also boast Fort Punta Christo and a Roman amphitheatre as venues.
Since launching in 2008, however, even Dimensions and Outlook only recently turned a profit. The festival field, like the wider field of music, is a monied game. THUMP recently commented on how all electronic music festivals look the same and one should ponder a little further, that in a cut-throat and commercial market many of these festivals either play safe with sure-sells or share the same professionals - that includes promoters in the UK. Brits may well travel abroad to get out of our insular dime-a-dozen demographic.
Enjoy unlimited access to 70 million ad-free songs and podcasts with Amazon MusicSign up now for a 30-day free trial
Sign up
The DIY icon All Tomorrow's Parties (ATP) announced it was going into administration this month. Barry Hogan of ATP managed hulkish feats in having acts such as Godspeed You! Black Emperor and Stewart Lee curate over the years, but was dashed when they just couldn't dot the i's and cross the t's. Speaking with The Independent in May the beleaguered boss said, "all we want to do is put music on that we believe in, to bring together a nice, like-minded crowd who are all into the same thing. I mean, if we wanted to become super-rich we could have been putting massive, shite bands on all this time." Hop Farm closed after Vince Powers used his clout to book Prince, only to bring Purple Rain down on a crowd packed with green spaces...
Glastonbury 2016 - in pictures

Show all 10
Where do these fans go? Where do the pigeon-holed promoters go? Brits may love a queue but the majority don't get their number called for Glastonbury. If not to foreign climes, a few options within our own shores are cropping up. Some may have seen Leefest - the festival which was first hosted in 16 year-old Lee Denny's garden - featured in an Android advert, with the mobile company keen to latch on to the unique success story of this socially networked award winner.
The eponymous Lee Denny retraces the narrative of the festival in 60-seconds, from an actual secret garden party to off-the-map champion. Speaking with us last year, the secret was playing to the strength of being audience curated and circulated. "Music has changed a lot, from something that was communally enjoyed and everyone participated into something where there is a big barrier between the music and the people… there isn't any reason why you shouldn't just create your own thing", is his thinking.
While Leefest revolts against the big-festival circuit, some, like Masked Ball, thrive on the fringe. Growing in fertile Cornwall, this fiercely independent crew started out as a group of friends who laid the seeds in their garden too. "The line up is some way down the priority list for the ball - our first intention is to get the right people there then give them a great experience - the line-up is a bonus in our eyes", Kelvin Batt relates. They have returned a more carnivalesque and lo-fi time. The ballers come in droves for their bi-annual blowout with added antics like pig racing. They even throw their Halloween edition in a functional theme park.
In contrast with Masked Ball's ultra-local appeal, Primavera Sound sees itself as an 'international festival.' Booking co-ordinator Fra Soler describes the ethos: "We really try not to be territorial. Of course, we need to be interesting to Barcelona and the audience around us," he notes, adding later that the festival also books local acts "in order to keep the scene alive." But the overarching aim is to "be global, as we are not blind to global developments and the global market that comes as visitors to us."
By catering to a global market while also assuaging local punters, Primavera has become a kind of musical pilgrimage comparable to SXSW and Great Escape, though their formats are far more industry focussed. The lesson learnt is that diversity is at the centre of a crowd-pulling lineup. In the age of instantly streaming music, there are fewer and fewer 'scenesters' who define themselves through a single genre of music.
Join our new commenting forum
Join thought-provoking conversations, follow other Independent readers and see their replies