Ibeyi: meet the soul sisters set to stun this year's festival circuit
"Music has always been our way to be happy and to heal ourselves"
Hugh Montgomery
Saturday 09 May 2015 12:00 Comments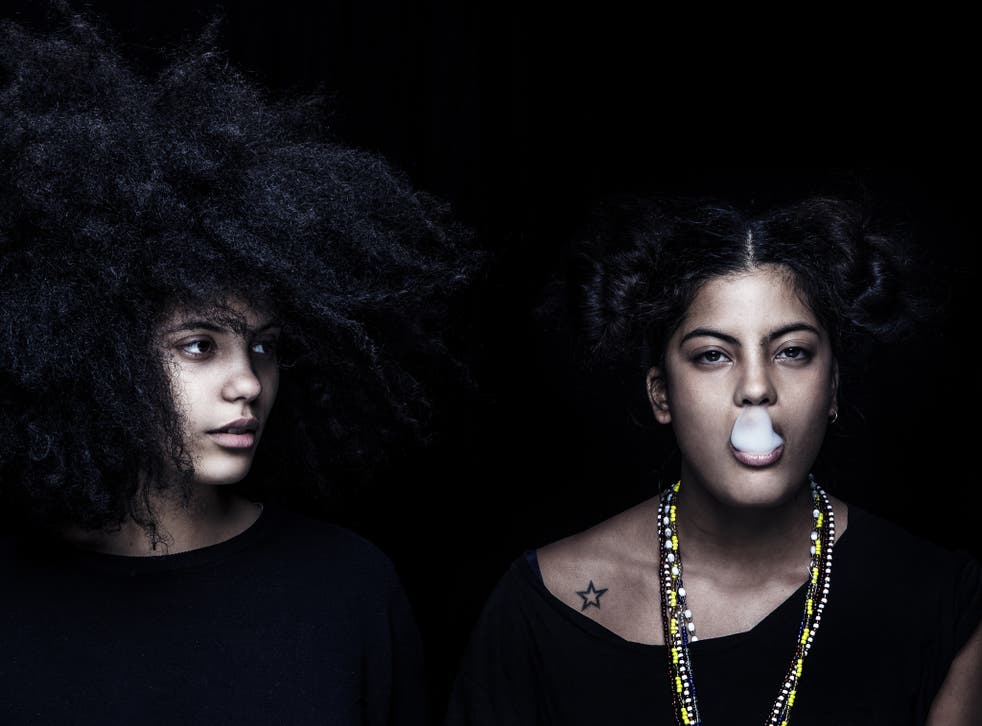 The moment when you bring death into an interview could be expected to be a sombre one. With twins Lisa-Kaindé and Naomi Diaz, aka Ibeyi, however, it's when our conversation really comes alive.
I've just remarked on their lyrics' refreshing directness on the subject of bereavement – a subject rarely dealt with in pop music. This prompts a group high-five. "Thank you!" exclaims Lisa-Kaindé. "That is the best thing you can say to me."
It's a moment that encapsulates the French-Cuban soul duo's mixture of innocence and experience. Aged 20 years apiece, the sisters have made one of the most remarkably mature debut albums of recent memory, both in its reflective lyrics and inimitable, fully formed sound, which mixes elements of jazz, soul, hip-hop and electronica and sets Lisa-Kaindé's ethereal lead vocals and lambent piano against Naomi's hypnotic percussion and assertive beats.
It also switches between English and chanting in Yoruba, the tongue of the West African tribe that their enslaved ancestors brought to Cuba in the 18th century. Ibeyi means "twins" in the language.
2015 has already proved quite the year for the pair – signed to XL, the forward-thinking indie label also nowadays known as the home of Adele, they released their debut album in February to widespread acclaim, and have since been on the road in Europe and the United States. I meet them on the day of their homecoming gig at the Gaité Lyrique arts centre in Paris.
Before our interview, I discover they had to cancel their previous two shows after illness did for Lisa's throat. But as they sweep into their dressing room, a bundle of energy, there's little evidence that touring has been taking its toll – beyond mother and manager Maya's vain admonition to Lisa-Kaindé to lower her voice so as to preserve it for later.
Meanwhile, party-loving hip-hop devotee Naomi is buzzing from the news that tonight's audience will be standing. "I like sitting [audiences], she likes standing," says Lisa, with a knowing glance to her sister, who is doing a mock-rave dance. Indeed, as they prepare to do the festival rounds – their UK bookings include Glastonbury, Secret Garden Party, Latitude and Womad – it's clear which of the two is particularly raring to go.
"I luurrve, I love I love," says Naomi. "The more people, the more gangsters are in the crowd, the more she enjoys it," concurs Lisa-Kaindé. Well, until I mention the famous Glastonbury mud, that is. "Oh noooooo," Naomi wails. "She's a city girl, she's like 'oh, my shoes!'" teases Lisa. "Oh don't be so …" her sibling begins in protest.
This is how the interview goes: a stream of dual-consciousness in which I'm somewhat surplus to requirements. On the one hand, their personalities are as sharply distinct as their musical roles: where Lisa is earnest and wide-eyed, Naomi is laconic and possessed of a mischievous glint. But on the other, their differences are as nothing compared to their ineffable synergy, which sees each of them constantly cutting in on and continuing the other's train of thought.
Enjoy unlimited access to 70 million ad-free songs and podcasts with Amazon Music Sign up now for a 30-day free trial
Sign up
Lisa explains that as children, their parents "didn't have to encourage us to be different … because we were born different … the first time our mother saw us, she said one was like this," her head lolling down, "and one was like that," springing into action again and waving her arms frantically. What they did share, of course, was a Parisian home filled with musical inspiration: their French-Venezuelan mother, Maya, is a singer, while their father was renowned Cuban percussionist Miguel "Anga" Diaz, known for his virtuosic conga playing and a member of the Buena Vista Social Club.
Like any self-respecting kids, they didn't pay much attention to Dad's achievements; then, when they were 11, he suffered a fatal heart attack. The very next day, Naomi picked up her first instrument: the Peruvian cajon drum that Anga had been trying to master. Nine years on, it is her key music-maker, a box-like instrument which she sits atop, slapping out grooves. "I don't know if we'd have started Ibeyi if he was here still," she says matter-of-factly. "Good things come from bad things, I feel it is like that."
Lisa-Kaindé, the chief songwriter of the two who started composing at the piano at age 14, concurs. "Music has always been our way to be happy and to heal ourselves", she says. The album contains "homages" not only to their father but their elder sister Yanira, who died suddenly from a stroke in 2013.
Key to that healing are those Yoruban spiritual chants, which are the twins' way of remaining connected to the past. They were introduced to them by their mother at a young age. "The first time we sang [them], I don't know if it was for you," Lisa checks with Naomi, "but for me it was visceral, I could just feel it was in my roots, it was something in me." What they admire about the values enshrined in Yoruba culture is also what they admire about their Cuban heritage: "[there's a belief] that you have to listen to the old people … because you have to go to the old things to do something new."
It's that confluence of old and new that is key to their success: having originally composed the songs for just piano and percussion, it was only when they got into the studio with XL head honcho and renowned producer Richard Russell, that they started experimenting with synth work and hip-hop breaks. Naomi led on this, and they eschewed session musicians. "The second or third time we saw [Richard], he said, do you want the album to be a bit like Alicia Keys with the band or just the two of you and we said just the two of us," says Naomi. "It wasn't a way to be different – we just couldn't picture ourselves with other people," concurs Lisa.
Indeed, seeing them in Paris, it's clear that the only band members they need are their late father and sister, as represented by two candles that burn on stage for the duration of the set. Facing each other, Lisa, poised in front of the keyboard, Naomi sitting on her cajon, theirs is a musical conversation of spine-tingling intimacy, from their soaring, emotion-racked harmonies to the moment where Naomi starts using her own body as an instrument, slapping her legs and chest and clicking her fingers.
Though come the encore, when they give an acapella rendition of their funkiest track "River", swaggering across the stage and geeing up the crowd into a call-and-response exchange, they reveal a pop sass as yet untapped. This chimes with our discussion of plans for their next album, ideas for which they started formulating while recording the first, they say. Where Lisa initially took the lead on the last album, this time round it will be more collaborative from the off.
"Hip Hop! Hip Hop! Hip Hop" chants Naomi: "I want people twerking!" Lisa, more measured, suggests it will represent the sisters' "differences". "It will be a little more like," she says, making a cracking noise "it will have half of 'up, up up' and half of 'down, down, down' … to make Ibeyi, we have to forget half of ourselves, but in some songs on the next album, I will [forget] more than half of myself [and she the same]."
But as for dividing this pair? There's more chance of splitting an atom, I suspect. "I can imagine myself doing things without you [Naomi] but not playing," says Lisa-Kaindé, when I ask if she has any interest in solo projects. "For example, she loves clothes, and I can imagine her having a [fashion] brand, and I can imagine myself composing for movies ...." "But I would like to [do that] with you," cuts in Naomi, sounding mildly rankled. "Of course, if you don't want to do it, I can do it alone, but I would like her to do it," continues Lisa-Kaindé, and so it goes on.
Ibeyi's debut album Ibeyi is out now. They play Islington Assembly Hall on Tuesday, and have a range of upcoming summer festival dates, as well as a full UK tour in November, beginning at the Concorde 2 Brighton on 2 Nov. For info see ibeyi.fr
Register for free to continue reading
Registration is a free and easy way to support our truly independent journalism
By registering, you will also enjoy limited access to Premium articles, exclusive newsletters, commenting, and virtual events with our leading journalists
Already have an account? sign in
Join our new commenting forum
Join thought-provoking conversations, follow other Independent readers and see their replies