Imagine Dragons interview: 'Lyrically it is the most raw, I feel very timid about a lot of the material'
The band talk trials and tribulations of being on the road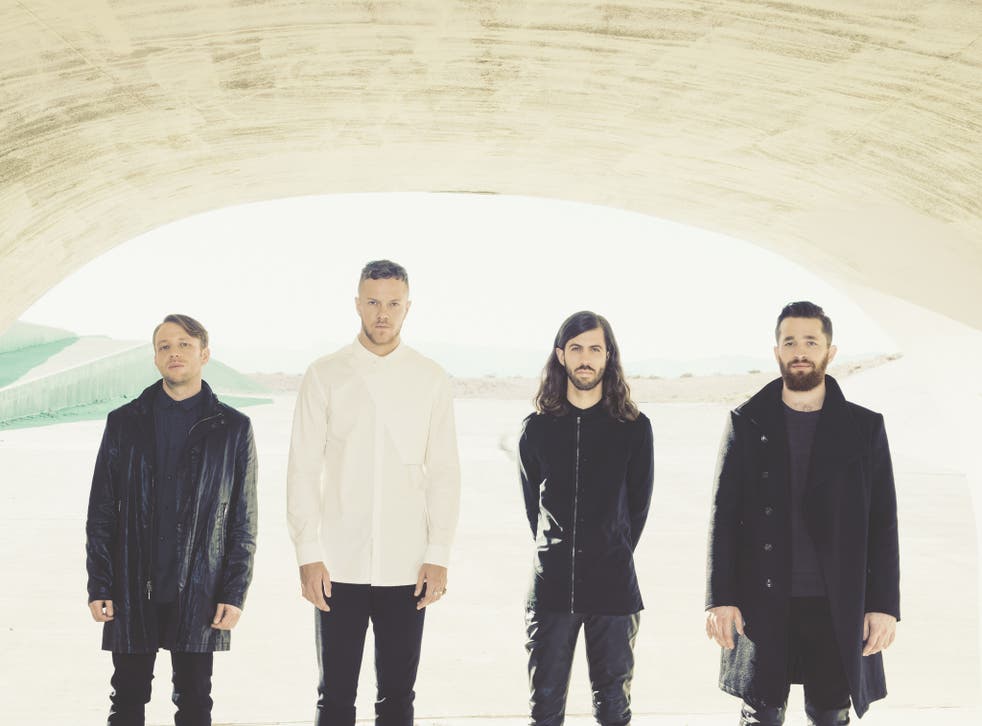 In the warren of tunnels under London's Waterloo station, four Las Vegans are filling a confined space with extraordinary energy. If tearing the roof off is a well-worn cliché, Imagine Dragons are pile-driving their way underground, Daniel Platzman's drum beats blasting through the bricked space like sonic booms.
Frontman Dan Reynolds's semaphore movements show his group are used to much bigger venues – this taster gig precedes November's arena tour – though also noticeable is the new material's raw power. While 2012 debut album Night Visions combined fist-pumping pop-rock with electronic dance music and hip-hop embellishments to grand effect – it has sold nearly 400,000 copies to date – follow-up album Smoke + Mirrors went straight to No 1, selling 80,000 in its first week .
Reynolds jack-knifes his imposing 6ft 4in frame to the metallic riffs of "I'm So Sorry", disguising the vulnerability hinted at by its title. On closer listen, this track and others reveal the personal demons of depression and guilt the singer and lyricist is exorcising.
Two days later, approaching the end of his promotional junket, Reynolds looks far more relaxed. Picking over a mixed salad and broccoli side, the gluten-intolerant Reynolds looks back fondly on the Waterloo set.
"It's been a while, but there's something very refreshing about it, to be able to see all the faces of the people in the room." It has been a good two and a half years since the Dragons regularly played such venues and while they may have seemed to have magically appeared at No 2 in the UK albums charts with their first effort, that ignores the groundwork they put in, including four years playing casinos and bars in Las Vegas.
Raised in Utah, Reynolds formed the band with guitarist and fellow Mormon Wayne Sermon, who recruited college buddies Platzman and bassist Ben McKee. Playing six-hour sets to punters more interested in slot machines forced the band to hone their craft, encouraging the frontman's penchant for theatrical percussion, inspired partly by his love of hip-hop and seeing Japanese taiko drumming at Cirque du Soleil.
Since the touchpaper has been lit, the group have been in perpetual motion, with remorseless touring bringing more and more fans. Not one for carousing, the 27-year-old was happy writing in hotel rooms and demo-ing songs on the road. This situation sounds far from inspirational but the hard-driven artist was in the midst of a life-changing experience.
"Being on the road, the band exploded and turned my life upside down again, in a lot of great ways and a lot of not-so-great ways." Reynolds had recently married and had a daughter, Arrow, now two years old, whose formative years he was missing, while former acquaintances from his home town were getting in touch as if they were long-lost friends. He reveals that he deleted his Facebook account the previous day.
"Lyrically it is the most raw [I have been]. I feel very timid about a lot of the material, because it's so personal. I went places I've never been before, thoughts about society, theology, personal things. Four years ago [writing Night Visions] I just wasn't questioning my life."
On "It Comes Back to You" Reynolds opens up about facing depression and his experience of the therapy he began last year. It is a practice often viewed suspiciously by songwriters who prefer not to tinker with a subconsciousness that fuels creativity. The Nevadan, though, sees it as opening up more avenues. "It really made [my writing] more honest, because I went to places, no-go zones, that I'd blocked off in my head. It has helped me think deeper. The therapist isn't telling me things, it's more asking me questions about things I don't normally explore."
Reynolds has, though, chosen to steer clear of the medication experts have offered him – "It would be awful if I was happy all the time," he laughs. "I might lose my passion." The performer is relieved when I tell him that Barney Sumner of New Order – "I love them," he says – experimented with Prozac and found his own lyrics suffered. Looking back, Reynolds believes he suffered depression intermittently through childhood and found middle school very difficult.
"I hated it. I had braces, lots of acne and felt quite alone. I picked up writing and found it therapeutic." But he felt it had become more of an issue while touring. "Being on the road so much? A loss of sense of self? I dunno, but I needed to work through it."
It is his sense of guilt that makes an impact from the new album's opener "Shots". Although a proud Mormon, Reynolds has struggled to follow the strictures of his family's faith and maintain their high standards as the seventh of nine high-achieving children. "I've dealt with a guilt complex since I was young. Everything that matters in my life, all of those things I feel I've messed up. I never feel satisfied. I was always the black sheep in the family, always getting into trouble. All my brothers were doctors and lawyers and I was getting the worst grades. And I slept with a girl."
While much of our conversation appears downbeat, Reynolds remains keen to accentuate the positive. He thanks his bandmates for their support and praises the therapeutic qualities of writing and especially performance. "It's the only time I feel no anxiety, which is really strange. I feel completely calm and in my element." Nor has it been a problem sharing his darkest thoughts with bandmates. "They spend so much time with me, they know me really well and are really respectful, but there's no room for ego. It goes out the door when you're in the studio."
Now Reynolds is slowly repairing his work/life balance, breaking promotional chores into two-week chunks and looking forward to taking his family out on tour. It's time to take a break from what he calls "the greatest career in the world".
Imagine Dragons release the single "Warriors", taken from the No 1 album Smoke + Mirrors, on 11 May. They begin a new UK tour at London's O2 Arena on 4 November
Join our new commenting forum
Join thought-provoking conversations, follow other Independent readers and see their replies