In Dynamics – Everything I See: Exclusive Album Stream
The Sussex alt-rock three-piece stream their debut album, Everything I See, exclusively with The Independent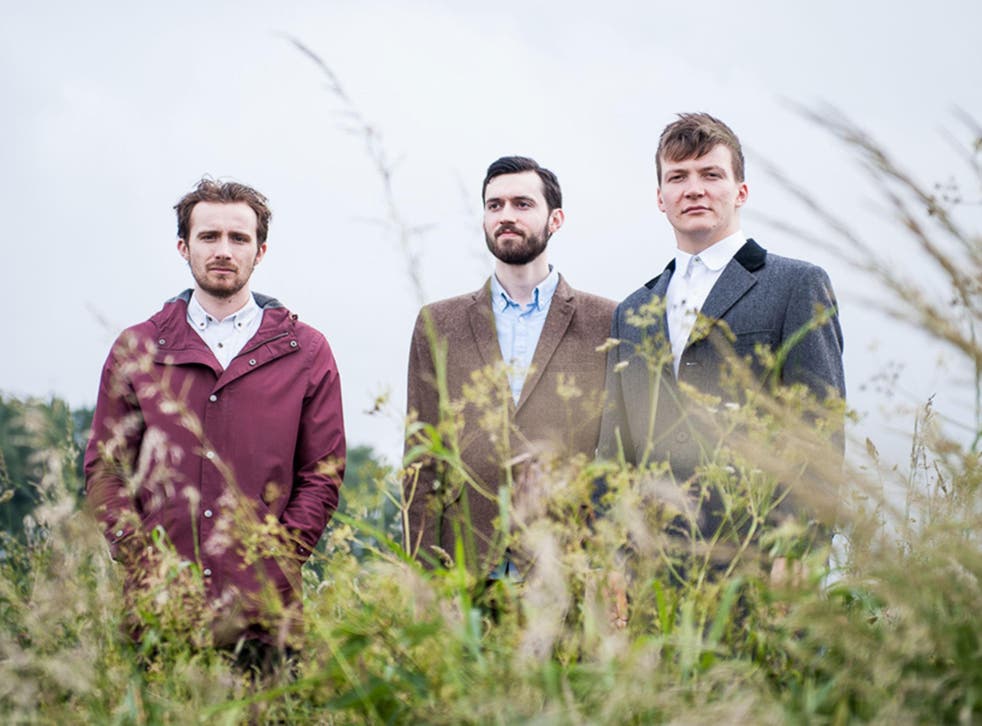 Employing the same melodic flourishes married to jagged edges and British sensibilities of the likes of Biffy Clyro, The Xcerts and Hundred Reasons, In Dynamics show incredible promise for a band so young. Formed in 2012, the band's ability to marry an anthemic chorus to slightly off-kilter flourishes marks them out as a band with remarkable song-writing chops. Their self-released debut album, Everything I See, is available to stream 4 days before official release exclusively with The Independent.
The band released two EPs, Circle in 2013 and Questions in 2014, with both receiving positive critical reception from the likes of Kerrang!, Rock Sound and Hit The Floor Magazine as well as radioplay via BBC Introducing. The trio, frontman Beau Boulden and fraternal rhythm section William and Jack Wrench have taken great leaps in their four years as a band. 'Our first two EPs have helped us understand what kind of music we want to be writing, and really where our identity lies' they say 'but we truly believe that this record shows you the band we've always wanted to be.' In Dynamics have been beavering away on their debut album for two years in a bid to make it the most accomplished representation of their music as possible. 'It's a surreal feeling to finally be sharing Everything I See with the world. We have been nurturing these songs over the last two years; trying them out live, re-sculpting the tracks and really pushing each other to create the best music we can.'
In Dynamics have provided an exclusive track by track guide to the album to accompany the stream:
This Is The Start Of Nothing
We wanted to treat this record like it's the first time anyone has listened to our band, and open the album with a song that captures the full spectrum of this record, both musically and lyrically. The track has a fair amount of jagged rhythms and definitely keeps you on your toes, but still focuses strongly on melody. For us it's the perfect introduction to In Dynamics.
We Are Liars
We actually recorded this track six months or so before the others. It was a huge achievement for us as it felt like the first time we really managed to make a concise, focused rock song. In the past, we had a tendency to throw a lot of ideas and different parts into the mix, which sometimes made it less immediate than intended. However, this track really felt like a step up and set the standard for the rest of the album.
In This Light
In This Light is lyrically quite regretful and tragic, but musically more uplifting than many other songs on the album. We love the way great artists like Johnny Cash will play heart-breaking songs that are written in a major key; this is our attempt at doing that.
A String Of Losses
We shot a video for this track with Carl Shanahan, the extremely talented man behind our last three videos. The idea was to make the video look and feel like a dream, following Beau around in third person. The 'one-take' theme really coincides with the often seamless fluidity of our dreams, and how logic isn't always applied. It was a real challenge for us to achieve this in one take without a crew, but we really wanted to push ourselves creatively in the process of making a video.
Leviticus
For us, the most exciting part of writing this album was the ability to branch out of our comfort zone and try something new. The skeleton of this track has been kicking about the In Dynamics writing sessions for a long time now, albeit in various incarnations. However it was one of the last songs we actually finished as we decided to strip it right back and just embrace the ambience of the song. It immediately felt like the perfect half-way mark for the record.
Another Minute
We wanted Another Minute to be the most exciting song we'd ever written; full of riffs, and a huge anthemic chorus. It's one of the first songs we tried out live before recording the album, and probably our favourite song to play, so expect this one in the set.
Vital
We've never written a song like Vital before, and really relished the opportunity. It was hugely important to us to really reach the extremities we wanted for the record, and this really feels like a benchmark for us. We were lucky enough to have the incredibly talented Nick Pynn write, and perform strings to accompany the track, and we couldn't be happier with the result.
Existence Precedes Essence
Existence Precedes Essence is about accepting and freeing yourself from what you cannot control. Too often we let what is out of our power affect us and the things we love the most; so this track is really a call to letting go of circumstance and just enjoying yourself. This album was written by just the three of us in a room together and we think this song reflects that well.
The Weight Of Wait
This is the first time we've really let a song write itself, and just be what it wants to be, without twisting it in other directions, as we normally would. Lyrically, it's about the road blocks we face, in the way of real happiness and contentment. Sometimes the weight we carry around with us can make it seem impossible to move forward and this song attempts to capture that.
Everything I See
We ended the album with what we collectively consider to be the best song we've ever written. It's a five minute epic, that took years of meticulous work to get right and for us gloriously ends the journey we've tried to take people on with the record. The album has been a labour of love and we feel the title track is the best demonstration of our musical ambition as a band.
In Dynamics have developed their sound by supporting an impressive and diverse roster of bands including The Subways, Blitz Kids, Arcane Roots, The Dear Hunter and Feed the Rhino. They'll continue to hone their craft with a short tour of England in support to Emp!re at the following places in July:
27/07- Swindon - The Victoria
28/07- Bridgwater - The Cobblestones
29/07- Bournemouth - The Anvil
30/07- Guildford - The Boileroom
In Dynamics self-released debut album, Everything I See, is released 18th July and is available to pre-order now
Join our new commenting forum
Join thought-provoking conversations, follow other Independent readers and see their replies