Interview: Anna Calvi - 'I don't mind people thinking I'm scary, it's better than being boring'
On stage, and on her second album, Anna Calvi lets rip. Yet in person she is a model of quiet restraint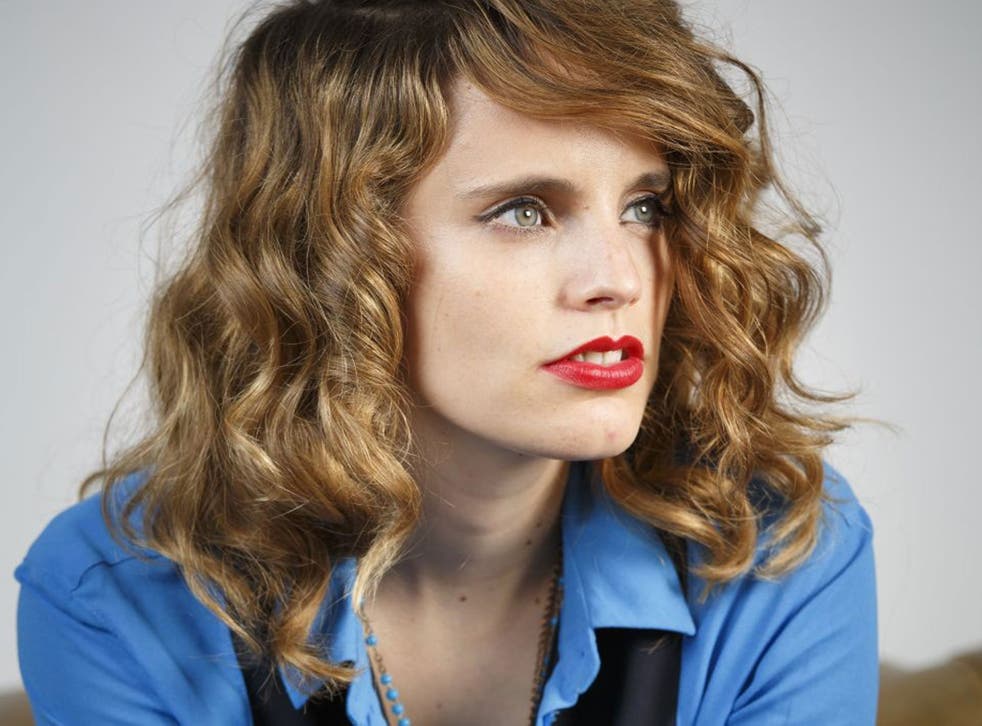 It can be quite surprising to meet Anna Calvi in person for the first time. And to discover that she is nothing like the bold, fierce rock guitarist and singer of her live performances who first caught the attention of Nick Cave and Brian Eno (who hailed her the best thing since Patti Smith) in 2010. Although she and I have met before, when we shared Mercury Prize judging duties last year (when Alt-J won the prize). Calvi was petite and reserved, a thinker, carefully deliberating everything before she spoke. Just as she is today, when we meet at her record label's offices.
"A scary, scary lady", is how our reviewer described her at an intimate show at Wilton's Music Hall, east London, in September. Calvi, a diminutive figure against the large sofa, despite her striking bright blue shirt and shock of red lipstick, laughs. "It is funny because I don't see myself like that, but when you're being really strong and forceful there's a sense of wildness that perhaps could feel scary. But I don't mind it. I'd prefer someone to describe me as that, rather than… boring."
She feels that having an outlet for her passionate, expressive side is important. "Music is just a way for me to unleash myself and be really expressive in a way that I can't in normal situations. People often ask me, 'can you not bring the person you are on stage into normal life?' but it just doesn't work like that. In a way one feeds into the other because after I've been on stage I feel depleted, like I've exerted all my energy emotionally and physically, and then I need time to go back in and recharge and so I'm even quieter."
The 33-year-old grew up near Putney, south west London, with her older sister, now a writer, and parents, both psychotherapists practising hypnotherapy. Being hypnotised was a regular occurrence growing up in the Calvi household and it played a strong part in shaping her creativity and imagination and also her tendency to withdraw and delve deeply into issues. "Just that idea of encouraging me and my sister to think imaginatively – because that's part of therapy – and to be more insightful about why you're doing things. And sometimes it can be annoying having parents who are always like: 'Yes but why? Why did it happen?' There always has to be another layer and meaning.
"Both my parents were proper hippies when they were younger. They lived in a commune and they were really into music, especially my dad – I've got all his records from the Sixties. You know when you hear about hippie parents that make their kids be really conventional? I'm more following in their footsteps."
The first song she ever wrote was as a 10-year-old, imagining she was in David Bowie's band. Then she thought she'd be a painter until, she says, her "obsession with music just became more and more". Her debut album was written and recorded between the basement and attic of her parents' home, hidden away.
Her second album, One Breath, the follow-up to her Mercury-nominated self-titled debut, was written from her own home in south west London. Like her debut, it was written in isolation, in the dark hours when no-one was around. "I write best at night time," she explains. "My sweet spot is around 1am when I'm not too tired and it's late enough that I feel like I'm in the right place."
As with her debut, it shows off the guitar skills which she mastered, having first picked up her father's guitar aged eight and taught herself to play to Jimi Hendrix, two years after she'd started learning violin. She studied both instruments during her music degree at Southampton University.
"I wanted the guitar to be this wild animal that lashes out at pivotal – the most emotional – moments of the song and then for the chord progressions to be played by more colourful instrumentation than just strumming guitar," she says. "I listened to a lot of Tom Waits like Rain Dogs and listened to how he tuned percussion to suggest chord changes. I kind of stole that a little bit with this record," she says with a smile.
Enjoy unlimited access to 70 million ad-free songs and podcasts with Amazon Music Sign up now for a 30-day free trial
Sign up
She also listened to a lot of choral music, Rachmaninov and Rossini, while she continued to draw inspiration for her cinematic, atmospheric songs from visual arts, especially Surrealist films, exploring the thin line between the dreaming and waking worlds. There are themes of fading memories, in "Piece by Piece", and momentous life changes, in the title track.
"I wanted to play with the idea of time," she explains. "'One Breath' is about that one breath before something happens. You know when something really momentous happens in your life, time feels like it's lasting longer than it really is? The whole song was drawn out to really express the emotional turmoil of how scary and how thrilling it is to be at the moment before everything is going to change in your life." What was that moment for her.
"I had to say something to someone that was very important and changed things in my life," she says quietly. During the making of this album, Calvi lost a close family member (she prefers not to say which relation). "There's definitely a sense of how that can make you feel out of control, that things can change in your life without you being able to have any say over them," she says. "I tend to think quite deeply about things in general which can be a bit annoying, but in terms of music it's good that I'm quite emotional. I'm very up and down." Not that you'd know, such is her cool, controlled demeanour.
Those ups and downs do not signify an album about depression, as she was misquoted as suggesting in a magazine. "It's much more about the feeling of hope that things will get better – that there's limitless potential to every moment because the future isn't already written."
The album 'One Breath' is out now on Domino
Register for free to continue reading
Registration is a free and easy way to support our truly independent journalism
By registering, you will also enjoy limited access to Premium articles, exclusive newsletters, commenting, and virtual events with our leading journalists
Already have an account? sign in
Register for free to continue reading
Registration is a free and easy way to support our truly independent journalism
By registering, you will also enjoy limited access to Premium articles, exclusive newsletters, commenting, and virtual events with our leading journalists
Already have an account? sign in
Join our new commenting forum
Join thought-provoking conversations, follow other Independent readers and see their replies