Jake Bugg: The Simpsons, Bob Dylan and me
He looks like an indie kid and sounds like Bob. But Jake Bugg's musical inspiration, he tells Nick Duerden, was a little yellow animation …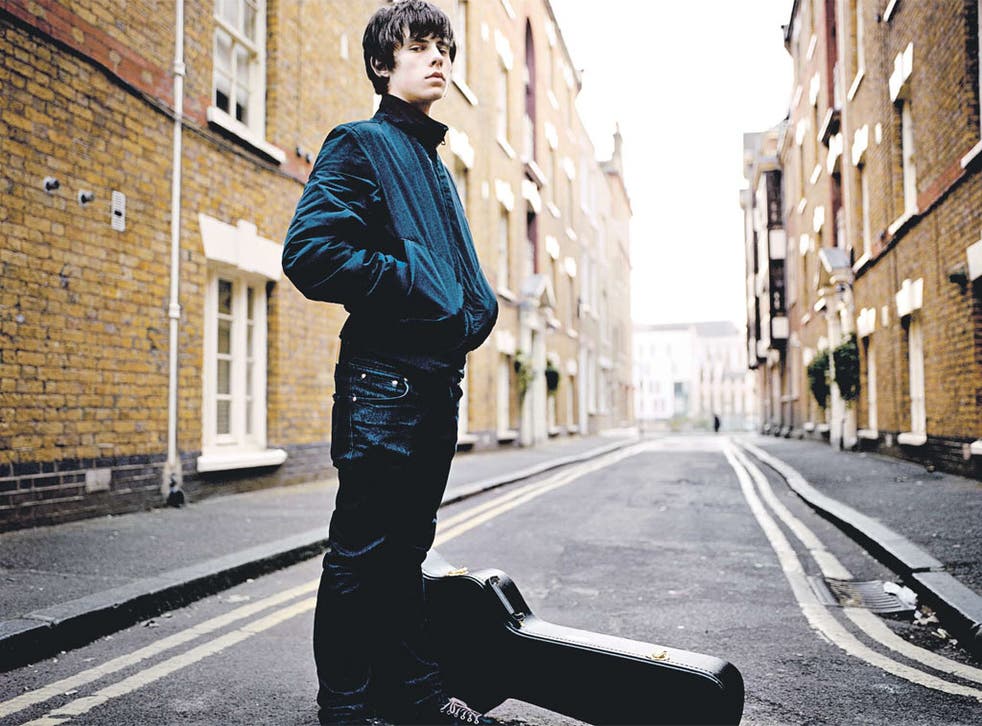 It's a Friday afternoon in London's Camden Town, the middle of July, and so it is, of course, raining. Jake Bugg has just emerged from a fashion-magazine shoot, one of his first. Bugg, already hailed as the most exciting new singer-songwriter 2012 has yet thrown up, is only 18 years old, and has been racking up a lot of firsts recently: his first TV performance, his first headlining gig, his first album – due soon. The fashion shoot, he relates, was fun.
"But I didn't let them dress me up, or anything," he adds, lest anyone consider him a mannequin. "No, no. I just wore what I bought yesterday: Burberry, a bit of Adidas, Lacoste, Ralph Lauren." He has, it transpires, an appealingly common-sense approach to fashion.
"If it looks good, I like it. I was always into fashion, but I never had the money to buy stuff before. I'm trying to get all the best bits I can now, while I'm still able to, you know?"
Bugg is from Nottingham. A good-looking boy with a hairstyle that looks as if it requires product to maintain, he resembles the fifth member of Arctic Monkeys, weaned on a musical diet of Liam Gallagher and Pete Doherty. The fact that, respectively, he isn't and wasn't is what makes him such a beguiling anomaly. His debut single, "Lightning Bolt", which came out a few months ago, sounded like vintage rock'*'roll, and was likened to Buddy Holly, Johnny Cash and early Dylan. All too often when people attempt to evoke such a distant period, they come across as cloying pastiche; Bugg somehow managed to sound entirely authentic.
But how is it done, that seeming authenticity? Is it down to the manner in which he sings – reedy, thrilling, Dylan-ish? The self-conscious brevity of his mostly two-minute songs? It there a special yesteryear switch on his microphone? "I'm not really sure, to be honest. It just sort of comes out that way."
His new single, "Taste It", has come out that way as well – two minutes and 24 seconds of twanging guitar and a highwire keening vocal – as does everything on his forthcoming, eponymously titled debut album.
He shrugs. "I suppose I just like that Sixties retro feel, old rock'*'roll, the blues, Robert Johnson. I love all that stuff, man. It's the best."
Bugg was brought up on what was once Europe's largest housing estate. His father was a nurse, his mother in sales, and as a teenager he had no interest in music at all.
"I was into football – had trials and stuff," he says. But then one day he was watching The Simpsons, the episode in which "Vincent", Don McLean's limpid lament to Van Gogh, popped up. Bugg cannot explain what it was about the song that appealed to him, but something clearly did. He googled McLean, which led him in turn to Donovan, and then to George Harrison. He still hasn't got round to listening to very much of Bob Dylan, but promises to do so soon.
Enjoy unlimited access to 70 million ad-free songs and podcasts with Amazon Music Sign up now for a 30-day free trial
Sign up
At 14, with his passion for football cooling, he was bought a guitar by his uncle, who showed him the basic chords. Within a year, he was gigging around Nottingham, and people told him that he was good, that he should do what every young hopeful does these days, and get himself on to X Factor, Britain's Got Talent. Amanda Holden would love him.
"I was never interested in that," he says. "I didn't like anybody that went on that show. They didn't write their own songs, so there was nothing in it for me. What was the point? I believed there was another way to go."
Quite what, though, he wasn't sure. Nobody from his housing estate had ever landed a record deal before. "But I got lucky. I met a guy in Nottingham who knew a guy in Newcastle who knew a guy down in London who works for a record label. Six months later, I was signed."
That was last year. He has spent the past 12 months carefully crafting the album, staying true to the sound he loves so much. He tells me about one song, "Kentucky", that goes: "I'll be a man from Kentucky/Have a guitar but I've no money/That don't mean I'm blue...."
"I've never been to Kentucky," he says, "but it's a story, a bit of imagination, like reading a book. Does that make sense? I'd love to go one day. Me on a road trip across America … That's the dream."
For the time being, Bugg is immersing himself in every artist critics tell him he reminds them of, most of them long dead. He admits to having little time for, as he puts it, "dance tunes" because they lack melody, and he plans to read Mojo magazine more. He also seems to be enjoying the fact that much of his audience is significantly older than your average 18-year-old draws.
"But I do get a lot of young girls down the front as well," he is quick to point out. And what do they get from such a Sixties throwback? Bugg isn't sure. "I'll have to ask them," he grins.
He yawns; he's tired. It was an early start this morning, yet another one. The promotional treadmill, he says, is exhausting.
"It's a lot of hard work but I'm enjoying it, and I'm doing my best to take care of myself."
And how does he do that? "Sleep well," he says. "And eat lots of fruit."
Jake Bugg's EP 'Taste It' is out now. His debut album follows in the autumn. For more information: www.jakebugg.com
Join our new commenting forum
Join thought-provoking conversations, follow other Independent readers and see their replies