The Saturday Interview
James Blunt on Brexit, his father, and his new album Once Upon a Mind
The singer-songwriter talks to Ed Cumming about political limbo, his personal new album, being mistaken for a Star Wars fan, and why being on stage is like removing your clothes and not impressing anyone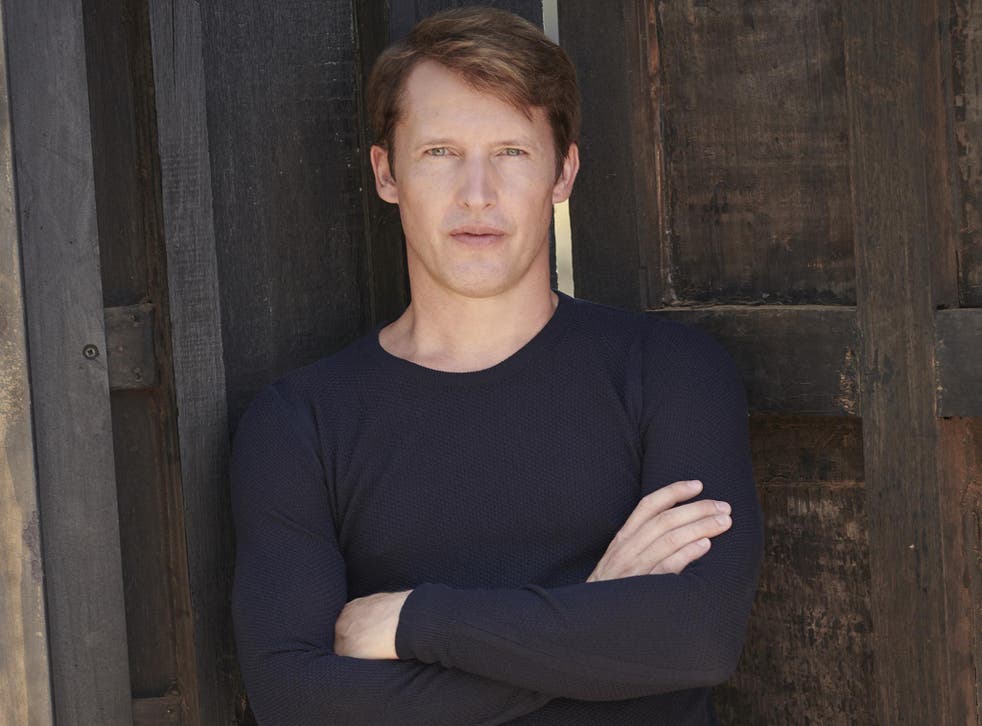 There's only one moment when James Blunt seems flustered. It's not when he talks about his sick father, or how his new record is his most personal in 15 years, or how he handles criticism. Mostly he is genial and pleasant company, as you'd expect from someone who is as well known for his self-deprecating and occasionally lewd Twitter feed as for his harmless ballads. It's when I ask him if he voted Remain.
A shadow of panic crosses his face, as you imagine it might have done when, as a young tank commander sent to seize a Kosovan airfield, Blunt discovered it had already been taken by the Russians. Then, he didn't attack, for fear of prompting World War Three, and Blunt refuses to commit now. Instead, he embarks on a long and rambling answer about how people are like soldiers and politicians are like generals.
"For soldiers, the whole end game is always peace," he says. "How can we stop people killing people so we can all go home at the end of the day alive to our families. That means understanding people's differences. I feel the same way with politics today. There's a left and a right and most humans are surely in the middle."
But we were all asked to vote, I say.
"And it was pretty close. We're chewing ourselves up on this question, because neither side is understanding why people reached these opinions. Why is it we can't even have a dialogue about it?"
Well, what was his view?
"I think it's pretty much bulls**t. It's all a political thing. I'm going to carry on touring through Europe whatever happens. Rather than having a title on it, my call to arms would be 'get the f*** on with it', because our lives aren't going to change. My tour manager is going to be pissed off he has to fill in a few more forms, but whatever you do, get on with it, because the limbo is killing us."
But you don't want to say how you voted?
"No. I don't want to be given the label."
Is it strange to wonder about his politics? The answer does not have much bearing on the music, but something about the Blunt mythology seems to invite the question. On the one hand, he is the ultimate metropolitan elite musician, a multi-millionaire with homes in Ibiza and London and Verbier, where he also has a ski-lift named after him, married to a City lawyer, Sofia Wellesley.
Yet he is also an Old Harrovian ex-Household Cavalryman whose father was a cavalry officer, and whose left pinky finger bears a gold signet ring impressed with the crest of a family that can trace its ancestry in the realm back nearly a millennium. His wife is a descendant of the Duke of Wellington. At the risk of being unfair to cavalry dynasties, it doesn't sound entirely Remainy. In the end, I can't make up my mind. Either he is a Leaver wary of spooking his pro-EU fans, or he is a Remainer who wants to appear sound to the shire Tories who comprise a chunk of his fanbase. Whichever it is, it's not a dilemma Stormzy has faced.
Anyway, he brought it up.
We're talking because he has a new album out, Once Upon a Mind, dedicated to his friend, the actor Carrie Fisher, who died in 2016. "I was back recently and went to see her house, where I'd lived when I was recording my first album. I put my hand on the gate and shed a tear. Just at that moment three Starmap vans [guiding sightseeing tours of Hollywood addresses] pulled up beside us. The tour guide pointed me out and said: "As you'll see, some serious Star Wars fans are still deeply moved by it."
Once Upon a Mind was written with Fisher, and his father, Charles, who has stage four kidney disease, in his thoughts. He says it's his most personal record since his 2004 debut, Back to Bedlam, the "You're Beautiful"-powered rocket that launched him to global stardom. Listening to the record before meeting Blunt at his publicist's office, next to Lord's cricket ground, I am moved by one of his songs, which I try to mention to him without conveying my surprise. It's not that I have anything particularly against his music, I just tend to find it washes over me rather than sweeping me away. The tune in question is "Monsters", a minor-key piano ballad about saying goodbye to his dad. He sings:
Enjoy unlimited access to 70 million ad-free songs and podcasts with Amazon Music Sign up now for a 30-day free trial
Sign up
I'm not your son 
You're not my father
We're just two grown men saying goodbye
No need to forgive
No need to forget
I know your mistakes and you know mine
"I've spent the past few albums trying to write songs that people might like," he says, "and now I've written songs for people I need to write songs for. The irony is that it's going to connect with people more because it's more honest." Part of his PR drive this time round is to find an O+ type donor kidney for his father, because neither Blunt nor his sister are a match. He wells up a little, which seems less moving when I read that he did the same in his interview with the Daily Mail, but it's obvious his relationship with his father has been key. "It's only since I've had children that I've turned round [to my own parents] to say thank you for the time and energy and love they put into parenting me. It's the first time I've appreciated quite how much that is. The first album was self-orientated, but this time the thoughts are full of people who matter to me."
He says he played the album to his father the previous week, and was relieved that his old man found it "true". "I was the most nervous I've been. But it's why I love music in the first place, it gives you an opportunity to say the words you would never say in real life. Women are much better at talking about feelings. If I go out with mates I just don't really have the need. But these words are important. It's why I love performing live. You stand on a stage and expose yourself – yeah, it's as if you're removing your clothes and not impressing anyone. People get a lot of credit for being rude about people who create art, but to stand on a stage unafraid to be judged is an amazing moment. Strangers come and stand shoulder to shoulder because they see themselves in some way. In this day and age, when politicians try to divide us and polarise us to extremes, you have to be this or that, left or right, or divide us by sex or sexuality, music does the opposite." This is when I asked him about Brexit.
The 40 best albums to listen to before you die

Show all 40
Besides, the music of James Blunt has not always been a purely unifying force. Despite Back to Bedlam's titanic sales, or perhaps because of them, NME voted it the worst album of the year. Describing 2017's The Afterlove, his last album before this one, The Guardian said it was "slightly desperate and actively risible", while The Observer described him as a "go-to musical punchline". He is an easy target, you might say a lazy one, too. He went to public school, he's minted, and he croons in a high voice. He attended the weddings of Prince Harry, Princess Eugenie and Ellie Goulding, and used to busk with Bear Grylls. Perhaps inevitably, he is not quite as funny in person as he is on Twitter. He has come to terms with the press, saying he's "never read a story that's true about [himself]", but compared to his own experience in the army, and those of his friends and family, it's impossible to take entertainment too seriously. He logs in to Twitter once a month to launch a barrage of self-mockery and semi-ironic boasting.
I wonder if behind these defence mechanisms there isn't a more sensitive songwriter lurking. Wouldn't it be nice, I ask, to have the money and happy family and sell-out tours and then critical approval as the cherry on top?
Support free-thinking journalism and attend Independent events
"You're right that I still gravitate towards the negative," he says. "The one comment online that says, 'I think your music's s**t'. That's why I go on and reply: I'm laughing at myself for taking this person seriously, when so many other people give me so much positive feedback. They queue up, in the rain, to get into [my] shows and they spend money they've gone out and earned, and they'll travel there by train or plane, book hotels and turn up in their f***ing thousands.
"So, if you're asking me, 'where did it all go wrong?', the answer is no."
Once Upon a Mind is out on 25 October
Register for free to continue reading
Registration is a free and easy way to support our truly independent journalism
By registering, you will also enjoy limited access to Premium articles, exclusive newsletters, commenting, and virtual events with our leading journalists
Already have an account? sign in
Register for free to continue reading
Registration is a free and easy way to support our truly independent journalism
By registering, you will also enjoy limited access to Premium articles, exclusive newsletters, commenting, and virtual events with our leading journalists
Already have an account? sign in
Join our new commenting forum
Join thought-provoking conversations, follow other Independent readers and see their replies