Daydreaming with UNKLE: James Lavelle on his Soho exhibition, Stanley Kubrick and virtual reality
'One of my greatest achievements was pulling off the Stanley Kubrick exhibit'
Roisin O'Connor
Wednesday 25 January 2017 13:04 Comments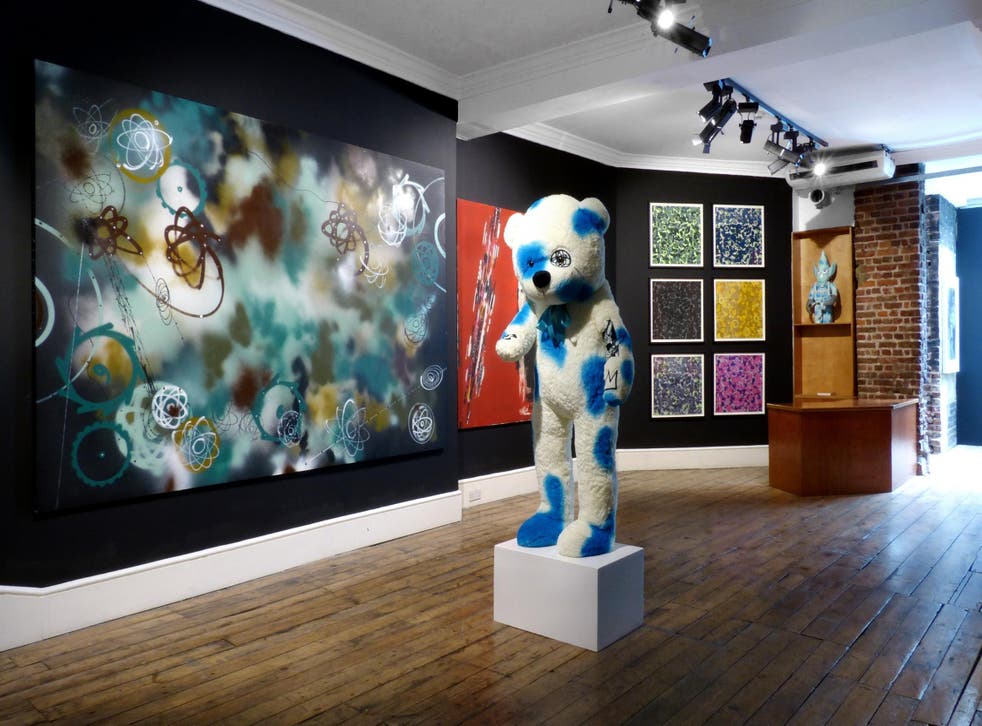 James Lavelle is "not so much stressed, as anxious".
We're sat on the top floor of the Lazarides gallery in Soho, where his exhibition Daydreaming with UNKLE presents... THE ROAD: SOHO is taking place, trying not to think about the powercut that has happened five hours before opening night.
Daydreaming with UNKLE is an interactive exploration that uses art, music and street culture to look back at 25 years of the British music collective and where it all began.
The free exhibition is a follow-up of sorts from Lavelle's acclaimed Daydreaming with... Stanley Kubrick, which saw more than 60 artists participate in a celebration of the filmmaker's work at Somerset House.
"Somerset House was a very different beast… this is technically a little more fun to put on," the 42-year-old says. "It's different because with Kubrick you were dealing with a very different medium, a different space. With him... one of my greatest achievements was pulling that off. Being allowed to do it, as such a massive fan.
"So it was incredibly stressful in that I wanted to achieve something great, and I wanted the family to like it. On the day of the show it dawned on me that if they don't like it then it's going to be very awkward.
"But it's great because having done Kubrick and various things before that to get to this point, other things are slightly easier."
Two new UNKLE singles have been released since the New Year: 'Cowboys or Indians' ft. English rapper Elliot Power, and 'Sick Lullaby' ft. Keaton Henson; the latter is a ballad with gorgeous strings and Henson's smoky vocal work.
The musical collective is a beast of a thing that has evolved over 25 years - currently it's at a point where Lavelle has a new record and "people that I like working with".
He wanted to go back to the beginning, in a sense, citing Meltdown Festival, which he curated in 2014, as the catalyst for the record: "I went through a bit of a 'rock n roll' period of starting very cerebral and naive, then things changed.
Enjoy unlimited access to 70 million ad-free songs and podcasts with Amazon Music Sign up now for a 30-day free trial
Sign up
"It makes good stories, there's been lots of drama and lots of crap, and hedonistic behaviour, and this record was very much about going back to why I like music and what it makes you feel. And it's a predominantly London experience, making this record."
Lavelle was drawn to the Lazarides gallery in Soho because it was where he began as an artist, trawling through record shops on Berwick Street like Bluebird, Groove, Black Market and Red Records.
And while Soho is stubbornly resisting Government attempts to sterilise it - seeing some obvious transformations over the past decade - Lavelle still sees it as the heart of London; culturally and sexually mixed, filled with characters.
He admits there was a habit with UNKLE where people would "come in and use it as an exercise for what they wanted to do.
"The main thing for me is that this is a solo record. Because I've always had a partner, and I don't anymore. And while there are collaborations it's like this has a singular vision, it's a record that I wanted to make and have wanted to make for quite some time," he says.
"There is a habit sometimes with UNKLE when people come in and they use it as an exercise as what they want to do and not want I want to do. And so there's a kind of tension that can sometimes happen. This record, the songs have been a joy to do, it's not been a hedonistic record, there's been no drama, but it's also been very DIY and a lot of time has been spent on it, and I hope that resonates with people."
He describes UNKLE's history as like "having a girlfriend, then you go out with her best mate, then her best mate... and 20 years later you've got the same politics as when you first started."
"Of course there are compromises and some people are fantastic, a couple of people let you down, but the general experience of this has been very grounded and non-dramatic. And the film that's coming out, the documentary, while it's great it kind of felt like 'that's the end of that now'. It was kind of a cathartic closure. And the album is more going with the flow of the music."
He hopes that there is an element of youth on the record that will engage a younger fanbase, who perhaps weren't around for the first few records.
"What was so brilliant about the Kubrick exhibit for me, was that Christiane [Kubrick] was fascinated by why I engaged with the filmmaker as a young age, and how could we get other people to do that. And on the last day of the exhibition I was hanging out watching people and there was this really cool, interesting crowd aged 16 to 25. It was a thrill to see you were engaging this kind of audience."
What Lavelle exceeds in for both the Kubrick and UNKLE exhibits is encouraging people to immerse themselves in the physical side of art, at a time when so much musical and artistic content is found online.
This was his original premise for Daydreaming, to curate an event that encourages interaction through virtual reality, and audio and visual installations.
"I'm guilty of it, of having that period of everything being digital and thinking it's fine," Lavelle says. "But you realise you're not really engaged with it in the way that you'd hope. You can do a digital single and a digital cover… but it's pretty boring."
At the UNKLE exhibit, featured artists include John Isaacs, Futura, 3D [Massive Attack], Doug Foster, Warren Du Preez... plus a light installation which reads: "When you talk about love it makes me feel invisible," which was one of my personal favourites at the Kubrick exhibit.
"That's part of an artwork for the new record," Lavelle reveals. "It's mine and John's thing. And there's a new bear coming in as well, new video works… I've directed a video, and there's a virtual reality of the Kubrick show.
"We're in this period where all these different mediums are colliding. Most musicians aren't just musicians - they're artists and filmmakers… people do a lot of different things. Even though these things have always collided, Warhol doing Velvet Underground etc… it felt like things had become quite disparate.
"Now we're back in this moment where people want to engage... and not constantly feel as though they're living in this virtual reality."​
Daydreaming with UNKLE Presents... THE ROAD: SOHO runs from 20 January to 23 February 2017
Register for free to continue reading
Registration is a free and easy way to support our truly independent journalism
By registering, you will also enjoy limited access to Premium articles, exclusive newsletters, commenting, and virtual events with our leading journalists
Already have an account? sign in
Join our new commenting forum
Join thought-provoking conversations, follow other Independent readers and see their replies