​Jamie Isaac is a Sad Boy, but he's OK with that - interview
23-year-old artist speaks with The Independent about his new album '(04:30) Idler', jazz influences, and why he writes his best lyrics at night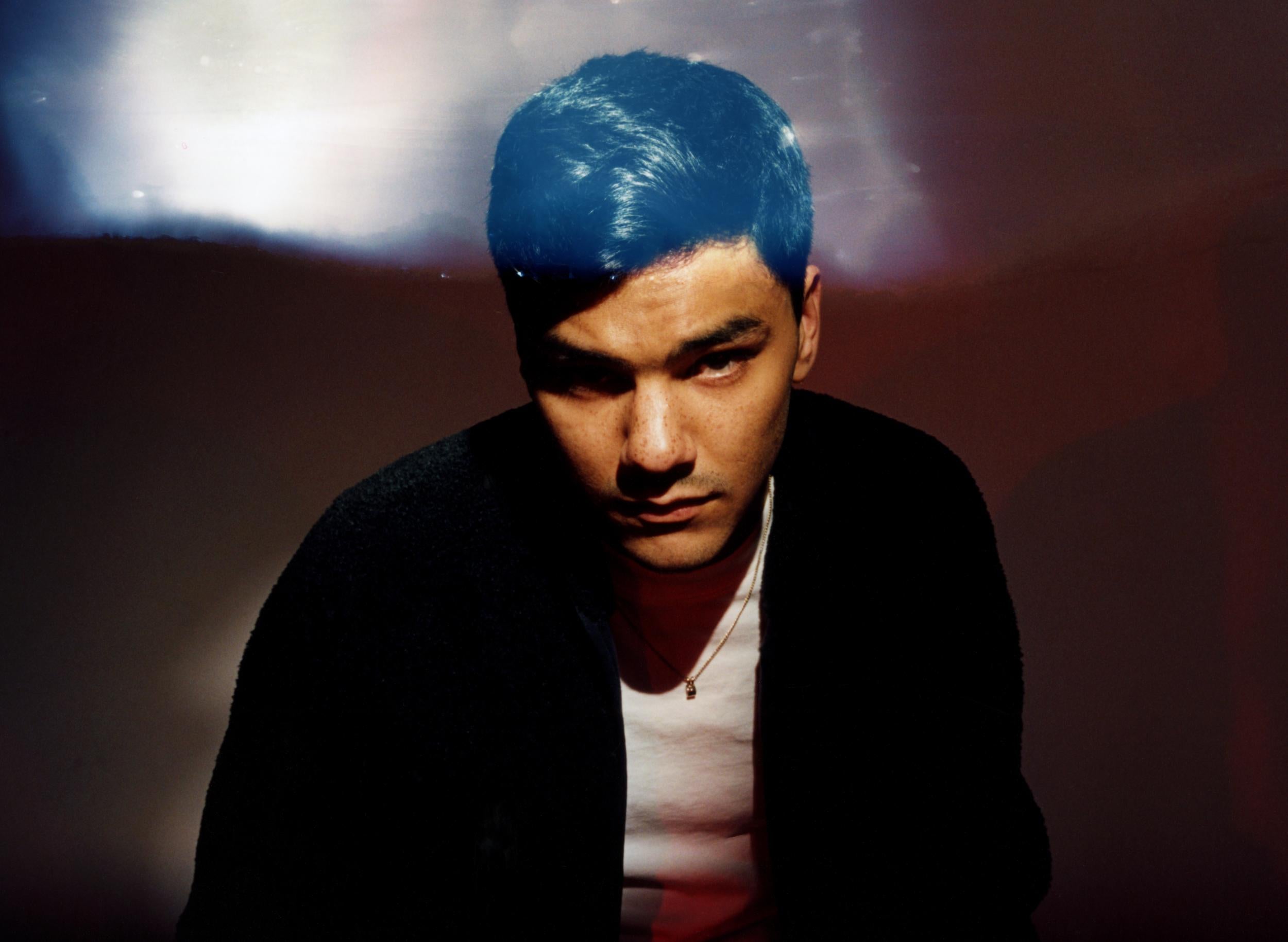 For someone who hates performing live, Jamie Isaac hides it well. Part of the swelling south London jazz scene, the 23-year-old was borne out of a musical family; his parents -Tracey and Cliff Cully - introduced the rising star to a healthy mix of funk and soul, propelling him into a musical world that led to early experimenting with Logic; teaching himself how to produce.
Instead of partying into the early hours with friends, Isaac would lock himself away in his room and play around with his vocals over smoky piano melodies, going on to be signed by Marathon Records, and now at the point where he can boast two studio albums: debut Couch Baby, and his latest release, 2018's (4:30) Idler.
We meet ahead of his sold-out, debut headline show at Village Underground in London, donning a black tee emblazoned with the word 'Idler' in millennial pink: "I designed these actually, the writing is pink – thanks for noticing."
The multi-instrumentalist has a cool and laid back kind of vibe - someone who would get on anyone who happened to strike up a conversation with him. But when it comes to his music, he chooses a life of solitude.
"I prefer writing in the early hours of the morning," he says. "No one is around, there's no sound, no distractions. Night time is a beautiful time, man. It's romantic, I like it a lot. Especially in the winter, it's just dark. You leave your house to go to the shop and everyone has already gone home and had their dinner. You just think you're some night crawler."
The reception to Idler has been positive, with most critics praising Isaac for the high level of production on the record. But the half-Burmese songwriter said it wasn't easy: "You always think, have I picked the right songs? You know you're in the studio sometimes, you think people are going to hate it," he says.
While he is pleased that the response has been assuring, he did have a firm ask: "Everyone talks about the production – fair enough because I do that – but I wish people would listen to the lyrics a bit more and talk about the stories behind the songs."
His choral background has definitely had an impact on his music. His songwriting capabilities have certainly earned him his stripes, although the track "Wings" being inspired by rather inconspicuous themes… like chicken: "I was in a chicken shop in Peckham and I saw this really drunk couple at 3am and this girl was just eating chicken wings with this guy just sat there looking at her like, in awe.
"I was like... this epitomises so many things about our culture right now. Wings is literally about eating chicken wings, it's mental."

Enjoy unlimited access to 70 million ad-free songs and podcasts with Amazon Music
Sign up now for a 30-day free trial
Sign up

Enjoy unlimited access to 70 million ad-free songs and podcasts with Amazon Music
Sign up now for a 30-day free trial
Sign up
Nocturnal themes feature throughout the record and takes inspiration from Isaac's personal struggle with insomnia, featuring hazy synths and slow vibrations of London's sleepy jazz scene: "It's meant to be a concept album. You know when you're lying in bed thinking about everything and nothing."
The title track, "(4:30) Idler/Sleep", is a nod to Isaac's night owl tendencies, with aggressive drums starting the track off to a brilliant climax then taking it down to a sweet idyllic place of calm.
"Everything is going on in your head and then you trail off and think about something sweet, then you stop thinking, then think about how much you need to sleep," he says.
Despite being coy about his choral background, Isaac (born Tom Cully) started playing the piano aged seven and studied four years of classical and three in jazz. Originally he wanted to score films but later took to experimenting and eventually released his debut album Couch Baby in 2016. "Couch Baby was a really good introduction. It took me three years to write, but you know, I think I really wanted something faster for my second album."
While he has an impressive classical background, he credits his love for jazz as being the main inspiration behind his sound. The record features uplifting Bossa-Nova tracks, inspired by Stan Getz and Joao Gilberto's renowned 1969 record Getz/Gilberto, which is a far cry from his first album: more of a laid-back mellow record tailor-made for smoking weed with your mates after a night out.
"When I was touring Couch Baby, I was looking at the people in the crowd and was like, why aren't you dancing? But then I realised I wasn't writing music for people to dance to," he says.
Isaac claims he found the transition from bedroom production to live performance quite difficult. During this period he found his feet learning how to really mix and produce the drums, but he's not quite happy yet. "I have definitely found a sound, but it's definitely not THE sound. I will know when it's the sound."
Isle of Wight Festival
Show all 16
Even though he felt anxious about how the live shows would be received, at the Village Underground show Isaac and co. delivered an immaculate hour-long set, fusing nocturnal themes with dubstep bass, a mournful saxophone and angelic vocals. A youthful Active Child and a modern Chet Baker with the production talent of J-Dilla.
Isaac's velvety vocal tones have been compared to that of Baker more than once, a compliment Isaac adores: "He is my favourite musician of all time. I really want to recreate that now. When I was 17, Chet Baker was breaking my heart, I would sit there and weep."
And it's likely Isaac will do exactly just that too. His delicate, whisper-like vocals on "Melt" from (4:30) Idler are accompanied by an atmospheric beat that achieves that very thing, except he takes it one step further with a stunning falsetto chorus that makes your heart... well, melt.
Several critics have placed Isaac in the new area of 'sad boys' taking over the music scene, alongside acts including Jamie Woon, James Blake, Yung Lean and Zayn Malik. Earlier this year, Blake rejected the label, calling it "problematic" and claiming it stigmatised male artists who express themselves emotionally.
But Isaac isn't fazed. "I don't mind being called a Sad Boy. I am a Sad Boy," he shrugs. "Who I am and the people I hang around with... I've never found someone who had a problem with sharing their feelings. So when people say it's uncommon, I always ask 'who are you talking to'? Because I never see that."
His ability to self-deprecate is comforting, especially for someone relatively young to be so confident in his own skin so early on: "I'm a lot more chilled out now," he assures me.
Isaac's emotional side does come through vulnerable and romantic lyrics, like in "Delight" where he sings softly about a relationship that had lost its fizz:
"She took my hand and shaved it white
Two years of love had lost its fight"
Most, if not all, of his songs are written in London, but the Croydon-born pianist also loves to travel and spent a great deal of time in the States, notably in Los Angeles, which was a place he really got out of his comfort zone. He spent three to four weeks along in California and he said it was somewhere he pushed himself socially.
"Having no links in LA, I had to force myself to go out and meet people at bars, music events and gigs. I loved writing out there because it's super chill, lots of nice food and every morning I was hiking and living that LA dream..." he laughs: "A bit of a wanker really."
He has supported the likes of New York's Nick Hakim and his artist of the moment is R&B singer and songwriter SZA. "I think she's the best that has happened to R&B music in the last five years, her lyrics are incredible," he says.
Isaac has big plans for the rest of year; one of them being a project involving female rappers. Notably, Isaac wants to work with 26-year-old Noname, who is an American rapper and poet from Chicago. "She's amazing. I really want to work with her."
He travels to New York and LA this month before jetting off to Switzerland and Germany later this year to finish off his tour. And he can't wait to release more music.
"I think I'll maybe release new music at the end of the summer, maybe five tracks. I just want to keep it going." But how does Isaac feel about his newfound fame? "It's the weirdest s**t. Especially when you travel abroad, and people in NYC are singing your lyrics that you wrote at 3am in your bedroom... it's weird. But it's super humbling," he says."I love doing this, so I'm really happy."
'(04:30) Idler' - the new album from Jamie Isaac - is out now
Join our commenting forum
Join thought-provoking conversations, follow other Independent readers and see their replies