Jane Birkin: 'I was no Lolita,' says Britain's Bardot
Reflecting on her role as muse for Serge Gainsbourg, the actress and singer is clearly still under his spell, writes Jonathan Owen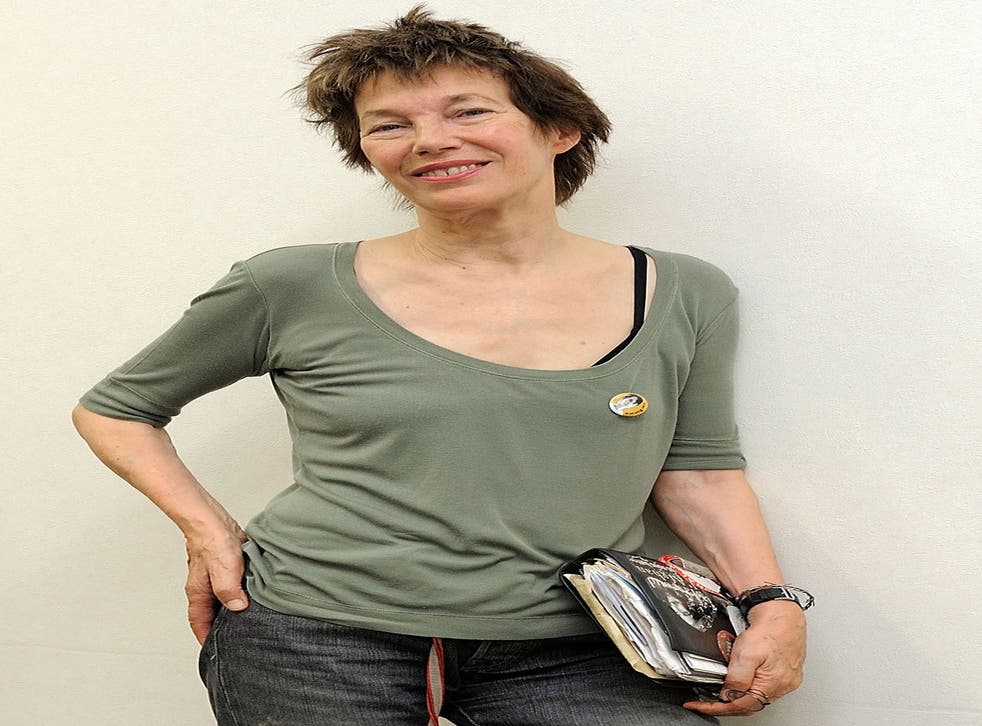 Jane Birkin had everything. She was Britain's answer to Brigitte Bardot; parts in iconic Sixties films such as Blow Up and Wonderwall, and an A-list husband in the form of the Hollywood composer John Barry. Then she had nothing: her marriage collapsed and the 21-year-old fled to France where she embarked on the affair that defined her life. She fell for the French entertainer Serge Gainsbourg, already old enough to be her father. Scandal and "Je t'aime" followed. Their song was banned in the UK and elsewhere, guaranteeing multimillion sales. Next week, she's back on the stage.
Of course, it's impossible to think of her without THAT song. Gainsbourg had broken up with Brigitte Bardot, and in 1968 Birkin replaced her as his muse. His mumbled crooning accompanied by her orgasmic moaning enthralled and appalled listeners around the world. Speaking as she prepares to perform in Glasgow and London this week, she breathlessly pays tribute to her former lover. To many he's best known for his love of cigarettes, drinking, and young women. But in Birkin's eye's he was "France's greatest poet". Noting my disbelief, she insists: "If you knew him you would have loved him. He was so funny ...with his bulging eyes ... absolutely irresistible."
I suggest that for a man with such talents it's ironic that his biggest success was a novelty record. This is a mistake. She snaps: "I think that you are wrong", and lectures me on how Gainsbourg was "20 years ahead of his time" and a major musical influence. Recovering her composure, she adds: "Of course people remember 'Je t'aime' and it's good to be remembered for something. I know that, when I die, on the news that's the record they'll play as you go out feet first."
Life after Gainsbourg has been largely confined to obscure French films and albums. Asked what it is like to be defined as somebody's muse instead of an artist in her own right, she finds it "very flattering to have the most beautiful songs, probably, in the French language written for one".
Birkin is "part of the furniture" in France, but bitterness creeps into her voice as she bemoans being "absolutely not part of even the garden furniture in England". Yet, she concedes: "How much talent did I really have? Perhaps not that much."
She has had a number of relationships and three daughters by different fathers. Surely it would not have been what her parents – the actress Judy Campbell and David Birkin DSO, a decorated lieutenant-commander in the Royal Navy – wanted. Yet Birkin paints a picture of them getting along famously with Gainsbourg.
She glosses over the scandal that erupted when "Je t'aime" was first released. "They took it so well and so stoically. I was quite lucky to have them."
And then it's back to her favourite subject – Gainsbourg is never out of the room for long. She admits: "Serge being 20 years older sort of went into the Humbert Humbert [of Nabokov's novel Lolita] category for other people if they wanted to be simplistic, but in fact it was not quite so easy as that."
So he was no Humbert and she was no Lolita? "Well I was a bit old for being a Lolita, I was already 21." But she says Gainsbourg's 1971 concept album, Histoire de Melody Nelson, was written for her "as if I were 14" and "he and Humbert Humbert had many similarities". Pressed to expand on this, she cites his fondness for "girls that looked like boys".
Enjoy unlimited access to 70 million ad-free songs and podcasts with Amazon Music Sign up now for a 30-day free trial
Sign up
I bring up the matter of "Lemon Incest", a song Gainsbourg recorded with their daughter Charlotte in 1984, in which the 12-year-old sang lyrics like "Papa, the love which we make together is the rarest, the most disturbing". Birkin insists she has "absolutely no regrets" about allowing her daughter to do this. Gainsbourg was very "prudish" and "not at all a sort of 'kissy kissy' sort of father .... His only way of saying how much he loved her was to put her on a pedestal and write songs for her or movies for her ... and there was certainly nothing scandalous in his feelings for her."
Birkin and Gainsbourg spent more than a decade together, but his drinking destroyed the relationship, and they had parted by the early 1980s. She recalls: "The monotony of somebody who drinks a lot is perhaps the saddest thing and it also cuts them off from a lot of people."
But we can be clear Gainsbourg was the love of her life, surely? Eventually she says: "That would be unfair", before another lengthy pause, reflecting on her relationships with Barry and Jacques Doillon. Because? "Because there are other children." She won't elaborate. And yet it's clear she remains under Gainsbourg's spell and perhaps always will. "He was an extraordinary poet, an extraordinary comic, a very funny actor .... He was a great great charmer."
Register for free to continue reading
Registration is a free and easy way to support our truly independent journalism
By registering, you will also enjoy limited access to Premium articles, exclusive newsletters, commenting, and virtual events with our leading journalists
Already have an account? sign in
Register for free to continue reading
Registration is a free and easy way to support our truly independent journalism
By registering, you will also enjoy limited access to Premium articles, exclusive newsletters, commenting, and virtual events with our leading journalists
Already have an account? sign in
Join our new commenting forum
Join thought-provoking conversations, follow other Independent readers and see their replies