Japandroids interview: 'This new record is our first attempt at making a proper studio album'
The Canadian rock duo are back with their first record in four years
Jacob Stolworthy
Tuesday 31 January 2017 18:13 Comments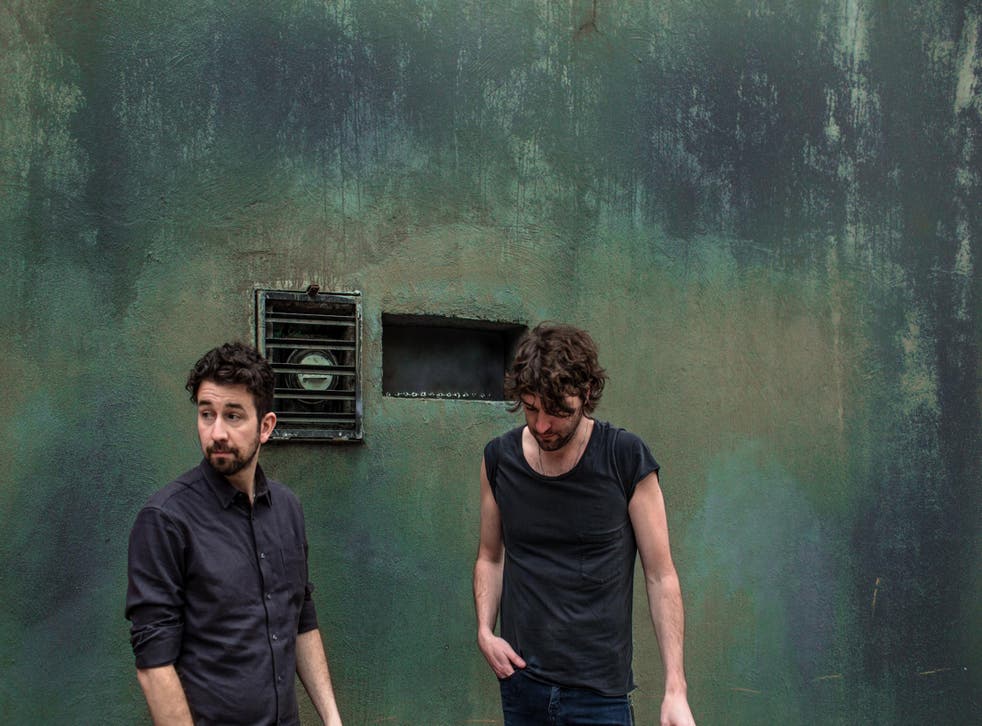 "I think for a lot of people it seems like we disappeared for quite a long time," Brian King - one-half of Canadian rock duo Japandroids - tells me. They'd be forgiven for thinking so; it's been four years since the duo blessed fans with their fusion of classic rock and post-punk in 2012 record Celebration Rock.
"I think because we were silent on social media it seems like we've been living in the shadows. People are like, 'Now your hiatus is over, are you excited to be back?' and it's like 'What hiatus? We played 250 shows and then wrote and recorded a new album!'"
That new record is Near to the Wild Heart of Life, a less raw, more polished but just as successful record to add to their reputable discography.
We spoke to King about his writing process with bandmate David Prowse, their musical inspirations and how this record is unlike anything they've done before.
How's it all going?
It's a very overwhelming time to be in the band, that's for sure. When you're working on an album, you're just in your own little world, going at your own pace. But once it's finished, you hand it in and all the type of machinery - your schedule and your time - they're out of your hands. You hold onto the ride and try to make the most of it.
Is that a liberating feeling for you?
It's not necessarily a new feeling. It was a new feeling for us on our first album - that was unlike anything we ever experienced before; we very quickly went from being a local band in Vancouver to a band that toured the world. With each album, it just gets a little bit more out of control, a little bit bigger.
Why the four-year wait between albums?
I think for a lot of people it seems like we disappeared for quite a long time, and that is certainly the perception largely due to the fact we weren't on social media updating people. But we've actually been very busy in that time. We released the last record in 2012 and toured all of that year and almost all of the next year - something like 20-22 months straight. When we got home, we were just totally destroyed, really burnt out both physically and mentally to the point that despite how much we love playing in the band, we just needed a break; at that point, we hadn't taken a serious break from the band in five years. So we took about six months off - the first half of 2014 - and decided to dedicate that time to ourselves and our personal lives, to try and lead a normal life even just for a little bit. After six months off, we both started to miss it and that's when we started writing. We probably wrote for about one year and then recorded the album by the end of 2015.
We really wanted [record producer] Peter Katis, who's well known for working with bands like The National and Interpol, to mix our record so we had a little waiting around to be able to work with him. As soon as the record was done we turned our attention back to playing live, started to get our bodies back in the groove of playing live, which takes us to about now. I think because we were silent on social media it seems like we've been living in the shadows. People are like, "Now your hiatus is over, are you excited to be back?" and it's like what hiatus? We played 250 shows and then wrote and recorded a new album! So yeah, that's kind of like the short version of where the hell we've been these last few years.
The record sounds more polished. Was that a deliberate move?
It is more polished and it's like that by design. When we started the band ten years ago, we were really into a lot of raw and live sounding records by garage rock band where the record sounded like you were going to a show. That's the kind of band we wanted to start and that's the kind of records we wanted to make. I think when we finished [second album] Celebration Rock, we felt like we'd achieved that; when we were working on it, we thought of all the ways we could do it better than the first one,' but when it came to talking about this record we didn't really feel like we could push the songs or the band anymore in that direction; we felt like we'd done that and there was nowhere left to go. And, of course, we could have just continued doing the same thing which I know a lot of our fans would love because they really like that record, but it didn't interest us that much. Like, "Oh, we've figured out what to do, let's just keep doing it indefinitely." So we very consciously decided to do something different - to actually try and make a real studio album. We didn't worry about it sounding live or only performing the songs in a way exactly like we would on stage; we worried about the whole live performance elements afterward. And that's uncharted territory for us. So, although it's number three, this record is kind of our first attempt to make a proper studio album; the first time we considered Japandroids on record not exactly the same thing as Japandroids on the stage.
Enjoy unlimited access to 70 million ad-free songs and podcasts with Amazon Music Sign up now for a 30-day free trial
Sign up
Your vibrant live performances are one of the many reasons fans love you so much. Is it hard to create that sound with just the two of you?
I think it was in the beginning. There was precedence for two piece bands when we first started [The White Stripes, Death from Above, The Kills] but we were more interested in songs from five piece bands. Maybe the biggest influence in the early days was a band called The Constantines from Canada. They had intense live shows - not just screaming-their-heads-off-and-flailing-about intense, but it really felt like they meant what they were saying and cared about every song. They had that working class blue-collar Springsteen vibe meets a Fugazi post-punk vibe. At the time there was nothing in the world we loved as much as them. We were trying to emulate bands like them when we started - which is impossible to do when you're a duo; you've got to try and figure out how to get that sound and put on a show like them but with half the people. That's actually what shaped the band into what we are now - the fact that we're a duo but were always trying to sound like bands that had four or five people. I think a lot of people associate duos with minimalism - very simple, very direct. The White Stripes are an example of a band that can do an incredible amount with very little - and we love them but that's not what we were trying to do. Now we've been doing it for so long, I don't think about those bands anymore when we're performing, I think about us.
I'm looking forward to seeing you guys at Primavera this summer.
Oh man. A lot of people will say this, and I'm one of them, but Primavera is the greatest music festival in the world. We've played it twice before and both of those shows stand out to me as two of my favourites that we've ever played. Great crowd, great vibe, great location - it's a great weekend.
Which records were you listening to while writing and recording the new album?
Well, for this record - more than any of the other ones - we were both listening to music that was not in the same genre of music we make. In the early years of the band, we were listening to a lot of music that was very similar to the music we were trying to make, just a lot of rock n roll, a lot of the bands you probably imagined that we were listening to. I think as we've gotten older and as our music tastes have changed, the music that we listen to has changed quite a bit. So for me, by far the artist I've listened to most in the last two years is Tom Waits which you probably wouldn't associate with influencing Japandroids. He's got a really big discography and I got really into them so feel like they were especially quite influential to me lyrically and thematically. When you're listening to great songwriters who know how to build a story and have characters in songs that you care about, you can't help but be influenced by it and I definitely noticed a shift in the way I wrote lyrics on this record. That artist played a really big role in that.
How do you feel about the current political climate from the position of an observant Canadian?
It's an interesting question. In terms of our record, it happened to come out exactly one week after Donald Trump was sworn in as President. A lot of people have not quite understood that we actually wrote this record in 2014/15 and so was done before a lot of the big political changes in the world had actually happened - before Trump announced he was running for President, before Brexit - so there just is no link in that particular sense.
More generally as a Canadian, it's a very weird time. It seems like the two countries in the world that Canada is closest to - the UK and the US - are both trending in one direction while at the same time Canada is trending in the opposite direction. So while the UK is leaving Europe and Trump is becoming President, Canada actually elected last year a very young liberal leader [Justin Trudeau] who's already taking us far to the left from where it was 20 years before when we had a conservative Prime Minister. After a while, Canadians flatly rejected that and went in totally the opposite direction last year. It feels very weird to be on the other side in a way. I like to assume that most people who come to Japandroids shows are actually fighting against these things. Let's check in at Primavera and see if the world's gone to shit or not!
Near to the Wild Heart of Life is out now; kingsroadmerch.com. Primavera Sound takes place in Barcelona from 31 May-4 June;
Register for free to continue reading
Registration is a free and easy way to support our truly independent journalism
By registering, you will also enjoy limited access to Premium articles, exclusive newsletters, commenting, and virtual events with our leading journalists
Already have an account? sign in
Join our new commenting forum
Join thought-provoking conversations, follow other Independent readers and see their replies