Jess Glynne interview: Singer on rejecting the X Factor to top the charts even after vocal surgery
The chart-topper opens up in an exclusive interview about her success in the industry and how her heartbreak triggered her fame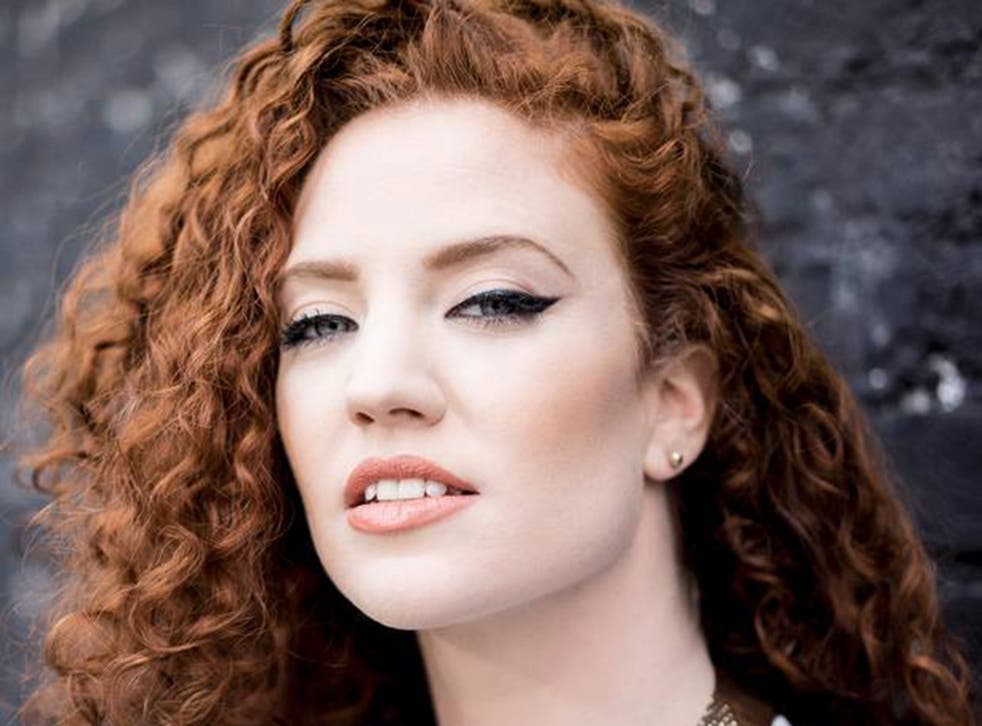 If you don't recognise Jess Glynne's name, there's little to no chance you won't have heard her voice. It's dominated the charts for the last 18 months; she's already had three number ones for collaborations with Clean Bandit (on "Rather Be", for which she won a Grammy award in February), Route 94 ("My Love") and Tinie Tempah ("Not Letting Go"), as well as a solo number one with "Hold My Hand". And her debut album hasn't even been released yet.
Glynne – born to an estate agent father, and a mother who is a former A&R for Atlantic Records – spent her childhood in Muswell Hill, north London, honing the rich, soulful voice which has blared from adverts, club anthem-mix CDs and every radio station in the country lately. "I was just obsessed with soul singers who had these big powerful voices. I used to listen to Aretha, Whitney, Mariah and try and imitate them, note for note and riff for riff," she says. When I meet her, the voice on her songs somehow doesn't match up with the petite, flame-haired 25-year-old in front of me, but her gravelly speaking voice – heavy with a north London accent – gives her away at once.
Curled up on the sofa in her management's Soho office, all gold jewellery and black mesh sportswear, Glynne says she's still trying to come to terms with how her life has changed since last year. "I still get overwhelmed by it. I don't see myself as a famous person," Glynne admits, speaking about being recognised by fans, which happens almost every day now. "It's really strange. I do find it quite uncomfortable, people staring at me while I'm having a drink with my mate. But of course I deal with it, it's fine. When people come up and tell me they're such a big fan, it's cool. But weird."
If fate had performed its magic differently, Glynne could have been dealing with fame a decade ago. Aged 15 she met with X Factor producers who asked her to apply for the show (scouts commonly recruit up-and-coming talent for the audition stages). It wasn't for her, though. "I just wasn't really feeling it. It wasn't really me. It was a great thing to see but also a great thing to walk away from. I was quite an opinionated girl, I still am, and I know what I want so I don't think it would have been the right thing for me. Some people do need that platform, and for some people it's perfect because not everyone enjoys the creative part, the writing and making the music. But that's my favourite part."
She went her own way, performing gigs and getting her voice heard while working "normal" jobs in her local gym and hairdressers. She was signed by Atlantic Records in 2013 and started work on the album straight away, though she wasn't expecting the explosion of success which has come so suddenly. "When 'Hold My Hand' went to number one especially, it was like 'Holy shit, this is mad!'" she admits. "It was number one for six weeks. I honestly wasn't expecting it at all, I swear to God. You put a song out and just don't expect anything other than for people to enjoy it."
Glynne has accepted that with her success comes the interest in her personal life, and her sexuality. She says it's not something she ever wanted to avoid talking about, and that she's naturally "an honest person" – "The songs on this album are about a girl," she explains. "I would never lie about a situation I've been in. I feel like with the album I'm putting my cards out on the table. I wouldn't want it to be misconstrued and the fact of the matter is those songs are about a girl. I was heartbroken about a girl, it wasn't a guy."
It's the only time during the interview that Glynne's infectious grin disappears. I ask whether the girl in question likes the album, whether she knows it's about her. "I haven't spoken to her, we don't talk," she says staring down at the floor. "There's no talking. It's really sad when you think about it, that we don't talk. But it's her decision. I don't know what she's doing. I don't know if she's even heard it."
Regardless of the heartbreak Glynne experienced (and seems to still be going through), she says her album's not from the Sam Smith/ Adele school of broken hearts. "My album isn't a heartbreak album. I wrote it about the journey I've been on, and I was going through a really shit time. When I was signing my record deal, there was so much happening and I was struggling. But life inspires me, experiences inspire me and that's kind of what the album is about and I decided to try and use it and see the positives in what was happening. I feel like it's a really positive album."
I meet with Glynne six weeks to the day (she gets out her phone to count the dates precisely) after vocal-chord surgery for which she had to cancel performances at the Glastonbury and Isle of Wight festivals. Glynne admits that the operation – performed by a specialist in Boston – could have left her unable to ever sing again. "It was a really scary time. It's my career. It was definitely one of the scariest things which could have happened. It was bad timing, awful. I had to cancel so much." It's an illustrious gang which Glynne was joining: both Sam Smith and Adele have undergone the same surgery.
Enjoy unlimited access to 70 million ad-free songs and podcasts with Amazon Music Sign up now for a 30-day free trial
Sign up
Smith was her lifeline in the run-up to the operation, giving her support every step of the way. "I was terrified though, because I was in such a different point in my career than he was, and Adele was, when they had their surgery. They were going through this when they'd already had their albums out and huge success, so they were at a point where it was acceptable to take a step back and take some time out. For me, the biggest fear was that I was walking away from the middle of something. And Sam said, 'Jess, they can wait. Your voice is your voice, you've been so successful and the main thing is you're just you.'"
After a recovery period of three weeks during which she was banned from making a single noise ("I had to write everything down or Whatsapp people, it was such a weird feeling, really frustrating") Glynne is easing back into live performances. "I feel normal but my voice still isn't strong. I've got a lot of work to do."
Even before the surgery, Glynne says her social life – and particularly drinking – has had to take a back seat. Though she says that a previous report about her problem with "binge drinking" had been blown out of proportion, she does admit her boozing "wasn't a good look". "I was young and I was going through a period in my life. Everyone had their roads of where they were going in their lives and I didn't. So when I'd go out I'd get really drunk. But I was never like an alcoholic or doing drugs, I'm really scared of drugs. I've always been really sensitive to drink and I could get carried away. I guess because I've been through all of that now I know my limits."
Her family and friendship group is clearly close-knit, and she says her parents are "beyond proud of her". So it's hard for them to be apart for the long periods of time which touring requires (she claims group Whatsapp threads are her "lifeline" and her phone pings with new messages throughout our chat). Missing out on their lives is tough, but there's nothing she'd rather be doing. "I'd still be working in the industry, definitely, that's what I love. I'm really not clever so not an office job I don't think…" Glynne ponders, when I ask what her back-up plan was. It's obvious that there was never any back-up plan; only this.
Jess Glynne's 'I Cry When I Laugh' is out on 21 August on Atlantic Records
Register for free to continue reading
Registration is a free and easy way to support our truly independent journalism
By registering, you will also enjoy limited access to Premium articles, exclusive newsletters, commenting, and virtual events with our leading journalists
Already have an account? sign in
Register for free to continue reading
Registration is a free and easy way to support our truly independent journalism
By registering, you will also enjoy limited access to Premium articles, exclusive newsletters, commenting, and virtual events with our leading journalists
Already have an account? sign in
Join our new commenting forum
Join thought-provoking conversations, follow other Independent readers and see their replies