The Independent's journalism is supported by our readers. When you purchase through links on our site, we may earn commission.
Jimmy Eat World on how their latest album Integrity Blues is a new chapter for the band
'We felt like we could do better, challenge ourselves, and push ourselves in a new direction'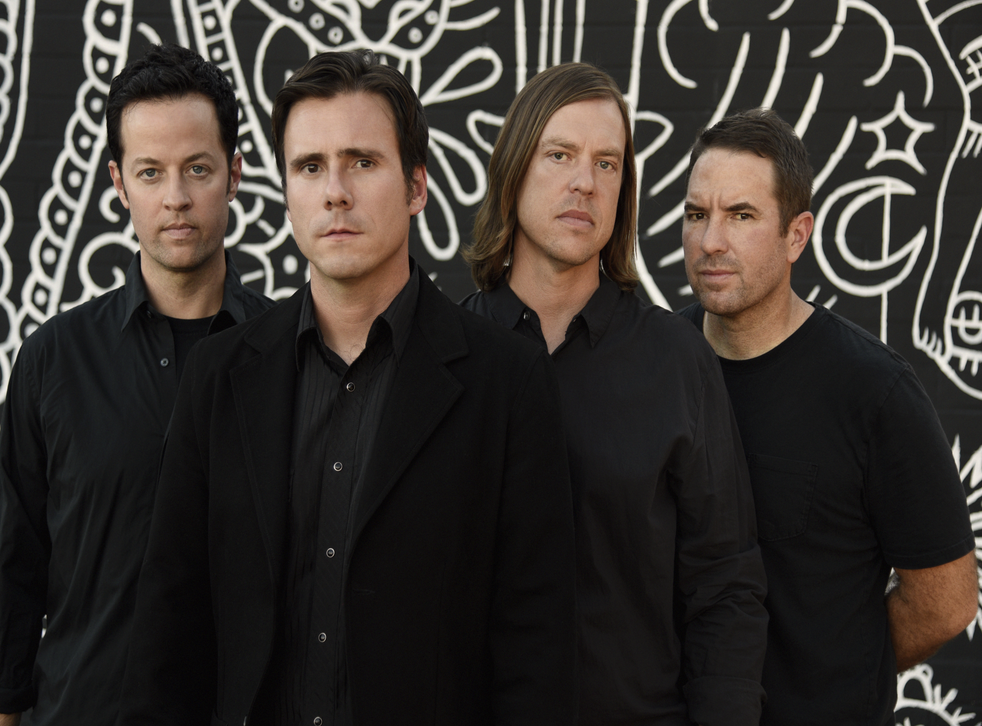 Shortly after a show at Bush Hall, one of the smaller venues in London ("but more nerve-wracking than arenas because you can look people in the eye"), Jimmy Eat World are contemplating the release of their ninth studio album, Integrity Blues.
After their 10th anniversary tour for Futures, the band found themselves at an impasse where they wondered what they were going to do next.
Their first instinct was to get right back into the studio and put out a record that would beat what frontman Jim Adkins jokingly refers to as their "three year curse".
But the more they thought about it, the more they felt that would be the end of one chapter in the band's story.
"While we're proud of our work, this is our ninth album, and we felt like we could do better, challenge ourselves, push ourselves in a new direction," Adkins says. "Because if we keep doing the same thing, we know what we're gonna get."
The risk appears to have paid off – Integrity Blues features some of the band's boldest songs in years.
"The perspective and the ambition and the hunger behind doing it at all really helped," Adkins says.
"We took a year off from the band, didn't do anything band related for a year. Which we hadn't done, in the 20 years as Jimmy Eat World. So coming back to work again, the mindset of it all was: is this our best work or are we doing something because it's easy?"
"Taking a year off, getting a little bit of distance… cos when you've been in the cycle that we've been on, it becomes like a process, like you're on the gerbil wheel," drummer Zach Lind adds. "And sometimes I think taking a year off... it clears the cobwebs a little bit.
Enjoy unlimited access to 70 million ad-free songs and podcasts with Amazon Music Sign up now for a 30-day free trial
Sign up
"For bands that have been around a long time, fans appreciate different things. It felt like, with Damage we were really proud of that, but then we did the Futures anniversary tour, and the energy for that was really strong. It was almost as though fans were more passionate about that than Damage. And it put that in the back of our head: do we wanna be known as a band for what we've done, or what we're doing?"
Working with American producer Justin Meldal-Johnsen [Nine Inch Nails, Beck] has proved to be a smart move; his experience on records for the likes of Tegan and Sara and Paramore helping to flesh out songs that were still works in progress.
"We had a lot of things in different states of progress when we brought Justin in," Adkins nods. "Sometimes that means you generate a song that sits around, 10-second riff ideas… and Justin helped us with that. He was totally down for this idea of us needing to make something that short-circuits the comfort place that I was talking about earlier."
At the band's performance at Bush Hall, the venue was packed with fans bellowing out their favourite lyrics. It's something that Jimmy Eat World have always achieved with their music; songs that end up serving as markers for a particular place or time in your life where the lyrics seemed most relevant.
Integrity Blues feels particularly personal, and while Adkins tends to avoid writing explicitly about himself in most of the band's music (perhaps partly so his audience can relate more) something like 'You With Me' indicates his progression as a lyricist.
"I don't think it's any less personal than anything else we've done. But maybe it's more direct. Things can be personal but be vague, so this is really kind of simple. There's not a whole lot of literary device employed. There's no whacky symbolism and metaphor," Adkins says.
"I think you bring your whole life experience into the music," he adds. "And the outlook of the band is the sum of our personal experiences."
Integrity Blues, the new album from Jimmy Eat World, is out now. They tour in the UK from 4 November
Join our new commenting forum
Join thought-provoking conversations, follow other Independent readers and see their replies